Storm Chasers Reveal 2023 Opening Day Roster
Major League veterans and returning Storm Chasers highlight roster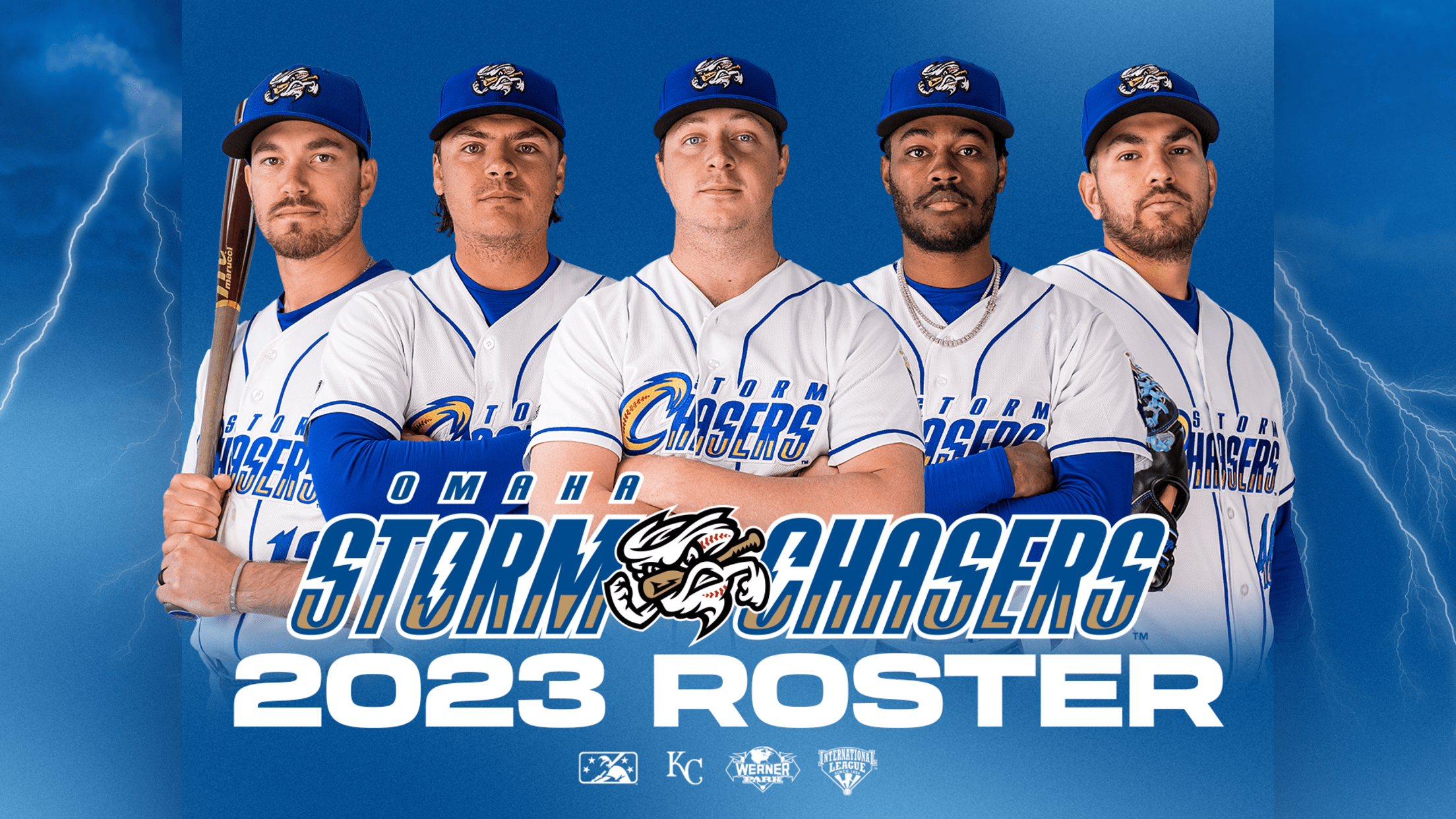 PAPILLION, Neb. – The Omaha Storm Chasers, in conjunction with the Kansas City Royals, announced their Opening Day roster for the 2023 season on Friday ahead of the season opener at Indianapolis on Friday, March 31, at 6:05 p.m. CT. The active roster of 27 players includes 17 players who
PAPILLION, Neb. – The Omaha Storm Chasers, in conjunction with the Kansas City Royals, announced their Opening Day roster for the 2023 season on Friday ahead of the season opener at Indianapolis on Friday, March 31, at 6:05 p.m. CT.
The active roster of 27 players includes 17 players who played for Omaha in 2022, 10 newcomers, three players poised to make their Triple-A debuts, 10 members of Kansas City's 40-Man Roster and 14 players with a combined 892 games of Major League experience.
A downloadable version of 2023 Opening Day roster can be found here.
The roster is highlighted by seven top prospects, led by infielder Maikel Garcia, who enters the season as the No. 3 prospect in the Royals organization per MLB Pipeline. Garcia began last season at Double-A Northwest Arkansas before making his Major League debut with Kansas City in July and finishing the year with the Storm Chasers. Infielder/outfielder Nick Loftin (MLB Pipeline Royals No. 4) also returns to the Storm Chasers after beginning 2022 in Double-A Northwest Arkansas and playing his last 38 games of the season with Omaha.
Outfielders Tyler Gentry (MLB Pipeline Royals No. 8) and Tucker Bradley (MLB Pipeline Royals No. 25) make their Triple-A debuts, after ending 2022 with Double-A Northwest Arkansas. Infielder Samad Taylor (MLB Pipeline Royals No. 21) makes his Royals organization debut after being traded to Kansas City from Toronto in August 2022. Taylor began last season in Triple-A Buffalo with the Blue Jays before ending the season on the Injured List.
The Storm Chasers pitching staff also features a pair of pitching prospects, right-handers Jackson Kowar (Baseball America Royals No. 17) and Max Castillo (Baseball America Royals No. 18). Kowar returns to Omaha for his third season and 37 games pitched for the Chasers under his belt, after making his MLB debut in 2021. Castillo, acquired with Taylor in the trade with Toronto last season, is also back after pitching six games in Double-A, 12 games in Triple-A and 14 games in Major League Baseball last season between the Royals and Blue Jays organizations, including seven outings with Omaha.
Fellow returners include first baseman Nick Pratto (49 games played in 2022 for the Royals) and all three catchers: Freddy Fermin (made his Major League debut with the royals in July 2022), Logan Porter (third in MiLB with .442 OBP in 2022) and Jakson Reetz (Hickman, Nebraska native). 2022 Omaha Pitcher of the Year Andrés Núñez is back as well, after authoring a 22-outing scoreless streak from May 19-July 26 that ranked as the second-longest in Minor League Baseball last season. Outfielder Dairon Blanco is back with the club, after setting the Storm Chasers single-season stolen base record last year and hitting .436 (41-for-94) with 23 runs batted in over 23 games in September 2022.
Pitchers Austin Cox, Jonathan Heasley, Marcelo Martinez, Drew Parrish, Collin Snider and Ryan Weiss all return to Omaha in 2023, as does infielder Angelo Castellano.
Newcomers include veteran pitchers in right-hander Brooks Kirske, who spent the 2022 season pitching for the Yokohama DeNA BayStars of Nippon Professional Baseball in Japan, right-hander Mike Mayers, whose 101 games pitched between 2020 and 2021 pitched ranked tied for 4th in Major League Baseball, right-hander Josh Staumont, who made the last three Opening Day rosters for Kansas City and has pitched in 148 games for the Royals since 2019, left-hander Josh Taylor, acquired in the Adalberto Mondesi trade in January 2023 and right-hander Nick Wittgren, who has pitched in parts of seven seasons in the Majors between Miami, Cleveland and St. Louis since 2016.
Additionally, the Storm Chasers welcome infielder CJ Alexander, acquired by Kansas City from Atlanta in a trade in July 2022, for his Triple-A debut, while left-handed pitcher Evan Sisk makes his Royals organization debut, after splitting the 2022 season between Double-A Wichita and Triple-A St. Paul in the Twins organization, acquired in the trade with Minnesota for Michael A. Taylor in January 2023.
2023 Storm Chasers Opening Day Roster:
Pitchers (15): RHP Max Castillo, LHP Austin Cox, RHP Jonathan Heasley, RHP Jackson Kowar, RHP Brooks Kriske, LHP Marcelo Martinez, RHP Mike Mayers, RHP Andres Nunez, LHP Drew Parrish, LHP Evan Sisk, RHP Collin Snider, RHP Josh Staumont, LHP Josh Taylor, RHP Ryan Weiss, RHP Nick Wittgren
Catchers (3): Freddy Fermin, Logan Porter, Jakson Reetz
Infielders (6): CJ Alexander, Angelo Castellano, Maikel Garcia, Nick Loftin, Nick Pratto, Samad Taylor
Outfielders (3): Dairon Blanco, Tucker Bradley, Tyler Gentry
The Omaha Storm Chasers begin the 2023 season with a three-game series at Indianapolis, beginning TODAY, March 31 at Victory Field. First pitch tonight is scheduled for 6:05 p.m. CT and coverage begins at 5:50 p.m. with the Sarpy County Tourism Pregame Show on the Storm Chasers Baseball Network on Mixlr.
Following the season-opening three-game series against Indianapolis, the Storm Chasers return to Werner Park on April 4 for the 2023 home opener against Toledo. The full 2023 schedule can be found here and single-game tickets are now available here.
For tickets and more information, please visit omahastormchasers.com, call the Werner Park Ticket office at (402) 738-5100, and follow the team on social media. You can follow the team on Twitter @omastormchasers, on Instagram @omahastormchasers, and "like" the team on Facebook at facebook.com/omahastormchasers.