Chasers Win First Home Series of 2023 Behind Four Homers 
Waters goes 4-for-5 with two homers and falls single shy of the cycle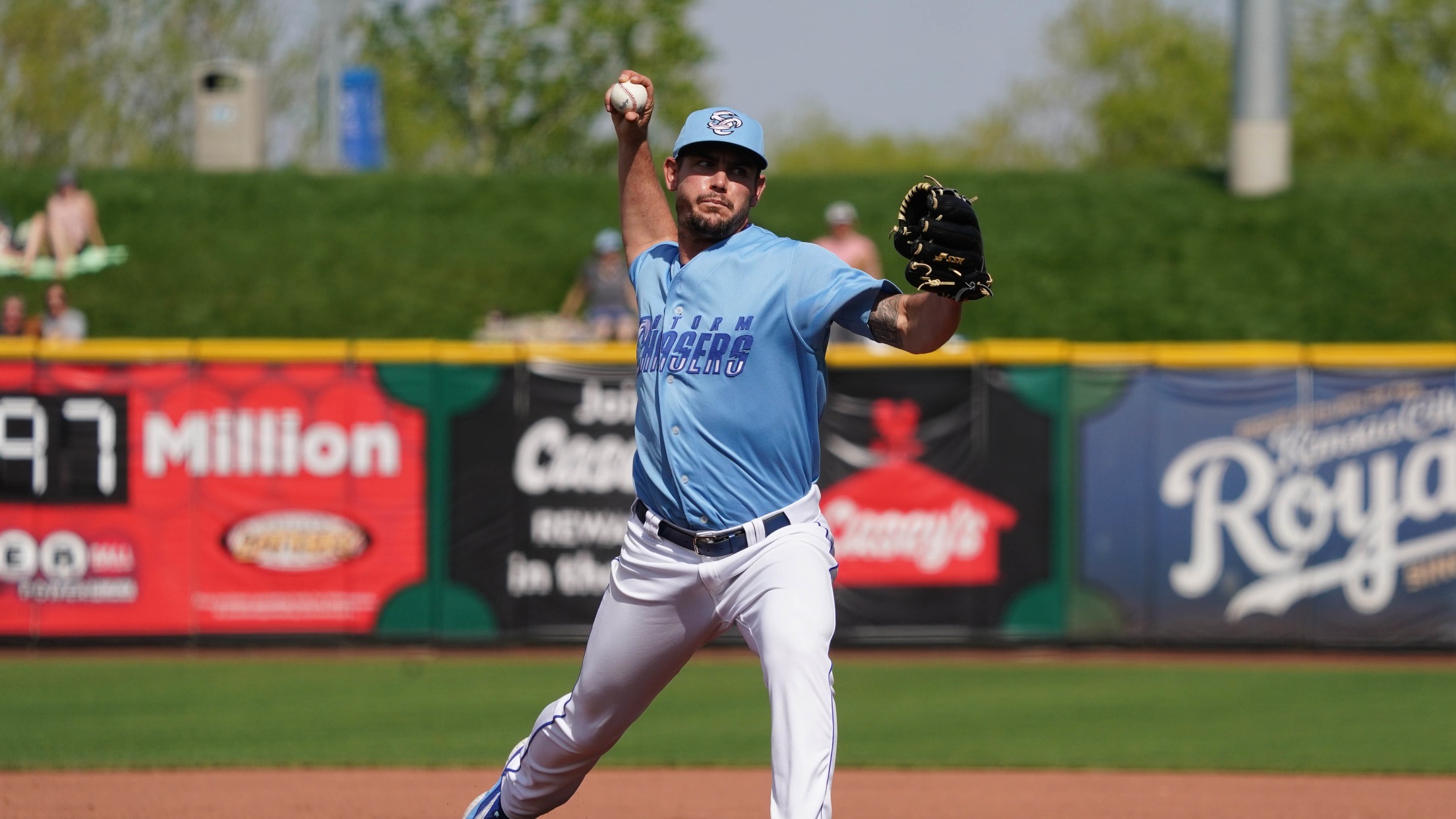 Nick Wittgren threw 2.0 scoreless innings and earned his first win of the year in Sunday's 8-4 win over Toledo. (Minda Haas Kuhlmann)
PAPILLION, NEB. – The Omaha Storm Chasers tied a season-high with four home runs and Major League rehabber Drew Waters produced his second four-hit game of the week, in a 8-4 win over the Toledo Mud Hens, securing Omaha's first home series win of the year, Waters finished the day
PAPILLION, NEB. – The Omaha Storm Chasers tied a season-high with four home runs and Major League rehabber Drew Waters produced his second four-hit game of the week, in a 8-4 win over the Toledo Mud Hens, securing Omaha's first home series win of the year,
Waters finished the day 4-for-5 and a single shy of the cycle of the cycle, playing a big role in the first half of the game. He opened the scoring for Omaha in the third inning with a solo homer, then gave the Storm Chasers the lead in the fourth, sending a two-run homer to left field.
After he singled in an error-aided run in the fourth ahead of Waters' homer, Tucker Bradley gave Omaha the lead for good in the sixth, as he sent a two-run homer to the opposite field in the sixth inning, at the time making the score 6-4.
Later in the sixth, Nick Loftin grounded into a run-scoring double play, after he came to bat with the bases loaded and nobody out. Jakson Reetz then led off the bottom of the seventh with Omaha's fourth home run of the season, a 412-foot shot to left field that was the dagger in the 8-4 win.
Starting pitcher Jonathan Heasley didn't have his best on Sunday, allowing four runs on a career-high 11 hits over 4.1 innings. Behind him, however, Omaha's bullpen shut Toledo down, giving the Chasers' bats a chance to surge ahead.
Andrés Núñez stranded a pair of baserunners inherited from Heasley to work out of the fifth, then Nick Wittgren (1-0) worked two scoreless innings and earned his first win of the season, as he pitched the sixth and seventh.
Dylan Coleman followed Wittgren with a season-high 2.0 innings and did not allow a run as well, allowing three hits over the two scoreless frames.
In the third ABS Challenge game of the series, Omaha was active as well, challenging 7 of 9 pitches correctly, with successful challenges coming from five different hitters and two from catcher Jakson Reetz, who is 8-for-18 in challenges when behind the plate.
Omaha heads on the road next to begin a six-game series against the St. Paul Saints, opening Tuesday at 11:07 a.m. CT from CHS Field.