Chasers tie Saints in Ninth but Lose 6-5 on Walk-Off
Omaha bullpen combines for six scoreless before St. Paul walks off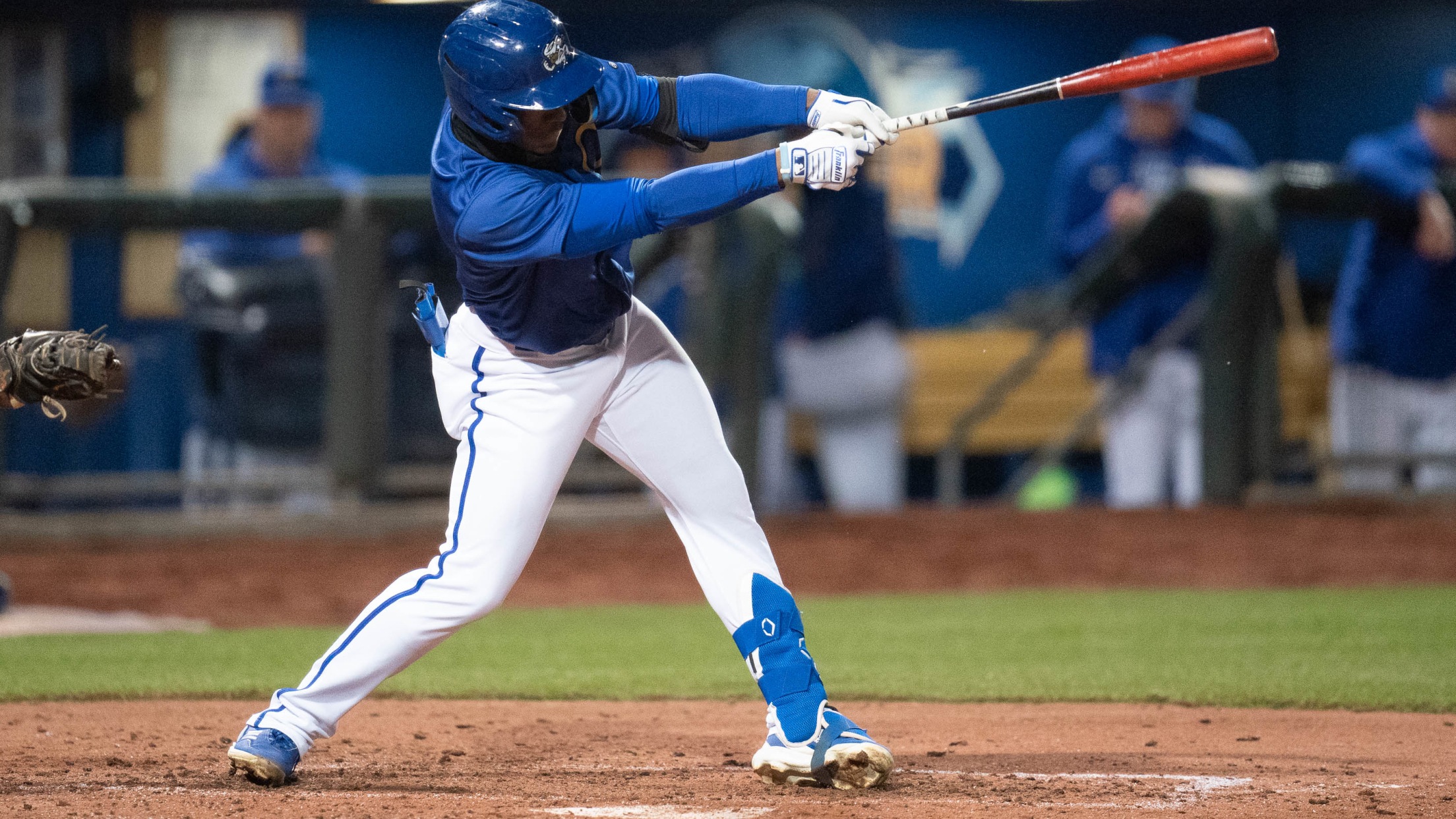 Dairon Blanco tied Wednesday's game with an RBI single in the ninth inning against St. Paul. (Minda Haas Kuhlmann)
ST. PAUL, MINN. –Down by five after the second inning, the Omaha Storm Chasers stormed back to score five runs and tie the game in the ninth inning, but promptly lost to the St. Paul Saints 6-5, on a walk-off in the bottom of the ninth. Anthony Veneziano looked stellar
ST. PAUL, MINN. –Down by five after the second inning, the Omaha Storm Chasers stormed back to score five runs and tie the game in the ninth inning, but promptly lost to the St. Paul Saints 6-5, on a walk-off in the bottom of the ninth.
Anthony Veneziano looked stellar in the first inning of his Triple-A debut, with a scoreless first and 11 of 12 pitches for strikes. But the lefty labored through a 47-pitch second inning and surrendered five runs in the frame to give the Saints a comfortable lead.
Behind Veneziano, the bullpen was solid for nearly the rest of the night, as Jonah Dipoto, James McArthur, Walter Pennington and Dylan Coleman combined for six scoreless innings with just one hit allowed and 12 strikeouts. McArthur got five of his seven outs via the strikeout, while Pennington retired all four batters he faced and Coleman stranded two on with a pair of strikeouts.
The strong bullpen effort provided the offense with a chance to come back and Nick Loftin promptly gave Omaha a chance to get back in the game, as he connected on a three-run homer in the top of the third inning, scoring Drew Waters and Samad Taylor, who had back-to-back singles ahead of Loftin.
With Loftin nearly immediately putting the Chasers within striking distance, Taylor made it a one-run game in the fourth with an RBI single that plated Jakson Reetz to put the score at 5-4 in favor of the Saints.
Omaha stayed within one until the ninth, as with two outs, Logan Porter singled and Brewer Hicklen reached on an error to put the tying run on third base. Dairon Blanco quickly singled in Porter to tie the game at 5-5, forcing a bottom of the ninth.
The tie did not las long, however, as St. Paul opened the bottom of the ninth with three straight singles off Brooks Kriske (0-3), who couldn't even record an out, for a walk-off 6-5 loss.
Omaha.
With the series even at one win each, the Storm Chasers will try and jump back ahead in the series Thursday, as left-hander Austin Cox takes the mound with a 7:07 p.m. CT first pitch at CHS Field.