Chasers Explode for Season Highs in Runs and Hits in 16-8 win Over Mud Hens
Omaha scores 16 runs on 18 hits to even series with Toledo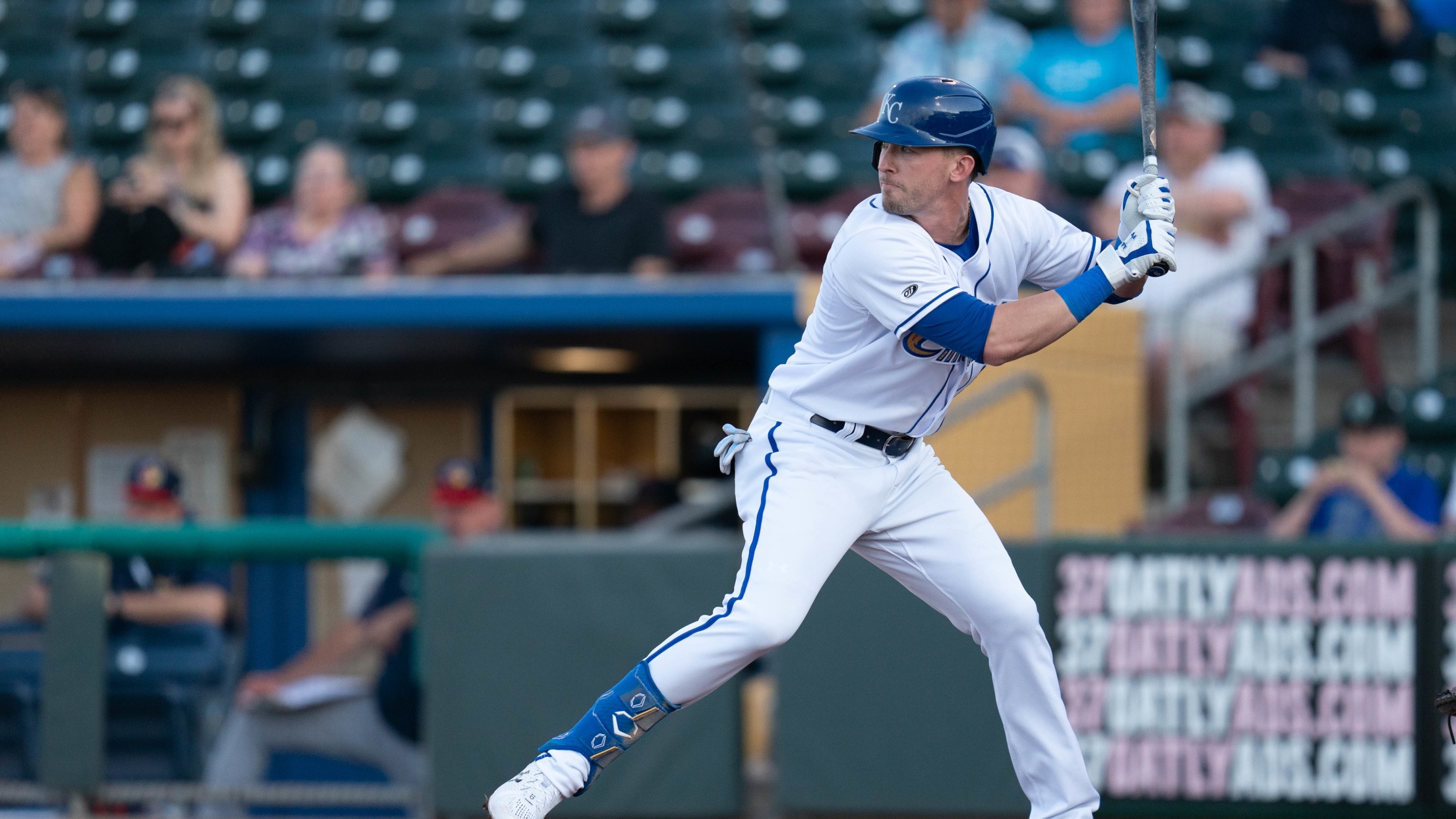 Continuing his Major League rehab assignment, Drew Waters went 4-for-6 with two runs batted in and two runs scored in Wednesday's 16-8 win over Toledo. (Minda Haas Kuhlmann)
PAPILLION, NEB. – The Omaha Storm Chasers erupted for season-highs of 16 runs on 18 hits Wednesday night, including a seven-run first inning, to blow past the Toledo Mud Hens with a 16-8 victory to even the series. After the Mud Hens struck for a run in the top of
PAPILLION, NEB. – The Omaha Storm Chasers erupted for season-highs of 16 runs on 18 hits Wednesday night, including a seven-run first inning, to blow past the Toledo Mud Hens with a 16-8 victory to even the series.
After the Mud Hens struck for a run in the top of the first, Omaha quickly rallied in the bottom half as the first five batters reached, with four runs immediately scoring on two-run homers from Samad Taylor and Logan Porter. Clay Dungan singled home one and Major League rehabber Drew Waters followed with a two-run double, his second hit of the inning and what went on to be four in the game.
Toledo snuck back, scoring runs in the next three innings to eventually knock starter Daniel Lynch out of the game. While Lynch was charged with five runs on nine hits over 3.2 innings, he struck out a season-high eight and did not walk a batter in his third rehab start with Omaha.
Behind Lynch, left-hander Walter Pennington allowed a leadoff single, then retired his next seven batters for 2.1 scoreless innings.
With Pennington keeping the Mud Hens at bay, Omaha's offense got back to work and scored runs in each of its final five innings of at-bats. After Taylor scored in the fourth, Angelo Castellano connected on a two-run homer in the fifth.
In the sixth, Taylor doubled for his second two-bagger and third extra-base hit of the game, came around to score on a Porter single, then Porter scored on Jakson Reetz' second double of the game.
Tyler Gentry singled across two in the seventh, giving all nine Storm Chasers batters at least one hit, then back-to-back doubles from Dungan and Castellano in the eight added two more runs to the scoreboard.
On top of hits from every hitter in the order, eight players scored runs and seven drove in runs, including six multi-hit games, six multi-score games and six multi-RBI games. While 16 runs and 18 hits set season-highs for the club, so did 10 extra-base hits (7 doubles and 3 homers) and 34 total bases.
After Jonah Dipoto pitched a scoreless seventh, the Mud Hens did not go quietly, as Dipoto surrendered a two-run homer in the eight, the second two-run shot of the game from Toledo's Jermaine Palacios. Brooks Kriske got two quick outs in the ninth but two walks and a double scored another run, bringing the game to the 16-8 score that held to be final.
Omaha will try and jump ahead in the series on Thursday as left-hander Austin Cox takes the mound for a 6:35 p.m. CT first pitch.