Independence Day, ¡Celebración Cielo Azul!, Pack the Park Pink and More Highlight Remaining 2023 OKC Dodgers Promotions
Single-game tickets on sale June 6 for OKC Dodgers games July through September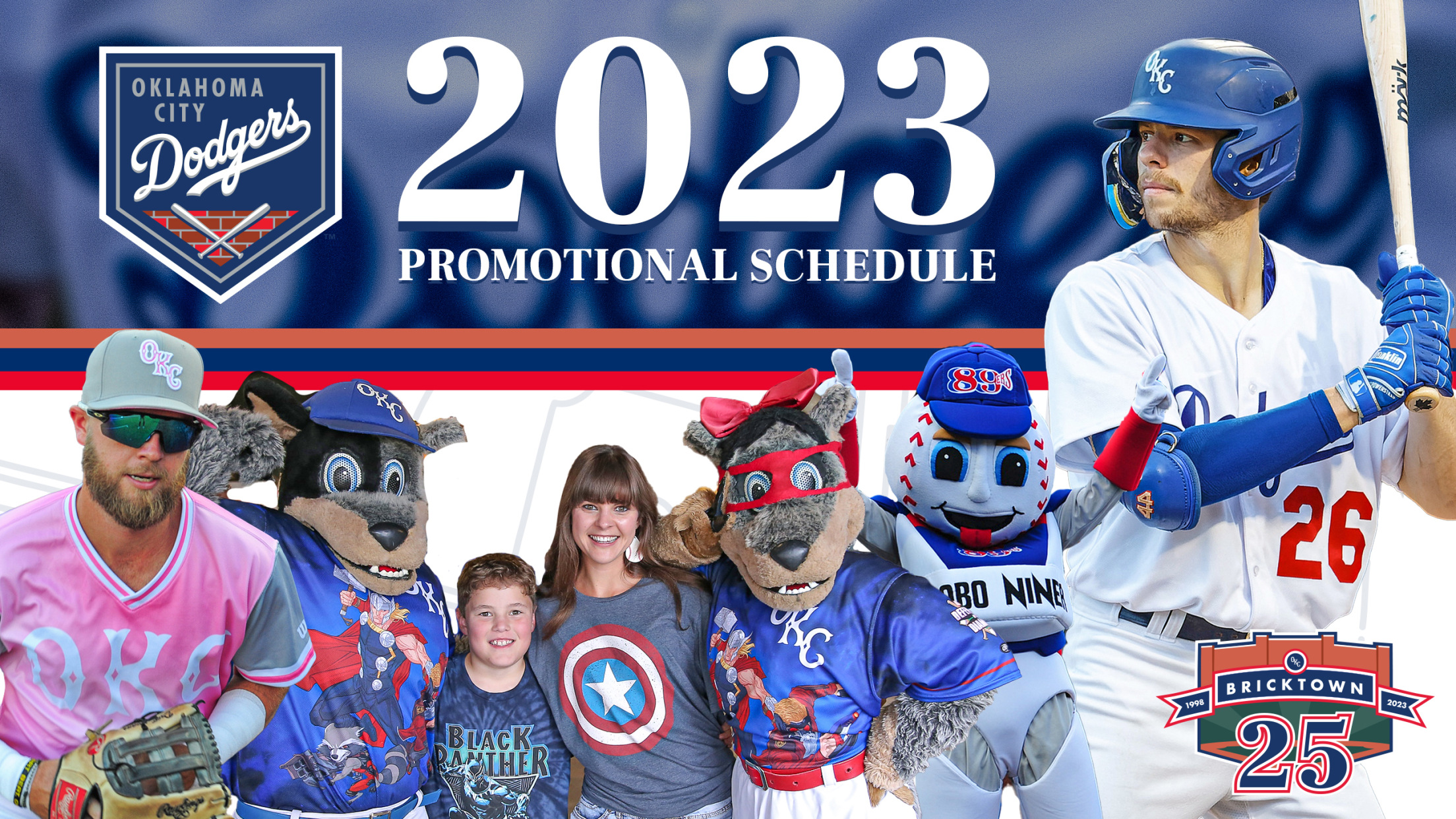 OKLAHOMA CITY – Celebrate Independence Day with the Oklahoma City Dodgers and join in the upcoming summer fun at Chickasaw Bricktown Ballpark through September as single-game tickets for the team's July through September home dates go on sale Tuesday, June 6. Join the OKC Dodgers for Independence Day Tuesday, July
OKLAHOMA CITY – Celebrate Independence Day with the Oklahoma City Dodgers and join in the upcoming summer fun at Chickasaw Bricktown Ballpark through September as single-game tickets for the team's July through September home dates go on sale Tuesday, June 6.
Join the OKC Dodgers for Independence Day Tuesday, July 4 with a special patriotic celebration and postgame fireworks. The team will wear special Stars and Stripes hats on the field that will also be available for purchase in the OKC Dodgers Team Store.
The Dodgers' promotional calendar through June was announced in February for the 25th anniversary season of Chickasaw Bricktown Ballpark and the team's promotional calendar for July through September offers a wide range of added fun as the summer continues to ramp up, including:
Bobblehead Giveaway Night
The first 1,000 fans through the gates at Chickasaw Bricktown Ballpark Saturday, July 22 will receive an OKC Dodgers bobblehead presented by Lime. Gates open at 6 p.m. for the 7:05 p.m. game against the El Paso Chihuahuas.
Outside Entertainment Act
Tyler's Amazing Balancing Act presented by Mickey Mantle's Steakhouse will join in the fun for the Dodgers' Saturday, Aug. 26 game against the Albuquerque Isotopes. Tyler Scheuer has performed at stadiums and arenas throughout the country, including at Chickasaw Bricktown Ballpark, balancing objects on his face ranging from beverages to ladders, while dancing to music and engaging the crowd.
Cielo Azul de Oklahoma City
The OKC Dodgers will take the field as Cielo Azul de Oklahoma City for home games Aug. 22-24 and Sept. 15-17. In addition to players and coaches wearing Cielo Azul jerseys and hats, the gameday environment during ¡Celebración Cielo Azul! will include Latin music, colorful and festive concourse decorations, unique entertainment, live performances and a Spanish-speaking public address announcer for select games. Cielo Azul translates to "Blue Sky" and since 2018, the Dodgers have participated in MiLB's Copa de la Diversión, or Fun Cup, which aims to celebrate each participating community's Hispanic and Latino fans, create a culturally relevant gameday experience and develop special alternative team identities.
$2 Tuesdays
Tuesday home games feature $2 select beer, soda and bottled water from a line of Budweiser and Pepsi products. COOP Ale Works draft beer will also be available at a special rate of $3.
Friday Night Fireworks
Fireworks follow each of the OKC Dodgers' scheduled Friday night home games throughout the season.
Sunday Kids Run the Bases
Following Sunday home games, kids can take the field to run the bases like their favorite pros.
Hall of Fame Induction Night
The first three inductees into the Oklahoma City Triple-A Baseball Hall of Fame will be formally inducted prior to the OKC Dodgers' game Saturday, Aug. 5. The Oklahoma City Triple-A Baseball Hall of Fame was formed this season as part of the 25th anniversary celebration of Chickasaw Bricktown Ballpark and the three inductees have played key roles in the team's history during the franchise's Bricktown era, which began in 1998: Outfielder and designated hitter Jason Botts, pitcher R.A. Dickey and manager Bobby Jones.
Faith and Family Night
Join your church family for a night of fun and fellowship, featuring a postgame, faith-based concert by Crowder Saturday, July 8. Group tickets include a limited edition OKC Dodgers baseball hat, game ticket and admission to the concert.
Pack the Park Pink Presented by MidFirst Bank
OKC Dodgers players and coaches will wear pink jerseys and fans are encouraged to wear pink on Friday, Aug. 4 to Pack the Park Pink with MidFirst Bank to support breast cancer awareness. A silent auction will take place during the game for fans to bid on game-worn, autographed pink jerseys. Special group prices and limited edition pink OKC Dodgers hats are available to groups of 10 or more.
Bark in the Park
Your dog can join in the excitement at Chickasaw Bricktown Ballpark Tuesday, Sept. 12 for Bark in the Park. No special tickets are needed for dogs. Ticketed owners only need to fill out and turn in a waiver form at the gate in order for their dog to be admitted. The waiver can be filled out in advance at okcdodgers.com or will be available at the ballpark gates. Water and relief stations will be available throughout the stadium for your furry companion. The game also falls on a $2 Tuesday.
Oklahoma City 89ers Night
Dodgers players and coaches will wear special retro OKC 89ers jerseys and hats in recognition of the franchise's pre-Bricktown history Saturday, Aug. 5. The 89ers played at All Sports Stadium from 1962-97 and won four league titles before the franchise relocated to Chickasaw Bricktown Ballpark in 1998.
Salute to Armed Forces Night
Current and former local military personnel and their families will be celebrated during Salute to Armed Forces Night Friday, Aug. 25. The night features in-game recognition of military members while players and coaches take the field in special commemorative camouflage jerseys and hats. Players' game-worn jerseys will be auctioned to benefit the OKC Dodgers Baseball Foundation. Special rates and hats are available for groups of 10 or more.
Clubhouse Collectibles
The Clubhouse Collectibles silent auction returns Saturday, July 8 as the OKC Dodgers partner with The Oklahoman to provide resources to the Foundation for Oklahoma City Public Schools. Fans will have the opportunity to bid on game-used, game-worn, autographed memorabilia.
Braum's Friends and Family Nights
Braum's Friends and Family Nights allow groups of 10 or more people to receive a game ticket, OKC Dodgers hat and a Braum's restaurant voucher that can be redeemed at any Oklahoma Braum's location, starting at just $13 per person. Remaining dates for Braum's Friends and Family Nights are Saturday, July 8; Friday, Aug. 9; Saturday, Aug. 26 and Saturday, Sept. 16.
All-You-Can-Eat
Special games at Chickasaw Bricktown Ballpark feature all-you-can-eat ballpark fare, a terrace-level game ticket and an OKC Dodgers hat for the price of $25 per person for groups of 10 or more. Enjoy this all-you-can-eat offer Saturday, July 22; Thursday, Aug. 5; Saturday, Aug. 27 and Friday, Sept. 1.
Twisted Tea Par-Tea Hour and Inning
The Par-Tea Hour offers 2-for-1 Twisted Teas at the Par-Tea Pad from when gates open at 6 p.m. to the first pitch for every Thursday home game throughout the season. Additionally during Thursday home games, the Twisted Tea Par-Tea Inning offers 2-for-1 Twisted Teas during the sixth inning.
INTEGRIS Home Run For Life
The INTEGRIS Home Run For Life series returns for a 12th season and features Oklahomans who have overcome medical hardships with the help of their families, physicians and health care professionals at INTEGRIS Health. These individuals mark the end of their battle against adversity with a celebratory lap around the bases during select games Friday, July 21 and Friday, Sept. 1.
LifeShare Everlasting Fans
During OKC Dodgers home games, representatives from LifeShare of Oklahoma will be on concourse to encourage organ donation, answer questions and distribute information about the organization's initiatives. Fans who register to become an organ donor at a game will receive an exclusive T-shirt.
Lewis RV Going, Going, Gone
Fans can sign up online at milb.com/oklahoma-city/tickets/going-going-gone or at the promotions kiosk during home Dodgers games through Sept. 3 for their chance to win a weekend trip in a Lewis RV with a camping gear package. Fans who sign up and visit with the sales team at Lewis RV within a specific time are then eligible for a free custom Dodgers jersey.
True Sky Federal Credit Union Cash Grab
Fans can sign up for an opportunity to step into the True Sky Cash Grab money machine during select Saturday home games. Winning participants will spend 45 seconds in the money machine surrounded by swirling cash with the goal of grabbing as much money as possible. True Sky Federal Credit Union will then match the amount grabbed and open a checking account in the participant's name. For more information on how to enter online or during an OKC Dodgers game, visit milb.com/oklahoma-city/tickets/cash-grab.
Oklahoma Fidelity Bank Rookie Signing Bonus
Parents can register their children ages 3-12 to become the Oklahoma Fidelity Bank Rookie of the Game. Winners are randomly selected for every Friday home game to earn their Rookie Signing Bonus while attending the game with their family. The Rookie of the Game will start the night with $50 toward a savings account and then earn an additional $10 for every run scored by the OKC Dodgers that night. Register online at milb.com/oklahoma-city/tickets/rookie-signing-bonus.
Love's Baseball Buddies
Love's Baseball Buddies will take the field with the OKC Dodgers during select games. Parents can sign up their children for the chance to be introduced over the public address system and access the field for the Dodgers' starting lineup and national anthem. Boys and girls selected to participate will also receive an OKC Dodgers T-shirt and hat. Entries can be made online at milb.com/oklahoma-city/tickets/baseball-buddies or in-person during Dodgers home games.
Newcastle Casino's Bring in Your Ticket
During home games, fans ages 18 or older can stop by the promotions kiosk to pick up a voucher that can be redeemed at Newcastle Casino for a limited edition OKC Dodgers T-shirt when they register for a free Player's Club Membership.
OKC Dodgers Ticket Information
OKC Dodgers single-game tickets for games through June are available now and single-game tickets for July through September home games go on sale at 10 a.m. Tuesday, June 6 and range from $12-33. All tickets will be digital and are available for purchase online at okcdodgers.com/tickets. Group and season ticket packages are also available.
To view the Dodgers' complete 2023 schedule, visit okcdodgers.com. For additional information, please call (405) 218-2182 or visit okcdodgers.com.