Lamb Launches Two Homers, White & Gaviglio Toss Shutout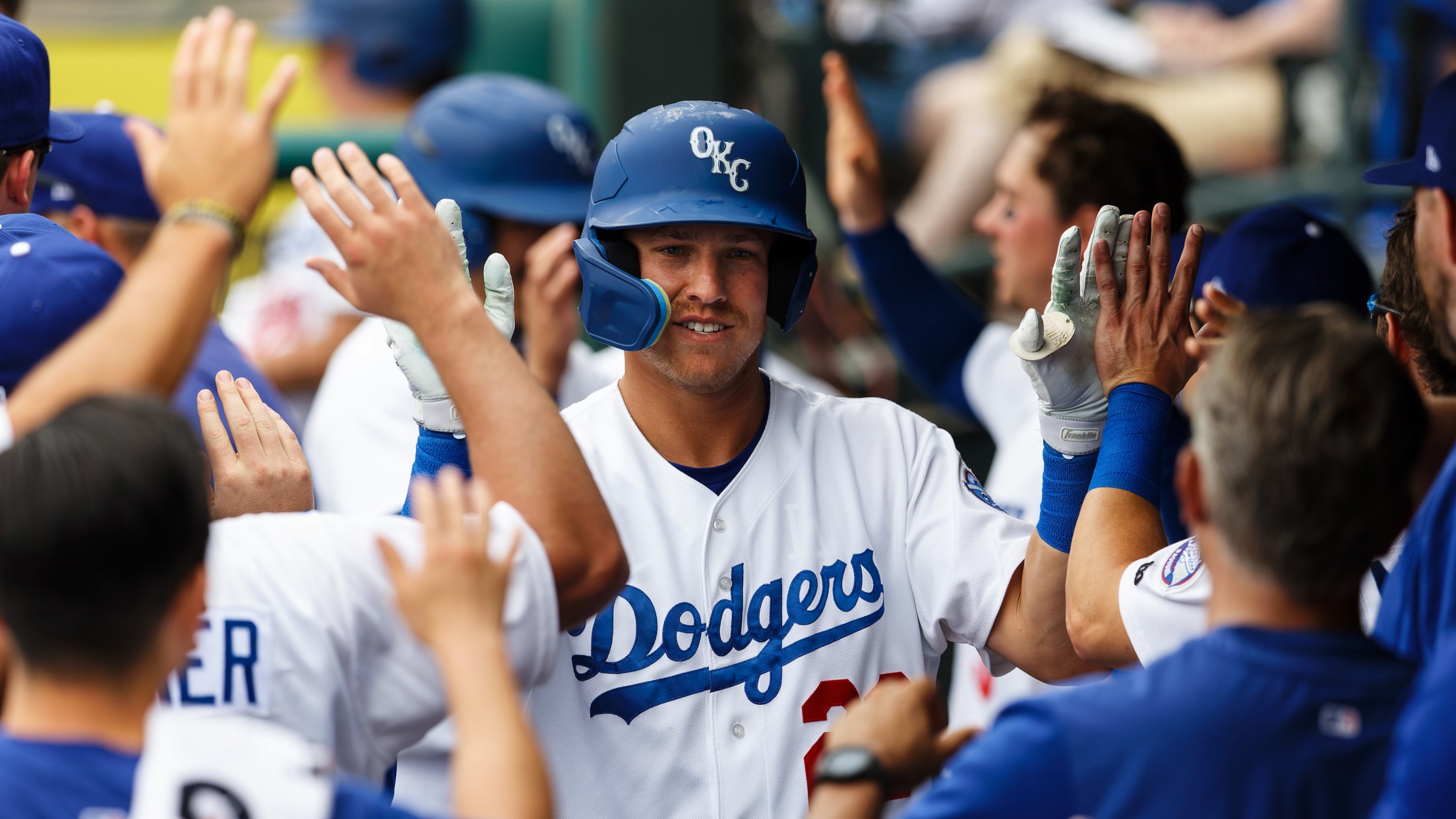 Jake Lamb had his first multi-homer game since 2017 (Eddie Kelly/ProLook Photos)
Oklahoma City Dodgers – 7 Reno Aces – 0 Saturday, June 18, 2022 – Greater Nevada Field – Reno, Nev. Game Summary: Jake Lamb hit two homers, Jason Martin drove in four runs and the pitching tandem of Mitch White and Sam Gaviglio combined on a four-hit shutout, as the
Oklahoma City Dodgers – 7
Reno Aces – 0
Saturday, June 18, 2022 – Greater Nevada Field – Reno, Nev.
Game Summary: Jake Lamb hit two homers, Jason Martin drove in four runs and the pitching tandem of Mitch White and Sam Gaviglio combined on a four-hit shutout, as the Oklahoma City Dodgers beat the Reno Aces, 7-0, Saturday night at Greater Nevada Field. Lamb's first home run of the night started the scoring in the first inning. Two batters later, Martin hit a two-run homer, giving the Dodgers (41-24) a 3-0 lead. OKC plated three more runs in the third inning. With the bases loaded, Martin hit a ground rule double to deep right-center field that was nearly a grand slam. Later in the inning, Jake Amaya added a RBI groundout. Lamb went deep for the second time in the fourth inning, scoring what would be the final run of the game. White and Gaviglio retired 27 of 31 batters overall, including 13 of the final 14 to complete the team's fourth shutout of the season, as the Aces (34-31) were held scoreless for the second time this season.
Of Note:
-The Dodgers won a fourth straight game, improved to 10-2 over their last 12 games and 12-3 in their last 15 games. At 41-24, the Dodgers are a season-high 17 games above .500 this season. OKC has also won 10 of their last 13 road games. This is the third time this season the Dodgers have won four straight games within the same series.
-Jake Lamb collected his first multi-homer game of the season, hitting solo blasts in the first and fourth innings. Lamb also walked twice and scored a total of three runs, tying his season high. He became the sixth OKC player this season with a multi-homer game, and it was his first since Aug. 8, 2017 with the Arizona Diamondbacks against the Los Angeles Dodgers…Lamb extended his current hitting streak to 10 games (17x39). He has hit safely in 13 of his last 14 games (21x53) and in 15 of his last 17 games (24x66). Over his last five games, Lamb is 11-for-19 with two homers, three doubles and six RBI.
-Jason Martin had a game-high four RBI, going 2-for-5 with a home run and a double. Martin is on a season-best 10-game hitting streak, going 15-for-38 with four home runs, two triples, three doubles and 14 RBI. During the current series in Reno, Martin is 7-for-18 with four extra-base hits, eight RBI and eight runs scored.
-Michael Busch extended his hitting streak to 11 games – tying the longest by an OKC player this season – going 3-for-4 with a double, walk and two runs scored. During the hitting streak, Busch 15-for-47 with six extra-base hits and nine RBI. Busch tied his overall season high with three hits, but it was his first three-hit game since joining OKC. Over his last eight games, Busch is 12-for-33 with five extra-base hits.
-The 3-4-5 hitters of Lamb, Busch and Martin combined to go 7-for-12 with three homers, two doubles, six runs, six RBI and three walks.
-Starting pitcher Mitch White threw six scoreless innings for his second consecutive scoreless outing since joining OKC. He allowed three hits with no walks and four strikeouts, completing his six frames on 79 pitches. White retired 18 of 21 batters faced overall and did not have a runner advance to third base. In his two games with OKC, White has yet to allow a run over 11.2 innings while giving up just three hits.
-Sam Gaviglio pitched the final three innings to complete the shutout, retiring nine of 10 batters. Gaviglio allowed one hit, with no walks and three strikeouts. In his 244th professional appearance, he earned his first career save.
-Saturday was OKC's fourth shutout of the season, all of which have been on the road. It was also the second time this season the OKC pitching staff did not allow a walk. Reno's Dominic Fletcher went 3-for-4 while the rest of the Aces lineup was 1-for-27. Reno did not have a runner advance to third base until there were two outs in the ninth inning. It's just the second time since July 19, 2017 the Aces have been shut out at home.
What's Next: The Dodgers finish their series in Reno with a Father's Day Matinee beginning at 3:05 p.m. CT Saturday. Live radio coverage of each OKC Dodgers game begins 15 minutes before first pitch on AM 1340 "The Game," 1340thegame.com and through the free iHeartRadio or MiLB First Pitch apps. All OKC Dodgers games are also available streamed live on MiLB.TV with a subscription.