Dodgers Survive Chihuahuas Comeback, Win in Extras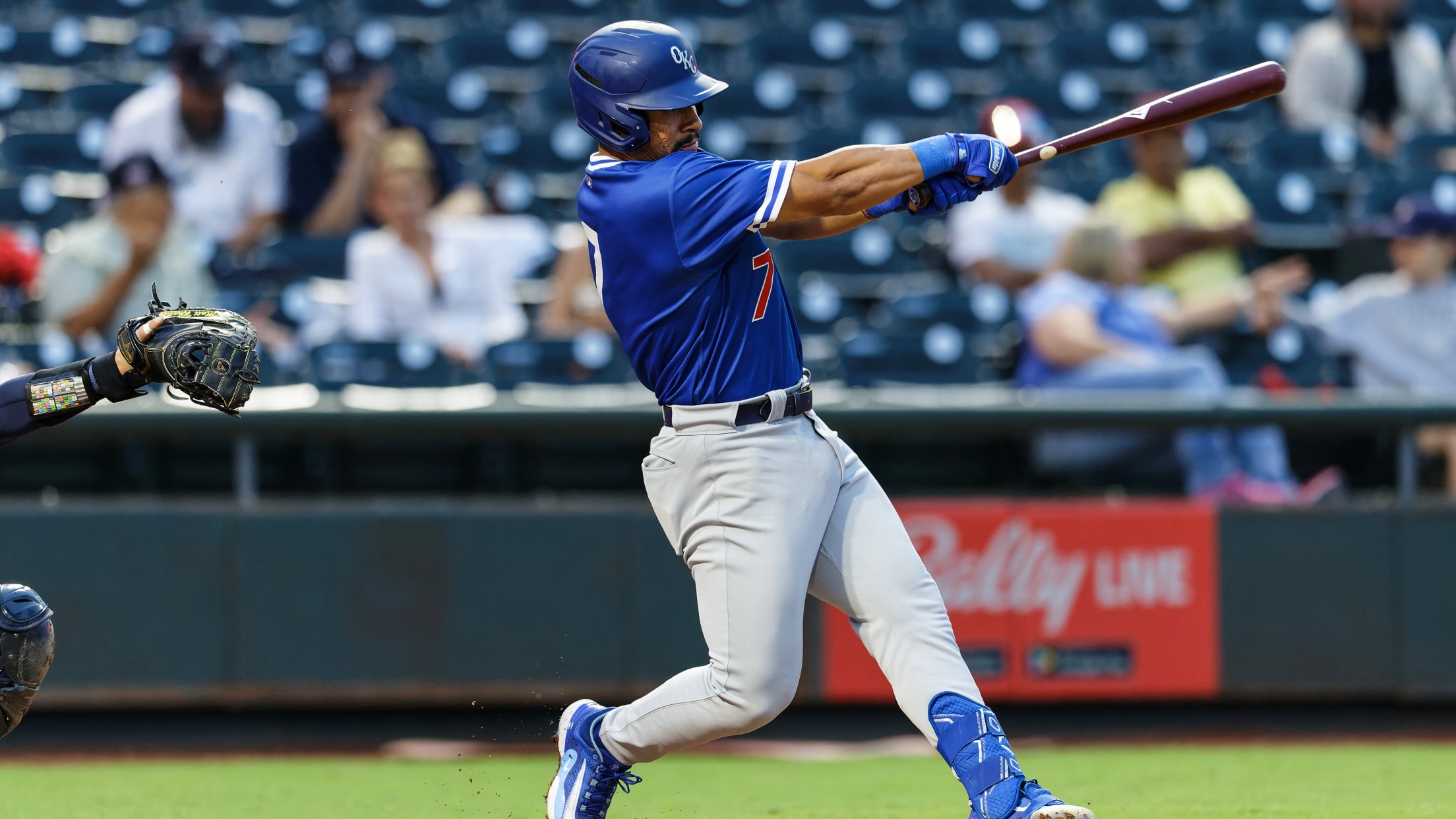 Jahmai Jones went 4-for-5 with two homers and a triple Wednesday in El Paso. (Eddie Kelly/ProLook Photos)
Oklahoma City Dodgers – 8 El Paso Chihuahuas – 6 (10 innings) Wednesday, June 7, 2023 – Southwest University Park – El Paso, Texas Game Summary: After a late three-run lead slipped away, the Oklahoma City Dodgers bounced back score two runs in the 10th inning and defeat the El
Oklahoma City Dodgers – 8
El Paso Chihuahuas – 6
(10 innings)
Wednesday, June 7, 2023 – Southwest University Park – El Paso, Texas
Game Summary: After a late three-run lead slipped away, the Oklahoma City Dodgers bounced back score two runs in the 10th inning and defeat the El Paso Chihuahuas, 8-6, Wednesday night at Southwest University Park. The Dodgers (42-17) held a 6-3 lead in the eighth inning before the rehabbing Nelson Cruz hit a solo home run for El Paso (27-32). Luis Liberato hit a home run with one out in the ninth inning to cut the OKC lead to one, and then with two outs, the Dodgers committed an error on a likely game-ending play to extend the contest. Cruz followed with a game-tying single, but Dodgers reliever Bryan Hudson regrouped to strike out the next batter and leave the winning run at third base. In the top of the 10th inning, Ryan Ward drilled a two-run double to deep center field to regain the lead. Mark Washington then used all of four pitches to retire the Chihuahuas and end the game. The Dodgers hit four home runs throughout the contest, including two by Jahmai Jones. El Paso led, 3-2, through five innings before Jones tied things up with his first home run in the sixth inning. In the seventh inning, Yonny Hernández gave the Dodgers the lead with a two-run blast, and Jones connected on his second homer in eighth inning to make it 6-3 before the Chihuahuas staged their comeback.
Of Note:
-With Wednesday's win, the Dodgers improved to a league-best 42-17. They avoided their first 0-2 series start this season and still have not lost consecutive games since May 5…OKC is now 20-6 over the last 26 games and 11-3 over the last 14 road games…Wednesday marked the team's 14th last at-bat win of the season, and the Dodgers are now 4-2 in extra innings.
-Jahmai Jones set a season high with four hits, including two home runs and a triple. It was his second multi-homer game of the season, also accomplished April 4 at Las Vegas. He has hit four homers in his last four games, doubling his season total from his first 42 games this season…Jones extended his current hitting streak to 14 games and current on-base streak to 22 games. The hitting streak is tied for the longest by an OKC player this season, and during the hitting streak he is 21-for-41 (.512) with four homers, a triple, eight doubles, 11 RBI and 14 walks.
-Devin Mann tied his season high with three hits, going 3-for-5 with a home run and a double. Mann is now on a season-best 10-game hitting streak, going 17-for-37 (.459) with 15 RBI and 10 runs scored. He also extended his current on-base streak to 25 games, tying him with Michael Busch for the longest by an OKC player this season.
-One day after his 14-game hitting streak ended, Yonny Hernández went 2-for-5 with a home run and a double. Hernańdez's go-ahead two-run homer in the seventh inning was his second home run in his last five games and just the seventh home run of his entire pro career. The switch hitter had not hit a home run right-handed since 2018, and now each of his two home runs this season have occurred from the right side of the plate.
-The Dodgers notched eight extra-base hits, setting a new season high. They also tied their season high with four homers, only done once previously April 7 at Las Vegas. Yonny Hernández, Jahmai Jones and Devin Mann each finished with multiple extra-base hits.
-Justin Hagenman made a spot start and allowed one run and four hits over four innings. It was Hagenman's longest outing since 2019 and he set career highs with eight strikeouts and 74 pitches…Hagenman allowed his first run since April 30, and over his last nine games, Hagenman has yielded just one run and 11 hits across 19.2 innings, with three walks and 22 strikeouts.
What's Next: The Dodgers look for their first consecutive wins in El Paso this season when they face the Chihuahuas beginning at7:35 p.m. CT Thursday at Southwest University Park. Live radio coverage of each OKC Dodgers game begins 15 minutes before first pitch on AM 1340 "The Game," 1340thegame.com and through the free iHeartRadio or MiLB First Pitch apps.