Norfolk Notches Second Win in a Row vs. Gwinnett
Sedlock Earns His First Win As Starter, Bannon and Westburg Homered in Win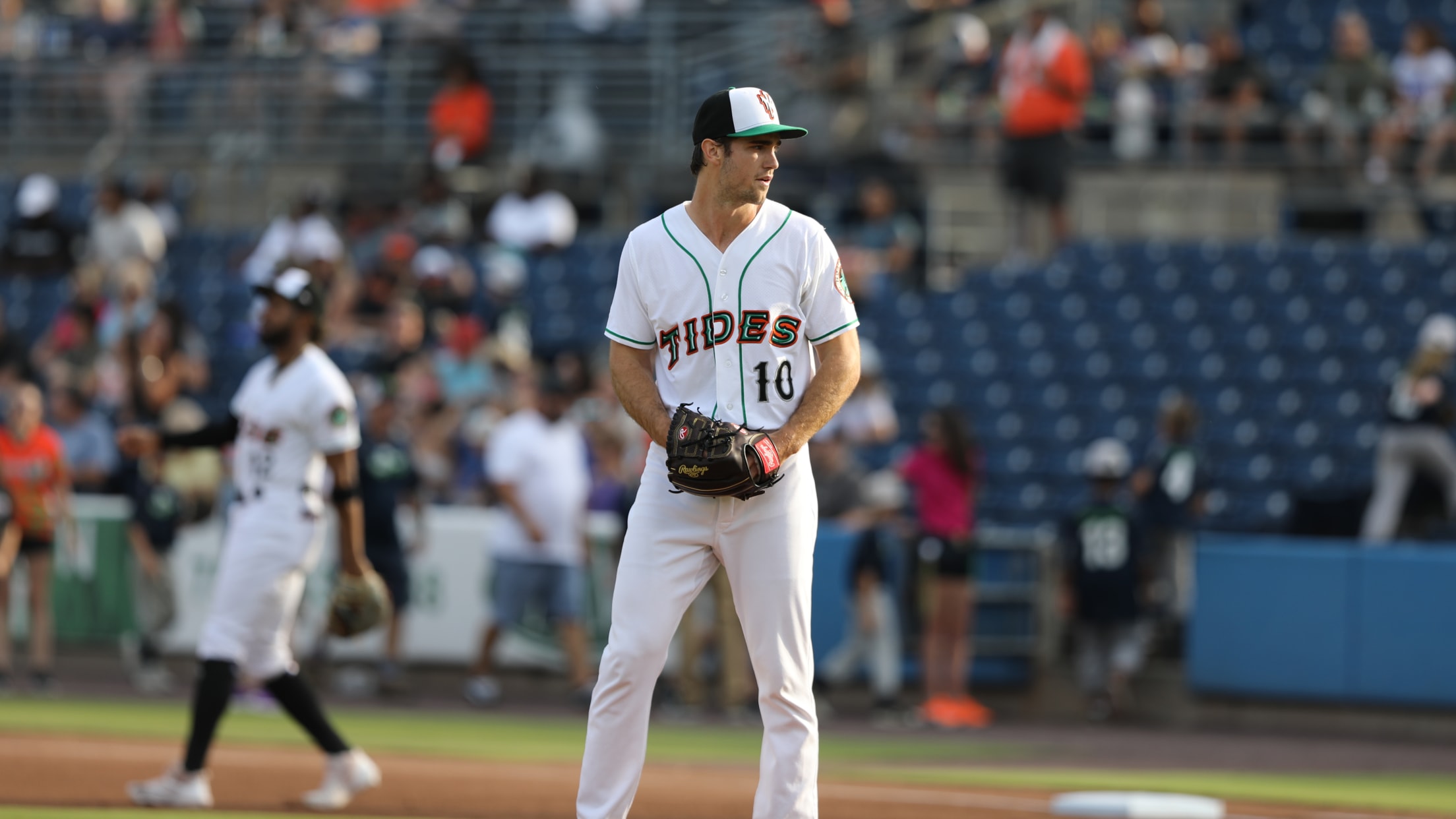 Cody Sedlock (Isaiah Jones)
NORFOLK, Va. --- The Norfolk Tides (36-38) beat the Gwinnett Stripers (35-39), 9-5, Wednesday night. The Tides hit two home runs in their second straight win. Two runs were scored right off the bat by Gwinnett in the first. Eddie Rosario, who's playing with the Stripers on a MLB rehab
NORFOLK, Va. --- The Norfolk Tides (36-38) beat the Gwinnett Stripers (35-39), 9-5, Wednesday night. The Tides hit two home runs in their second straight win.
Two runs were scored right off the bat by Gwinnett in the first. Eddie Rosario, who's playing with the Stripers on a MLB rehab assignment, led the game off with a walk. He reached third base when Preston Tucker doubled. They both scored when Braden Shewmake singled, putting Gwinnett up 2-0.
The Tides didn't score until the fourth inning and exploded for six runs. With two runners on, Rylan Bannon took the lead on one swing of the bat with a home run. The Tides would end up batting around in the inning, scoring three more when Terrin Vavra hit an RBI single, Jordan Westburg hit an RBI double and Kyle Stowers hit a sacrifice fly to make it, 6-2, Norfolk.
Gwinnett would respond with a run in the top of the fifth. Shewmake struck again with an RBI single to put the game at 6-3. Tides starter Cody Sedlock ended his night after the fifth allowing the three runs on six hits and three walks with six strikeouts. He threw 90 pitches, 59 for strikes, which led him to his third win of the season.
The Stripers went on to score another two runs in the sixth to pull Gwinnett within one run of the Tides. Rosario knocked in both runs on a double, making it the third time he reached base safely. But Norfolk did score three runs in the eighth to extend their lead. Vavra ripped an RBI double to score the first, and then scored when Westburg blasted his sixth home run of the season.
In relief, Rico Garcia threw 2.0 scoreless innings in the seventh and eighth innings, and Cole Uvila entered the ninth to close the game to clinch a 9-5 win for the Tides. Tomorrow, RHP Mike Baumann (0-4, 6.52) will make the start for the Tides and will face off against Gwinnett starter RHP Huascar Ynoa (3-4, 5.09). First pitch at 12:05 p.m.
*POSTGAME NOTES *
SED-LOCK THEM DOWN: Starting pitcher Cody Sedlock went five innings in a start for the first time this season…he did pitch 5.1 innings in relief on May 13 vs. Memphis…his last win came on April 19 vs. Durham…Sedlock is 2-0 with a 2.93 ERA (5 ER, 15.1 IP) in four games as a reliever, while he is 1-1 with an 8.37 ERA (27 ER, 29.0 IP) as a starter.
BAM BAM BANNON: The offensive leader for the Tides tonight was Rylan Bannon, who went 2-for-4 with a double and a three-run homer...it was his ninth home run of the season and his first since June 19 vs. Syracuse…he's extended his hitting streak to eight games, where since June 14 he's hitting .379 (11-for-29) with seven runs, three doubles, four home runs, 12 RBI and six walks.
OUR VAVR-ITE: The hit leader for the Tides tonight was Terrin Vavra, who went 3-for-5 with two runs, two doubles and two RBI…it was his 11th multi-hit effort of the season, which is tied for the team lead with Richie Martin…he has a team leading five three-hit games, including his last two games…in June, Vavra .343 (23-for-67) with 18 runs, six doubles, a home run, eight RBI and eight walks.
WILD WILD WEST: The home run by Jordan Westburg in the eighth inning was his sixth of the season with the Tides and his 15th overall…he went 2-for-4 overall tonight, with a run, a double, a home run and three RBI…the hits tonight snapped an 0-for-13 skid for him.