Wellman following in father's footsteps 
Managing has become family business for Phillip, Brett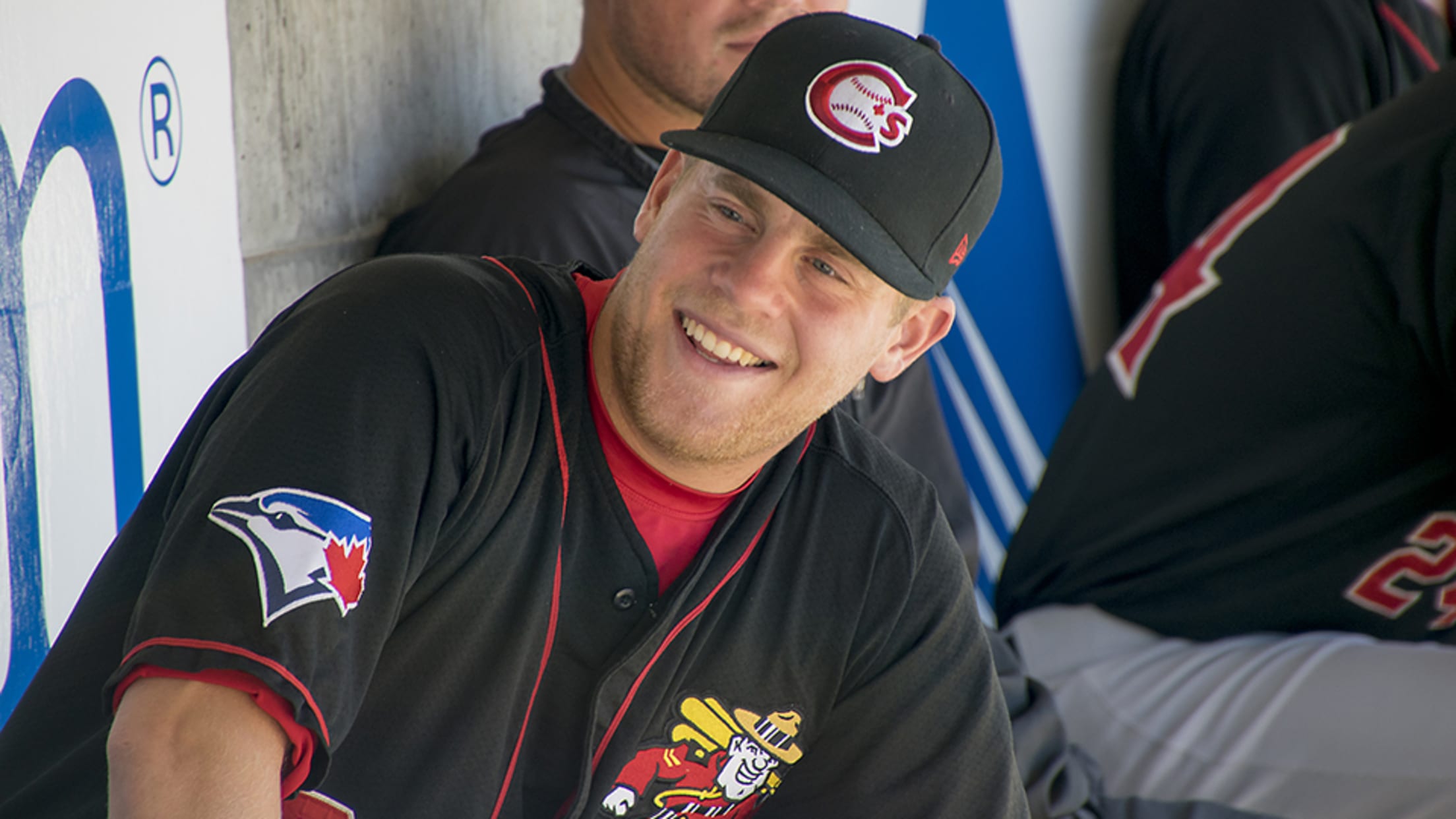 Brett Wellman spent three years as a catcher in the Blue Jays organization. (Jared Ravich/MiLB.com)
At first glance, it doesn't seem like much is amiss at HODGETOWN in Amarillo, Texas. There's a baseball game being played on the diamond, complete with scoreboard updates and sound effects. Socially distanced fans are spread throughout the confines or basking in the sun beyond the outfield grass. Even broadcaster
At first glance, it doesn't seem like much is amiss at HODGETOWN in Amarillo, Texas. There's a baseball game being played on the diamond, complete with scoreboard updates and sound effects. Socially distanced fans are spread throughout the confines or basking in the sun beyond the outfield grass. Even broadcaster Sam Levitt is back in the booth, calling the game for those watching at home.
But if you take a closer look, you'll notice things are actually quite different. The team on the field is not the Double-A Amarillo Sod Poodles, but the Amarillo Sod Squad. The game being played isn't a Minor League baseball game, it's a Texas Collegiate League contest. And while the lineup card may have "Wellman" listed as Amarillo's manager, it's not Sod Poodles manager Phillip Wellman -- it's his son, Brett.
One of the few baseball leagues still able to carry out a season this summer, the Texas Collegiate League -- a wood bat summer circuit -- is using Minor League stadiums throughout the Texas League now that the Minor League Baseball season has officially been canceled. With COVID-19 concerns essentially shutting down most sports, Brett Wellman knows he's one of the lucky ones. He also knows if there's a silver lining to anything that's happened in recent months, it's the opportunity to manage on the same field his dad usually does.
"He's been (coaching) for over 30 years," Brett said. "I think we have probably a stronger relationship than most fathers and sons."
That would make sense.
Brett spent much of his childhood in clubhouses as his father worked his way through the Minor Leagues. In 1992, Phillip landed his first managerial gig as a 30-year-old skipper for the Rookie-level Gulf Coast League Orioles. He's managed 10 different teams across four levels in the ensuing decades. Most recently, he helped guide the Sod Poodles to the 2019 Texas League championship in their inaugural season.
He's also been extremely influential in his son's baseball career. Brett played collegiately at Auburn-Montgomery and spent three years as a catcher in the Blue Jays organization from 2014-16. Now Phillip has another chance to assist his son, although he insists Brett doesn't need it.
"He always has an answer -- and it's a good answer," Phillip said. "That's impressed me. You have to have a reason for why you do stuff.
"He's got feel. He gets it. He understands what's going on and he does the best he can to put his team in a position to win. I think that just comes from his experience of being around the game for as long as he has."
It was Sod Poodles general manager Tony Ensor who first asked Brett if he was interested in managing the Sod Squad for the summer. Phillip gave him Brett's phone number but preferred to lay low through the process. Living in Dallas, where he was giving lessons and coaching a select youth team, Brett was interested but ultimately didn't think he would get the job. Five days later, he was hired immediately after his interview.
"This is how I found out he got the job," Phillip said with a laugh. "He called me and asked, 'Hey, do you have all of your stuff out of my office?'"
Now Phillip watches every Sod Squad game from his home in Chattanooga, Tennessee. At the end of the game, Brett calls his dad. The two talk strategy, decisions, execution -- you name it. They don't agree on everything, of course -- Phillip would be the first to admit that -- but the conversations and shared perspective are more important than anything else. In fact, that same perspective is what's inspired Brett to be the manager that he is.
"Growing up in baseball helped me see now just how (my dad) treated his players, but he also had well-respected hitting and pitching coaches, and I saw how they treated their players too," Brett said. "Of course, he's going to have an impact on how I treat guys. Also, growing up in the clubhouse from the time I was 5 to 20, I just saw how players responded to different types of coaching and managing styles."
Brett's awareness and observation skills are strengths he's had since he was a child, according to his father.
"He's been in my dugout since he was 6 years old. ... When he was little, he'd ask me questions after the game. He would ask me why I did this or why did I not do that," Phillip recalled. "You could tell he's always taking mental notes."
Now it's Phillip who takes notes. He does his best to remove his coaching hat while watching his son but admits that's easier said than done.
"I'm not going to lie. In my mind, I'm kind of managing those games," he said. "But (Brett's) done quite well. He's on top of his moves. I know a guy is leading off the next inning and I think, 'You better have a pinch-runner ready.' And sure enough, the guy gets on base and here comes someone trotting out of the dugout that can run."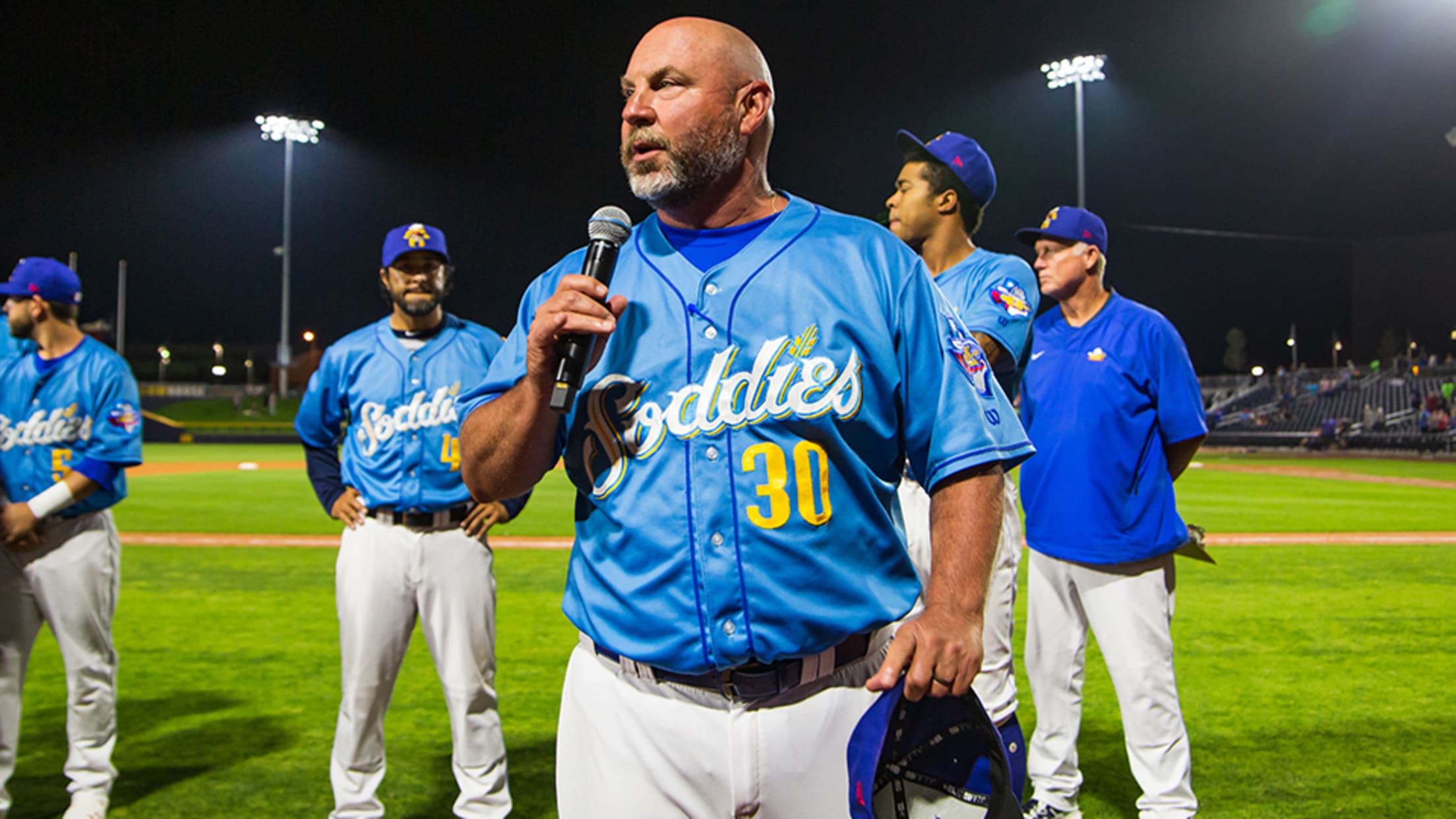 That's not the only thing the two have in common. They share similar mannerisms and Phillip's wife, Montee, points out the two even stand in the same spot in the dugout. That allows Phillip to support his son while longing for his own return to the field.
"I think he misses it," Brett said. "I think he's a little jealous, to be honest with you. I know he's watching every game, waiting for me to screw something up."
Dad agrees.
"I feel a bit envious, I really do," Phillip admitted. "But this is the second-best thing I've got right now. If I'm not coaching, at least Brett gets to do it."
So far, Brett has given his dad quite a show. The Sod Squad is 7-5 and just 1.5 games off the pace in the North Division. The Texas Collegiate League season only runs 30 games, but the experience has been nothing but valuable for Brett, who's hoping to continue coaching professionally. He served as a coach for Double-A Chattanooga but is definitely interested in pursuing future managerial roles.
"My goal is to manage in pro ball and I hope this opportunity right now gives me some experience and makes me better at developing players," he said. "It's been fun to see how guys react to different things, how you need to treat guys to get the best out of him."
That's been Brett's biggest focus, he said. The relationship with his 30 players, regardless of the fact that he only has them for the summer, is key to his coaching style. And it's apparent to those around him, especially his dad.
"I feel like Brett's in a good spot to pick up as much information as possible." Phillip said. "Hopefully, that turns into another opportunity for him. ... I told him, 'I know you want to win and you want to develop players and help them. ... All you're looking for is to show your level of aptitude, your knowledge of the game and how you handle players and, hopefully, someone recognizes that.'
"Nothing helps you more than baptism by fire and to be under the gun."
And in Brett's case, who's a better teacher than the person he's been learning from all his life?