Tromp Slashes Walk-Off Single in Stripers' 2-1 Victory
Bryce Elder tosses 7.0 scoreless innings in win over Durham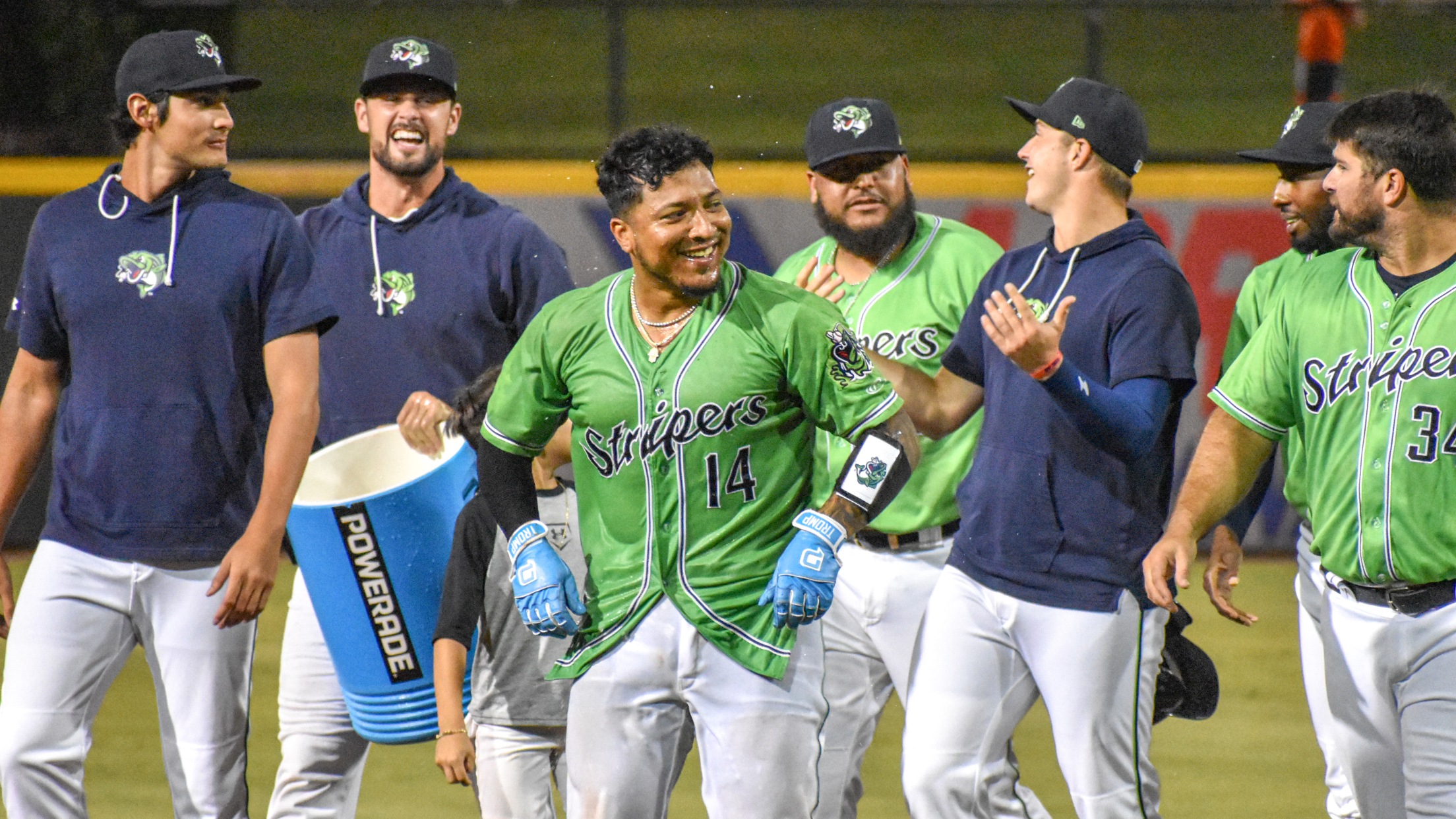 Chadwick Tromp enjoys a celebratory shower from his teammates after delivering the game-winning single in the Stripers' 2-1 victory over Durham on Friday night. (Josh Conner/Gwinnett Stripers)
LAWRENCEVILLE, Ga. – Chadwick Tromp lined a walk-off single in the bottom of the ninth inning to lift the Gwinnett Stripers (43-45) over the Durham Bulls (47-41) 2-1 on Friday night at Coolray Field. [BOX SCORE] Decisive Plays: Preston Tucker provided the first run of the game, lofting a sacrifice
LAWRENCEVILLE, Ga. – Chadwick Tromp lined a walk-off single in the bottom of the ninth inning to lift the Gwinnett Stripers (43-45) over the Durham Bulls (47-41) 2-1 on Friday night at Coolray Field.
Decisive Plays: Preston Tucker provided the first run of the game, lofting a sacrifice fly to left field to score Joe Dunand for a 1-0 lead in the third inning. Stripers' starter Bryce Elder held the Bulls scoreless for seven innings, but Durham tied the game at 1-1 in the ninth on Grant Witherspoon's solo home run (1) off Jesus Cruz (W, 1-0). In the bottom of the ninth, Mike Ford drew a leadoff walk from Dustin Knight (L, 2-3), pinch runner Braden Shewmake stole second and advanced to third on an error, and Tromp followed with the decisive hit to left-center.
Key Contributors: Elder tossed 7.0 innings, allowing six hits and walking none while striking out five. Offensively, Hernan Perez (2-for-4) and Ford (1-for-3) each doubled, while Tromp finished 2-for-4 with the game-winning single.
Noteworthy: It was the Stripers' fifth walk-off win of the season, the first delivered by Tromp. Gwinnett is 11-5 in games decided in the last at-bat this season. Elder has tossed at least 7.0 innings in six of his 13 starts with the Stripers this year.
Next Game (Saturday, July 16): Gwinnett vs. Durham, 6:05 p.m. at Coolray Field. LHP Tucker Davidson (2-6, 4.41 ERA) for the Stripers vs. RHP Jayden Murray (Triple-A Debut) for the Bulls. Radio Broadcast: 5:50 p.m. on MyCountry993.com. Be among the first 2,500 fans in the gates to receive a bobblehead of Gwinnett legend Sean Kazmar Jr, courtesy of Slow Pour Brewing. Before retiring in 2021, "Kaz" set Gwinnett career records for games (750), hits (675), runs (308), RBIs (296), and total bases (973). Please note, this giveaway is ONE PER PERSON, and fans with extra tickets will not be permitted to exit the ballpark and re-enter to claim additional bobbleheads.