Swiney, Emeralds polish off seven-inning no-hitter
Trio combines on first Eugene no-no since 2015, second in 54 years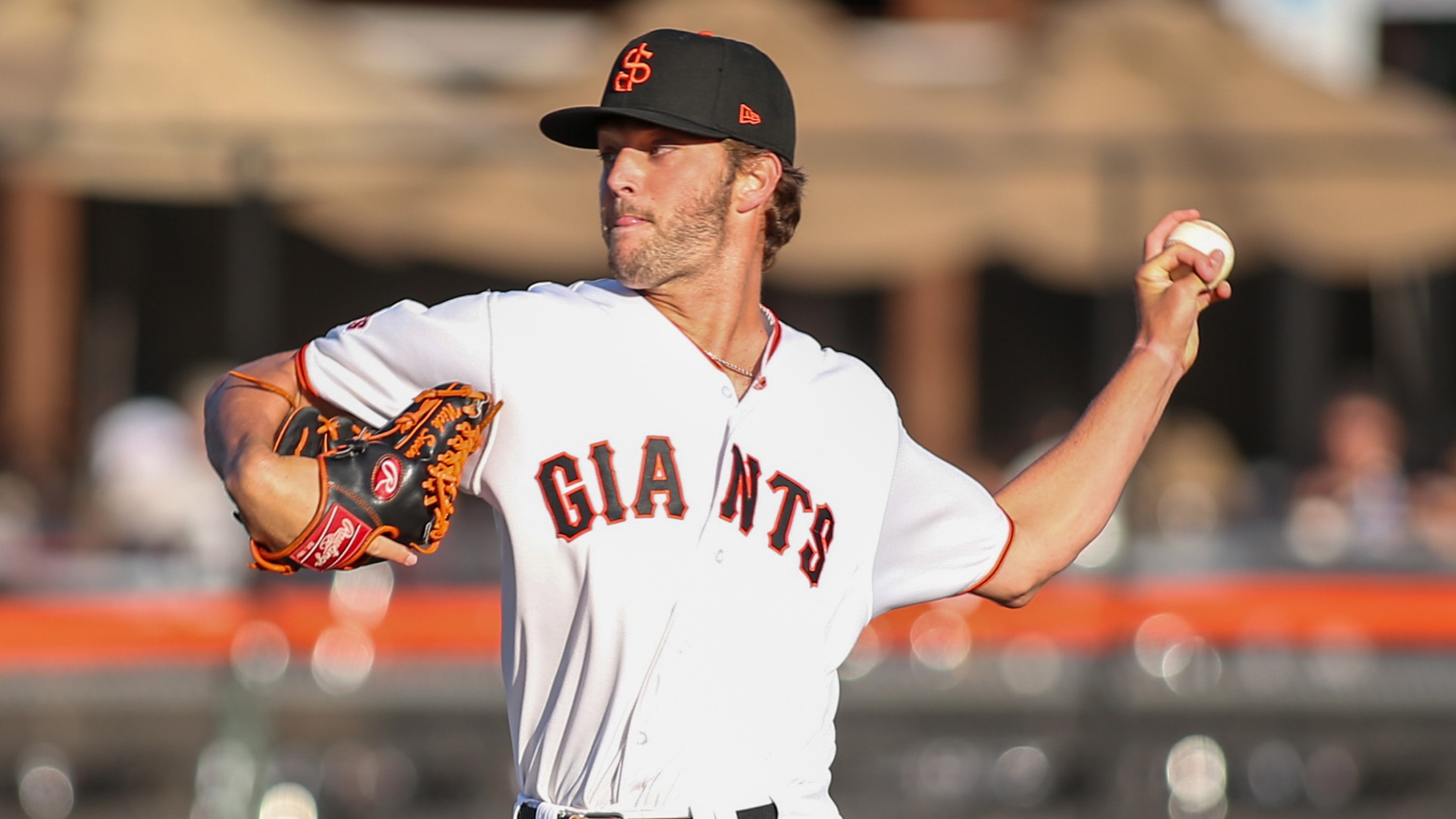 With Nick Swiney leading the way, three Eugene hurlers combined to toss a seven-inning no-hitter. (San Jose Giants)
With just a single Minor League no-hitter the first month of the season, the time was ripe for another. Nick Swiney and two relievers delivered in the first game of a doubleheader. The No. 17 San Francisco prospect struck out seven over 5 1/3 innings for High-A Eugene en route
With just a single Minor League no-hitter the first month of the season, the time was ripe for another. Nick Swiney and two relievers delivered in the first game of a doubleheader.
The No. 17 San Francisco prospect struck out seven over 5 1/3 innings for High-A Eugene en route to a 3-0 win over Tri-City in Sunday's opener at Gesa Stadium. Cole Waites and Nick Avila finished off the Emeralds' sixth no-hitter, their first one since 2015.
YOU'RE SEEING THAT RIGHT, COMBINED NO NO BY SWINEY, WAITES, AND AVILA. #goems pic.twitter.com/D3W9OwXAGn

— Eugene Emeralds (@EugeneEmeralds) May 1, 2022
In his third start of the season, Swiney walked Dust Devils' leadoff batter Kyren Paris, the third-ranked Angels prospect. The southpaw set down the next 12 batters before a fielding error by first baseman Luis Toribio, the No. 22 Giants prospect, snapped the streak. Swiney worked his way out of the inning and set aside the first batter in the sixth before exiting after tossing 76 pitches, 51 for strikes.
Waites fanned one of the two remaining hitters in the frame and gave way to Avila, who tallied his third save in as many opportunities with a perfect seventh.
The historic moment came 17 days after Triple-A Indianapolis twirled the Minors' first no-no on April 13.
Selected as a compensatory pick in the second round of the 2020 Draft, Swiney has been one of San Francisco's better pitching prospects since his debut. The 23-year-old has a 1.57 ERA and 72 strikeouts in 46 innings across 15 starts. Sunday's win was the first of his professional career.
The Nashville, Tenn., native was roughed up in his first outing of 2022, but he's rebounded to surrender one earned run in his last two starts, lowering his ERA to 3.29.
No. 13 overall prospect Marco Luciano singled twice and scored a run. Seventh-ranked Giants prospect Patrick Bailey and No. 13 Casey Schmitt drove in a run apiece.
Michael Avallone is a contributor to MiLB.com. Follow him on Twitter @MavalloneMiLB.