Tortugas outlast Cardinals in wild extra-inning affair to close out season
Daytona ties game in ninth, takes lead for good in 10th, ends campaign with dramatic victory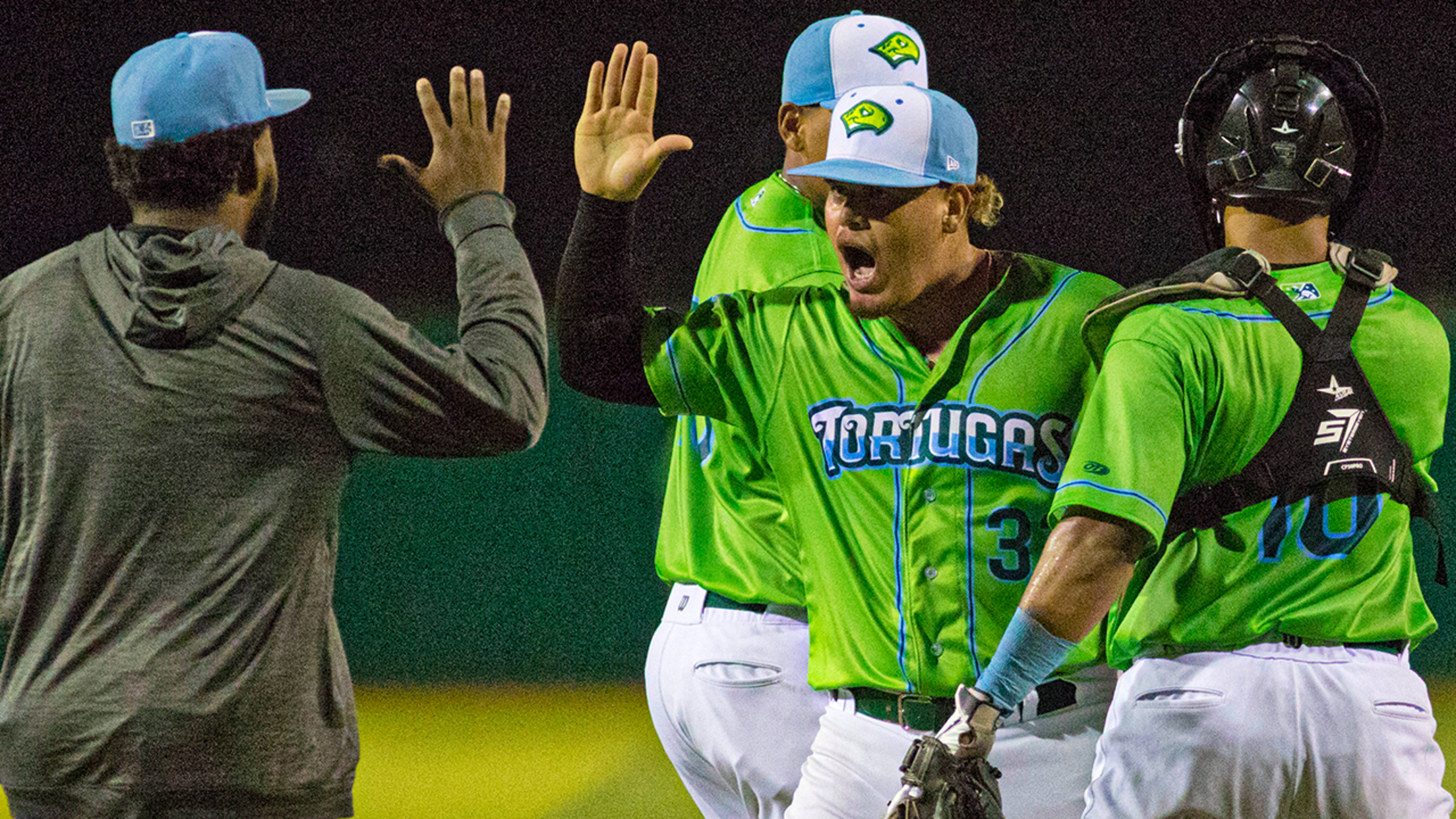 RHP Manuel Cachutt (right) celebrates with his teammates during a game at Jackie Robinson Ballpark earlier this season. He recorded the final three outs to pick up the save in the Daytona Tortugas' 8-5 win over the Palm Beach Cardinals in 10 innings on Sunday afternoon at Roger Dean Chevrolet Stadium. (Aldrin Capulong)
JUPITER, Fla. — After watching an early 4-0 lead disappear, the Tortugas refused to let the season end on a sour note. Daytona tied the game in the ninth and grabbed the advantage for good in the 10th, earning an 8-5 extra-inning victory over the Palm Beach Cardinals on Sunday
JUPITER, Fla. — After watching an early 4-0 lead disappear, the Tortugas refused to let the season end on a sour note. Daytona tied the game in the ninth and grabbed the advantage for good in the 10th, earning an 8-5 extra-inning victory over the Palm Beach Cardinals on Sunday afternoon at Roger Dean Chevrolet Stadium.
Daytona (60-60) started quickly, as DH José Torres (3-5, R, RBI, SO) and 2B Brandon Leyton (1-5, 2 R) collected back-to-back singles. SS Elly De La Cruz (2-5, R, 2B, RBI, 2 SO) promptly clocked a run-scoring single to left to put the Tortugas ahead 1-0. Following a lineout, RF Justice Thompson (1-5, R, 2 RBI, SO) made it 2-0 on a ground out to second.
3B Rece Hinds (1-4, 2 R, 2 SO) started a rally in the fourth on a leadoff hit-by-pitch. After taking second on a wild pitch and third on a passed ball, C Michael Trautwein (2-4, 2B, RBI, BB, SO) smashed a double down the line in left to expand Daytona's lead to three.
In the sixth, De La Cruz ignited the offense by hammering the first pitch of the inning at 112.2 mph off the right-center field wall for a two-base knock. Moving to third on a Thompson single, the 19-year-old scored to make it a four-tally game on a sacrifice fly to left from 1B Ruben Ibarra (1-3, RBI, SO).
Palm Beach (37-80) started to chip away in their half of the sixth. 2B Noah Mendlinger (1-2, R, 2B) doubled to start the fray and quickly scored on another two-bagger to center by CF Mike Antico (2-4, R, 2B, RBI, BB).
Trailing 4-1 entering the eighth, the Redbirds battled to take the lead. PH-DH Aaron McKeithan (1-3, R) roped a one-out single, while Antico followed with a hit of his own. After a strikeout, 1B Brady Whalen (1-4, R, 2B, 2 RBI, BB) blasted a two-run double to right-center, drawing Palm Beach within one, 4-3.
LF Patrick Romeri (0-3, R, BB, 2 SO) kept the pressure on Daytona by coaxing a walk to put the tying and go-ahead runs on base. SS Mack Chambers (2-4, 2 2B, 2 RBI) subsequently punished the second pitch he saw down the left-field line and into the corner. Whalen scored easily to tie the game, as Romeri sauntered around from first with the go-ahead tally to place the Cardinals in front for the first time, 5-4.
The Tortugas would not yield, though. Daytona rapidly loaded the bases with nobody out in the top of the ninth on singles from Ibarra and Trautwein, plus a walk to LF Gus Steiger (1-4, 2 RBI, BB, SO).
A strikeout dampened the mood, but following a pitching change, Torres came through in the clutch. On the first pitch from the new arm, the 2021 third-round pick snuck a single back up the middle. While Danny Lantigua (0-0, R) — who entered as a pinch-runner for Ibarra — scored easily from third, Trautwein was thrown out trying to score the go-ahead run from second.
Daytona held Palm Beach scoreless in their half of the ninth and went back to work offensively in the 10th. With one out and the automatic runner at second, Hinds powered a single to left, advancing to go-ahead run to third.
Thompson stepped up with men at the corners and tapped a soft ground ball to second. The ball was booted allowing everyone to reach — including Leyton scoring from third — to put the Tortugas back ahead by one, 6-5.
With the bases full trailing a two-out walk to Trautwein, Steiger came through with another key knock. On a 1-0 delivery, the Spring Park, Minn. native rifled a base hit into right field. Two runs scored on the single to pad Daytona's cushion to three, 8-5.
That was more than enough support for RHP Manuel Cachutt (1.0 IP) in the bottom of the 10th. The 24-year-old induced a fly ball to center, a ground ball to third, and a line out to first to seal the Tortugas' season-ending victory and his third save of the year.
Neither starter factored into the decision on Sunday. 21-year-old RHP Gabriel Aguilera (5.0 IP, 2 H, 2 BB, 5 SO) hoisted his best start with Daytona, his first outing since being activated from the injured list on Monday. The Venezuela native posted 5.0 shutout innings. Palm Beach's RHP Michael McGreevy (1.0 IP, 3 H, 2 R, 2 ER) — St. Louis' 2021 first-round pick — lasted just one scheduled frame.
Tortugas RHP Tyler Garbee (1.1 IP, 2 SO) — who threw 4.0 shutout innings to collect the win against Palm Beach on Wednesday — was outstanding again in the series finale. The Sewickley, Pa. resident stranded a runner at second in the eighth, retiring all four batters faced for his second win.
Despite not permitting an earned run, RHP Andre Granillo (1.2 IP, 3 H, 3 R, BB, 2 SO) suffered a blown save and his third defeat of the season for the Cardinals.
ABOUT THE DAYTONA TORTUGAS
The Daytona Tortugas are the Low-A Affiliate of the Cincinnati Reds and a member of Minor League Baseball's Low-A Southeast. The Tortugas play at Jackie Robinson Ballpark in downtown Daytona Beach. Jackie Robinson Ballpark also plays host to Bethune-Cookman University, the Jackie Robinson Ballpark Museum, and many community events and initiatives of all sizes throughout the year.