Tortugas ride five-run first to resounding 9-1 win over Mussels
De La Cruz and Hinds each record multi-extra-base-hit and multi-RBI efforts in Daytona rout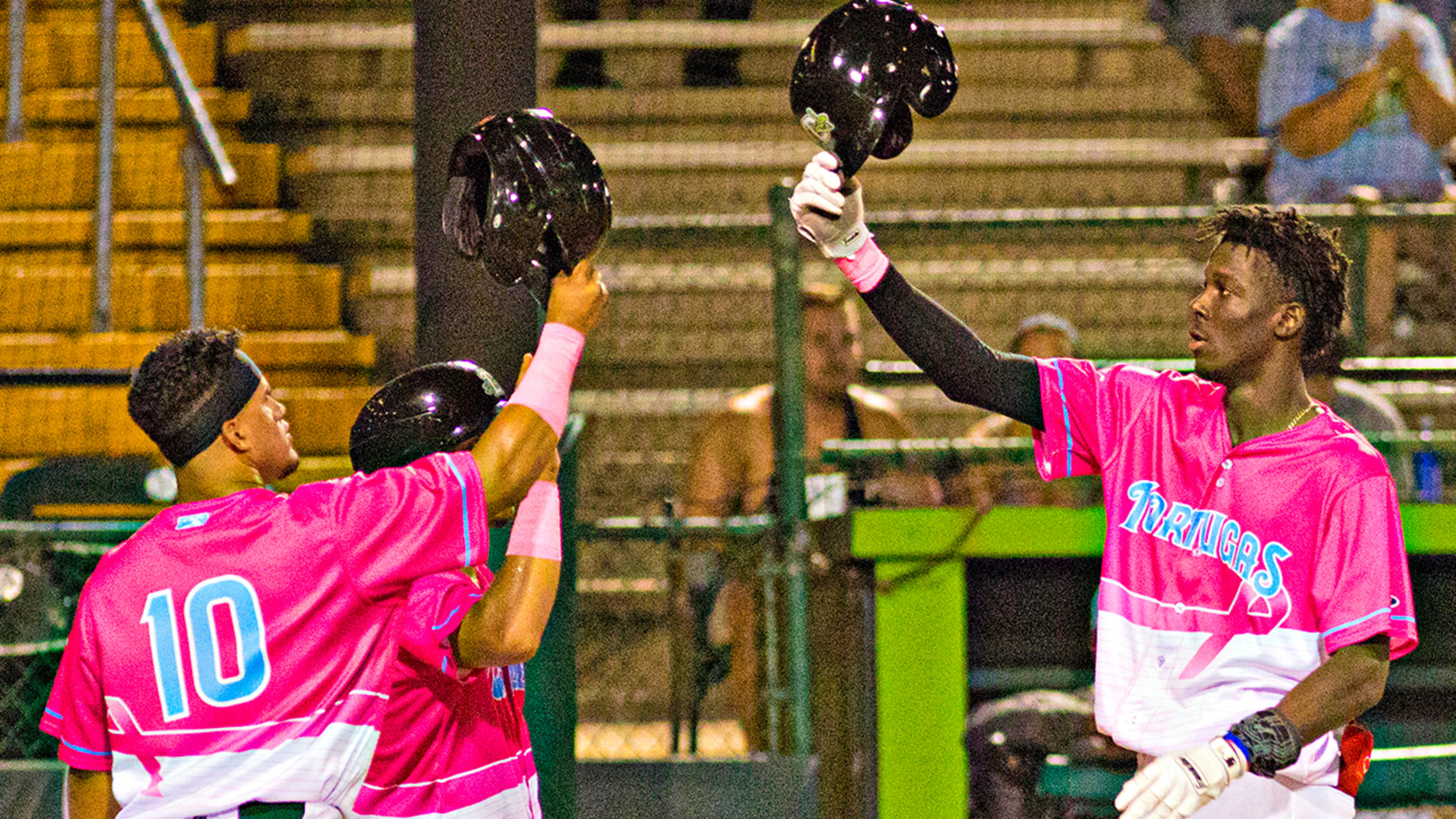 DH Elly De La Cruz (right) picked up two more extra-base hits and drove in a game-high three runs, as the Daytona Tortugas dispatched the Fort Myers Mighty Mussels, 9-1, in front of 1,660 fans at Jackie Robinson Ballpark on Tuesday night. (Aldrin Capulong)
DAYTONA BEACH, Fla. — After scoring six runs in the ninth inning on Sunday, the Tortugas picked up right where they left off on Tuesday. Daytona scored five runs in the bottom of the first and went on to defeat the Fort Myers Mighty Mussels, 9-1, in front of 1,660
DAYTONA BEACH, Fla. — After scoring six runs in the ninth inning on Sunday, the Tortugas picked up right where they left off on Tuesday. Daytona scored five runs in the bottom of the first and went on to defeat the Fort Myers Mighty Mussels, 9-1, in front of 1,660 fans at Jackie Robinson Ballpark.
In a blink of an eye, Daytona (51-52) had an early advantage. C Daniel Vellojín (1-5, R, SO) singled to start the home first and, three pitches later, 3B Rece Hinds (2-5, 2 R, 2B, HR, 2 RBI, 3 SO) continued his offensive barrage. The 20-year-old slammed a ball off the facing of the batting cages beyond the fence in left for a two-run home run. Hinds' eighth in Daytona gave the 'Tugas an early 2-0 lead.
With two out in the frame, the rally ignited again. 2B Brandon Leyton (2-5, R, 2 SO) started the attack with a single to center and advanced to third on a base hit to right by RF Austin Hendrick (1-2, R). LF-RF Danny Lantigua (1-4, R, RBI, 3 SO) followed with a knock to right to score another tally, putting the Tortugas up three.
After a walk to 1B Garrett Wolforth (0-2, 2 BB, SO) loaded the bases, CF Justice Thompson (3-4, 2B, 2 RBI) introduced himself to the Jackie Robinson Ballpark crowd. The 2021 sixth-round selection hit a sharp grounder in the hole between third and short and, while the backhanded play was made, the throw to first was not in time. Thompson beat out the throw, as Hendrick scored easily from third. Lantigua — who was at second — never stopped hustling, scoring from second on the infield hit to grant the Tortugas an early 5-0 advantage.
Daytona kept the offensive rolling in the second. With a runner at second and two out, Leyton stung a grounder into the hole at short. Another backhanded stop was made, but this time the throw to first kicked up the right-field line. The León, Nicaragua native reached on an infield single, while DH Elly De La Cruz (2-5, R, 2B, 3B, 3 RBI, SO) scored from second on the play, making it a six-run game.
De La Cruz further stretched the Tortugas' lead in the fourth. Hinds began the inning with a double and moved to third on a single to left from SS José Torres (2-4, 2 R, BB). On a 1-2 pitch, the 19-year-old hit a high chopper past the drawn-in Fort Myers infield for a base hit. Both runners scored, while De La Cruz hustled into second with a double to place Daytona ahead 8-0.
Fort Myers (50-49) broke up the shutout against the bullpen in the seventh, as CF Will Holland (1-4, R, 2 SO) singled to start the frame and later scored on a knock to left from 1B Christian Encarnación-Strand (3-4, RBI, BB, SO).
In the eighth, the Tortugas picked up one last run. Torres drew a two-out walk and hustled around to tap home on a 112 mph triple to right off the bat of De La Cruz.
RHP Joe Boyle (4.0 IP, 2 H, 5 BB, 8 SO) did not last long enough to earn his first professional victory, but certainly made an impression in his debut at The Jack. The 22-year-old went a career-long 4.0 innings and struck out a career-high eight in a no-decision.
Out of the bullpen, RHP Jake Gozzo (1.0 IP, BB, 3 SO) struck out the side in the fifth and was granted his fourth win of the season. RHP José Franco (3.0 IP, 3 H, R, ER, BB, 6 SO) earned a hold with 3.0 frames of one-run relief.
It was not a night to remember for Fort Myers RHP A.J. Labas (0.2 IP, 6 H, 5 R, 5 ER, BB, SO). The undrafted free agent signee out of LSU failed to escape the first inning in his initial professional start, suffering his second loss.
The final homestand of the season continues on Wednesday, as the Tortugas, in conjunction with the Volusia County Health Department, will do their part in the fight against the COVID-19 pandemic by holding a Vaccination Drive from 6-8:30 p.m. It will also be a Wishful Wednesday presented by VyStar Credit Union. The Tortugas will partner with a local non-profit organization — this week it is the Beacon Center — to swell up donations and awareness for a worthy cause. Starting at just $14, patrons will be able to enjoy all-you-can-eat hot dogs, hamburgers, pizza, and popcorn thanks to a Belly Buster Wednesday presented by Marco's Pizza. Courtesy of Landshark, souvenir cup holders will also be able to enjoy refills at concession stands for just $3
LHP Andrew Abbott (0-0, 4.50) — Cincinnati's No. 12 prospect per Baseball America and the team's 2021 second-round selection — is expected to make his Jackie Robinson Ballpark debut in game two of the series on Wednesday night. Fort Myers is anticipated to counter with RHP Matthew Swain (6-2, 4.99). Coverage on the Tortugas Radio Network will begin on the MiLB First Pitch app and www.daytonatortugas.com at 6:50 p.m. leading up to the 7:05 p.m. first pitch from Jackie Robinson Ballpark.
Multi-game plans, group packages, and single-game tickets are currently available and can be purchased online at www.daytonatortugas.com or by calling the Tortugas' Ticket Office at (386) 257-3172.
ABOUT THE DAYTONA TORTUGAS
The Daytona Tortugas are the Low-A Affiliate of the Cincinnati Reds and a member of Minor League Baseball's Low-A Southeast. The Tortugas play at Jackie Robinson Ballpark in downtown Daytona Beach. Jackie Robinson Ballpark also plays host to Bethune-Cookman University, the Jackie Robinson Ballpark Museum, and many community events and initiatives of all sizes throughout the year.