Toolshed: MiLB playoff tales for Dodgers, Rays
World Series stars could lean on early postseason experience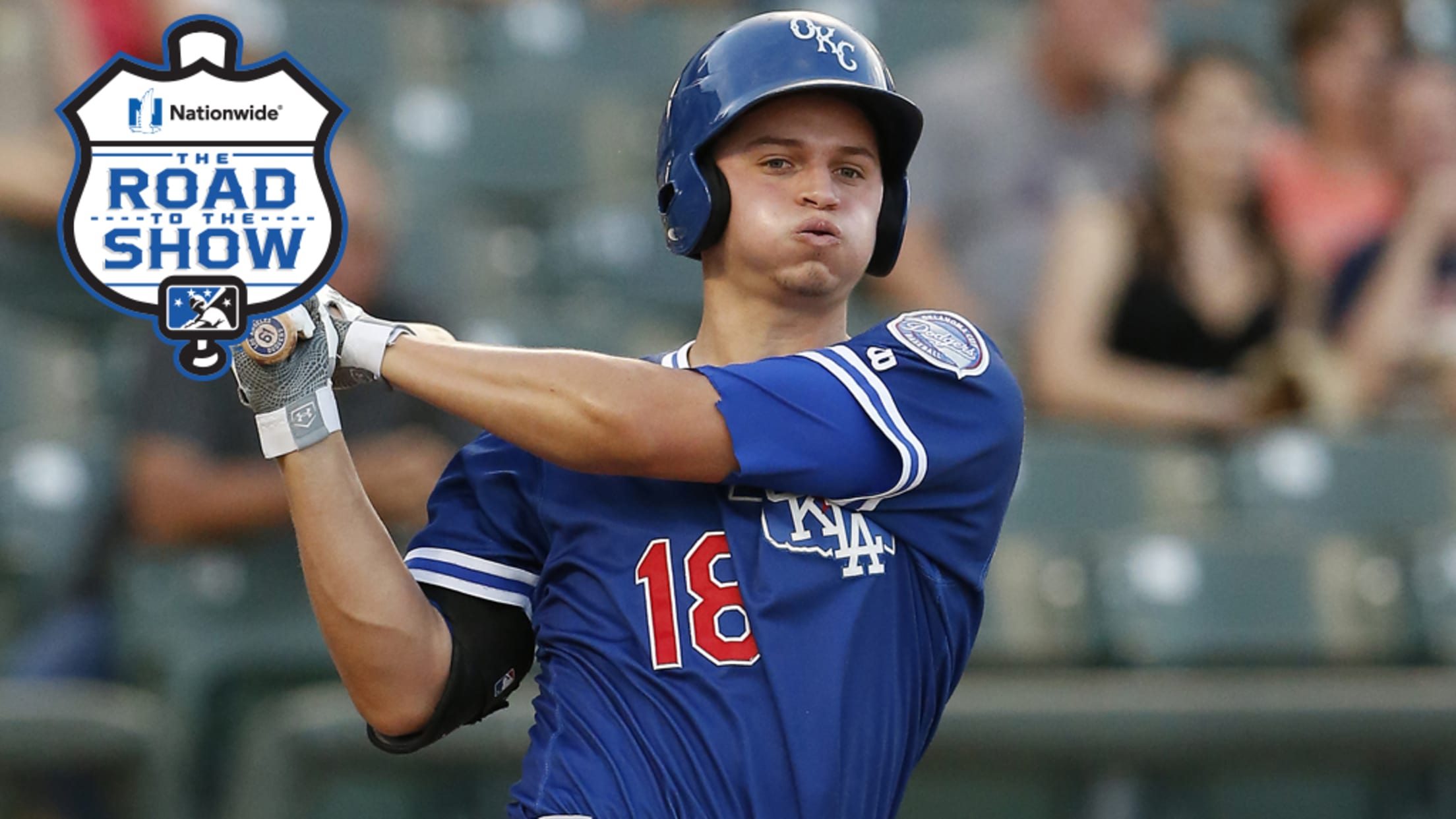 Corey Seager's power surge this postseason is unlike anything he was able to produce in the Minors. (Jamie Harms/MiLB.com)
The Minor League regular season is all about development. The Minor League postseason, well, that's about getting a ring (and, sure, continuing to develop). While MiLB playoffs can serve as a reward at the end of a 140-plus-game slog, they also allow players to gain experience in tense situations in
The Minor League regular season is all about development. The Minor League postseason, well, that's about getting a ring (and, sure, continuing to develop). While MiLB playoffs can serve as a reward at the end of a 140-plus-game slog, they also allow players to gain experience in tense situations in preparation for the day when they will take baseball's biggest stage.
That stage has been set as the Dodgers and Rays will open the 2020 World Series in Arlington, Texas on Tuesday. In preparation for affiliated ball's only championship series of this calendar year, Toolshed has dipped into the archives and uncovered some Minor League postseason nuggets for players on the Los Angeles and Tampa Bay rosters. (Note: players considered for this column were on LCS rosters.)
Los Angeles Dodgers
Pedro Báez: Covered in a previous Toolshed, Báez initially came through the Dodgers system as a third baseman, topping out at that position at Double-A in 2012. Before his move to the mound, he managed to appear for two playoff teams as a slugger: the GCL Dodgers in 2007 and Rookie Advanced Ogden in 2008. However, he never actually pitched for a Minor League club in the postseason. Báez debuted for the Dodgers in 2014 and has appeared 28 times in the Major League playoffs as a pitcher -- an experience he never received in the lower levels.
Austin Barnes: While in the Marlins system, the catcher was as good a postseason performer as could be found in the Minor Leagues. In 2012, he led South Atlantic League postseason performers with 20 total bases over six games for Greensboro. Two years later, he went deep twice and finished with a 1.045 OPS over seven games for Jacksonville as the Suns captured a Southern League title. (Now the Jumbo Shrimp, Jacksonville hasn't won a championship since.) Barnes was a career .389/.433/.722 hitter with more extra-base hits (10) than strikeouts (nine) over 13 games in the Minor League postseason.
Cody Bellinger: Bellinger's Game 7 blast Sunday was the stuff of legends. Five years earlier, the left-handed slugger provided similar heroics. Bellinger went deep in the eighth inning of Class A Advanced Rancho Cucamonga's 5-0 win over San Jose in Game 3 to give the Quakes a sweep in the California League Finals. It was Rancho Cucamonga's first title since 1994. (The club won again three years later.) Bellinger had at least one hit in all eight of his games that postseason and finished with a .324/.342/.676 line and three homers in that span. He has since gone deep thrice as well in the 2017 and 2020 Major League postseasons, meaning one dinger in the World Series would give him a career-high four in the playoffs.
Mookie Betts: The four-time All-Star and 2018 American League MVP has accomplished many things in his career. Recording multiple trips to a Minor League postseason isn't one of them. However, let it not be said that Betts was inefficient during his time in the MiLB playoffs. The Dodgers outfielder went to the postseason once during his time in the Red Sox farm system -- with Class A Advanced Salem in 2013. The club won the Carolina League title that year, thanks to a steady offensive performance from the then-second baseman, who went 7-for-17 (.412) over seven games. That Mills Cup capped a breakout season for the 2011 fifth-rounder. After producing a .923 OPS over 127 games, Betts jumped to No. 62 overall in MLB.com's rankings prior to the 2014 season. He debuted in the Majors the following June.
Walker Buehler: Buehler underwent Tommy John surgery in August 2015, only two months after the Dodgers made him the 24th overall pick. He spent much of the next year rehabbing but returned in time to make late-season rehab appearances for the Dodgers' AZL affiliate and Class A Great Lakes. That time with the Loons included a pair of abbreviated starts in the Midwest League playoffs, one of which brought three scoreless innings (encompassing 43 pitches) in Game 2 of the final round against Clinton. Great Lakes won the MWL title that season. Buehler next pitched in the playoffs as a Major League rookie in 2018.
Dylan Floro: This trip to the World Series will be an interesting one for the right-handed reliever. A 2012 13th-rounder, Floro made four appearances (two starts) in the Minor League postseason -- all while in the Rays system. His two scoreless outings out of the bullpen for Class A Short Season Hudson Valley helped the Renegades win the 2012 New York-Penn League.
Tony Gonsolin and Victor Gonzalez: Gonsolin and Gonzalez also featured on the same Great Lakes title team as Buehler in 2016 with middling results. Gonsolin, fresh off a ninth-round pick that June, allowed one earned run over five innings across three relief appearances. Gonzalez was shellacked for seven earned runs over 3 2/3 frames in three turns (including one start). Both got rings all the same.
Kenley Jansen and Clayton Kershaw: A starter handing the ball to the closer for the championship win? This is quite a different story. Kershaw pitched in a Minor League postseason series only once: Aug. 22, 2006 for the GCL Dodgers. (Remember: the southpaw's Minor League time was limited since he debuted in the Majors at only 20 years old.) His catcher that day was Jansen, who was still three years away from his own transition to the mound. The pair worked well together. Kershaw allowed two earned runs on seven hits and struck out six over five innings in a 4-2 win over the GCL Tigers. In a preview of things to come, Jansen finished his 2006 playoff run 1-for-14 (.071) over four games. Kershaw went from that GCL start to the Majors in less than two years, and Jansen was up in July 2010. Jansen (47) and Kershaw (35) rank first and second in Dodgers history in Major League postseason appearances entering the 2020 World Series.
Adam Kolarek: Starting in 2010, Kolarek made the postseason in each of his first six seasons in the Mets system. However, like Floro, his most interesting nugget might be that he made four appearances for Tampa Bay affiliate Triple-A Durham in 2017. Three of those four appearances lasted five pitches or fewer as the left-handed Kolarek was used primarily as a lefty specialist. The Bulls won the Triple-A National Championship that year, but Kolarek did not appear in the final exhibition against Memphis.
Jake McGee: Another former Rays farmhand. (It's almost like Dodgers president of baseball operations Andrew Friedman once worked in the Tampa Bay front office or something.) McGee made five postseason appearances (three starts) during his days in the Minors, and all five were in the Rays system. Let's zero in on one of them. On Sept. 7, 2007, McGee started for Double-A Montgomery on the road against Mississippi in the Southern League semifinals. The opposing starter: Charlie Morton, Tampa Bay's Game 7 starter in the 2020 ALCS. Morton (7 IP, 3 H, 1 ER, 8 K) got the better of McGee (5 IP, 5 H, 3 R, 2 ER, 6 K) on the day, but McGee's Biscuits got the last laugh when they won the Southern League championship in the next round against Huntsville. McGee has been used exclusively out of the bullpen for Los Angeles, but the Dodgers might want to consider throwing out McGee as an opener when Morton is slated to start for old time's sake.
Max Muncy: Muncy's 2014 postseason run for Double-A Midland wasn't much to write home about. The infielder went 9-for-38 (.237) with two homers over nine games. However, the RockHounds as a team began their streak of four straight Texas League championships when they first claimed the crown that fall.
A.J. Pollock: Pollock was the MVP of the 2012 Triple-A National Championship when he helped Reno best Pawtucket, 10-3, in Durham. The outfielder went 2-for-5 with a triple, a double, an RBI and two runs scored from the top of the Aces lineup. That performance marked the third straight game that Pollock had collected multiple extra-base hits as he finished with eight total over 10 games, including those from the PCL playoffs. This doesn't have anything to do with the Dodgers or Rays, but just another fun fact about the 2012 Triple-A National Championship: the Reno starter that day was Trevor Bauer.
Corey Seager: The slugging shortstop just wrapped an NLCS in which he became the first National Leaguer to hit five homers in a single series. It wasn't always the case that Seager put on powerful showcases in the playoffs, however. Don't get it wrong, Seager actually has some of the most Minor League postseason experience of anyone in this year's World Series. He has appeared in the Major or Minor League playoffs every year he's been in pro ball, starting with Ogden in his Draft year of 2012. However, Seager managed only one homer over 59 postseason at-bats during his time in the Minors and finished with a .709 OPS in the playoffs at the lower levels. This type of big-time production is relatively new to him at any step of the pro baseball ladder.
Justin Turner: It's well-known that Turner bounced around the Reds, Orioles and Mets systems before finally settling in with the Dodgers. The third baseman has become productive enough that it feels like his time as a journeyman was a lifetime ago. Another data point for that feeling: Turner last appeared in a Minor League playoff game in 2007 with the Class A Advanced Sarasota Reds. (He went 1-for-11 over three games.) Sarasota hasn't existed as a Minor League club since 2009, before the Pirates moved the FSL organization to Bradenton. That 2007 team was the last Sarasota club with a winning record.
Julio Urías: Game 7 pitching hero Urias' time in the Minors was marked by how young he was for every level. Case in point: his turn in the 2015 Pacific Coast League postseason. The left-hander made only two starts for Triple-A Oklahoma City in the regular season, but the Dodgers still trusted him with a Game 2 start in the semis against Round Rock on Sept. 10, less than one month after his 19th birthday. For context, Urias was one of only two teenagers to pitch in the PCL at during the 2015 regular season. It didn't go well -- the left-hander allowed six earned runs (and two homers) in just one inning -- but perhaps that experience explained why the Mexico native looked so calm on the mound in such a high-leverage spot Sunday.
Alex Wood and Joe Kelly: The two relievers are the only members of the Dodgers' NLCS with zero Minor League postseason experience.
Tampa Bay Rays
Willy Adames: Adames' postseason dominance started very early. Dominican Summer League early. The shortstop hit three homers, walked nine times and posted a 1.009 OPS over 10 playoff games for the DSL Tigers in 2013, his first season as a pro. Those three homers tied for the most in the DSL postseason that year, but Adames' Tigers squad fell to the Rangers in the Finals. Four years and a trade to Tampa Bay later, Adames -- ranked at No. 16 overall by MLB.com -- was the top Rays prospect on the 2017 Durham team that captured a Triple-A national championship.
Nick Anderson: The Twins signed Anderson out of indy ball in August 2015 and threw him right into the fire at Class A Cedar Rapids. Anderson became the Kernels closer and went 3-for-3 in save opportunities during the playoffs, only to see Cedar Rapids fall to West Michigan in the Midwest League Finals. It wasn't without some trying from Anderson, however. The right-hander struck out four over two scoreless innings as the final Kernels pitcher in the decisive 3-2 loss in Game 5. He finished with nine K's over five total frames in those playoffs.
Randy Arozarena: Stop us if you've heard this one before. Arozarena raked in the playoffs. This version came in 2018 with Triple-A Memphis, when the outfielder was still a member of the Cardinals organization. Over eight games -- in which the Cuba native helped the Redbirds capture a Triple-A national title -- he hit .407/.485/.741 with two homers, nine RBIs and an even 5/5 K/BB ratio. Both homers came in the final game of the PCL Finals against Fresno in an indication of Arozarena's flair for the dramatic. That continued into the 2018 Triple-A National Championship Game in Columbus, where the outfielder went 3-for-4 with two doubles and two RBIs in a 14-4 drubbing of ... Rays affiliate Durham. Sixteen months later, Tampa Bay acquired Arozarena from St. Louis and are now reaping the rewards of his latest postseason conquest.
Mike Brosseau: Brosseau signed as an undrafted free agent out of Oakland in 2016, so he needed to stand out however he could early in his career. The infielder achieved that in the 2018 Southern League postseason, when he went 6-for-18 (.333) with two homers and a double over five games for Double-A Montgomery. Despite the fact the Biscuits didn't advance to the Championship Series that year, Brosseau's two homers were still tied for second-most in the SL postseason. He debuted with the Rays the following June.
Diego Castillo: Castillo has become a force in the back of the Tampa Bay bullpen. That was the case on the aforementioned 2017 Durham team as well. The right-hander was a perfect 4-for-4 in save opportunities for the Bulls and put up a line that would make any starting pitcher jealous -- 6 1/3 innings, one hit, no runs, one walk, nine strikeouts. He tossed 1 1/3 scoreless innings in the 5-3 win over Memphis in the Triple-A National Championship, so he has experience coming through when a ring is on the line. Rays fans wouldn't mind such a scenario playing out again in the coming days.
John Curtiss: Who would have guessed the 2015 Cedar Rapids Kernels would be so fondly remembered in this space? Curtiss also pitched out of the same Class A bullpen as Anderson five seasons ago in the Twins system. He pitched once, striking out two and allowing one hit in a scoreless frame against West Michigan. It was the last time Curtiss pitched in a Minor League playoff game. Those Whitecaps, including Christin Stewart, may have walked away with the trophy, but you can bet they wouldn't mind swapping places with Anderson and Curtiss.
Yandy Díaz: Diaz reached the Minor League postseason for the first time in 2015 and struggled, going 9-for-40 (.225) over 11 games for the eventual International League champion Columbus Clippers. In 2016, those roles swapped. Columbus was dropped in the first round, but Diaz was on an absolute tear. By going 9-for-17 (.529), he picked up as many hits as the previous postseason in 23 fewer at-bats. By the time the two balanced out, Diaz finished as a .316 batter with an .824 OPS over his two trips to the Minor League playoffs.
Tyler Glasnow: Glasnow is scheduled to start Game 1 of the World Series on Tuesday. His MiLB playoff history feels like that of a starter from a different era, at least in terms of how long he was able to pitch. The 6-foot-8 right-hander's last three Minor League postseason starts came for Triple-A Indianapolis in the Pirates system in 2015 and 2017. In all three, Glasnow was allowed to eclipse the 100-pitch mark, including an 111-pitch effort in the 2015 Governors' Cup Finals against Columbus. He hasn't gone past the century mark in any of his six Major League postseason starts, and though he came close with 96 last time in Game 4 of the ALCS, it's a decent bet that he won't do so against the Dodgers either. For what it's also worth, some of Glasnow's numbers in the MiLB and MLB playoffs are eerily similar. He owns a 5.27 ERA and 1.43 WHIP over six starts (27 1/3 innings) in the Minors and a 5.47 ERA and 1.41 WHIP over six starts (26 1/3 innings) in the Majors.
Kevin Kiermaier: Kiermaier has long been known for his glovework in center. On one postseason occasion, he got to show off a strong bat, too. As a member of Durham's Governors' Cup-winning team in 2013, the 2010 31st-rounder was OK at the plate until the Finals clincher in Game 4 against Pawtucket. Kiermaier homered in the second inning to give the Bulls an early 3-0 lead. They would go on to win 7-0 on the road. That two-run shot ended up being Kiermaier's only homer of that or any other Minor League postseason.
Manuel Margot: Margot has homered five times and produced a .967 OPS over 13 playoff games during Tampa Bay's charge to the World Series this year. Yet, he was even better at the plate during his time with Triple-A El Paso of the Padres pipeline in 2016. The defensively gifted outfielder surprised by hitting .350/.409/.650 with a homer, three triples, three doubles and two steals over nine games for the Chihuahuas two years ago. He batted leadoff and scored a run in El Paso's 3-1 win over Scranton/Wilkes-Barre in the Triple-A National Championship Game in Memphis.
Austin Meadows: Between Durham in 2018 and Tampa Bay the last two seasons, Meadows hasn't missed a Major or Minor League postseason since joining the Rays in a deadline trade with the Pirates. That said, his best playoff performances still came during with the Bucs, specifically 2015 with Double-A Altoona. The outfielder went 6-for-15 (.400) with a homer and two doubles over a four-game series loss to Bowie. That's even more notable because Meadows was that productive as a 20-year-old who had been promoted from Class A Advanced Bradenton on Sept. 2 and had only gotten six regular-season games with the Curve before getting thrown right into the playoffs. Also for reference, Meadows' six hits in that one playoff series nearly match his total of seven over 16 games in the Major League postseason.
Charlie Morton: See McGee, Jake.
Michael Perez: Perez saw the playoffs in six straight Minor League seasons, starting in 2012 with Rookie Advanced Missoula and ending in 2017 with Triple-A Reno -- all in the D-backs system. His most productive postseason came in 2016, when he homered twice and finished with an .885 OPS in six games for Class A Advanced Visalia. A case could also be made for his short-but-sweet impact for Reno, where he went 3-for-3 with a double and a walk in his only appearance. Now in his role as Rays backup catcher, the 28-year-old has reached the Major League postseason for the first time.
Hunter Renfroe: Renfroe has homered in each of his five postseasons between the Minors and Majors, starting in 2013 at Class A Fort Wayne as a Padres prospect. He was on the same 2016 El Paso team as Margot that won a Triple-A national title, and his one homer that fall was a dramatic eighth-inning blast that allowed the Chihuahuas to advance past Tacoma with a 5-4 win. His most powerful performance came a year earlier when he went deep three times in four games for El Paso.
Aaron Slegers and Blake Snell: Snell -- Tampa Bay's Game 2 starter this week -- had a storied Minor League career. Yet his only two Minor League postseason appearances on record came last year for Durham when he was rehabbing from arthroscopic surgery on his left elbow. Slegers, who made 15 starts for the Bulls during the regular season, piggybacked off Snell in both outings with differing results. He shut down Scranton/Wilkes-Barre for eight strikeouts over 6 1/3 scoreless innings in a semifinal matchup but was blasted for six runs (including three homers) in 4 2/3 innings against eventual champ Columbus in the Governors' Cup Finals. Slegers now pitches in relief for the Rays.
Ryan Yarbrough: Yarbrough led the International League with 159 strikeouts over 157 1/3 innings in 2017, so it shouldn't be a shock Durham leaned on him hard for three starts during its run to a national title. In fact, the southpaw started the Triple-A National Championship Game against Memphis, but in typical Rays style, he was pulled after only 44 pitches, having surrendered two earned runs in 1 1/3 innings. Even with those results, he finished the 2017 postseason with a 2.51 ERA, 0.77 WHIP and .163 average-against in his three starts.
Mike Zunino: Zunino's Major League career has had its ups and downs, but there were times when he was as dominant a Minor League catcher as one could find anywhere. One such time was definitely the 2012 Southern League postseason. Zunino had the highest playoff OPS of anyone in the circuit that year at 1.298 and finished with a .379/.471/.828 line overall in eight games. He hit three homers, one triple and two doubles, meaning more than half of his 11 hits went for extra bases. What's even crazier was that he accomplished all of this at Double-A just months after the Mariners selected him third overall in the 2012 Draft. There is some debate now. There was no debate then. Mike Zunino was good.
José Alvarado, Pete Fairbanks and Yoshitomo Tsutsugo: None of the three appeared in a Minor League playoff game.
Sam Dykstra is a reporter for MiLB.com. Follow and interact with him on Twitter, @SamDykstraMiLB.