Toolshed: Ford ready to seize chance with M's
Rule 5 pick will get long look in spring following injury to Healy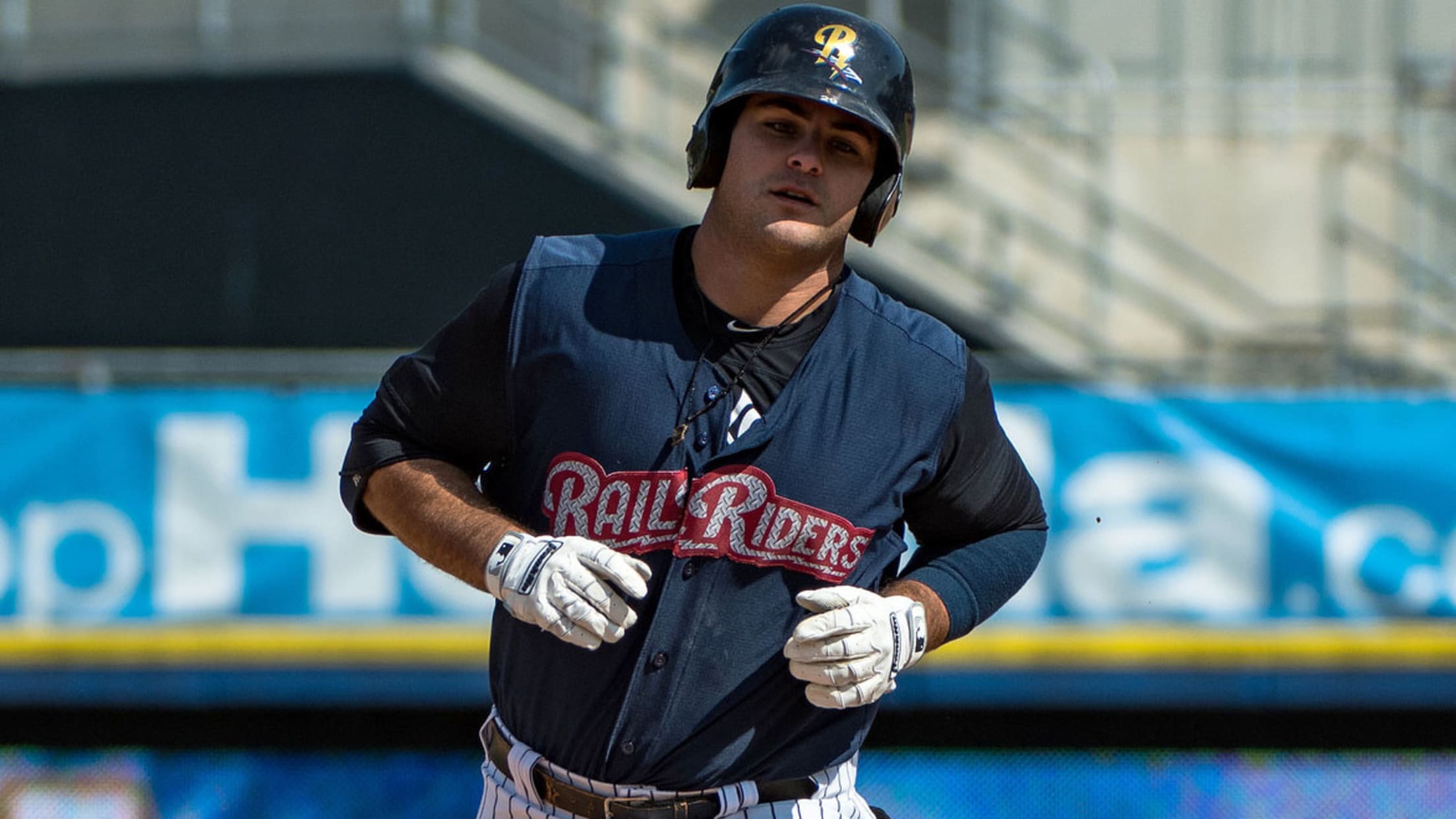 Mike Ford has a career .380 on-base percentage over five seasons in the Minor Leagues. (Terrance Williams/MiLB.com)
Mike Ford had never been drafted before. He was named the Ivy League's 2013 Player and Pitcher of the Year -- the first person in the conference to win both -- after hitting .320/.443/.503 with six homers and producing a 0.98 ERA over 64 innings as a junior at Princeton. He
Mike Ford had never been drafted before.
He was named the Ivy League's 2013 Player and Pitcher of the Year -- the first person in the conference to win both -- after hitting .320/.443/.503 with six homers and producing a 0.98 ERA over 64 innings as a junior at Princeton. He then hit .407/.495/.663 that summer in the prestigious wood-bat Cape Cod League before he signed with the Yankees (one of five teams to make an offer) as an undrafted free agent. Three years later, the Yankees left him unprotected in the 2016 Rule 5 Draft, despite his success reaching Double-A Trenton, and he went untaken.
So, even though he'd heard whispers entering the 2017 Rule 5 Draft, Ford tried to keep his mind elsewhere on Dec. 14, packing up his things for a trip from Tampa back home to New Jersey. About 20 to 30 text messages later, he knew something had changed.
This spring, Ford is not just a Rule 5 pick of the Mariners. Following Thursday's news that fellow first baseman Ryon Healy will miss four to six weeks due to hand surgery, he enters Spring Training with a legitimate shot at cracking the big league roster.
"This is a really big deal for me," said the 25-year-old. "After that junior year and not getting drafted, I guess you could say I've played with a chip on my shoulder ever since. Luckily on the Cape, I was able to get a free-agent deal, but it's been interesting to see things come full circle because the Mariners were one of those five teams that offered me something. It just goes to show that people are always watching and taking you into consideration, and now I've got a Major League opportunity out of it."
The left-handed slugger became a worthy Rule 5 selection on the strength of his impressive 2017 campaign in the New York system.
Ford had developed a reputation as a solid hitter with strike-zone discipline over his first two full seasons in 2014 and 2015, earning mid-season All-Star honors at Class A Charleston and Class A Advanced Tampa, but a thumb injury limited him to only 42 games with Double-A Trenton in 2016. Those limited looks kept the Yanks from giving Ford a 40-man spot that offseason, despite his Rule 5 eligibility, and no team was willing to take a chance on him the following Winter Meetings.
Fully healthy last season, the New Jersey native took off, mostly at Trenton, where he hit .272/.410/.451 with 13 homers in 101 games. He walked 76 times while striking out only 56 times. His .410 on-base percentage ranked second among all 157 qualified Double-A hitters, while his 141 wRC+ ended up 10th. He also got 25 games at Triple-A Scranton/Wilkes-Barre over the course of three different stints at the Minors' highest level and didn't disappoint, hitting .266/.383/.543 with seven long balls.
Across both levels, Ford continued to show the impressive strike-zone discipline that had aided his climb through the pinstriped ranks. His rate of 1.31 walks per strikeouts ranked third among Minor Leaguers with at least 400 plate appearances. His 144 wRC+ across both stops put him with such notable names as Fernando Tatis Jr. (145) and Estevan Florial (145) and above the likes of Scott Kingery (143) and Kyle Tucker (141) on the MiLB leaderboard.
But what locked in Ford's potential to make the jump to the Majors was a noticeable jump in power. His 20 homers between Trenton and Scranton/Wilkes-Barre constituted a career high, beating out the 13 he hit for Charleston in 2013, and his .471 slugging percentage was his best in a season in which he played 100 or more games. Being a first baseman, there can be added pressure to pack on the power, and Ford, who always believed he had the strength, felt like he was able to tap into that skill by doing what he'd excelled at all along.
"It came down to one thing, I think -- why am I going to swing at a fringy pitch?" Ford said. "I know I've got good control of the zone. So if I know I can't put a good swing on the ball, why swing? I had to become aggressively passive, if that makes sense. If the pitch is there, if the first pitch is there, I'm gonna go for it. It was that mentality of making their mistakes count. If you let a mistake go by, that's not good, especially in the Majors. If I let two great sliders go by, OK, it's 0-2, I can deal with that. ... Otherwise with that fringe pitch, it's a coin flip with most umpires. If it's 50 percent that it'll be a ball and I just don't chase it, that's 50 percent of 0-1 counts that go to 1-0 instead, and then all numbers go up from there."
A more well-rounded offensive package may have put Ford on the Rule 5 radar, but the fact that it was Seattle that targeted him specifically seemed like an odd fit. The M's had acquired Healy from the A's to play first base in November -- almost exactly a month earlier than the Rule 5 Draft -- and they didn't need help at designated hitter with Nelson Cruz being the game's best in that role. What's more, No. 7 prospectDaniel Vogelbach seemed like ready-made insurance for Healy coming off his season at Triple-A Tacoma, and even hit from the same side as Ford.
But the club's new addition didn't immediately run to a roster sheet or depth chart to see how he'd fit. He got a Major League shot. That was enough.
"I was honestly so happy I didn't even think about it," Ford said of the fit in Seattle. "They shared that they had a few wants and that they thought I could work there. ... They wanted a left-handed bat option, and that's me. My bat's gotten me this far. It's my bread and butter. I think they're looking for a left-handed bat off the bench a few days a week, and I can be that for them, if things work out."
It wasn't just the offense that the Mariners first discussed with Ford, though, in his first few weeks in the system. They made, according to the player, "a strong suggestion" that he should prepare to add some versatility to his game by preparing to play some corner outfield. Seattle followed that suggestion by sending coach Chris Prieto to work with not only Ford on his outfield game but also Ben Gamel and the newly acquired Dee Gordon, who is moving from second base to center field following his trade from the Marlins. The foursome gathered in the Orlando area under Prieto's guidance, so they could be better prepared to hit the ground running in Arizona -- well, some more than others perhaps.
"I think Gamel ended up helping Chris a lot by the end," Ford laughed. "But with Dee, he's going to be fine. He can run so well that it won't be a problem. For me, I can't make up that speed obviously. It was an introduction, put it that way, and I'll keep working this spring."
That defensive work, along with his desire to get acclimated to the Mariners' way of doing things, is one of the reasons why Ford showed up early to camp this month, arriving in Peoria on the first of the month -- 18 days before position players are mandated to report.
Versatility is good for young players, but especially for a Rule 5 player who needs to stay on the Major League roster for a full season or else be returned to his original club. But Ford might not need his outfielder's glove as much as he had been anticipating in the spring. With Healy's injury, Mariners manager Scott Servais said that will mean more chances for both Ford and Vogelbach to take over first-base duties in Cactus League play until Healy can return, perhaps just in time for Opening Day.
"It gives them an opportunity," Servais said. "They were going to play a lot anyway. It's about opportunity. Those kids will get it. They'll get a chance to go out there. And we've got some other guys we'll give an opportunity to over there throughout camp and see how Ryon is coming along."
Ford will take the increased exposure, even if he wishes it could have come another way.
"It's terrible what happened," Ford said of Healy's injury. "You don't want that to happen to anyone. He's a big asset to our club, and I wish him a speedy recovery because we'll need him. But [Servais] is right, this opens up an opportunity for me, and I think it's a big window. I'll get more looks to prove myself, and that's what this whole Spring Training thing is about. I want to show them this is a good spot for me."
Because of that, Ford can't afford to treat Spring Training games as the exhibitions they are. Each at-bat, each chance to play first base or outfield is a potential resume-builder, and the slugger, who has been passed over so many times before, isn't going to let this latest chance go by the wayside.
"Just the chance of making the roster is going to bring out a lot of intensity in me," Ford said. "It's definitely going to be adrenaline-filled. For me, my regular season starts in our first game on Feb. 23. And then I hope it continues long after March from there."
Sam Dykstra is a reporter for MiLB.com. Follow and interact with him on Twitter, @SamDykstraMiLB.