Toolshed: Prospects poised to break out
Crawford, Alvarez among those who could have big second halves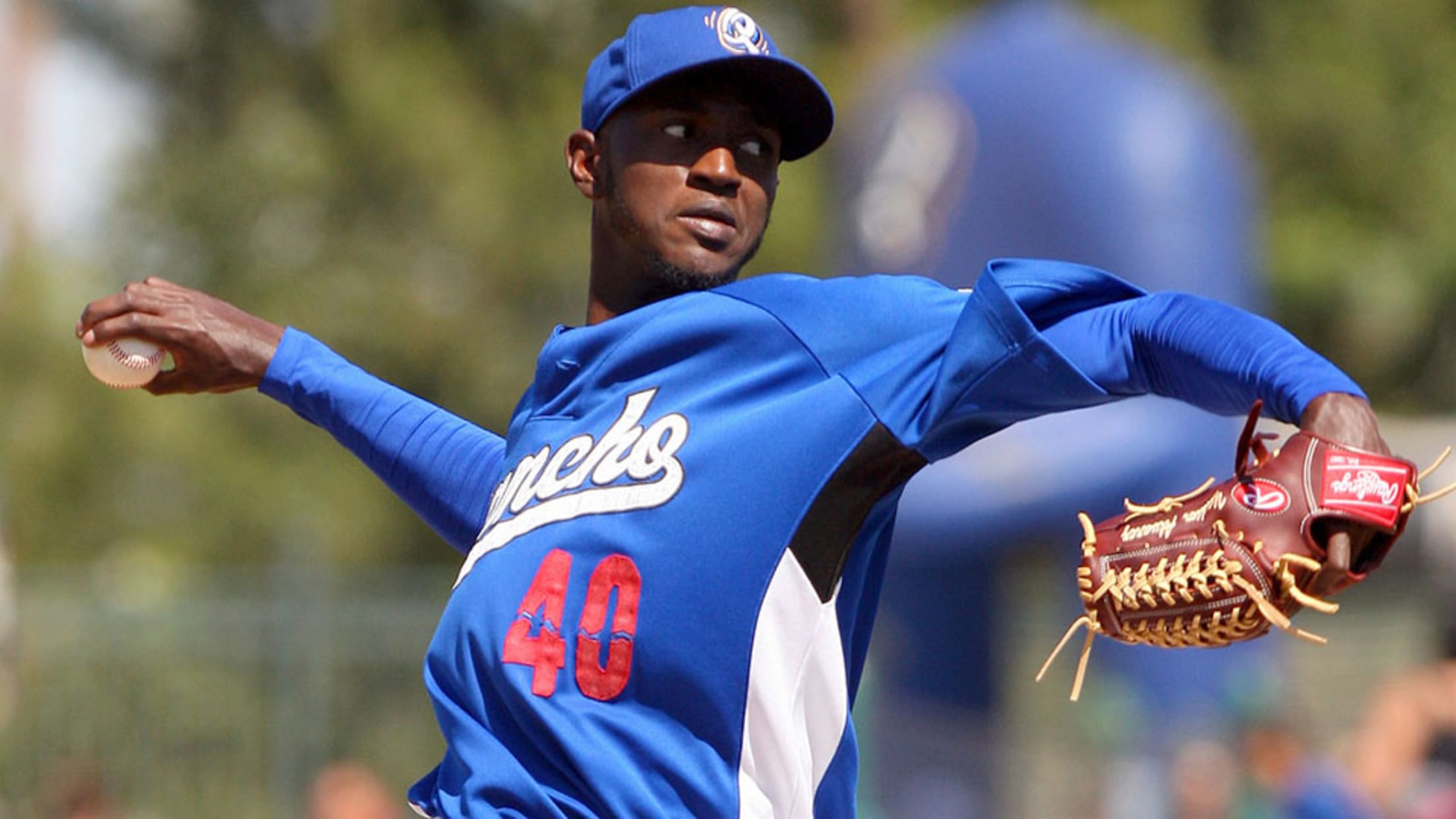 Yadier Alvarez was selected to represent the Dodgers at the All-Star Futures Game in Miami on Sunday. (Donn Parris/MiLB.com)
It may be hard to believe, but there are only two months remaining in the Minor League regular season.That's right. Most full-season leagues come to a close Sept. 4 this year, and with the bulk of All-Star Games behind us, it seems we're heading down the stretch of the 2017
It may be hard to believe, but there are only two months remaining in the Minor League regular season.
That's right. Most full-season leagues come to a close Sept. 4 this year, and with the bulk of All-Star Games behind us, it seems we're heading down the stretch of the 2017 campaign. But keep in mind, two months is a considerable amount of time in the baseball world -- around 60 games or so. Plenty still to look forward to.
That's good news for some prominent prospects who would've preferred to have a better first half. Below is Toolshed's take on some MLB.com top 100 prospects who could be primed for a turnaround in July, August and September.
Phillies SS J.P. Crawford, Triple-A Lehigh Valley, No. 4 overall: To be honest, Crawford probably wouldn't have made this list prior to Tuesday. Sure, he was in great need of a second-half improvement, entering that day with a .212 average and .631 OPS over 70 games. (He hit .244 with a .647 OPS in 87 Triple-A games last year.) But the evidence for a turnaround wasn't there -- no BABIP markers, no significant month-to-month improvements. Then all he did was hit two homers in a game for the first time since Aug. 24, 2014. Of course, let's not get too wrapped up in a single day's performance, but it did strengthen Crawford's case for being a prospect to watch in the second half. Since returning from a groin injury on June 20, he is 17-for-58 (.293) with three homers, two triples and five doubles in 15 contests. His 10 extra-base hits are tied for second in the International League over that span while sporting a nearly even 9/8 K/BB ratio. Again, this run may be too small of a sample, and Crawford could turn back into a Triple-A pumpkin at the plate one of these nights. But to show that he truly has potential with the bat at this level, he needed to grab some attention in a big way, and he accomplished that. At the very least, the 22-year-old shortstop reminded us he's still one to keep an eye on.
Red Sox LHP Jay Groome, Class A Greenville, No. 34: As Red Sox fans might recall, the 18-year-old left-hander struggled mightily in first start for the Drive, allowing nine earned runs on seven hits and three walks in 1 1/3 innings on April 10, and immediately went on the disabled list with a lat injury. He made three rehab appearances for Class A Short Season Lowell with each one better than the last, culminating in five no-hit innings last Thursday. The southpaw has proven his effectiveness and his health -- he threw 85 pitches in that final Spinners outing -- and with his fastball and curve, he should have the weapons to do what the Sox had hoped he would from the beginning: dominate the South Atlantic League. He got off to a tremendous start in that regard Tuesday, striking out seven over five one-hit innings at Rome. An innings limit kept him to just the five frames, despite having thrown only 60 pitches, but he could do more damage by going deeper the further he gets away from the lat injury.
Dodgers RHP Yadier Álvarez, Class A Advanced Rancho Cucamonga, No. 39: Look at Alvarez's scouting report and his numbers from the California League, and it's not hard to see how things don't quite match up. All four of Alvarez's pitches were given above-average grades by MLB.com, most notably his 75-grade fastball and 60 slider. Yet over 55 1/3 innings he's posted a 5.37 ERA, which ranks 25th out of the 34 Cal League pitchers with at least 50 frames. Part of that is inexperience as he'd pitched only 39 1/3 innings beyond the complex level entering 2017. The other part is the offensive environs of the Cal League. But don't let those be excuses. The fact remains that Alvarez ranks eighth among the same group with a 3.74 FIP, ahead of fellow 2017 Futures Game World teammates Cal Quantrill (3.77) and Jaime Barria (4.00). The 1.63 gap between his ERA and FIP is the second largest in the Cal League; he's allowed his share of runs, but he's also piled up strikeouts at a good clip (23.1 percent) while limiting walks (9.5 percent) and home runs (0.5 HR/9). Based on those figures, it's easier to see how Alvarez's results and talent should sync up in the second half, especially as he gathers more experience.
Pirates SS Kevin Newman, Double-A Altoona, No. 48: The Pirates' No. 3 prospect entered the season known almost exclusively for his hit tool. After all, he did hit .320 while striking out in only 7.9 percent of his plate appearances between Class A Advanced Bradenton and Double-A Altoona last season. Entering Wednesday, however, he's batting just .258 with a 10.2 percent strikeout rate in his first 68 games back in the Eastern League. He hasn't hit for much power either with a .359 slugging percentage, though he has collected three extra-base hits in his last two contests. That's why the 23-year-old shortstop is here: He's trending in the right direction. Newman was hit in the head during a game on May 10 and was hospitalized, though he returned to action two days later. However, May was the biggest drag on his season stats (.172/.234/.253 over 22 games). Like Groome and his lat, the further he gets from the hit-by-pitch, the more effective he's been. Since June 1, Newman owns a .307/.363/.430 line with nine extra-base hits, 10 walks and eight strikeouts over 27 games. If this continues, he has a chance to salvage what was shaping up to be a lost season.
Athletics RHP Grant Holmes, Double-A Midland, No. 72: Holmes' first full season in the Oakland system hasn't been a memorable one so far. His 4.66 ERA over 85 innings ranks 16th out of the 21 qualified Texas League hurlers, while his 1.56 WHIP sits even worse at 20th. Not surprisingly, a lot of that has to do with the fact that he's been very hittable with the opposition batting .296 against him. However, that isn't helped by a sky-high .379 BABIP -- highest among all Texas League pitchers. The 21-year-old right-hander has posted some high BABIPs-against in the past, but nothing like this, and it can be somewhat expected that more of those balls in play will turn into outs in the second half. Like others on this list, he's also improving as the season progresses. His ERA has dropped with each passing month -- from 6.27 in April to 5.52 in May to 3.60 in June to 1.29 in his lone July outing. What's more, his control -- his biggest bugaboo on most scouting reports -- has also trended positively from a 10.5 percent walk rate in six April outings to 4.7 percent over five appearances in June. Don't expect Holmes to suddenly compete for the ERA title down the stretch, but the 2014 first-rounder is showing enough growth that it's not time to jump ship just yet.
Sam Dykstra is a reporter for MiLB.com. Follow and interact with him on Twitter, @SamDykstraMiLB.