Toolshed: Before the Dodgers were champions
Recalling Minor League facts about the World Series winners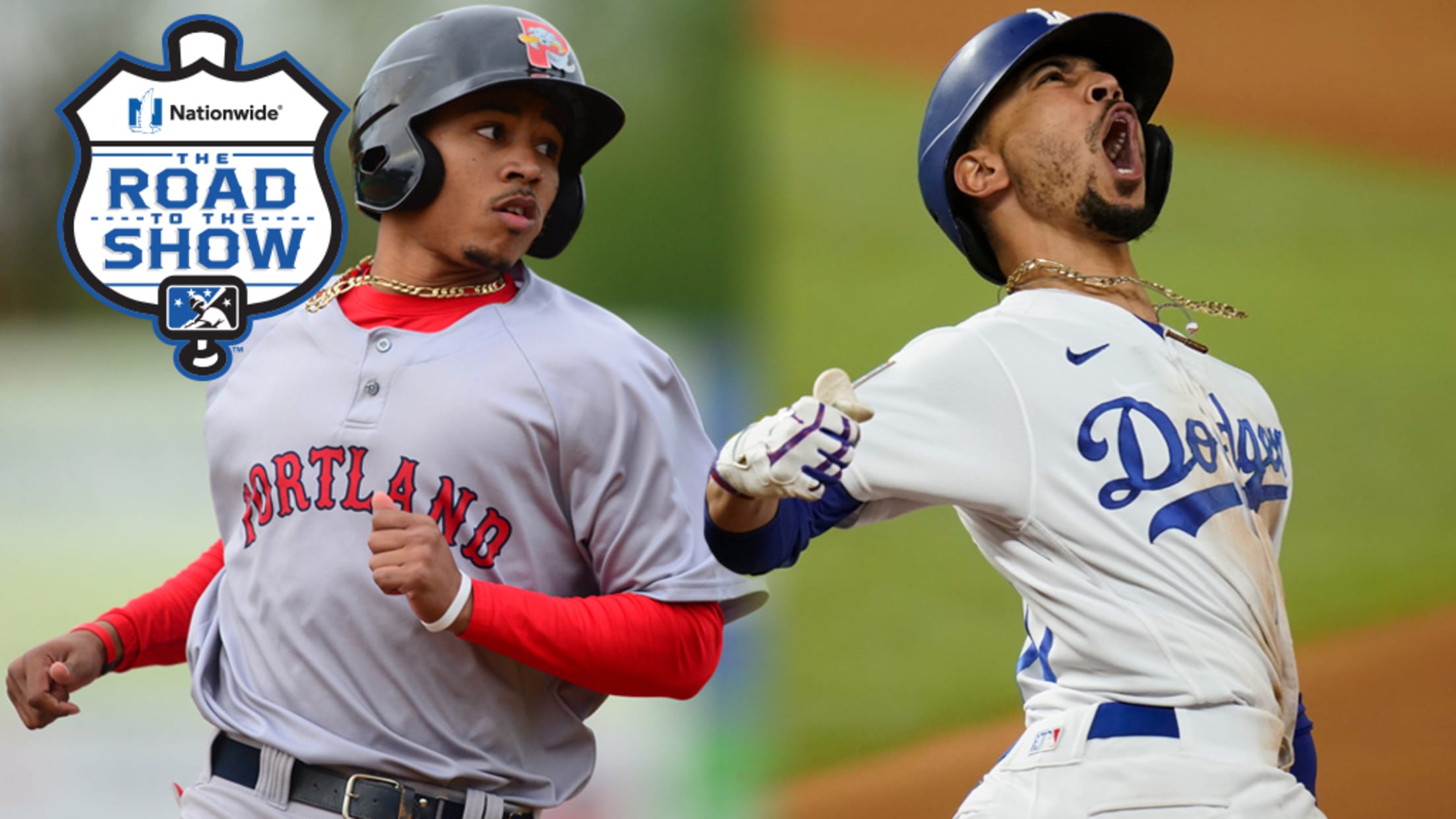 Mookie Betts served primarily as a second baseman in the Red Sox system before making big plays in right field for the Dodgers. (Kevin Pataky/MiLB.com, Eric Gay/AP)
We knew them when. That's the beauty of the Minor Leagues. Whether you're a writer, fan, team employee or have followed the Minors in any way, you can take some joy in knowing about how World Series champions were made at the lower levels. The Dodgers defeated the Rays, 4-2,
We knew them when.
That's the beauty of the Minor Leagues. Whether you're a writer, fan, team employee or have followed the Minors in any way, you can take some joy in knowing about how World Series champions were made at the lower levels.
The Dodgers defeated the Rays, 4-2, in the 2020 World Series featuring a 28-man roster that came together from all over the place. Stunningly, 14 of the 28 players on that roster came up through the Los Angeles Minor League ranks. As first noted by Evan Grant of the Dallas Morning News, all 18 of the Dodgers' postseason games were started by homegrown pitchers (Clayton Kershaw, Walker Buehler, Tony Gonsolin, Dustin May, Julio Urías). The club also was able to trade for Mookie Betts last offseason and transform Max Muncy and Justin Turner from disregarded Quad-A types into bona fide All-Star infielders.
No road to glory in Arlington, Texas, was paved exactly the same way. To celebrate those paths to the Commissioner's Trophy, this edition of Toolshed shares Minor League facts about the careers of all 28 World Series-winning Dodgers players.
Pitchers
Pedro Báez: Báez started his Minor League career in 2007 as a third baseman, but transitioned to the mound six years later once it became clear his bat wasn't cutting it at Double-A. It didn't take long for the right-hander to make himself at ease in the back of a bullpen. Báez went 12-for-12 in save opportunities between Double-A Chattanooga and Triple-A Albuquerque in 2014, his second full season as a pitcher. That year, 105 hurlers recorded 12 or more saves. Only eight of them did not blow a save. This former infielder was one of them.
Walker Buehler: Buehler has become a genuine ace and would be the face of the Dodgers rotation, if not for that guy named Kershaw. But it's funny to look back at the 2015 first-rounder's time at Triple-A Oklahoma City and see somewhat of a different story. Buehler made 15 appearances in the Pacific Coast League between 2017 and 2018, and only six of them were starts. There was a very good reason for that. The Vanderbilt product missed most of 2016 after undergoing Tommy John surgery and was on an innings limit the following year. He showed at Double-A Tulsa (where he fanned 64 batters in 49 innings) that he was worthy of a Major League look in 2017, but in order to make that happen, L.A. thought it best to try him in the bullpen. The results were mixed. Buehler fanned 19 batters in 13 1/3 innings as a reliever, but posted a 4.73 ERA in the role. He was summoned to the Majors that September, continued to struggle as a reliever with eight earned runs allowed and eight walks in 9 1/3 frames and didn't make the 2017 postseason roster. He returned as a starter in 2018, finished third in the NL Rookie of the Year voting and made one scoreless seven-inning start in the World Series. It goes to show that even if a pitcher switches roles briefly in the Majors but has the stuff to start, he should still be a starter.
Dylan Floro: Floro has fashioned himself into the role of a stable reliever in The Show. In 2013, he was one of the Minors' most effective starting pitchers. He actually led full-season Minor Leaguers with a 1.77 ERA over 137 1/3 innings between Class A Bowling Green and Class A Advanced Charlotte that season. Yes, for those who caught it, that was when he was a prospect for the Rays, the very club he pitched against three times in this Fall Classic. To go one step further, Floro faced Dodgers prospects in the Midwest League, where L.A. had an affiliate in Great Lakes. One of the few Class A hitters to perform well against the right-hander that season was his future teammate Corey Seager, who went 2-for-3 with a double off Floro in 2013.
Tony Gonsolin: Gonsolin led qualified Dodgers farmhands with a 29.4 percent strikeout rate in 2018, a number that ranked 13th in the Minor Leagues that season. That's an important note because 2018 also marked the first time Gonsolin worked as a starter since he was taken in the ninth round of the 2016 Draft out of St. Mary's. The right-hander fanned 155 batters over 128 innings between Class A Advanced Rancho Cucamonga and Double-A Tulsa that season, representing an increase of 58 frames over the previous campaign. The breakout was fueled by a velocity jump which put Gonsolin in the mid-90s consistently and a jump in stuff that made both his splitter and curve potential plus pitches. The stuff still remains, and while Gonsolin was used in a bit of an opener role at times this postseason, he still has the ceiling of a solid starter going forward in Los Angeles.
Victor Gonzalez: Without a Minor League season in 2020, Gonzalez was pushed to the Major League bullpen this summer, perhaps ahead of schedule. But in his first taste as a full-time reliever in 2019, the left-hander showed the Dodgers why he was closing in on Southern California. After moving to the Tulsa bullpen on June 28, Gonzalez allowed only one earned run over his first 14 appearances (17 innings) between there and Oklahoma City. He struck out 18 batters and walked only four over that span through Aug. 7. The southpaw was a little more mixed the rest of the way in the PCL, but the message was clear that he could dominate if given the ball for shorter stints. Gonzalez posted a 1.33 ERA with 23 K's and only two walks in 20 1/3 innings for the Dodgers during the regular season and had a 2.70 ERA in the postseason.
Brusdar Graterol: "Easy 100" was one of the most commonly used phrases whenever Graterol came out of the Dodgers bullpen these playoffs, and it wasn't too long ago he was showing that plus velocity as a starter in the Twins system. The right-hander's best run in the Minors came just last year at Double-A Pensacola, where he posted a 1.71 ERA over 52 2/3 innings -- the lowest mark by anyone in the Southern League (minimum 50 frames). He also notched a 1.01 WHIP, held opponents to a .179 average and struck out 24.4 percent of batters he faced. A shoulder injury (along with Major League need) pushed him to the bullpen in late 2019, prior to a debut with Minnesota in September, and Los Angeles kept his elite velo in that spot following a February trade for Kenta Maeda.
Kenley Jansen: Like Báez, Jansen transitioned to the mound, in this case as a former catcher. Like Báez, he showed dominance in his new role in the 'pen. Perhaps even more dominance. Jansen's first full season on the mound came in 2009, when he fanned 78 batters in only 45 innings between Class A Advanced Inland Empire and Double-A Chattanooga. In a sign of things to come, his 42.4 percent K rate was the highest among all Minor Leaguers with at least 40 innings that campaign. His 1.60 ERA and 1.58 FIP weren't too bad to look at. Jansen arrived in the Majors that July, leaving one to wonder just how high he could have gotten that strikeout rate had he stayed down in the Minors the rest of the way.
Joe Kelly: In a parallel universe, Kelly might have thrown back-to-back no-hitters for the Class A Advanced Palm Beach Cardinals in late May 2011. Instead, both bids -- one on May 24 at Brevard County, the other on May 31 at Dunedin -- were stopped in the eighth inning. Future Major Leaguer Scooter Gennett broke up the former with a single off Kelly with one out in the eighth, and the latter lasted one out longer before Kevin Ahrens singled to end the no-no bid. The right-hander was immediately removed after both knocks. In a style that Dodgers fans might feel hits a little too close to home, Kelly's control wavered in both outings; he combined to walk nine batters over 15 frames. But with his great stuff that high velo and a lot of sink, Kelly nearly put his name into the Florida State League record books twice in a row nine years ago.
Clayton Kershaw: Kershaw's time in the Minors was short. After the Dodgers took him in the first round of the 2006 Draft, he made his Major League debut two years later on May 25, 2008. But it was certainly impactful. In fact, his 2008 season with Jacksonville was as good a campaign by a young Double-A pitcher as there's been in recent memory. From 2008 to the present, there have been 40 pitchers aged 20 or younger to have thrown at least 60 innings in a season for a Double-A club. Kershaw's 2008 campaign led them all with a 1.91 ERA, 2.27 FIP, 0.95 WHIP and .176 average-against. That came over 61 1/3 frames, and in none of those did the big left-hander allow a single home run. That list of 40 features no pushovers either; pitchers like Jesus Luzardo, Madison Bumgarner, Mike Soroka and Sixto Sanchez appear in the top 10s in some of those categories. But none of them were quite as dominant in Double-A as the 20-year-old Kershaw. Then again, not many Major League pitchers have been as dominant as the southpaw has been in The Show either.
Adam Kolarek: Did your Triple-A bullpen need outs in 2017 and 2018? There was perhaps no better option to find at that Minor League level than Kolarek at the time. Over those two seasons, Kolarek led all Triple-A relievers with a 1.63 ERA over 88 1/3 innings. Twins pitcher Jake Reed was his closest competition, and even he was behind a healthy margin with a 1.95 ERA in the same span. Kolarek thrived by striking out 98 over those 88 1/3 frames in those two years, but didn't quite match the numbers in the Majors. The Rays traded him to the Dodgers for outfield prospect Niko Hulsizer at the 2019 Trade Deadline.
Dustin May: For all the discussion around his high velocity and movement, May hasn't been one to put up big strikeout numbers in the Majors just yet. That was different at Double-A Tulsa on June 22, 2019. The right-hander set an ONEOK Field record by striking out a career-high 14 batters over seven innings that night against Amarillo. That bested his previous best of 12 and represented five more punchouts than he got in any other Minor League start in 2019. As of now, May sits at 394 career K's over 403 2/3 innings in the Minors and 76 over 90 2/3 in the Majors.
Jake McGee: As a former top-50 overall prospect who never quite lived up to his perceived ceiling, this is a perfect time to remember when McGee was at his best in the Minors. The left-hander was a 2004 fifth-rounder out of a Nevada high school who broke out on the national scene between 2006 and 2007. Over those two seasons, McGee struck out 346 batters, good enough for third-most in the Minors in that span. Only Matt Maloney (357) and Gio Gonzalez (351) racked up more K's over those two seasons. McGee's 30.6 percent strikeout rate also placed third among Minor Leaguers with at least 200 innings between 2006 and 2007. Tommy John surgery in 2008 kept him from debuting in the Majors until September 2010.
Blake Treinen: With a career WAR of 8.0, Treinen is the most successful Draft pick to come out of South Dakota State. He's also the only Jackrabbit to be taken twice. Treinen first was selected by the Marlins in the 23rd round of the 2010 Draft but chose not to sign, only to improve his stock as a senior and get taken by the A's in the seventh round a year later. The righty also has been traded twice with both transactions involving the A's and Nationals. Oakland moved him to Washington as a prospect in January 2013, and the A's reacquired him in the Sean Doolittle/Ryan Madson deal four years later.
Julio Urías: It was a bit of shock to the Minor League landscape when a 16-year-old Urias took the mound for Class A Great Lakes on May 26, 2013. (Urías handled himself well by striking out six Dayton batters over three scoreless innings.) In case he didn't seem particularly young, consider this. Urías was the only 16-year-old to pitch in either Class A League that season. In fact, no other hurler has reached the Midwest or South Atlantic Leagues at that age since the Mexican left-hander first took the mound for the Loons. Despite that, Urías posted a 2.48 ERA and struck out 67 over 54 1/3 innings for Great Lakes in 2013.
Alex Wood: Wood's time in the Minors was short. He was drafted by the Braves in the second round of the 2012 Draft out of Georgia, and 11 months later, he was in the Majors. But that quick trip came for good reason. Wood simply dominated for Double-A Mississippi prior to his callup in May 2013. Wood's 1.26 ERA over 10 starts remains the best among M-Braves with at least 50 innings in a single season since that 2013 campaign. His 0.98 WHIP and his 1.98 FIP each sit second as well among the group of 62 Mississippi pitchers to clear that innings qualification from 2013-19. Wood was used primarily out of the Atlanta bullpen in his rookie season before transitioning into more of a starting role in 2014.
Catchers
Austin Barnes: Barnes played multiple positions in the Minors, including second, third and even center for one game. For the purposes of this exercise, consider him at his natural position of catcher. There were 224 catchers who made at least 1,500 plate appearances in the Minors in the 2010s. Barnes ranks fifth among them with a career 133 wRC+ in the Minors. His .388 Minor League OBP especially stands out, aided by impressive plate discipline that led to a near-even 323/310 K/BB ratio during his time in the Marlins and Dodgers systems. The 30-year-old is known more for his defensive prowess these days, but as he showed at times this postseason, he can be plenty capable with the stick as well.
Will Smith: Spending time in the Major Leagues is the goal, and Smith certainly earned his looks at The Show in 2019. But a tiny part of us would love to have seen what he could have done over a full season at Triple-A Oklahoma City. Smith belted 20 homers and slugged .603 over 62 games in the PCL last year. Those 20 blasts were tied for second-most among all PCL catchers, and Smith only got in about half a season on the circuit. That also matched a career high, set in 2018 over 98 games between Tulsa and Oklahoma City. So when the 25-year-old hit .289/.401/.579 during this truncated season, you can bet there might have been a few fans around the Sooner State who were saying they'd seen that before.
Infielders
Matt Beaty: Beaty was named the 2017 Texas League Player of the Year and it isn't difficult to see why. The 2015 12th-rounder scored the batting title with a .326 average and also topped the circuit with an .883 OPS. His .505 slugging percentage and .378 OBP placed second and fourth respectively, while he clubbed 15 homers and a league-best 31 doubles over 116 games with Tulsa. Not bad for a player who was a senior sign out of Belmont.
Enrique Hernández: Hernández was never a ranked prospect after the Astros took him in the sixth round of the 2009 Draft out of Puerto Rico. By 2014, he broke out enough with the bat to earn a Major League callup as well as involvement in two trades while he was still technically a prospect -- one in July to the Marlins and another in December to the Dodgers. Both deals were fairly large in size and combined to include 12 different players, including Hernández (who counts once). Of those 12, Jake Marisnick (10.9) was the only player involved in either deal who has been worth more WAR than Hernández's 9.6 since the first trade to Miami. That list of 12 includes some solid players like Dee Strange-Gordon, Colin Moran and Miguel Rojas. Hernández's improved offense, energetic style and ability to play almost any position on the field have made him a fan favorite in L.A.
Max Muncy: In 2018, Max Muncy participated in the All-Star Home Run Derby in Washington. That must have caused some whiplash in PCL circles. Muncy signed with Los Angeles as a Minor League free agent in April 2017 and enjoyed a productive, if not quite powerful season in Oklahoma City during his first season in Dodger blue. The infielder produced a .309/.414/.491 line with 12 homers in 109 games. Those 12 long balls were tied for 51st-most in the league. Of course, after some mechanical changes, he was one of the Major Leagues' best sluggers one year later, finishing with 35 homers in 2018 -- a number he reproduced exactly in 2019. By the way, Muncy hit 17 homers in the first round of the Home Run Derby but fell to eventual champion Bryce Harper, 13-12, in the semifinals.
Edwin Ríos: Ríos has quietly been one of the Minors' most productive hitters in recent years. Since the Dodgers took him in the sixth round of the 2015 Draft, Ríos is one of 720 batters to make at least 1,500 plate appearances in the Minors. Out of those 720, he ranks fourth with a .539 slugging percentage and eighth with an .887 OPS. Only Rhys Hoskins (.553), Roberto Ramos (.541) and Tyler O'Neill (.541) have slugged higher than Ríos in the Minors over that span. In limited playing time, Ríos has been an even better slugger in the Majors, where he sports a career .260/.338/.634 line with 12 homers over 139 plate appearances.
Corey Seager: Seager was certainly in the conversation of the Minors' top slugging shortstops of the past decade. He was the only player at the position to get at least 1,500 plate appearances in the Minors, bat .300 and slug .500. His exact numbers were a .307 average and .523 slugging percentage over 1,710 plate appearances. Only Javier Báez (.541) had a better slugging percentage among qualified shortstops in the decade, and only Xander Bogaerts (142), Báez (139) and Marcus Semien (136) produced a better wRC+ than Seager's 135. (Coincidentally, fellow Dodgers Gavin Lux and Chris Taylor also produced the same wRC+ as Minor League shortstops.) Coming off MVP turns in the NLCS and the World Series, it's safe to say Seager has matched the expectations set by his Minor League production.
Justin Turner: Turner's career turnaround from former Reds, Orioles and Mets castoff to Dodgers standout was capped when he made the 2017 National League All-Star team. That first trip to the midsummer classic is a treat for any baseball player, but it may have held an even more special place in Turner's heart. See, the infielder's last trip to an All-Star Game at any level came 10 years beforehand in the 2007 Midwest League All-Star Game. Turner -- then a hit-tool-only batter -- produced a .311/.374/.446 line with 10 homers over 117 games at age 22 that year. Never mind being older or wiser, Turner was a completely different player when he went to the 2017 All-Star Game in Miami -- one who hit for a lot more power and performed admirably at third base, rather than his original position at second.
Outfielders
Cody Bellinger: Power has become one of the 2019 National League MVP's many strengths, but that wasn't always the case. The left-handed slugger went deep only three times in 51 games between the Arizona League and Rookie Advanced Ogden in 2014. That number took off soon after, however. One year later, he went yard 30 times for Rancho Cucamonga and then added 26 more blasts between Tulsa and Oklahoma City the season after that. His 56 homers combined between 2015 and 2016 tied for the fourth-most among all Minor Leaguers in that span -- a clear indication that his power had arrived. That was further vindicated when he clubbed 39 homers as a Major League rookie in 2017 and a career-high 47 in his MVP campaign in 2019.
Mookie Betts: As of this writing, Betts is a four-time All-Star and four-time Gold Glove-winning outfielder. He wasn't much of either in the Minor Leagues. During his time in the Red Sox system, Betts made only one All-Star team -- the 2013 South Atlantic League squad while with Class A Greenville -- and played only 50 games in the outfield, only four of which were at his current position in right. The former is easily explained. The 2011 fifth-rounder had a breakout season in 2013 and carried that right up through the upper Minors, never playing more than 54 games for another affiliate after Greenville. Limited time meant limited chances to crack an All-Star team, either at midseason or for the end of the year. As for the outfield, Betts was drafted and developed as a second baseman initially but eventually moved to the grass to get out of Dustin Pedroia's shadow. The fact that he quickly became the best defensive right fielder in baseball is a testament to his athleticism and ability to adapt on the go.
Joc Pederson: This has been used in Toolsheds in the past, but as one of the most memorable achievements in recent memory, it deserves repeating. Pederson smacked 33 homers and stole 30 bases for Triple-A Albuquerque in 2014. In doing so, he became the first player in the modern history of the PCL to achieve a 30-30 season. He has since been joined on that list by Astros outfielder Kyle Tucker, who hit both marks in 2019. The last person before Pederson with a 30-30 season in any era of the PCL was Frank Demaree, who needed 186 games to do it in 1934. Pederson only took 121 contests.
A.J. Pollock: Pollock's best Minor League season came in 2011, when he spent the entire season with Double-A Mobile in the D-backs system, and if there was ever a fact that indicated what type of prospect the outfielder was at the time, it's the following. Pollock was the only Double-A hitter in the 2010s to rack up at least 35 doubles and 35 steals in a season. The Notre Dame prospect, in fact, collected 41 two-baggers and swiped 36 bags over 133 games for the BayBears -- signs of his ability to hit balls in the gap and take advantage of what scouts thought was still just average speed. Pollock has developed more over-the-fence power -- he and Betts led the Dodgers with 16 homers this season -- while his steal numbers have gone down in the nine years since, but his spot at the top of the leaderboard is an adequate snapshot of where he was in his development at the time.
Chris Taylor: Taylor has yet to make a Major League All-Star Game, but the last time he appeared in a midsummer classic, he certainly made the most of it. The then-Mariners prospect was named the PCL's Top Star in the 2014 Triple-A All-Star Game after going 3-for-4 with two doubles. One of said extra-base hits came off International League starter and future All-Star reliever Liam Hendriks. He was the only PCL batter to collect multiple hits in the 7-3 loss in Durham. Interestingly, Pederson collected the circuit's only homer as well, having batted one spot ahead of Taylor, who was in the No. 3 hole.
Sam Dykstra is a reporter for MiLB.com. Follow and interact with him on Twitter, @SamDykstraMiLB.