Toolshed: 2019 Draft retrospective
O's rush for Rutschman, hitter-heavy first round still stand out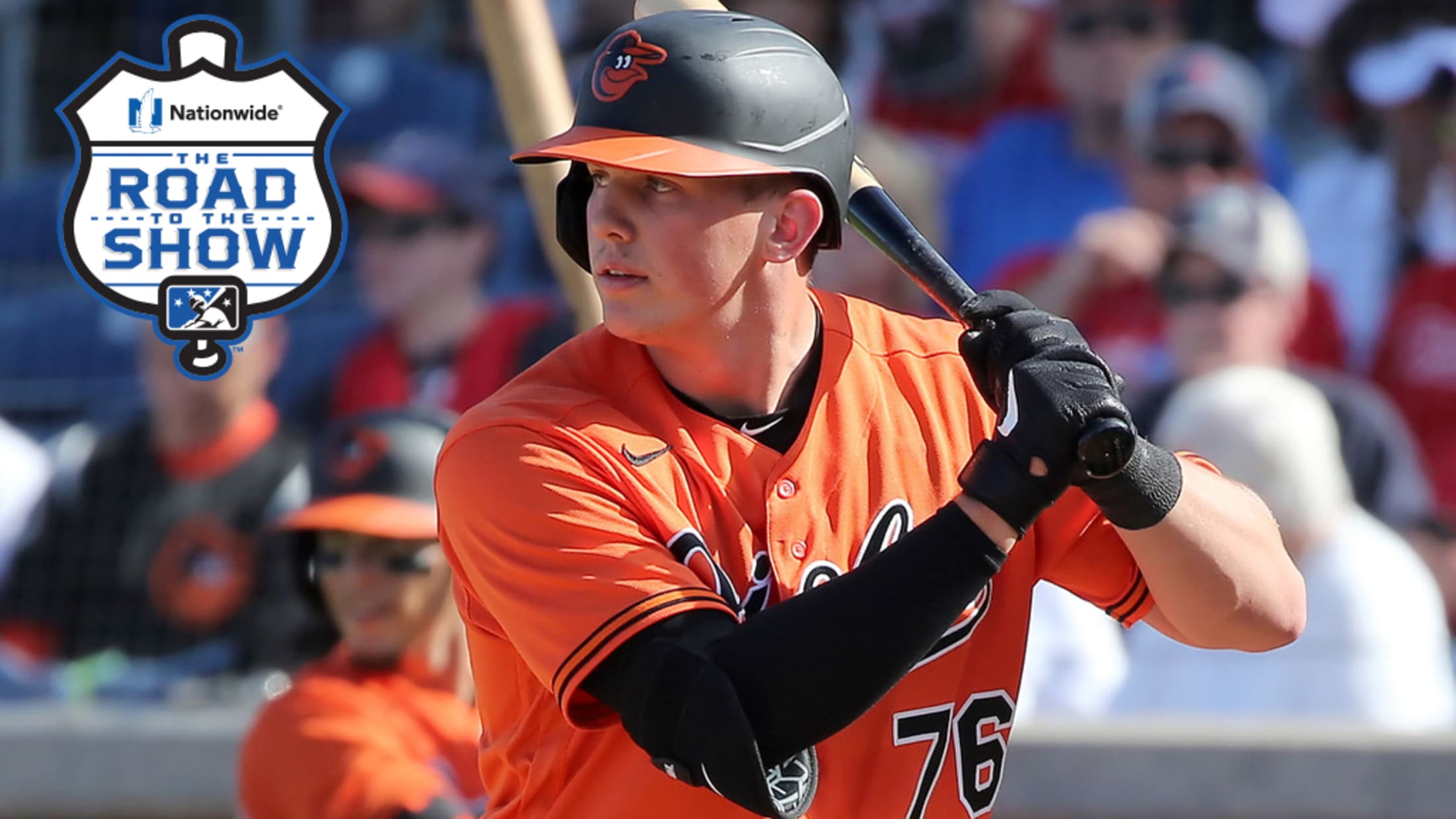 Adley Rutschman appeared in seven Grapefruit League games for the Orioles during Spring Training. (Cliff Welch/MiLB.com)
The 2020 First-Year Player Draft is coming, and without regular-season baseball being played yet due to the coronavirus pandemic, it will be the first big Major League Baseball event of the summer. The 2020 edition will take place June 10-11 and be limited to five rounds this year, but it
The 2020 First-Year Player Draft is coming, and without regular-season baseball being played yet due to the coronavirus pandemic, it will be the first big Major League Baseball event of the summer. The 2020 edition will take place June 10-11 and be limited to five rounds this year, but it still will mark the beginning of the professional careers for several of the game's future top prospects. To get fans prepared for the big day on the baseball calendar, Toolshed has spent the past few weeks looking at recent Drafts. The 2015, 2016, 2017 and 2018 retrospectives can be found at those links. This edition covers the 2019 Draft.
Biggest storyline at the time -- All hitters, all the time: Much of what you need to know about the theme of this Draft comes from the following facts. The first six picks were all hitters for the first time in Draft history. Only three of the top 17 picks were pitchers. There are any number of reasons for the oddities. For starters, there was no slam-dunk pitcher like Casey Mize in this class. Nick Lodolo was a solid hurler coming out of TCU with three above-average pitches and good control from the left side, but he didn't quite have the same ceiling as the hitters above him, causing him to go seventh to the Reds. The biggest debate of the spring was whether Adley Rutschman or Bobby Witt Jr. would go first overall to the Orioles, and the Oregon State backstop seized the position with his plus ability on both sides of the diamond. Following him were Witt (Royals), Andrew Vaughn (White Sox), JJ Bleday (Marlins), Riley Greene (Tigers) and CJ Abrams (Padres) before Cincinnati landed Lodolo. Beyond him, only three of the 10 pitchers taken in the first round were prep players -- Quinn Priester, Daniel Espino and Blake Walston. Texas A&M's Asa Lacy will keep the run on hitters from going similarly deep in 2020, but it's worth keeping an eye on this trend in the future as pitchers, who can carry bigger injury risks, might find themselves sliding behind surer position players.
Biggest storyline since -- Are these the turnaround pieces?: This will be a theme for most of this column, it's too early to determine much about this class. The coronavirus pandemic has kept 2019 picks from having anything close to a true first full season this summer. That said, we still can wonder what their additions have done for their individual farm systems. The Orioles, Royals, White Sox, Marlins, Tigers and Padres were in some form of rebuilds when they made top-six picks, and each of those selections might mean different things for those rebuilds. In Rutschman, Baltimore has its future franchise cornerstone. In Vaughn, the White Sox got a potential quick climber who could head to the South Side in short order. (Coincidentally, the club was a buyer this winter to move past rebuilding, though it brought back Jose Abreu and signed Edwin Encarnación, both of whom play Vaughn's position.) In Bleday, the Marlins added a big piece whose arrival in a year or two could signal a time in which Miami is ready to contend. Witt, Greene and Abrams are more long-term plays for their organizations, and it helps that Detroit and San Diego, in particular, have their other top talents in the upper Minors. The moral of the story: with some of the big names they added in 2019, some of the top-six-picking teams need to start turning a corner and transforming their rebuilding plans into contending ones in relatively short order.
How the first overall pick aged -- Adley Rutschman, catcher, Orioles: You won't find any complaints in Baltimore. Even if there was a debate between Rutschman and Witt for the spring, Baltimore had a clear decision to make after the former hit .411/.575/.751 with 17 homers in his junior year at Corvallis. Those are just the offensive numbers. Rutschman drew raves for his defensive work with his glove and arm, earning plus grades for both. He's been called the best catching prospect since Buster Posey , and he's the first backstop to go first overall since Joe Mauer in 2001. The switch-hitter has been limited to 37 games in the Minors and seven more in Spring Training play, so his pro experience remains limited. But as MLB.com's No. 4 overall prospect, his ceiling remains sky high at a premium position, and he'll be the focus of the system as long as he's in the Minors.
Biggest dropoff -- Keoni Cavaco, first round, 13th overall: This might not age well, considering the California high-school shortstop was always meant to be a long-term prospect. But as of now, four Top-100 prospects (Bryson Stott, Corbin Carroll, Brett Baty and George Kirby) were all taken after Cavaco. Meanwhile, Cavaco is the No. 7 prospect in a solid Twins system after a rough introduction to the pros. The right-handed slugger batted just .172/.217/.253 and struck out in 38 percent of his plate appearances in the Rookie-level Gulf Coast League last summer. In the spring, Minnesota was quick to point out that injuries and need to tend to a personal matter kept Cavaco from taking off in his first taste of the Minors. It's worth pointing out that he has above-average power as well as plus speed, which make for a fun combination for any prospect, let alone one who plays shortstop. It's possible Cavaco could have shown off those skills right now at Class A Cedar Rapids and bumped up his stock seriously, if not for the pandemic. It's also possible that the Twins would have held him back for short-season ball. In any case, the Minnesota prospect will be looking forward to the next time he can take the field and point the arrow back up after a fall from his high Draft status 12 months ago.
Biggest early-round steal -- Matthew Allan, third round, 89th overall: It seemed like a coup then. It seems like a coup now. Allan was MLB.com's No. 13 Draft prospect, having shown a plus fastball, plus curve and above-average changeup at a Florida high school. But it was also fairly well known that he had a strong commitment to the University of Florida, and rumors of a bonus demand as a high as $4 million scared off teams in the first round. Once that happened, it seemed safe to assume Allan would be a Gator. Seemed safe, anyway. The Mets swooped in during the third round and surprised everyone by taking Allan. In order to pull it off within their bonus pool limit, they would have to take several low-bonus players the rest of the way, and indeed, the club went college senior-heavy and didn't sign another top-10-round pick for more than $20,000. By the end of the signing period, New York inked Allan to a $2.5-million bonus, well above the $667,900 assigned to his slot. The 6-foot-3 right-hander now sits as the Mets' No. 5 prospect, and he has every chance to climb higher as he expands his professional resume beyond 10 1/3 innings. He's easily the best bet to become a Top-100 prospect out of the 2020 third round.
Best pick, rounds 6-40 -- Bryce Ball, 24th round, 727th overall: Not only will Ball's round not exist next week, the 18 rounds in front of it won't either. That's how far Atlanta went to get the Dallas Baptist slugger. Ball thought he was capable of going in the top 10 rounds after hitting 18 homers and slugging .614 in the spring of 2019, but once he didn't go there, worries about him returning to campus scared away potential clubs. According to Ball, the Braves were the only ones to reach out, and while he stuck to top-10-round money, Atlanta eventually acquiesced and signed him for $197,500, about the same as a late seventh-round pick. It didn't take long for the move to pay off. Ball was Appalachian League MVP for his 41-game stint with Rookie Advanced Danville and finished with a .329/.395/.628 line and 17 homers in 62 games between there and Class A Rome. The hulking 6-foot-6 slugger is tied to first base, but with his power potential from the left side, he's already the No. 21 prospect in the Braves system. Not bad for a player who wasn't even the 21st player picked by his own club.
Best picks by organization -- TBD: It can be fun to play winners and losers on Draft Day, but perhaps even more so in baseball -- where development takes years -- the true winners and losers take years to reveal themselves. It's also one thing to honor the best picks from two years ago (considering most of those draftees got to play a full year of Minor League ball), but it's less fair to do that to players who have maybe a couple dozen games under their belts at most. We could go with the Orioles for getting their guy in Rutschman and adding other nice pieces like Gunnar Henderson and Kyle Stowers. We could also go with the D-backs for utilizing the Draft's biggest signing pool to add Carroll, Blake Walston and Brennan Malone -- the last of whom they've already traded to the Pirates for Starling Marte. We could even give the Mets kudos for their strategy to snag Allan along with Baty. Let's call those the groups to keep an eye on for now, but don't be surprised if, after some solid years of development, another group jumps to the lead instead.
What to watch next from the Class of 2019 -- A whole lot of waiting for now. In a normal year, many of the 2019 Draft's top prospects would be in Class A, Class A Advanced or Double-A at this time. But if and when baseball resumes, it's likely it will look a lot different, and many picks will fall short of having a first full season, emphasis on the full. One storyline to follow will be which Class of 2019 players are able to make Major League taxi squads this early in their careers. Rutschman, Vaughn, Bleday and Lodolo (among others) have the college pedigrees to be thrown close to the Majors this quickly in their careers. Vaughn and Lodolo might be the best bets of that group considering Chicago and Cincinnati's hopes of contending in 2020. If the Orioles and Marlins want to get weird and take advantage of the craziness that comes with a truncated season, they could lean on their first-rounders and keep them close for the summer. But for the most part, much of this class will likely have to wait until 2021 to get their Minor League careers truly started in earnest.
Sam Dykstra is a reporter for MiLB.com. Follow and interact with him on Twitter, @SamDykstraMiLB.