Toolshed: 2018 Winter Meetings preview
Possible blockbusters, philosophy changes to affect prospects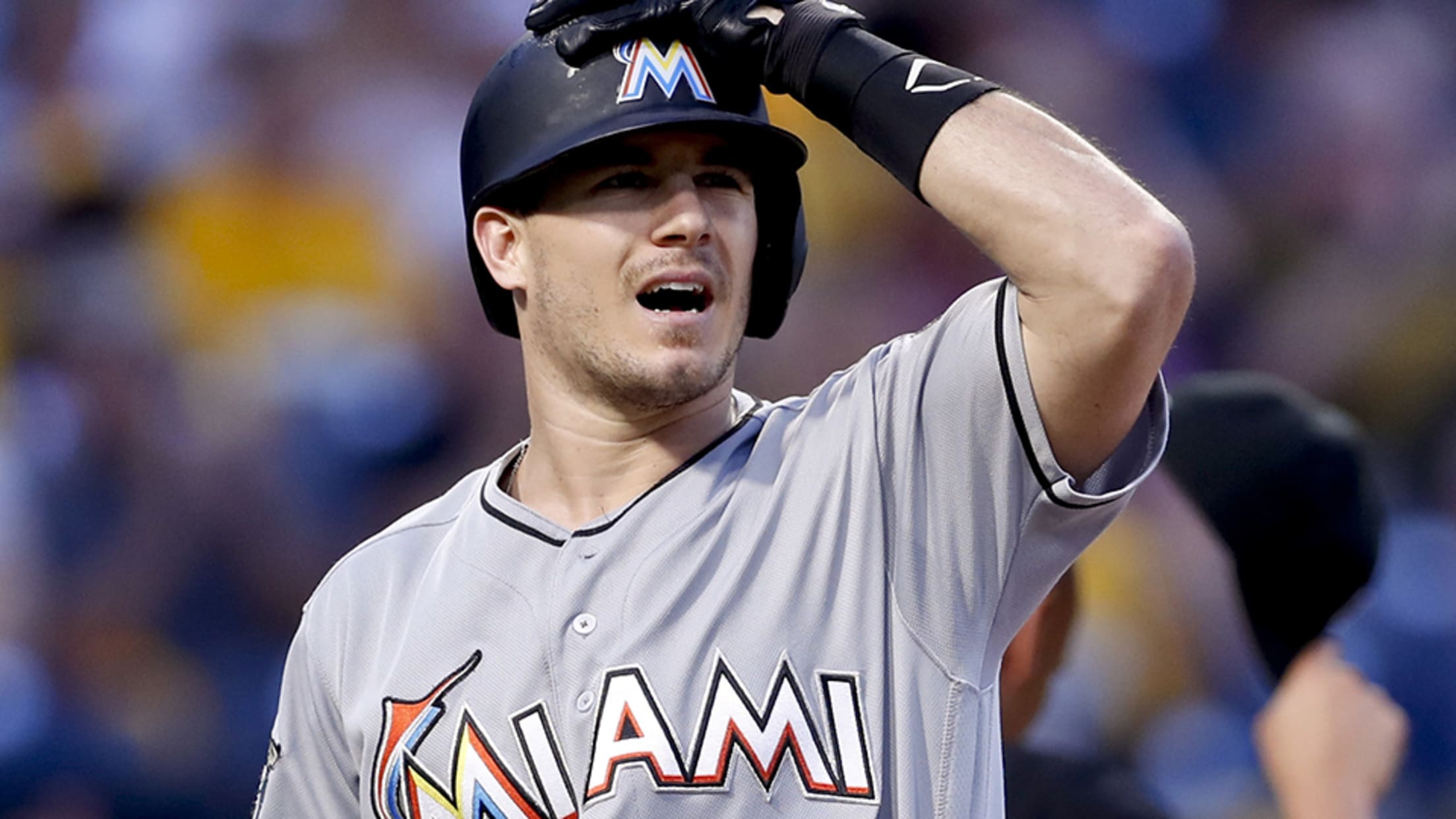 J.T. Realmuto looks likely to head out of Miami this offseason. Could he move for a big haul in Las Vegas? (Keith Srakocic/AP)
What happens in Vegas isn't staying in Vegas. Not next week. One of the busiest times of the baseball offseason will be upon us when the Winter Meetings arrive in Las Vegas on Sunday and stretch through the Rule 5 Draft on Thursday.Traditionally, the Winter Meetings are a time when officials
What happens in Vegas isn't staying in Vegas. Not next week.
One of the busiest times of the baseball offseason will be upon us when the Winter Meetings arrive in Las Vegas on Sunday and stretch through the Rule 5 Draft on Thursday.
Traditionally, the Winter Meetings are a time when officials across baseball come together and swing deals while they're all in relatively tight corners. That's not always the case; last year's Winter Meetings in Orlando were fairly quiet in terms of big deals, outside of the completion of the Giancarlo Stanton trade to New York (which had been basically done before the Meetings) and Marcell Ozuna's move to St. Louis. But this year's edition at least has the potential to be loud and fast, just the way Vegas likes it. Here's a preview of what to follow next week:
How much of a role will prospects play in trades?: One end of blockbuster trades typically focuses on bringing back prospect talent to buoy the club's future. By prospects, we mean that in the strict definition of the term -- a player who has yet to accrue 130 at-bats, 50 innings pitched or 45 days on an active 25-man big league roster.
Sure, there have been big deals along those lines already this offseason, specifically concerning the Mariners with Top 100 ProspectsJustus Sheffield, Jarred Kelenic and Justin Dunn all headed to Seattle from the two New York organizations. But some of the offseason's other big trades haven't brought back prospects, per se; there's a trend in picking up recently graduated prospects who have Major League experience but also years of control remaining.
The Mariners didn't strengthen their farm system when they moved Jean Segura to the Phillies, but they did pick up former top-five overall prospect J.P. Crawford. The D-backs got back three players from the Cardinals for Paul Goldschmidt on Wednesday. Only one of them was a prospect -- Andy Young, who now ranks as No. 22 in the Arizona system. The headliners were Carson Kelly and Luke Weaver, who were both among MLB.com's Top 100 Prospects before the 2017 season. (Kelly also had a Top 100 spot entering 2018.) In a lesser move, the Mariners also swapped Alex Colome for Omar Narvaez, a catcher who won't be a free agent until after the 2022 season.
It's not big enough to be an offseason-defining trend quite yet, especially with more big deals perhaps on the horizon. But this should be a storyline worth following in Vegas to see if philosophies really are changing.
Big names on the block: That said, if prospects are going to switch sides and follow the path of Sheffield, Kelenic and Dunn, this year's Winter Meetings won't be wanting for potential blockbusters that will have fans on the edge of their seats and prospects across the game constantly checking their phones to see if they've been moved. Here are some of the most notable players said to be on the trading block:
J.T. Realmuto: The 27-year-old catcher has made it clear that he won't sign an extension with the Marlins, and as Miami's last incredibly valuable asset, the club should be looking to deal him for a big package. At a time when the backstop position isn't particularly strong, Realmuto was the game's best catcher in 2018 with a 4.8 WAR, per FanGraphs, and he's been one of two catchers to post a collective double-digit WAR over the last three years, with Realmuto checking in at 12.3 and Buster Posey at 10.0. Realmuto has two years of team control remaining, making him even more valuable on the trade market. The Mets and Braves have been said to be involved in negotiations to keep Realmuto in the division, and the Astros and Dodgers should also be interested. The Mets might have to use their own Major League assets (e.g. Michael Conforto, Amed Rosario) to get the prized backstop, while the others could make it happen with prospects alone.
Corey Kluber/Trevor Bauer: The Indians have openly talked about trimming payroll this offseason, and Kluber and Bauer seem to be the biggest names they could move to get costs down. Kluber, coming off his third straight top-three AL Cy Young Award finish with a 2.89 ERA and 222 strikeouts in 215 innings, is the better pitcher of the two right now but also has the more costly contract. The 32-year-old right-hander is due $17 million next season and has team options of $17.5 million and $18 million for 2020 and 2021, respectively. At 27, Bauer is not only the younger of the two, but he also has two years of arbitration remaining. That could, as he himself asserts, mean the Tribe is more likely to keep him. It could also mean he'd bring back quite the package in a return for his years of control, especially after his 2018 All-Star season in which he posted a 2.21 ERA with 221 strikeouts in 175 1/3 innings. Kluber and Bauer may have different trade value, but if a deal goes down in Vegas, it might come down to a single club willing to meet the price for either one. As things stand, Cleveland only has two Top 100 Prospects -- Triston McKenzie and Nolan Jones -- but given how weak the AL Central is right now, the front office might prioritize Major League-ready talent over building up the pipeline.
Madison Bumgarner: Once upon a time, a deal for the Giants ace would have headlined the Meetings. Now, it would no doubt be notable, but not earth-shattering. The hero of the 2014 World Series hasn't thrown more than 130 innings in either of the last two seasons and has seen his velocity drop from his elite years. Add into the mix that his 1.4 WAR in 2018 was the lowest of his career, and Bumgarner's stock has certainly dropped. He's due to become a free agent after being paid $12 million in 2019, however, leading San Francisco to explore a trade in the same way Arizona did with Goldschmidt. On reputation, Bumgarner could bring a modest return to the Giants. Joey Bart and Heliot Ramos are their only Top 100 Prospects and there's little depth behind that pair, so new president of baseball operations Farhan Zaidi could use the youth infusion as he builds for the long term.
Mitch Haniger: If the Mariners are going to strip the Major League roster of its biggest assets, they should at least explore the possibility of moving their best all-around player of 2018: Haniger. The 27-year-old right fielder hit .285/.366/.493 with 26 homers in 157 games and produced a 4.6 WAR. Only Mookie Betts, Christian Yelich and Aaron Judge were worth more wins this season. On top of that, he's still under team control for four more years and won't begin arbitration until 2020. By trading Edwin Diaz (another player with four years of control), the M's were able to procure Kelenic and Dunn from the Mets, and that was with Robinson Cano's contract tied into the deal. (Sending $20 million to New York also helped.) Imagine what kind of return a productive, controllable everyday player like Haniger could bring back.
Sonny Gray: Let's say this first -- Gray isn't going to be bringing the Yankees back anything along the lines of a package like Jorge Mateo, James Kaprielian and Dustin Fowler, the three prospects they sent to the A's to acquire the right-hander in July 2017. Gray has struggled immensely during his time in the Bronx and put up a 4.90 ERA and 1.50 WHIP over 130 1/3 innings in 2018. "In the Bronx" are some keywords, however; the 29-year-old was much better on the road, posting a 3.17 ERA with 78 strikeouts in 71 innings. That should mean a few clubs will be willing to bite on a trade despite Gray having only one arbitration year left before he hits free agency next offseason. But will there be enough teams interested -- based solely on his road performance -- to drive up the price, or will Gray's overall numbers still make a potential return at best modest? That'll be a storyline to follow in Sin City.
Free agent signings affect prospects: The two big names on everyone's lips in Vegas will be Bryce Harper and Manny Machado -- the pair of mega-free agents who could receive offers upwards of $300 million from clubs looking to make a big impact this offseason. That's all well and good, but why does it matter here? Simply put, wherever each ends up signing, there will be ramifications for the prospects on the depth chart below him.
Should Harper sign with the Dodgers, then Los Angeles might come to terms with moving on from top prospect Alex Verdugo, who has split time between Triple-A Oklahoma City and the Majors for two straight seasons. Should Harper decide to re-up with the Nationals, then it'll further delay the arrival of its top prospect in Victor Robles.
As of now, Machado's biggest suitors are rumored to be the Yankees and Phillies. Neither have a Major League-ready shortstop prospect who would be immediately affected. If Machado were to sign with Philly and eventually move over to third base as he ages, that could bump him into the path of 2018 first-rounder Alec Bohm, but there are too many hypotheticals there to get worried just yet. Machado's biggest threat to any established prospect might come from a big bid from the always-entertaining Mystery Team.
Rule 5 Draft's a-coming: The Rule 5 Draft is the most intensive transaction-heavy aspect of the Winter Meetings, if only because moves are virtually guaranteed to be made come next Thursday morning. (Sure, it's technically possible that no organization could make a Rule 5 pick in the Major or Minor League portion of the Draft. But where's the fun in discussing that?) Toolshed will have a more extensive Rule 5 Draft preview next Tuesday, but for now, it's worth looking into which organizations could be the most active.
As of Thursday afternoon, the teams with the most openings on their 40-man rosters are the Rangers (six), Giants (five) and Mariners (five). The Cubs, Mets, Brewers, Reds and A's all have four. The Padres, Dodgers, Red Sox, Yankees, Braves, Pirates, Marlins and Rays are full up at 40 each. Roster space doesn't necessarily guarantee a Rule 5 selection, and a currently full roster won't prohibit clubs from making moves to create room before next week. But it gives us a basic idea of who could potentially make one or more selections.
If any of the aforementioned clubs tries to pull something similar to the Padres in 2016 or Orioles in 2017 (i.e. making multiple selections), it's likely to be one of two from the American League West. Mariners GM Jerry Dipoto is obviously no stranger to making several transactions in a row. The club is clearly entering a rebuilding phase and likely won't shy away from giving Major League chances to prospects that were left unprotected by other organizations last month. The M's even dipped into the Rule 5 waters last year by taking Yankees first baseman Mike Ford before eventually returning him to New York in late March. That may not have gone well, but circumstances are certainly different in the Emerald City these days.
Don't sleep on Texas, either. The Rangers are coming off a 67-win season, and that was before Adrian Beltre retired. They've been active in recent years in the Rule 5 arena, taking Delino DeShields in 2014, Mike Hauschild in 2016 and Carlos Tocci last year. DeShields and Tocci are still with the club, making for a pretty extraordinary hit rate by normal Rule 5 standards. Jon Daniels & Co. could very well return to Rule 5 action next week.
It'll be interesting to see how the new leadership group in Baltimore handles this winter's edition. The Orioles have made at least one selection in every Rule 5 Draft since 2006 and made five picks combined in the previous two iterations. The O's will have the first pick this year and have two 40-man spots open as of a week before the event. Even after parting ways with Dan Duquette and bringing in Mike Elias this offseason, Baltimore might still go the Rule 5 route to aide in its rebuild.
And as always, be prepared to be surprised come Rule 5 Day. Even major contenders could be Rule 5 players. In 2016, the Red Sox selected veteran infielder Josh Rutledge, who had been in the club's system the previous season and signed a Minor League deal with the Rockies only to head back to Boston. Last year, the defending World Series champions in the Houston Astros shocked some by choosing veteran Anthony Gose and announced he would be a pitcher after the former outfielder had made 11 appearances on the mound at Class A Advanced with the Tigers in 2017.
Anything is possible on Rule 5 Day.
Sam Dykstra is a reporter for MiLB.com. Follow and interact with him on Twitter, @SamDykstraMiLB.