Toolshed: 2017 Rule 5 Draft preview
Looking at prospects who could hear their name called in Orlando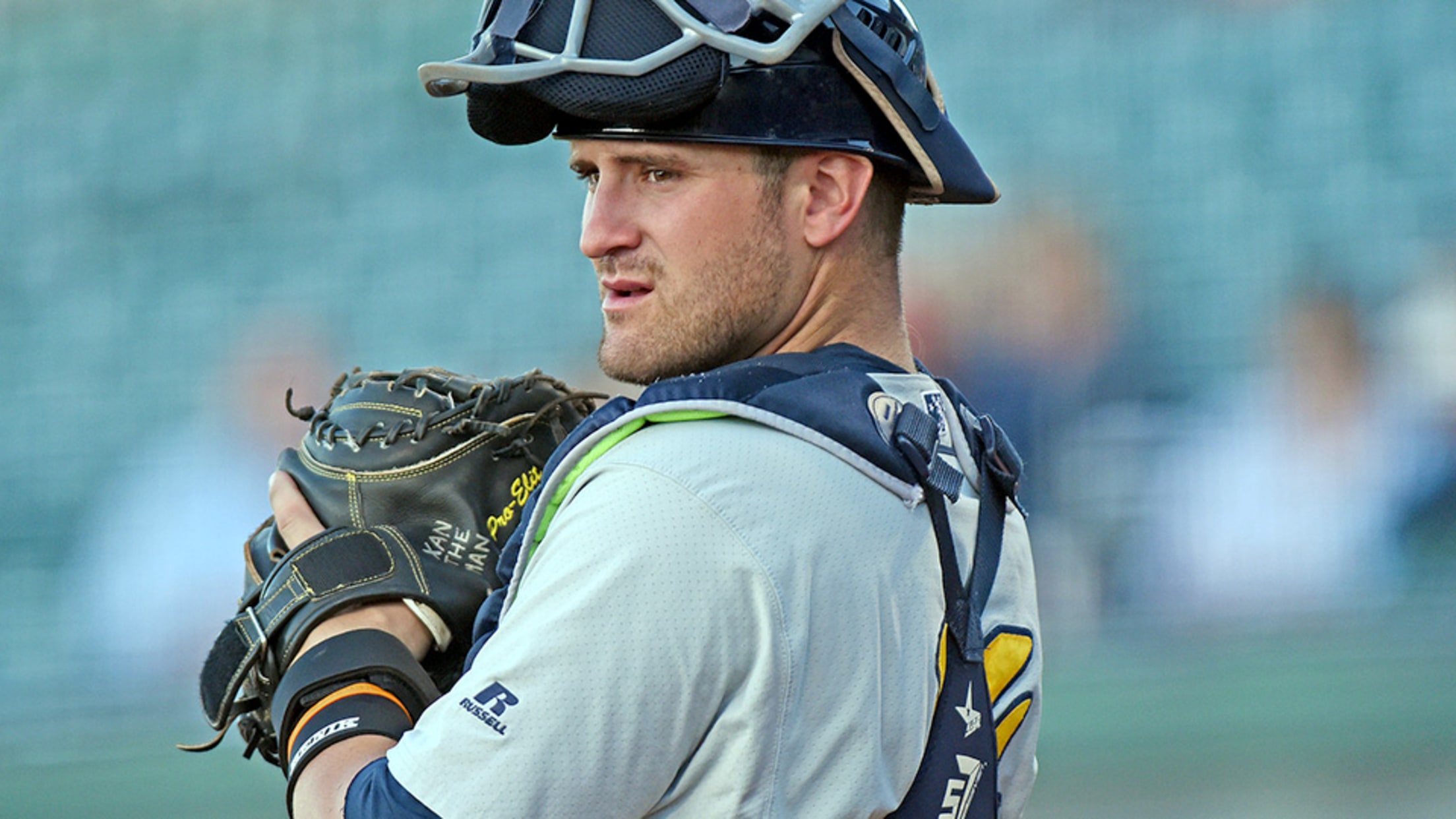 Nick Ciuffo was a first-round pick in the 2013 Draft but went unprotected from the Rule 5 Draft. (Brian McLeod/MiLB.com)
LAKE BUENA VISTA, Florida -- A few prospects will soon see their biggest dreams realized. They'll be given the opportunity to become Major Leaguers.That's the glory of the Rule 5 Draft, which will be held Thursday at 9 a.m. ET here at the Winter Meetings.
LAKE BUENA VISTA, Florida -- A few prospects will soon see their biggest dreams realized. They'll be given the opportunity to become Major Leaguers.
That's the glory of the Rule 5 Draft, which will be held Thursday at 9 a.m. ET here at the Winter Meetings.
The annual Rule 5 Draft provides new chances to seasoned prospects who don't necessarily have the opportunity to crack the game's highest level with their current organization. If a player is selected, he moves to his new club for $100,000 and must stay on the Major League roster for the duration of the following season. (Or if he spends time injured, he must be active for at least 90 days without being optioned back to the Minors.) If he can't stick, he's offered back to his original club for $50,000. Eligible players for the Rule 5 Draft cannot currently be on a 40-man roster and include those who signed at 18 or younger and have been in pro ball for at least five years as well as those who signed at 19 or older who have been in the pros for at least four years -- and those are just the minimum requirements. Any veteran who meets those standards also can be taken, like last year when the Red Sox selected infielder Josh Rutledge, despite his 333 games of Major League experience.
The selection order is based on 2017 record, starting with the team with the worst mark, meaning the Tigers will get the first pick, followed by the Giants, Phillies, White Sox and Reds. Last week's Toolshed covered which teams could be best primed to make Rule 5 picks based on their 40-man roster statuses. Most notably, the Padres, who made three Rule 5 picks last year and managed to keep them all in the Majors, have a full 40-man roster as of Wednesday morning and won't be eligible to make a pick, barring other moves to clear room.
Here are some Rule 5-eligible players who could hear their names called Thursday:
Nick Ciuffo, catcher, Rays: Tampa Bay's No. 25 prospect seems to have a future as a backup catcher, and a Rule 5 selection would speed up that process. Ciuffo hit .245/.319/.385 with seven homers in 102 games for Double-A Montgomery last season, but he truly stands out behind the plate. He threw out 38.3 percent of attempted basestealers in 2017 and owns a 46 percent caught-stealing rate in his Minor League career. The 2013 first-rounder would likely be a Major League asset defensively right away, and a club in need of catching help could allow his bat to come along slowly. His power jump last season -- he entered the campaign with only five career long balls -- is also encouraging.
Frank Schwindel, first baseman, Royals: There might not be a more accomplished Rule 5-eligible hitter this year than the 25-year-old first baseman. Schwindel tied for fifth among full-season Minor Leaguers with 66 extra-base hits (23 homers, 43 doubles) over 133 games between Triple-A Omaha and Double-A Northwest Arkansas in 2017 and finished with a .329/.349/.541 line at the Minors' two highest levels. He was especially hot toward the end of the season with the Storm Chasers, finishing with a .375/.395/.621 line, 14 homers and 19 doubles over 61 games from July on. He's carried that momentum into winter ball in the Dominican Republic, where he's hitting .348/.385/.506 over 22 games. The only knock against him is that he doesn't walk much -- 16 times in 553 Minor League plate appearances in 2017 to be exact. But every other hitting tool plays well. It could be a telling sign that the Royals chose not to protect Schwindel in a year they could lose Eric Hosmer to free agency, but if there are any clubs looking for first-base help or even a right-handed slugger off the bench, they'd be hard pressed to find a better option than Schwindel.
Kyle Wren, outfielder, Brewers: In another system, Wren would probably already be on a 40-man roster. The Brewers, however, have a good problem in that their outfield is pretty jammed as it is. The trio of Domingo Santana, Keon Broxton and Ryan Braun is a solid starter set, and prospects Brett Phillips and Lewis Brinson can expect to compete for roles in the spring as well after their Major League debuts last summer. It's a pretty packed group on the 40-man, but the way Wren has performed, he's looked more and more like a player who could easily be a fourth outfield type right away for a different Major League club. The 26-year-old hit .286/.364/.401 with 26 steals in 128 games for Colorado Springs, his third season with the Triple-A club. Though he moved to left to make room for Phillips and Brinson with the Sky Sox, Wren has experience at all three outfield spots and the speed to be an asset on the grass. The son of Frank Wren could certainly be a cheap option for a club looking for a left-handed bat or pinch runner off the bench.
Victor Reyes, outfielder, D-backs: There's little Arizona's No. 18 prospect can do that'll jump out, but he's got the package to look the part of a fourth outfielder right away. The 23-year-old switch hitter produced a .292/.332/.399 line with 18 steals in 126 games at Double-A Jackson last season. His above-average speed allows him to be a solid defender in either center or right field, and he showed a good arm with 11 assists between those two spots. Offensively, the power isn't there -- he's hit 12 homers over five Minor League seasons -- but the rest of the package is intriguing enough. Take away his speed, arm or ability to hit from either side, and Reyes doesn't likely make this list. Put them all together, and a team might have a solid Rule 5 pick on its hands.
Cale Coshow/J.P. Feyereisen/Raynel Espinal, right-handed pitchers, Yankeees: New York's American League club had a big 40-man roster crunch leading up to the event and could stand to take Thursday's biggest Rule 5 hit as an organization -- and that's especially true when it comes to their right-handed pitching depth. Coshow might be the hardest thrower of this group with his ability to hit triple digits (which resulted in 76 strikeouts in 60 innings between Triple-A and Double-A), but don't sleep on Feyereisen's chances of cranking things up to the high-90s either. Espinal had the best numbers of the bunch and was the fans' choice for the MiLBY award for Best Reliever after he posted a 1.09 ERA and 0.71 WHIP with 93 strikeouts and 15 walks over 74 1/3 innings between Class A Charleston, Class A Advanced Tampa and Double-A Trenton. The other two could get an advantage for having pitched at Triple-A, but don't be surprised if multiple members of this group hear their names called and move to clubs looking to add some heat to the bullpen.
Roemon Fields, outfielder, Blue Jays/Wes Rogers, outfielder, Rockies: Almost any team could use speed, and Rogers and Fields have it in spades. Rogers led the Minors with 70 steals, while Fields ranked fifth with 50. For Fields, that may have marked a career high, but it was also the fourth straight season he swiped at least 44 bags. There's plenty of speed to go around with either for a club looking for a pinch runner extraordinaire. Unfortunately, neither offers much else. Rogers has yet to play above Class A Advanced, while Fields can hit (.291 average and .355 OBP at Triple-A Buffalo) but shows little power (no homers in 103 games). Clubs will have to overlook a lot to grab either player, but Rule 5 picks have been made for less.
Kohl Stewart, right-handed pitcher, Twins/Trey Ball, left-handed pitcher, Red Sox: This Rule 5 cycle is a reminder about how rough the 2013 Draft has turned out to be. Top pick Mark Appel is technically Rule 5-eligible, but he was not picked up on waivers after being designated for assignment by the Phillies. No team grabbed him them, and it's highly unlikely they'll do so Thursday since that club would owe him a Major League spot. With Stewart (fourth overall) and Ball (seventh), there's at least a chance that an organization could be willing to let them grow into their once considerable talents in a bullpen setting. Stewart at least has the better chance with a plus fastball and potentially above-average slider, even if he struggled with control in 2017 with 46 walks in 82 innings. Ball has a much harder argument to make after he posted a 5.27 ERA and 1.75 WHIP over 124 2/3 innings at Double-A Portland. His advantage might be that he's left-handed, but even then, the Red Sox southpaw still allowed left-handed batters to hit .273 off him this season. Both hurlers carry a lot of name recognition, but it's not clear that'd be enough to hear their names called Thursday.
Nick Burdi, right-handed pitcher, Twins/Max Pentecost, catcher, Blue Jays: Though some members of the 2013 Draft Class have had their struggles, save some sympathy for the talents who are Rule 5-eligible due to injury. Burdi was one of the hardest-throwing right-handers in the Twins system with the potential to hit triple digits and was on the fast track to Minnesota in 2016 when a bone bruise on his right humerus limited him to three appearances. Injury reared its ugly head again this past campaign when he underwent Tommy John surgery in the late spring. It's unlikely Burdi will be able to pitch in the Majors come April, should he be picked, but there is precedence for a talented yet injured player to be taken in the Rule 5. Dan Winkler was taken under a similar circumstance by the Braves in 2014 and remains with the club after several DL stints. Same goes for Anthony Santander and the Orioles in last year's Rule 5 Draft. (The outfielder still needs to be on the 25-man roster for 44 days before he can be optioned or else he be returned to Cleveland.) Pitchers with 80-grade fastballs aren't easy to find, so there's likely to be a team willing to stash Burdi until he's healthy to see what they can get on the cheap. Pentecost, the Blue Jays' No. 8 prospect, is a more complicated case. The No. 11 overall pick in the 2014 Draft hasn't been able to get past Class A Advanced due to issues with his right shoulder. In fact, this was the first season since his Draft year that he was allowed to play catcher after sticking mostly to DH duties. He's still got the chance to be a solid hitter, though, and now fully healthy, 2018 could be when he truly pops on that side. Like Stewart and Ball, Pentecost is a first-round talent that isn't often easily acquired without a heavy price, so a team could jump when the risk is fairly minimal.
Sam Dykstra is a reporter for MiLB.com. Follow and interact with him on Twitter, @SamDykstraMiLB.