The Road to The Show™: Nationals' Wood
No. 35 overall prospect thriving since blockbuster deadline deal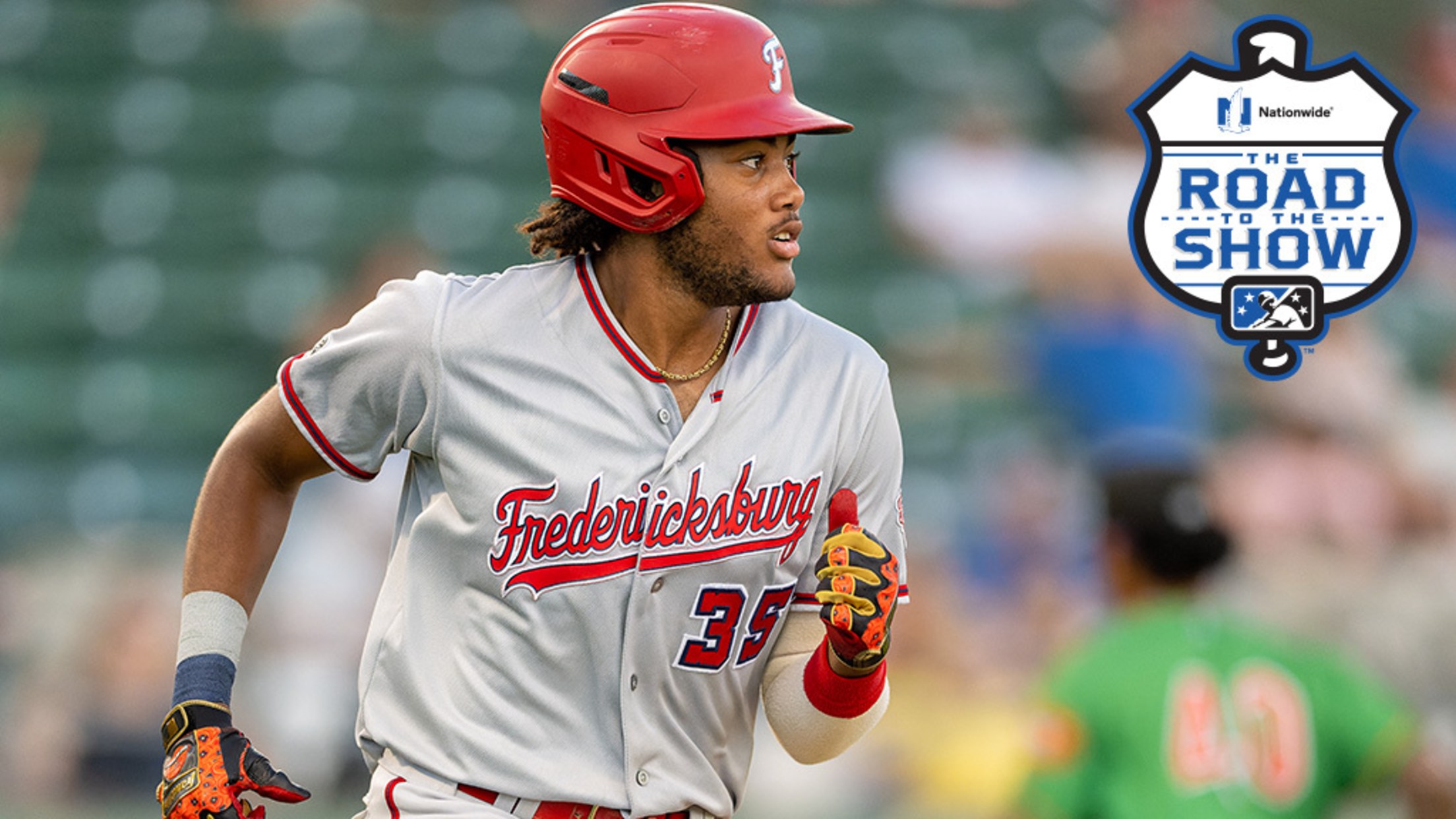 James Wood finished the regular season with a .293 average and .829 OPS for Single-A Fredericksburg. (Benjamin Rush/MiLB.com)
Each week, MiLB.com profiles an elite prospect by chronicling the steps he's taken toward achieving his Major League dream. Here's a look at third-ranked Nationals prospect James Wood. For more stories about players on The Road to The Show, click here. The success of the Nationals' rebuild will be determined
Each week, MiLB.com profiles an elite prospect by chronicling the steps he's taken toward achieving his Major League dream. Here's a look at third-ranked Nationals prospect James Wood. For more stories about players on The Road to The Show, click here.
The success of the Nationals' rebuild will be determined by players like James Wood.
Wood, who ranks as Washington's No. 3 prospect, makes an immediate impression with his 6-foot-7, 240-pound frame every time he steps on the field. But he also hit the ground running after getting to the organization at the Trade Deadline.
The 19-year-old finished the regular season with Single-A Fredericksburg, batting .293/.366/.463 with a pair of homers, 17 RBIs and 14 runs scored in 21 games. Wood also went 4-for-4 on stolen base attempts to close out the year and played exclusively in center field after the trade.
Although it was a short sample, Wood showed off the type of tools that a team covets when scouring the trade market.
"I think James's skillset is such that he puts the barrel of the bat on the ball very frequently," Nationals general manager Mike Rizzo told 106.7 The Fan in August. "He's got a good approach at the plate, he's got good knowledge of the strike zone, which is important especially when your strike zone is that large, and he's got some crazy other tools to go along with it."
Just two years removed from its World Series title, Washington began to trade off important pieces at last year's deadline. The club returned a great deal of young talent like Keibert Ruiz and Josiah Gray after trading away All-Stars like Max Scherzer and Trea Turner. When it became clear this season that Juan Soto was not interested in being the centerpiece of a rebuild, the Nationals needed to find a trade partner with great depth of high-end young talent to pull off a deal for the superstar.
The Padres had built and maintained one of the game's best farm systems for the better part of the past decade. They've graduated some of the game's best prospects and were certainly not shy about including highly ranked Minor Leaguers in deals that would provide an immediate boost to the big league club.
A few hours before the Aug. 2 deadline, the blockbuster deal was finalized. Soto and All-Star Josh Bell would head to San Diego in exchange for Wood, left-hander MacKenzie Gore, shortstop C.J. Abrams, outfielder Robert Hassell III, right-hander Jarlin Susana and veteran first baseman Luke Voit.
Gore and Abrams were among the elite prospects in the game before their recent graduations and Hassell, the club's top prospect, has the benefit of being a couple years older and more polished. Susana, Wood's teammate in Fredericksburg, has been clocked at 103 mph on a strikeout this season. But it's Wood who's most likely the most intriguing prospect in the deal.
Wood was born less than an hour from Nationals Park in Olney, Md. He was also born to a family of athletes. His father, Kenny, played basketball professionally in Europe and South America after starring at the University of Richmond. His uncle, Howard, played one season for the Utah Jazz, and his sister, Sydney, is a captain on the Northwestern University women's basketball team.
James Wood was a legitimate basketball prospect at St. John's High School in Washington, D.C., but he moved out of state to the prestigious IMG Academy in Bradenton, Fla., for his junior season and eventually shifted his full-time focus to baseball.
6-foot-7
230 lbs
18 years old

James Wood turned heads at showcases over the summer, impressing scouts with his combination of physicality & athleticism.@jimcallisMLB provides his take 2021 #MLBDraft prospect in the latest Inbox: https://t.co/lSOp25fRom pic.twitter.com/NWkPMWuvKd

— MLB Pipeline (@MLBPipeline) December 3, 2020
His first season at IMG was cut short by the pandemic, and his senior season didn't do much for his Draft stock. Wood was seen as a legitimate top-tier prep prospect after his performance at the East Coast Professional Showcase in Hoover, Ala., in August 2020, where he stood out among a group that included eventual Phillies prospect Andrew Painter, the Marlins' Kahlil Watson and fellow Nationals prospect Brady House.
But scouts soured on Wood after his senior season at IMG as he struck out in nearly 30 percent of his at-bats and was often criticized for what some scouts thought was a lethargic pace to his game.
Although it had seemed that Wood, who was committed to Mississippi State after high school, would fall out of first-round contention, Padres scouts took notice of some offseason improvements. Wood worked with IMG hitting coordinator John-Ford Griffin to make some mechanical adjustments to his swing, with the goal of being fluid but more direct to the ball.
The Padres surprised many by taking Wood with the No. 62 overall pick in last year's Draft. MLB Pipeline actually had Wood ranked much higher at No. 44 on their 2021 Draft big board, and his eventual $2.6 million bonus reflected the slot value of a first-rounder.
Following the Draft, Wood put together one of the best seasons among anyone at the Rookie level. In 26 games with the Padres' Arizona Complex League team, he batted .372 with a 1.000 OPS, three homers, five doubles, 22 RBIs and 18 runs scored. He also was successful on all 10 of his stolen base attempts and had three assists in center field.
Still just a teenager as he entered his first full season with Single-A Lake Elsinore this year, Wood had his only two-homer game of the season in his California League debut on April 8. He played through a lingering wrist issue that landed him on the injured list twice and necessitated a rehab stint in the ACL in June.
But Wood ended his tenure with the Storm on an absolute tear. In 36 games before being traded, he batted .350 with a 1.066 OPS, seven homers, 15 doubles, 33 RBIs and 43 runs scored. He was just as likely to end up playing his August ball with the Padres' High-A club in Fort Wayne if he weren't dealt.
MLB Pipeline's No. 35 overall prospect displayed his tremendous potential both before and after the Trade Deadline. Oddly enough he would collect four hits, including a homer, and three RBIs in back-to-back contests. The first was his final game with Lake Elsinore, and the next came six days later in his FredNats debut.
"This kid can swing it."@Padres' No. 5 prospect James Wood slammed two home runs for @Storm_Baseball. pic.twitter.com/c6ZkIzHQvf

— MLB Pipeline (@MLBPipeline) April 9, 2022
Wood's strong finish helped Fredericksburg to a second-half title in the Carolina League North, where they'll begin a semifinal series against Lynchburg on Tuesday. In terms of his development, it's been important to Wood that he sticks in center field, where players of his size don't usually stay as they climb the organizational ladder.
"I just don't really think your physical size should prevent you from playing any position," Wood told The San Diego Union-Tribune in April. "I think if you can run just as well as a guy out there, do throws just as well, I think you have [an] equal chance to be out there."
The most difficult part of any rebuild is having the patience to let it develop and materialize. The Nationals ranked No. 15 in MLB Pipeline's midseason farm system rankings from late-August after entering the 2021 season last on that list. Wood, Hassell, House and Elijah Green, the Nationals' first-round pick in this year's Draft and Wood's high school teammate at IMG Academy, will be facing a tremendous task in rebuilding a championship club. Someone will have to emerge as the leader of that group, and there's a legitimate chance that Wood has what it takes for that role.
"A guy like [Wood] that's so young and he's just such a mature hitter -- and very easy to learn from -- just his tendencies and stuff like that, he's just so advanced for his age," Will Frizzell, Wood's Fredericksburg teammate, told MiLB.com in August. "He's really fun to hit behind, that's for sure."