The Road to The Show™: Yankees' Domínguez
No. 42 prospect grows in shadow of otherworldly expectations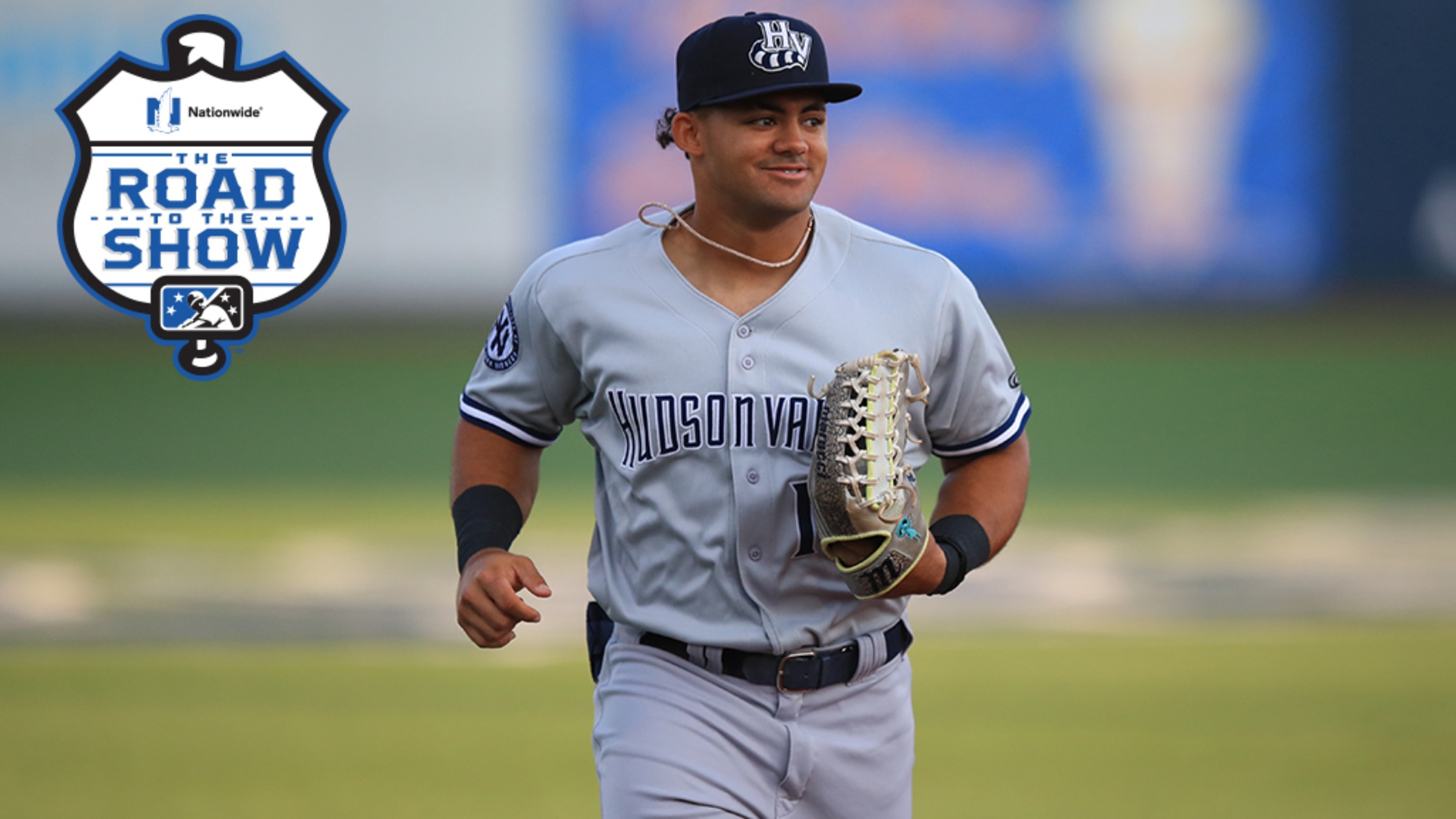 Jasson Dominguez has produced an .883 OPS in 26 games since being promoted to High-A Hudson Valley. (Gordon Donovan/MiLB.com)
Each week, MiLB.com profiles an elite prospect by chronicling the steps he's taken toward achieving his Major League dream. Here's a look at second-ranked Yankees prospect Jasson Dominguez. For more stories about players on The Road to The Show, click here. When a young prospect's talent and athleticism conjures images
Each week, MiLB.com profiles an elite prospect by chronicling the steps he's taken toward achieving his Major League dream. Here's a look at second-ranked Yankees prospect Jasson Dominguez. For more stories about players on The Road to The Show, click here.
When a young prospect's talent and athleticism conjures images previously reserved for science fiction, it's difficult to measure their early showings in the Minor Leagues.
The sky-high expectations for Jasson Domínguez came back down to earth after his debut season with Single-A Tampa. It reflected in prospect rankings -- where he was once No. 17 overall but now sits at No. 42 -- and an assignment back to the Florida State League for his second full campaign. But in this 2022 season, the Yankees' No. 2 prospect is starting to remind evaluators why comparisons to Mike Trout and Mickey Mantle first appeared on scouting reports in his early teenage years.
Domínguez is just 26 games into a promotion to High-A Hudson Valley, where he's enjoyed a successful start. Still 19 years old, he's batting .286 with an .883 OPS while his strikeout and walk rates have trended in the right directions. He's also collected 10 extra-base hits, including three homers, while going 12-for-13 on stolen base attempts.
Continuing the trajectory of what he's done in his first 98 at-bats with the Renegades would be a breakout that bares resemblance to the expectations he received after signing with the Yankees out of the Dominican Republic in 2019.
In the years leading up to his signing, Domínguez had garnered tremendous fame as "El Marciano," or "The Martian," around the Dominican academy circuit. A 5-foot-10, 190-pound, switch-hitting outfielder who was viewed by some scouts as the best July 2 prospect ever. His athleticism reminded some of Bo Jackson, and he could burn a 60-yard dash on par with some of the fastest Draft prospects of his year -- who were, of course, much closer to being fully matured adults. He cracked line drives that generated -- at least in legend or rumor -- 110-mph exit velocities and had an arm in center field that not many wanted to test.
"He is an elite level athlete, and he has elite baseball tools," Yankees director of international scouting Donny Rowland told MLB.com after Domínguez signed with the club. "He's the kind of player who makes the hair on your arm stand up."
The Esperanza native had plenty of suitors leading into his signing eligibility. But he was destined to be a Yankee. His father, Felix, was a die-hard Yankee fan and chose to name his son after Jason Giambi, who had just finished his first season in New York when Jasson Domínguez was born.
New York boosted its international bonus pool to almost $5.4 million through a series of trades almost a year prior to the July 2 signing period in 2019. The club used nearly all of it -- a record $5.1 million -- to land The Martian.
"I've known J.D. since he was 13 and he's been working out two or three times a day since he was a kid," Yankees assistant scouting director Edgar Mateo told MLB.com in November 2019. "He's relentless, just unstoppable, and then he has God-given tools that separate him. He also understands that it's a process and he's a long way from the big leagues. He knows there's a lot to be done before his mission is accomplished, and that's why he works so hard."
💪💪💪

17-year-old Yankees top prospect Jasson Dominguez has gone viral for being absurdly swoll in some offseason workout vids: https://t.co/Nkcwe4E8SY pic.twitter.com/A3p47eKp4y

— MLB Pipeline (@MLBPipeline) October 27, 2020
The pandemic and postponed 2020 season delayed Domínguez's professional debut. He moved stateside for the instructional league in Florida at the end of the year but did not participate in the Yankees' alternate site activities. He did, however, turn heads and go viral on a regular basis for hitting line drives that left the bat much harder than many thought would be capable of a 17-year-old, some as fast as 117 mph.
The Yankees didn't want to push Domínguez too quickly with an assignment to full-season ball right away in 2021, but his stint in the Rookie-level Florida Complex League lasted just seven games.
Domínguez, while already being known for doing things few prospects can do, actually played in the Futures Game before making his full-season debut. Facing pitchers that had all seen time at Triple-A, Domínguez went 0-for-3 with a pair of strikeouts in the prospect showcase at Coors Field in Denver.
After the All-Star break, Domínguez was assigned to make his full-season debut with Tampa. Over the final 49 games with the Tarpons, he batted .258/.346/.398 with five homers, nine doubles and 18 RBIs. He struck out in more than 31 percent of his plate appearances and walked in less than 10 percent.
He showed signs of being overmatched, a microcosm of which appeared in the Tarpons' loss to Bradenton in the Low-A Southeast championship, where Domínguez went 0-for-10 in three games. While he was a man amongst boys in the Dominican Republic, he showed his age in his first Minor League season. Still, there was plenty of reason to remain optimistic.
"His work ethic is exceptional; his will to be successful is exceptional," Yankees general manager Brian Cashman told MLB.com. "When you engage all the departments, whether it's player development, performance science, the measurables that come along with it -- he's basically an anomaly, something that doesn't come along very often."
Earlier this week, Jasson Domínguez delivered the news to @Grantr_1 that he was being promoted to @HVRenegades... Little did @gonjass7 know, he would be joining him up north! 👏 pic.twitter.com/beab8qRVlP

— NYYPlayerDev (@NYYPlayerDev) July 16, 2022
The uneven season proved that Domínguez could probably use some more time in the Florida State League. He returned to the Tarpons at the start of the season and took a real step forward by the All-Star break. He batted .265 with an .813 OPS, nine homers, 19 doubles and 19 stolen bases before being invited to his second Futures Game in as many years.
Domínguez had an interesting time in the prospect showcase at Dodger Stadium. He made an error in center field that allowed two runs to score, but he also cracked a two-run homer off Giants prospect Kyle Harrison, MLB PIpeline's No. 22 overall.
The blast might have served as a turning point for Domínguez's season. Shortly before the Futures Game, he learned that his next stop after Los Angeles wouldn't be in Florida, but he would instead be promoted to Hudson Valley. His numbers with the Renegades obviously reflect an encouraging improvement, which Domínguez attributes to something of a mental adjustment.
"Last year, in my bad stretches, one of the things that didn't help is that I tried to make excuses, just to feel better with myself," Domínguez told MLB.com after the Futures Game. "This year, instead of making excuses, I tried to find a way to work out of it and improve. Then, thank God, I was able to find a way to improve things a lot. [It's] the work I've put in on my part and also the organization's part."
There will most likely be plenty of time -- and perhaps even a couple more Futures Games -- before Domínguez makes the ultimate push to the Major Leagues. He's probably just as far away from Yankee Stadium as he is from the initial Mickey Mantle comparisons. But the potential for him to carry elite across-the-board tools on his climb up the ladder still remains.