The Road to The Show™: Oscar Colas
Globetrotting outfielder nearing a new home on the South Side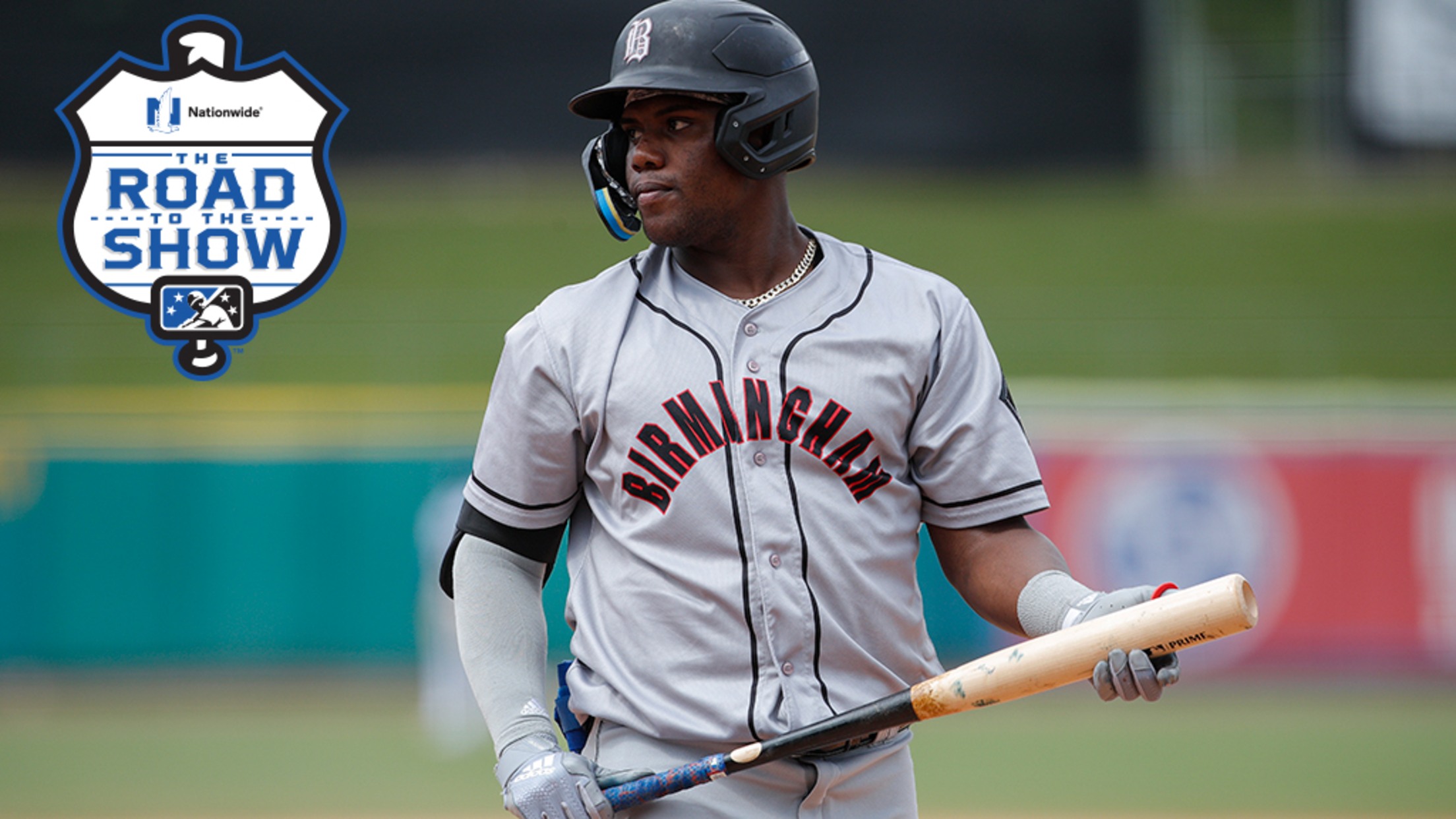 Oscar Colas batted .314 with an .895 OPS across three levels in his first Minor League season. (Danny Parker/Four Seam Images)
Each week, MiLB.com profiles an elite prospect by chronicling the steps he's taken toward achieving his Major League dream. Here's a look at second-ranked White Sox prospect Oscar Colas. For more stories about players on The Road to The Show, click here. There are few players in the Minor Leagues
Each week, MiLB.com profiles an elite prospect by chronicling the steps he's taken toward achieving his Major League dream. Here's a look at second-ranked White Sox prospect Oscar Colas. For more stories about players on The Road to The Show, click here.
There are few players in the Minor Leagues as well traveled as Oscar Colas.
Before signing with the White Sox last January, Colas bounced back and forth from his native Cuba to Japan. He built a reputation as a two-way player in the Cuban National Series, the Japan Western League -- the country's equivalent to the Minors -- and Nippon Professional Baseball. And just a few months after signing with Chicago, Colas climbed three levels of the Minors to put himself within striking distance of the South Side.
That ascent has earned Colas a legitimate shot at breaking camp with the big league club. Now fully established as a slugging outfielder, MLB Pipeline's No. 95 overall prospect batted .314 with an .895 OPS between High-A Winston-Salem, Double-A Birmingham and Triple-A Charlotte in 2022, collecting 23 homers, 24 doubles, four triples, 79 RBIs and 81 runs scored.
"We think very highly of him," White Sox general manager Rick Hahn told MLB.com during the Winter Meetings. "We think he very much deserves to be in the mix for the Opening Day roster in '23."
Colas' path was different than most players coming out of Cuba or Japan. He officially defected from Cuba in January 2020 and began to seek a Major League deal. After three seasons in the Western League, Colas played seven games with the Fukuoka SoftBank Hawks in NPB before a contract dispute ended his time with the club. He was eventually granted free agency, making him eligible to sign with Chicago in December a month later. But Colas waited a full year to join the next international class, when the White Sox had enough money in their pool to sign him to a reported $2.7 million bonus.
Billed at the time as a potential "Cuban Ohtani" because of a fastball that could reportedly reach 95 mph, Colas pitched just three innings of professional ball. It was evident by the time he signed with the White Sox that his focus would shift to being a full-time position player. Over three seasons in Cuba, he hit .305 and slugged .487 with nine homers.
During his first Spring Training with the White Sox, Colas put his raw power on display. Chicago player development director Chris Getz said the club actually had to move him off of the backfields at the team's facility in Arizona because he was hitting so many balls in the streets and creating havoc on the drivers on Camelback Road.
"I used to have a leg kick when I was swinging and then during Spring Training. By the end of Spring Training, we made adjustments just to not do that and just keep my foot on the ground. Just to be able to reduce the strikeouts and have more contact with the ball," Colas told MLB.com through team interpreter Billy Russo in July. "And it was a fairly easy adjustment for me and the results were there right away. Now not doing that, I see I have better results. I'm able to see the ball better and I think that's a surprise because I never thought that would be something I would feel comfortable with."
Hang a star on this catch by @whitesox No. 2 prospect Oscar Colas! pic.twitter.com/BZSXSd3enC

— MLB Pipeline (@MLBPipeline) July 17, 2022
Despite starting the season at 23 years old with more experience than most at the level, the organization started Colas at Winston-Salem. Getz said the club wanted him to continue working with Lorenzo Bundy, the Dash manager. Bundy helped develop a routine to get him acclimated to Minor League ball, under which Colas thrived.
"A lot of [the routine] was him understanding his preparation," Getz told MiLB.com last month. "Once we felt like we established that, I knew there was going to be absolutely no harm to the game production. It was only going to get better, and it did. And now we feel like we're in a better position for future success."
The lefty batted .311 with an .844 OPS and 23 extra-base hits, including seven homers, and 42 RBIs over 59 games with Winston-Salem. He earned a promotion to Birmingham, and the club made the move after his Futures Game appearance in July. During the prospect showcase at Dodger Stadium, Colas went 1-for-2 and made a diving catch in center field to take a hit away from Nationals prospect Darren Baker.
Colas seemed destined to finish the season at Double-A alongside a contingent of top White Sox prospects in what the club was calling "Project Birmingham." Colas really leaned into his power, clubbing 14 homers and maintaining a .563 slugging percentage over 51 games,
By the end of the Southern League season, the White Sox felt they wanted to give Colas some more reps, so they brought him to Charlotte to finish the year. The 6-foot-1, 210-pound slugger fit right in at Triple-A, going 12-for-31 with a pair of homers -- which came in the same game -- and five runs scored in seven contests.
Colas found success in just about all areas in his first season stateside. His strikeout rate was a bit high but manageable for a slugger with his extra-base prowess. Also, he mashed against lefties, batting .362 with a .951 OPS in 105 at-bats against southpaws. He's not going to be much of a base stealer, but Getz remained impressed by his athleticism in the outfield -- particularly in center field.
"Going into his season I figured, long term, probably a corner outfielder. But he's shown the ability to play center field," Getz told MLB.com in July. "He commands the outfield, he gets after it, covers ground and he's got a big arm. When you look at what he can do offensively and his defensive ability, it looks like we've got a chance to have a pretty good all-around player."
The signing of Andrew Benintendi bolstered the White Sox depth in the outfield, but there's still room for Colas. Fellow Cuban Luis Robert is likely to patrol center field, but Colas should provide Andrew Vaughn and Gavin Sheets with some competition for the Opening Day right field job.
"I'm motivated, and I really want to earn that spot," Colas told MLB.com last month. "That's my goal right now. I'm working hard for that, and we'll see what happens."