The Road to The Show™: Taylor Trammell
Recent Mariners acquisition packages speed, power, leadership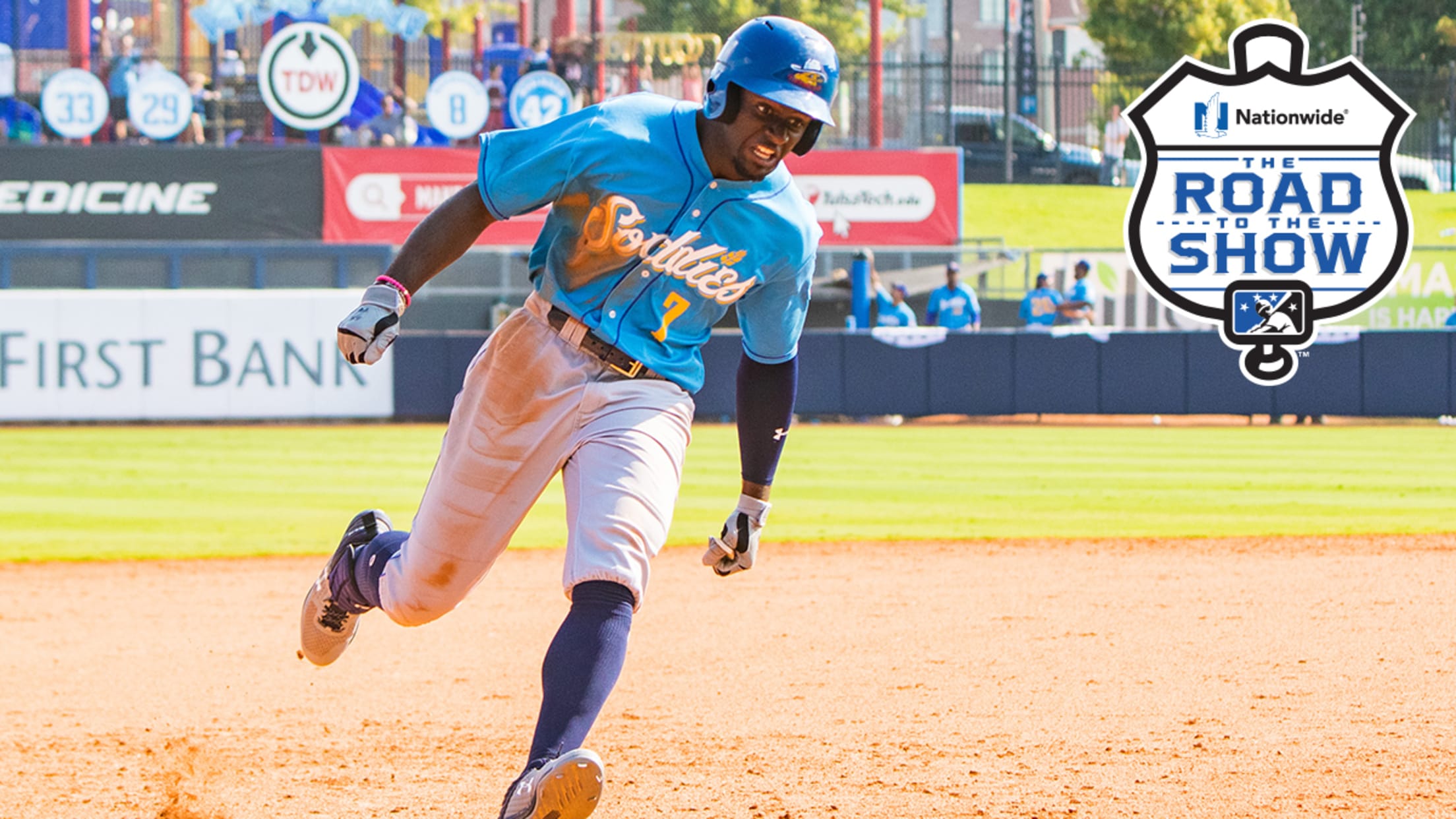 Taylor Trammell has stolen 110 bases in 147 attempts for a 75 percent success rate in four Minor League seasons. (John Moore/Amarillo Sod Poodles)
Each week, MiLB.com profiles an elite prospect by chronicling the steps he's taken to reach the brink of realizing his Major League dream. Here's a look at Seattle Mariners outfielder Taylor Trammell. For more player journeys on The Road to The Show, click here. Being traded is rough. You're uprooted
Each week, MiLB.com profiles an elite prospect by chronicling the steps he's taken to reach the brink of realizing his Major League dream. Here's a look at Seattle Mariners outfielder Taylor Trammell. For more player journeys on The Road to The Show, click here.
Being traded is rough. You're uprooted from friends and familiar places and quickly have to reestablish a comfort level elsewhere. But for top Minor League prospects, being traded is rarely a sign your old team has given up on you -- it's a sign that your new team really wants you.
Teams really want Taylor Trammell.
Originally selected by the Reds late in the first round of the 2016 First-Year Player Draft, the Georgia-born outfielder was part of two major swaps before turning 23 in September. First, at the Trade Deadline in 2019, he went from Cincinnati to San Diego in the massive three-way deal that also sent Trevor Bauer to the Reds and Yasiel Puig to the Indians. Then he was shipped to Seattle at the 2020 deadline as the Padres acquired veteran help for their first playoff run in 14 years.
The whirlwind might have left many youngsters yet to play above Double-A a little discombobulated. Not the outgoing Trammell, who pretended not to know who Jerry Dipoto was when the Mariners general manager called him after the trade.
"I was just being myself," Trammell told MLB.com after arriving at the Mariners' alternate training site in Tacoma. "I just wanted to show him that, for me, a lot of times people take things too seriously. Life is too short. I've lost loved ones that are the same age as me. So that was just a good way for me to show him, 'Hey, this is what you're getting.'"
A multi-sport star in high school, Trammell was lured away from a commitment to play baseball at Georgia Tech when the Reds, who selected him 35th overall in 2016, offered him an above-slot $3.2-million bonus. The left-handed hitting (and throwing) center fielder was off and running in the Rookie Advanced Pioneer League, where he collected two hits and scored twice for Billings on Opening Day. Trammell ended up batting .303/.374/.421 with two homers and 24 stolen bases in 61 games for the Mustangs in 2016.
Class A Dayton in the Midwest League was the next stop for the 19-year-old Trammell in 2017. The 6-foot-2, 213-pounder showed a little more power with the Dragons, clubbing 13 homers, while still going 41-for-53 in stolen-base attempts. Only teammate Jose Siri, with 46, stole more bags on the circuit that year. In all, Trammell posted a .281/.368/.450 slash line and was named an MiLB.com Reds Organization All-Star for the second consecutive season.
The 2018 season marked a breakthrough for the outfielder at age 20. His power numbers suffered after joining Class A Advanced Daytona in the pitcher-friendly Florida State League, but he burst onto the national scene by earning MVP honors at the All-Star Futures Game in July. Entering the game in the fifth inning, Trammell homered and tripled in his two at-bats. Following his All-Star season in the FSL, Trammell was invited to the elite Arizona Fall League, where he more than held his own against the best prospects in the game. He hit .298 in 22 games for Scottsdale and was named to the AFL's Rising Stars Game.
Trammell headed into 2019 -- and his first taste of Double-A ball -- as MLB.com's No. 16 prospect, but struggled a bit with Chattanooga in the Southern League. He continued to get on base, drawing 54 walks in 94 games with the Lookouts, but his average sank to .236 and he managed just six homers. After the trade to San Diego and subsequent assignment to Double-A Amarillo, things improved somewhat. But then came the Texas League playoffs.
Trammell was a force in 10 playoff games for the Sod Poodles. Amarillo rebounded from a 2-0 deficit to beat Midland in five games in the semifinals and was down, 2-1, to Tulsa in the Finals before storming back to take Games 4 and 5. Trammell batted .310/.356/.643 with three homers and 11 RBIs, capped by a ninth-inning grand slam in the Championship Series finale to lock up the title for Amarillo in its debut season.
While the pandemic wiped out Trammell's season this year, he spent the first part of the summer at the Padres' alternate training site at the University of San Diego before joining the Mariners in September. The 23-year-old has some competition in the rising Seattle system, which already featured outfielders Jarred Kelenic and Julio Rodriguez as its top two prospects -- not to mention the show Kyle Lewis put on in his rookie season with the big league club.
"I look at it like this," he told MLB.com. "Those guys are going to make me better and in return, I think I'm going to make those guys better. My main objective is to win. Everybody has seen what K-Lew and Jarred and Julio Rodriguez and these guys can do. I'm going to do something to get myself better because they're getting better.
"It cycles through and that's how you start to win. Every year I've been in the Minor Leagues I've been in the playoffs, and it seems that was the constant with these winning teams. Guys want other guys to get better along with them. It's not a selfish act."
Now MLB.com's No. 51 overall prospect -- No. 5 in the Seattle system -- Trammell is looking to add more power to his game. Before the trade, Padres assistant hitting coach Johnny Washington told him, "You're a big dude who plays small." Getting more aggressive at the plate could add to a skill set that already features tremendous speed and solid contact.
Perhaps even more impressive than Trammell's baseball ability is his thoughtfulness and leadership. In September he wrote a powerful essay for The Players' Tribune called "Baseball Is Not Black Enough."
"I'm not like some of these guys who are established who are, I would say, some of the faces of baseball," Trammell said on the MLB Pipeline Podcast. "I look at guys like Amir Garrett, Tim Anderson, Dexter Fowler, Dee Gordon, you look at all these guys and it's like, 'No, I'm not where they are.'
"But I believe that everyone has a role to play, including MLB. … If I can impact one person's life that could change the way they view me, the way they view how other people are treated, that's a win for me."
Between Trammell's ability on the field and perspective off the field, the Mariners -- and baseball at large -- could soon be welcoming not just a good player, but an important one.
John Parker is an editor for MiLB.com.