The Road to The Show™: Seth Corry
Giants lefty completely dominated South Atlantic League in 2019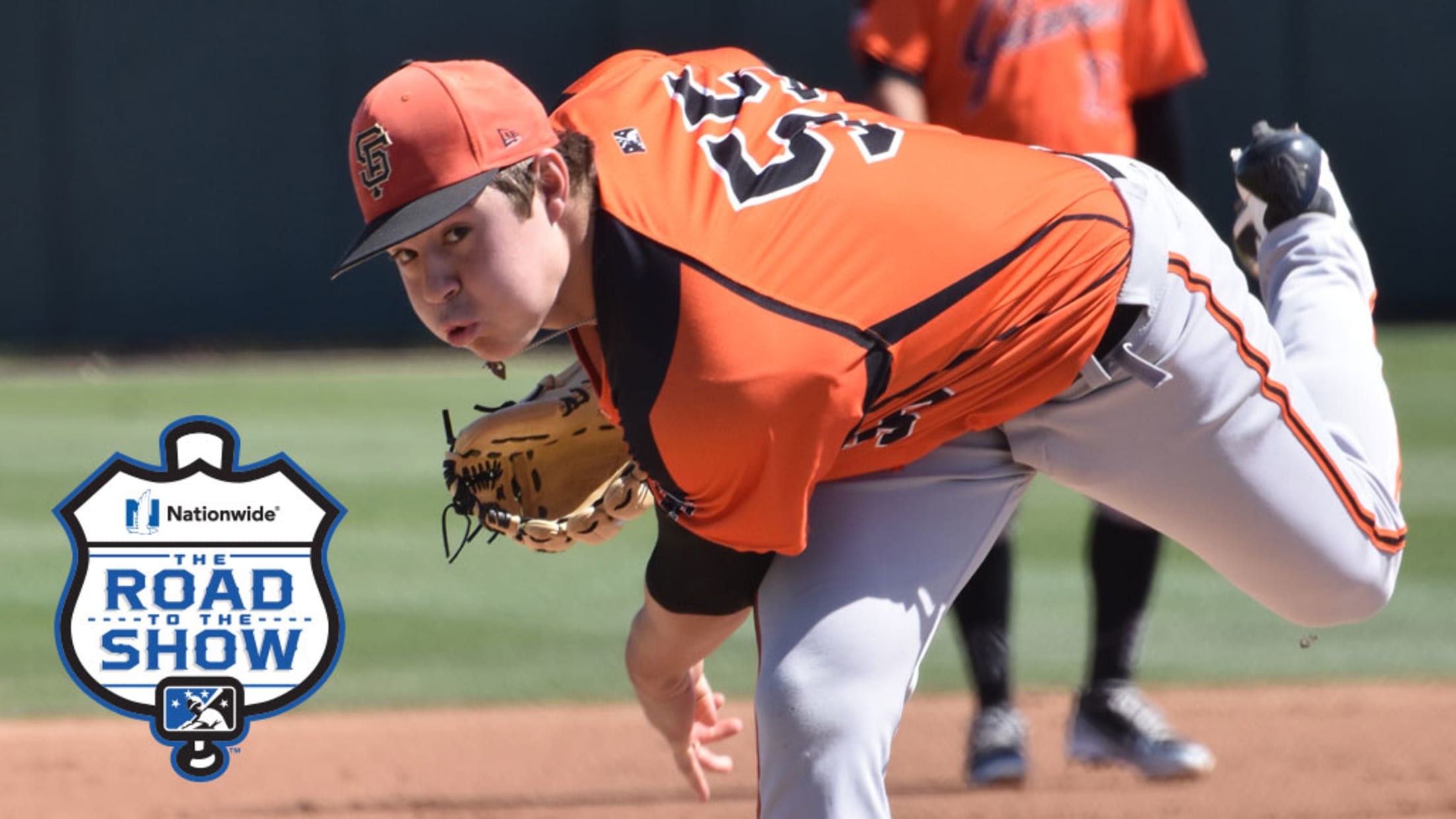 Seth Corry stood atop the South Atlantic League with a 1.76 ERA and 172 strikeouts last season. (Jerry Kime/MiLB.com)
If the 2019 season is any indication of the career Seth Corry is going to have, opposing batters should be afraid. The 21-year-old dominated the South Atlantic League, posting a league-low 1.76 ERA while racking up a league-high 172 strikeouts for Class A Augusta. In less than three seasons, the
If the 2019 season is any indication of the career Seth Corry is going to have, opposing batters should be afraid. The 21-year-old dominated the South Atlantic League, posting a league-low 1.76 ERA while racking up a league-high 172 strikeouts for Class A Augusta.
In less than three seasons, the fifth-ranked San Francisco prospect became an imposing figure in professional baseball and someone to watch.
Drafted by the Giants in the third round in 2017 out of Lone Peak High School in Highland, Utah, the 6-foot-2 southpaw was nearly unhittable in his first seven career outings in the Rookie-level Arizona League, allowing just three earned runs on five hits over 14 1/3 frames. That span included a perfect four-inning performance in which he fanned four that Aug. 2 against the AZL Dodgers. His ERA hit a season-low 1.35 at that point.
Corry finished his rookie campaign with a 5.55 ERA over 13 appearances, 10 of them starts, and held hitters to a miniscule .163 batting average over 24 1/3 innings. He ran into a few control issues with 22 walks to just 21 strikeouts, but kept the ball in the park -- surrendering just one long ball.
The lefty started 2018 back in Arizona and found early success, allowing only one earned run over 22 2/3 innings in his first five starts, including a dazzling Independence Day outing in which he gave up two hits and struck out six without a walk over five scoreless frames. The next three weren't as strong as Corry was tagged for 13 runs -- nine earned -- on 21 hits in 10 1/3 innings. But he settled right back down in his next start on July 31, allowing an earned run on five hits with six whiffs in five frames. The next day, Corry was promoted to Class A Short Season Salem-Keizer.
The Utah native introduced himself to the Northwest League on Aug. 5 with five shutout frames, allowing one hit and two walks while striking out five. A fair second start was followed by five more scoreless frames in his third outing. But it got tougher for Corry to close out the season, as he allowed 11 earned runs on nine hits and eight walks over five innings in his final two appearances.
As he did in his previous level debuts, Corry was on top of his game as he took the bump for the first time at Augusta. He delivered three hitless innings with seven K's, but yielded five walks. His best stretch was yet to come.
In eight starts from July 2 through Aug. 10, Corry allowed just two earned runs in 45 1/3 frames. At one point, he had a 32 consecutive-inning shutout streak, commanding the strike zone with 62 strikeouts and just seven walks. On July 29 against Lexington, he threw 5 2/3 frames of hitless baseball and set a career high with 10 K's, only to outdo himself two starts later with 12 strikeouts over five scoreless innings against Rome.
During this time, Corry was named the South Atlantic League Pitcher of the Week twice and picked up MiLB.com's South Atlantic Player of the Month honors for July.
"Everything I've been working on for the last year and recently is starting to click," Corry told MiLB.com after his July 29 performance. "Obviously, there are a couple of cues I work on to help repeat. I've worked on a few little things with our pitching coach [Clay Rapada], and I do everything I can to keep my delivery in line going toward home. My four-seam and two-seam have been really consistent in the second half. I'm able to work both sides of the plate. Today, being able to spot the fastball opened up my changeup. I felt I could throw that in any count to any batter and it would be a strike."
Corry finished the year strong, leading the circuit with a 1.76 ERA and 172 strikeouts while tying with Charleston's Roansy Contrerasfor the league low in WHIP at 1.07. He held hitters to a .171 average over 122 2/3 innings, and started racking up kudos, among them being named Augusta's Most Outstanding Pitcher, an MiLB.com Organization All-Star and a South Atlantic League end-of-season All-Star.
"He was just too good for the league," Giants director of player development Kyle Haines told MiLB.com in December. "Most of the damage he incurred was self-inflicted. In the second half, he cut his walk rate drastically, and when you combine that with his stuff, it makes him virtually unhittable. We weren't sure how he'd respond to a full season of pitching. The jump from 70-something games to 140 is a big leap, but he handled it well, to say the least."
With his command coming around, a curveball that serves as his out pitch and a fastball averaging in the mid-90s, there is no reason to believe we have heard the last of Corry. Although he wasn't part of San Francisco's 60-man player pool this year, the immediate future is bright for the southpaw. Expect to see him suiting up in the big leagues sooner rather than later.