The Road to The Show™: Nolan Gorman
Cards third base prospect is among Minors' most powerful sluggers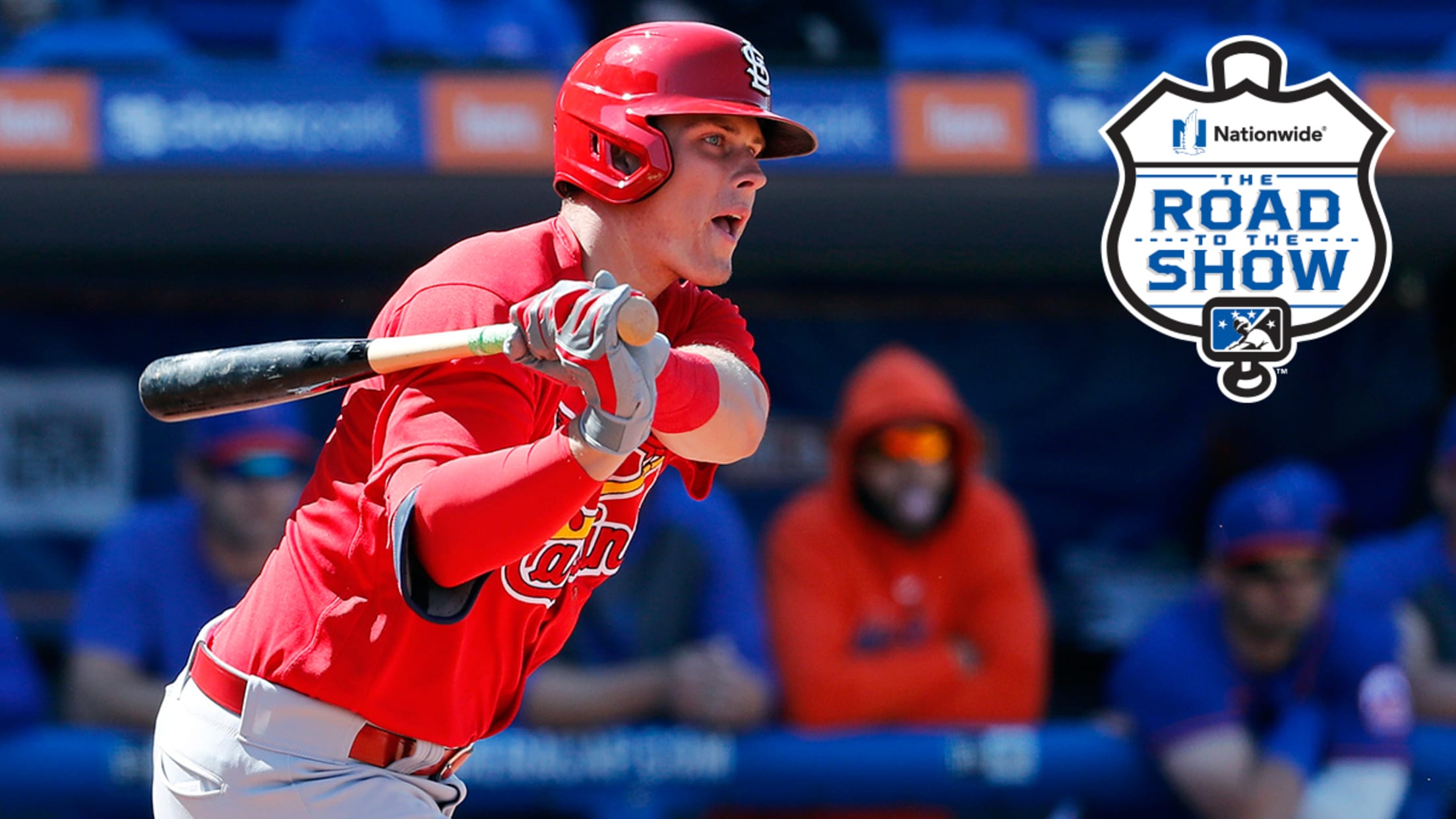 Cardinals No. 2 prospect Nolan Gorman hit 32 home runs in 188 Minor League games before turning 20. (Jeff Roberson/AP)
Each week, MiLB.com profiles an elite prospect by chronicling the steps he's taken to reach the brink of realizing his Major League dream. Here's a look at St. Louis Cardinals infielder Nolan Gorman. For more player journeys on The Road to The Show, click here.
Each week, MiLB.com profiles an elite prospect by chronicling the steps he's taken to reach the brink of realizing his Major League dream. Here's a look at St. Louis Cardinals infielder Nolan Gorman. For more player journeys on The Road to The Show, click here.
Power has never been a bigger part of the game than it is today, and few youngsters possess more of it than Cardinals third base prospect Nolan Gorman.
As a 17-year-old, Gorman crushed baseballs and the competition to win both the All-Star Game High School Home Run Derby in Miami and the Under Armour High School All-America Game B45 Home Run Derby at Wrigley Field. A year later, after he completed his studies at Sandra Day O'Connor High School in Phoenix, the Cardinals made him the 19th overall pick in the 2018 Draft.
At 6-foot-1 and 210 pounds, the left-handed-hitting Gorman often looked like a man among boys as a prep player. Little changed when he arrived at Johnson City in the Appalachian League for his professional debut. He slugged a solo homer in his first game. A week and a half later he went on a six-game tear in which he went 11-for-25 with seven homers and 11 RBIs.
"We are really surprised with the talent he has and the kind of talent he brought into the Cardinals," Johnson City manager Roberto Espinoza told MiLB.com during Gorman's surge. "He's a young guy, an 18-year-old high school player, but he's got a really mature approach at the plate. He never really tries to hit those bombs. He's got that mature approach and has good exit velocity, so the ball flies and jumps off his bat."
By early August it was clear that the Appy League simply wasn't enough of a challenge. Having hit .350/.443/.664 with 11 homers in 38 games in the Rookie Advanced circuit, Gorman was promoted to Peoria in the full-season Class A Midwest League.
Part of Gorman's power stems from an uppercut swing that allows him to drive the ball in the air. That swing path also can leave him vulnerable to high heat and produce high strikeout numbers. Whether due to facing more experienced pitchers, fatigue from wrapping up his first pro campaign or simply bad luck, Gorman struggled with the Chiefs. He still hit six homers in 25 games, but also fanned 39 times in 107 plate appearances and put up a .202/.280/.426 line.
Despite that finish, Gorman's first pro season was a crashing success -- the 18-year-old clubbed 17 homers in 63 games overall, generated a .949 OPS and was only the seventh first-round pick out of high school in the last decade to reach full-season ball in his debut year.
"He's a special talent," said Chris Swauger, who managed Gorman in Peoria. "He's got great power potential. Coming into the Midwest League against guys four or five years older and still being able to hit for power the way he did was very, very impressive. I think the most impressive thing about him is his maturity. He scuffled at times, but he was able to recognize that and make adjustments. I evaluate players on how they deal with adversity, and this kid is at the top of that list."
Still more than two years younger than the average Midwest League hitter, Gorman returned to Peoria to begin his first full season in 2019. He got off to a flying start, collecting 10 hits and eight RBIs in his first five games, earning MWL Player of the Week honors and cutting his strikeout rate from 36.4 percent in late 2018 to 28 percent in the spring of 2019. The adjustments paid off quickly as the Cardinals promoted him to Class A Advanced Palm Beach just after he participated in the Midwest League All-Star Game in June.
Gorman earned an invitation to the All-Star Futures Game in Cleveland shortly after arriving in Florida, striking out against Royals right-hander Brady Singer in his lone plate appearance.
The move to the pitcher-friendly Florida State League (and extremely pitcher-friendly Roger Dean Chevrolet Stadium, Palm Beach's home park) took a toll on Gorman's output over the second half of 2019. His strikeout rate climbed again, his walk rate dropped to 5.7 percent and he hit only five homers in 58 games the rest of the way. Yet his .732 OPS was roughly average for the league and he was, at 19, nearly 3 1/2 years younger than the average FSL player. The Cardinals have pushed Gorman aggressively throughout his brief career, pitting him against much more experienced opponents and forcing him to make adjustments. He has yet to disappoint them.
Gorman spent the 2019-20 offseason working out at the advanced-tech Driveline facility in Seattle and attending a Cardinals hitting camp back in Palm Beach. In January, he got great news as the Cardinals acquired left-handed pitcher Matthew Liberatore from the Rays for José Martínez and Randy Arozarena. Despite attending rival schools in the Phoenix area, Gorman and Liberatore became great friends while teammates on a traveling team -- and now were in the same organization.
Both Arizonans participated in big league Spring Training with the Cardinals, and Gorman looked every bit the No. 43 overall prospect in the game, batting .308/.357/.500 with a homer and two doubles in 26 Grapefruit League at-bats. Then baseball shut down.
TO: @Mets fan in right field
FROM: Nolan Gorman pic.twitter.com/OijsvyRV5g

— St. Louis Cardinals (@Cardinals) March 4, 2020
Gorman spent the summer at the Cardinals' alternate training site in Springfield, Missouri, where the Cardinals' No. 2 prospect earned glowing praise from director of development Gary LaRocque.
"He's a student of the game, which is just one of his many wonderful qualities," LaRocque told MLB.com. "He obviously has a lot of skill, a lot of talent, a lot of offensive upside, but he also loves to study the game on the offensive side. He's just that type of player, very intense and focused. He was able to do an awful lot to help his own development."
Gorman spent much of his time working on defense with Cardinals coach José Oquendo. While he has a powerful arm, he's been considered average at best at the hot corner and committed 21 errors each of his first two Minor League seasons.
"He did a lot of work defensively and was very productive, and José was very pleased with how he went about it," LaRocque said.
Still only 20, Gorman already has shown the work ethic, talent and ability to adjust required of an impact Major Leaguer. Given the Cardinals' aggressive promotion plan, he may not have to wait long to demonstrate it in The Show.
John Parker is an editor for MiLB.com.