The Road to The Show™: Keibert Ruiz
Dodgers backstop significant figure in continuing dynasty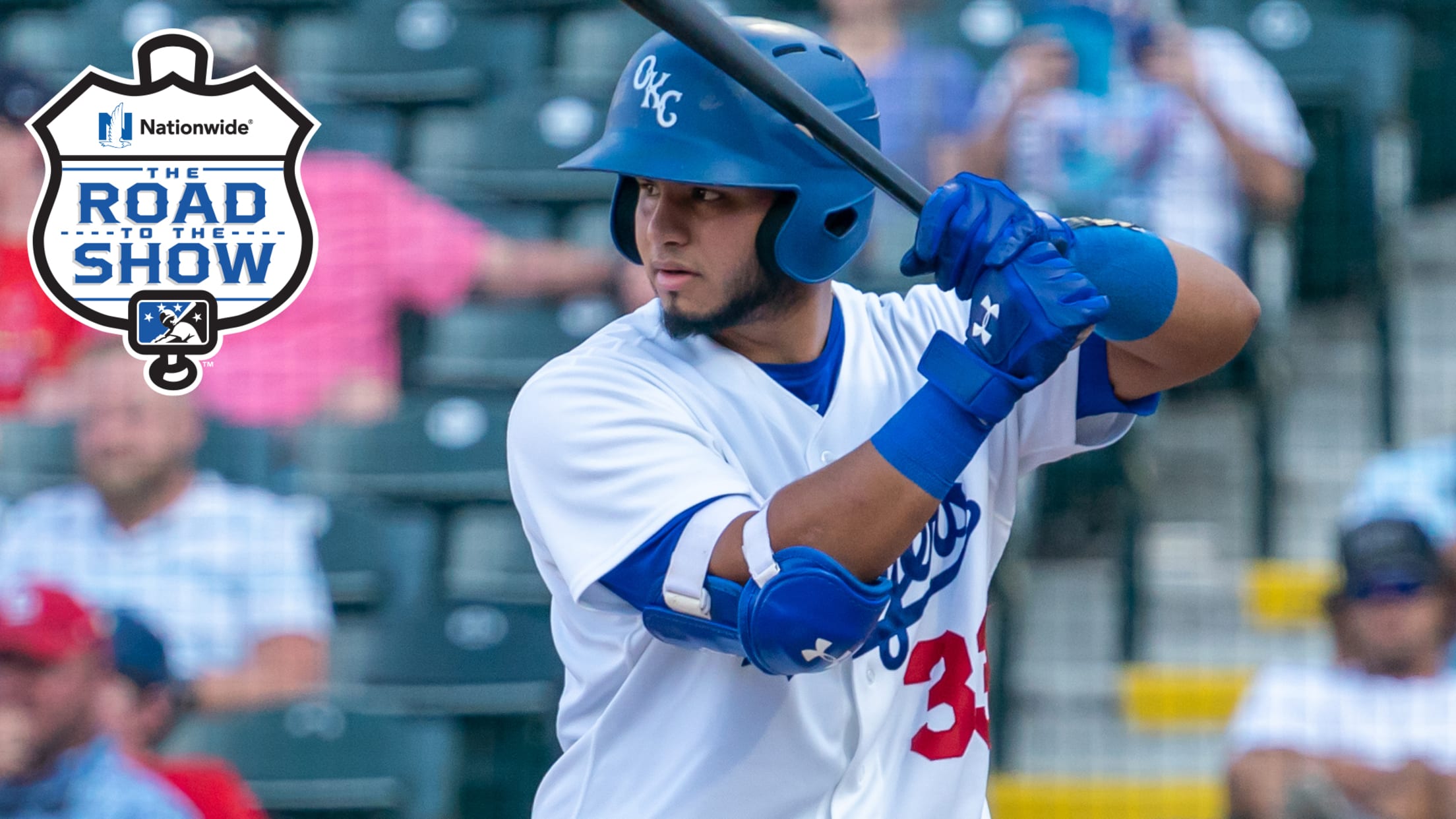 Keibert Ruiz signed with the Dodgers out of Venezuela for $140,000 on his 16th birthday in 2014. (Tim Campbell/MiLB.com)
Each week, MiLB.com profiles an elite prospect by chronicling the steps he's taken to reach the brink of realizing his Major League dream. Here's a look at Los Angeles Dodgers catcher Keibert Ruiz. For more player journeys on The Road to The Show, click here. It took almost two years
Each week, MiLB.com profiles an elite prospect by chronicling the steps he's taken to reach the brink of realizing his Major League dream. Here's a look at Los Angeles Dodgers catcher Keibert Ruiz. For more player journeys on The Road to The Show, click here.
It took almost two years for Keibert Ruiz to make waves on the prospect prognosticators' radar, but he's since proven he knows how to make an entrance.
The Dodgers signed Ruiz, who now ranks as the club's top prospect, for $140,000 out of Venezuela on his 16th birthday in 2014. That year's class proved how difficult it is to predict the international market as only five of MLB.com's Top 30 international prospects have played above Double-A in their careers.
Not quite at the same level as fellow 2014 signee Ronald Acuna Jr., who also signed for $100,000 that July, Ruiz was less heralded en route to his Major League breakthrough. And it took just one big-league at-bat for Ruiz to record his first homer at the sport's highest level.
"You just never know what's gonna happen when a guy takes his first Major League at-bat, and he just put such a good swing on it," Dodgers skipper Dave Roberts said after that August game against the Angels. "So that's a memory that he and his family will have forever."
Though his first MLB stint lasted just two games, Ruiz remains an important part of the future for the World Series champions vying for their ninth consecutive National League West crown.
Now 23 years old and ranked as the sport's No. 57 prospect, Ruiz is in Camelback Ranch for his fourth big league Spring Training. In five Minor League seasons, he has compiled a .299/.351/.420 slash line with 29 homers, 76 doubles, 199 RBIs and 188 runs scored while throwing out nearly 25 percent of would-be basestealers.
"I'm not sure you could ever expect anybody to do [what he's done at his age]," former Dodgers director of player development and assistant general manager/vice president Brandon Gomes told MiLB.com in March 2019. "Obviously, we were hoping that he was going to be a high-quality player. The bat-to-ball, the advanced knack for finding a barrel and just getting hits is pretty impressive.
"To be that young and to have that skill set behind the plate and in the box is special."
2015 (Rookie-level Dominican Summer League)
The early scouting reports on Ruiz profiled a glove-first backstop and switch-hitter whose bat needed some time to catch up. But when he made his professional debut as a 16-year-old, his hitting acumen seemed on par with his work behind the dish.
In 44 games with the Dodgers' DSL club, all but one of which he played behind the plate, Ruiz had 10 extra-base hits, 19 RBIs and 14 runs scored while batting .300/.340/.387. He caught 25 runners stealing in 70 attempts and committed eight errors.
It's a common practice for teams to give players as young as Ruiz a second tour in the DSL, but the Dodgers were aggressive with their budding backstop.
Not a bad way to introduce yourself. Baseball's No. 79 overall prospect Keibert Ruiz goes yard in his first big league at-bat for the #Dodgers. pic.twitter.com/RoBCmzORSY

— Minor League Baseball (@MiLB) August 16, 2020
2016 (Rookie-level Arizona League, Rookie-level Ogden)
After eight games in the AZL, Ruiz joined the Raptors in July and was the second-youngest player in the Pioneer League. He blew past the AZL after hitting .485/.513/.667 with four doubles, a triple and 15 RBIs.
His time in Ogden was similarly fruitful. In 48 games, Ruiz batted .354/.393/.503 with 22 extra-base hits, 33 RBIs and 28 runs scored. He threw out nearly 20 percent of would-be basestealers and committed just one error in 42 games behind the plate.
Ruiz also received his first postseason experience with three hits over 15 at-bats in the Pioneer League playoffs. His overall .374 average and .939 OPS earned him his first prospect ranking -- he debuted at No. 23 on the Dodgers' list.
2017 (Class A Great Lakes, Class A Advanced Rancho Cucamonga, Double-A Tulsa)
Ruiz began to join the elite ranks the following year. His performance across three different levels earned him the Dodgers' Branch Rickey Minor League Player of the Year Award.
Ruiz was a midseason All-Star in the Midwest League and finished the season as Los Angeles' sixth-ranked prospect. In 101 regular-season games between the Loons and Quakes, Ruiz batted .316/.361/.452 with 33 extra-base hits, 58 runs scored and 51 RBIs. He worked 86 games as a catcher and caught 26 runners stealing in 115 attempts. He played in three postseason games for Rancho Cucamonga, then got bumped up to Tulsa for two playoff contests at the end of the year.
"He has a feel for the game of baseball way beyond his years. I was shocked," Tulsa manager Scott Hennessey told MiLB.com. "It was like he was there the whole year. ... He expected to catch all five games, and that's exactly what you want [from] a player."
Ruiz tapped into his power a little more in the hitter-friendly California League, but his bat-to-ball skills remained consistent throughout the climb from Great Lakes to Rancho Cucamonga. He also worked well with a pitching staff that finished second in the league in ERA (4.12) and strikeouts (513) after his promotion on July 9.
"It's such an outlier to see someone who cares so much about his teammates, his pitchers and what he can do to help them," Quakes manager Drew Saylor told MiLB.com. "All of those things kind of shape him into who he is. I don't know if I have enough adjectives to describe the type of player he is. There haven't been a lot of guys who have made this type of impression on me."
2018 (Double-A Tulsa)
Ruiz added to his growing legend in his second full season. His year began with his first big league Spring Training invite before his status as the game's No. 52 prospect in baseball earned him a spot in the 2018 Futures Game.
But the numbers he put together on the field did not impress the way they had in years prior. Ruiz finished with a .268/.328/.401 slash line, 12 homers, 14 doubles and 47 RBIs in 101 games with the Drillers.
"I was struggling," he told MiLB.com after busting out of an April slump with a pair of homers. "But I was thinking too much. That's just baseball."
"It's a lot different than it was in [Class A Advanced], where you can see pitchers throwing 92, 93 [mph]," Ruiz noted a month later. "Here, for seven innings, you've got pitchers throwing 97. It's different."
Although he didn't meet the tough statistical standards set forth by his performances at the lower levels, Ruiz still proved to be an impressive player. Perhaps the level of competition caught up to a player of his age, but he remained mature beyond his years and even helped the Drillers claim the Texas League championship.
"I think he's handled it really good. He's got great bat-to-ball skills," Hennessey told MiLB.com in July. "I think what he's learned to do … is he's learning to drive the ball a lot more. More lift to his swing, he feels more comfortable with that. He works so hard in the cages and in on-field [batting practice] and it's showing right now. He's way more aggressive in the box than even early in the year. He's just comfortable now."
2019 (Double-A Tulsa, Triple-A Oklahoma City)
Ruiz had another seemingly difficult year, statistically speaking, in the Texas League for the first 76 games of the 2019 season. He batted .254/.329/.330 with four homers, nine doubles and 25 RBIs in 276 at-bats. But his year began to trend upward when he was reunited with Oklahoma City manager Travis Barbary, a long-time Dodgers coach and former Minor League backstop.
Barbary hosted Ruiz in his family home in South Carolina through the offseason. The young Venezuelan catcher developed a strong bond with Barbary and his family, and the skipper knew all about Ruiz's strength of character.
Ruiz's Pacific Coast League debut was similar to his first game in the Majors, with the only difference being he waited until his second at-bat to hit the homer.
"I don't think we were too surprised at what he did," Barbary told MiLB.com after that game. "He's so far ahead of the game at his age and has been since we first brought him into the organization … the thing that stands out is he fits into any environment. He handles himself well and he's not in awe of any situation."
Ruiz had 12 hits in 38 at-bats (.316) with Oklahoma City, striking out just one time. The club had been aggressive in promoting fellow prospect Gavin Lux after he forced their hand with his on-field performance, and it looked like Ruiz could follow suit if he stayed on pace in the PCL.
But the native of Valencia, Venezuela, landed on the injured list with a finger injury that eventually ended his season.
After some trouble with COVID-19 protocols, Ruiz made it to the club's alternate site at the University of Southern California. He eventually showed enough promise to earn that two-game stint in the Majors after starting catcher Will Smith hit the injured list with neck inflammation. His work at the alternate site was paramount to his final push to the big leagues.
"Keibert made an adjustment to his lower half to give him more space to operate," Dodgers farm director Will Rhymes told MiLB.com in October. "There are no red flags with his defense, but he just kind of rounded out his skill set. One thing that was noticeable was that his arm strength improved quite a bit. That wasn't a point of focus. It just happened organically, which was good to see. He also continued to dive into the game-calling aspects."
Ruiz is likely ticketed for the alternate site when camp breaks again in 2021, then Oklahoma City when the Minor League season starts in May. If his first tour of the PCL is any indication, Ruiz should be in the mix as the Dodgers seek to repeat as World Series champions later this year.
Gerard Gilberto is a contributor to MiLB.com. Follow him on Twitter @Gerard_Gilberto.