The Road to The Show™: Marcelo Mayer
Top Red Sox prospect lives up to high billing in full-season ball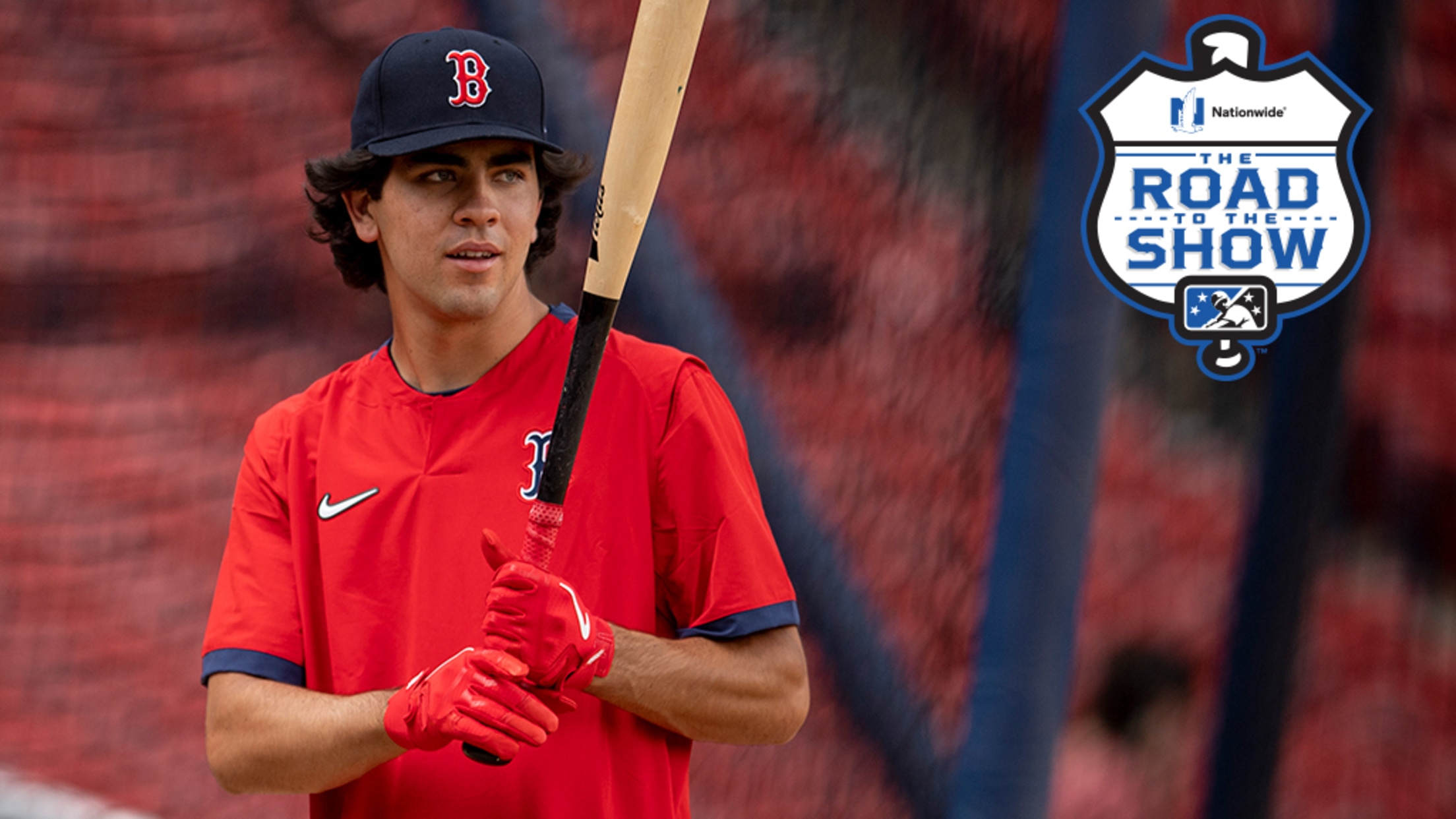 Marcelo Mayer batted .275 with three homers and 17 RBIs in the Florida Complex League last year. (Billie Weiss/Boston Red Sox/Getty Images)
Each week, MiLB.com profiles an elite prospect by chronicling the steps he's taken toward achieving his Major League dream. Here's a look at top Red Sox prospect Marcelo Mayer. For more stories about players on The Road to The Show, click here. As he rose to the top of MLB
Each week, MiLB.com profiles an elite prospect by chronicling the steps he's taken toward achieving his Major League dream. Here's a look at top Red Sox prospect Marcelo Mayer. For more stories about players on The Road to The Show, click here.
As he rose to the top of MLB Pipeline's Draft prospect rankings last year, Marcelo Mayer drew some lofty comparisons.
Mayer, a 6-foot-3 shortstop, was chosen by the Red Sox with the No. 4 overall selection and signed for a full-slot $6,664,000 bonus. Although many wouldn't consider being a top-5 pick with that large of a bonus a slide, Mayer had come into view as the top offensive and defensive prospect in the Draft by the end of his incredible senior season at Eastlake High School. Rival scouts and Red Sox evaluators mentioned All-Stars like Corey Seager and Brandon Crawford when profiling the high schooler on both sides of the ball.
"He's got just a really advanced feel to his game, an ease to his game. I throw those names out there not to set expectations for him or anything," Red Sox director of amateur scouting Paul Toboni told MLB.com. "But I say Seager because Marcelo does have a little bit of a bigger build. I say Brandon Crawford, because if you watch this kid take pregame ground balls, he's one of the cockiest defenders I've ever seen in my life. I say that with positive tone behind it, where he's flipping balls with his glove, and catching balls through the legs, and going behind the back. It's not like he's showing off, it's just kind of his nature, it all comes pretty easy to him."
In less than 50 games in the professional ranks, Mayer has shown his gifted potential.
Following the Draft, Mayer finished out the season in the Rookie-level Florida Complex League. His power showed up before his elite bat-to-ball skills in the early going -- although his hit tool grades better than his power -- but he eventually evened out and had an encouraging debut. Over 26 games, Mayer batted .275/.377/.440 with eight extra-base hits, including three homers, 17 RBIs, 25 runs scored and 15 walks. He also stole seven bases in eight attempts.
Although it won't appear in the box score, Mayer showed an ability to make a difficult game look easy at a very early stage in his development. His maturity and tremendous makeup were noted alongside his abilities on the field throughout the Draft process, and he proved to be wise beyond his years throughout his first Minor League season.
"Among these top guys, there's not much we actually have to tweak. Most of it is going to be just getting them used to the professional environment," FCL coach Bianca Smith told MiLB.com in February. "Getting them into a mental, like a good mindset to be moved up, that's going to be the biggest one. And having good teammates. Things like that. Just being an actual team player. It's what's important and these guys made it really easy."
Marcelo Mayer will never forget tonight. #MLBDraft pic.twitter.com/ptkQJsL4Ds

— Red Sox (@RedSox) July 12, 2021
The Chula Vista, California native had a big frame but left a lot of room to fill out and even admitted himself that he was not so swift of foot coming out of the Draft. At the time, Toboni made note of Mayer's strength and natural raw power but also mentioned that he didn't have much of a weightlifting regimen in high school.
The player that first arrived in Fort Myers -- after all the fanfare that goes with being a first-round pick, which included a round of batting practice at Fenway Park -- to start his professional journey looked a lot different when he showed up for his first Spring Training this year.
Mayer, who will play the entire 2022 season as a 19 year old, got above 200 pounds using an offseason weightlifting regimen. His stronger build caught the eye of Red Sox manager Alex Cora this spring. But, more importantly, Mayer noticed the difference within himself.
"Those days [of not lifting] are definitely gone," Mayer told MLB.com. "You get stronger, you hit the ball harder, you're faster … just taking care of your body more so now than ever, because I went from playing two or three games a week to playing six games a week, with practice. So all that stuff's really important."
Marcelo Mayer just homered off Nathan Eovaldi pic.twitter.com/mgzXOAAwR5

— Steve Hewitt (@steve_hewitt) March 28, 2022
Mayer made quite an impression during his first Spring Training. In addition to using his skills as both a Spanish and English speaker to voluntarily help translate for some teammates, his exploits included a homer off Nathan Eovaldi in an intrasquad game. He also made enough head-turning plays defensively that Nick Yorke, the third-ranked Red Sox prospect and 2020 first-rounder, cited Mayer as a player he goes to for fielding advice.
Since breaking camp, Mayer has proven to be one of the best hitters in the Carolina League for Single-A Salem. He did miss two weeks at the end of April with a right wrist strain. But he was batting .333 with an .888 OPS before the injury and has mostly maintained that same pace since returning on May 10. He has just one home run this season, but seven of his 10 hits since returning have been doubles. Mayer's strikeout totals may be a little uglier than he'd like by the end of the season -- he already has 30 through his first 89 at-bats -- but he's proven to be more than capable with the bat overall.
The Red Sox already have three All-Stars on the infield in Boston. But the organization has also stockpiled infield talent. Beginning with first baseman Tristan Casas in 2018, the club selected infielders in the first round of three of the past five Drafts. That trio -- Mayer, Casas and Yorke -- has developed into their top three prospects.
Mayer should remain the leader of that pack until he's ready to make it to Fenway Park. There's a fair chance that when he arrives, he'll again sit at the top of another set of prospect rankings.