Durham bullies field to Best Team MiLBY Award
Rays' Bradley, White; Royals' Melendez claim individual honors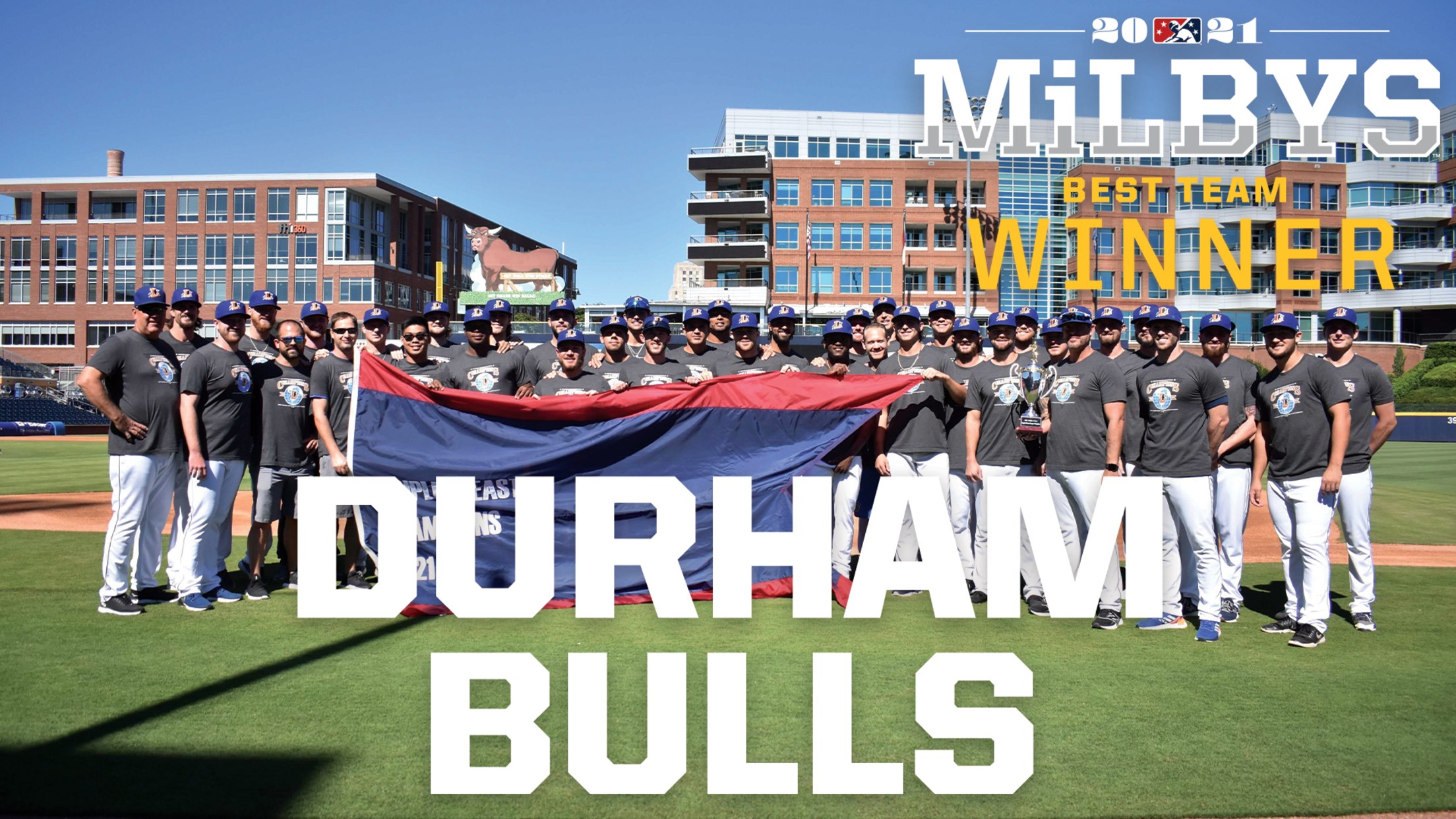 From the Majors to Low-A, the Rays and their affiliates set a gold standard during the 2021 season. And now Triple-A Durham will need to find some room in its already crowded trophy case. The Bulls were voted by fans as Best Team in the Minors as part of this
From the Majors to Low-A, the Rays and their affiliates set a gold standard during the 2021 season. And now Triple-A Durham will need to find some room in its already crowded trophy case.
The Bulls were voted by fans as Best Team in the Minors as part of this year's MiLBY Awards.
With 27 percent of the vote in a tightly contested race, Durham bested two other Rays' affiliates in High-A Bowling Green and Low-A Charleston as well as Double-A Akron (Cleveland) and High-A Quad Cities (Kansas City) as the Bulls added yet another honor to a string of season successes.
The Rays' Triple-A affiliate since their inaugural Major League season in 1998, Durham finished with an 86-44 overall record. Their .661 winning percentage was the highest in franchise history as they secured the Triple-A East title before winning the Triple-A Final Stretch.
"If I told them once, I probably told them 50 times, it was the best team I ever managed. And I've had a chance to manage some pretty special teams," Bulls manager Brady Williams said. "The goal that we had from every player was to get better every day. And what a treat to manage all the talented young players. It was a lot of fun."
The Bulls were nearly undefeated in the Final Stretch, falling to Norfolk on the last day of the season to finish 9-1. Williams said the first year without a playoff at the level was a bit confusing for the players and coaches, but once they realized that they simply had to keep winning, the goal did not change.
"These guys, they just came to work every day, and they had one goal in mind every night, and that was to win," the second-year skipper said. "It was a very talented, young group. But they have a knack to compete and want to win every night. Which is pretty special."
As a team, Durham's dominance shone brightest on the mound. The club finished as the second-best full-season squad in the Minors with a 3.40 team ERA and 1,326 total strikeouts, ranking behind Double-A Somerset and Low-A San Jose.
Top Rays prospect Shane Baz, among the Best Starting Pitcher MiLBY nominees, held a 1.76 ERA with 64 strikeouts over 46 innings in 10 starts with Durham before making his MLB debut and eventually pitching in the postseason. Tommy Romero, Tampa Bay's No. 19 prospect, posted a 3.18 ERA in 12 starts with the Bulls.
The club also welcomed back Brent Honeywell Jr., a former top prospect in the system who hadn't pitched in a Minor League game since 2017 after various setbacks from Tommy John surgery. The 26-year-old sported a 3.97 ERA over 81 2/3 innings this season.
Dietrich Enns, Brian Moran and Phoenix Sanders also had nice years on the mound for Durham.
Offensively, Curtis Mead, the Rays' No. 14 prospect and Minor League leader with 38 doubles across three levels, had six hits in 14 at-bats for Durham, all of which came during the Final Stretch after he'd already won the High-A East championship with Bowling Green and bypassed Double-A.
Rays second-ranked prospect Vidal Bruján and fourth-ranked Josh Lowe both had excellent seasons at Triple-A while also earning their first big-league promotions during 2021. Minor League veteran Dalton Kelly swatted a career-best 27 long balls and rookie sensation Wander Franco batted .313/.372/.583 in 40 games with the Bulls before moving up to the Majors for good, save for one rehab game in September.
"It just seems like when players were in Durham, they were comfortable in their skin and they wanted to compete and perform at a high level," Williams said.
It was not easy for the Bulls to stick out in their own organization. Bowling Green and Charleston both finished with 82 wins, the highest in the Minors, and won their respective championships. Montgomery had the second-best record in their league and lost in the final game of the Double-A South championship. That all happened while the Rays finished with the best record in the American League.
"You're not going to expect this kind of season on a yearly basis," Williams said. "To have that amount of success up and down the organization just speaks volumes for anybody involved from scouting department to player development to plays to staff, to the culture."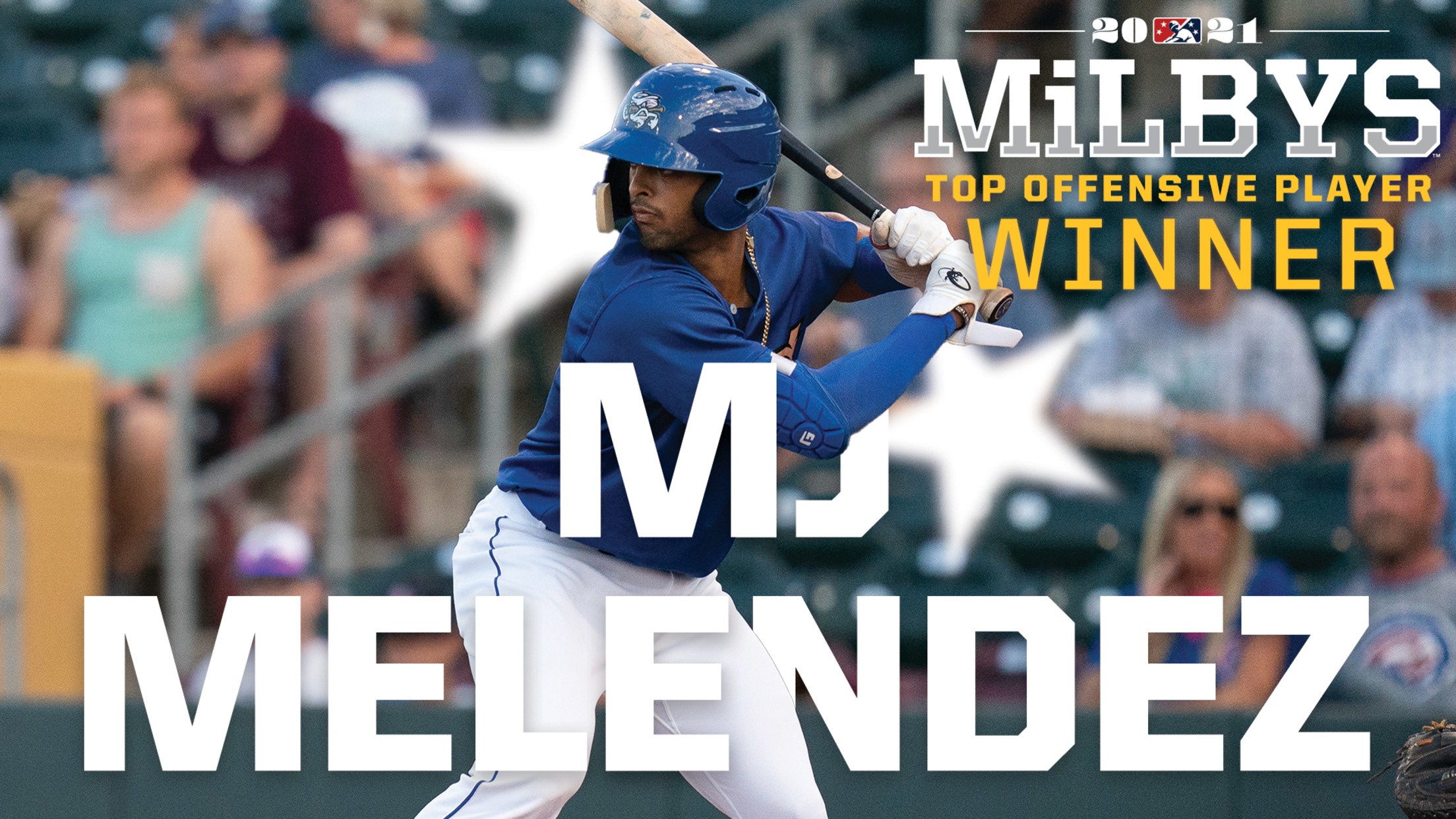 The Minor League leader in home runs, MJ Melendez had a breakout season across two levels of the Royals system.
Overall, the club's fourth-ranked prospect batted .288/.386/.625 with 41 homers, 103 RBIs and 95 runs scored. He also added 22 doubles, three triples and 75 walks to his incredible year. Melendez was second among all Minor Leaguers in RBIs and ninth in total runs. His slugging percentage ranked fourth and 1.011 OPS ranked eighth across the Minors.
Melendez opened the year with Double-A Northwest Arkansas and was promoted in August. He batted .285/.372/.628 with 28 homers and 65 RBIs for the Naturals -- all career highs even though it was a little more than halfway through the season.
The 2017 second-rounder moved on to Omaha, where he was more than up to the task against the highest level of competition in the Minors. Melendez batted .293/.413/.620, homered 13 times and drove in 38 runs.
For most of the season, Melendez was engaged in a McGwire-Sosa-type battle with Marlins prospect Griffin Conine at the top of the homer leaderboards. But the No. 67 overall prospect pulled away in that entertaining competition with six homers in a 15-game span for Triple-A Omaha in September.
Melendez and Conine's fathers are on the same coaching staff at Florida International University, where Melendez had a commitment before signing with the Royals in 2017. Mervyl Melendez has been baseball coach at FIU since 2016, and former Major Leaguer and "Mr. Marlin" Jeff Conine was hired to the staff in June at the end of the 2021 college season.
Melendez beat out his Storm Chasers teammate Bobby Witt Jr. and top Yankees prospect Anthony Volpe, who finished second and third, respectively, in the MiLBY Awards voting. Mariners prospects Julio Rodriguez and José Marmolejos were also finalists.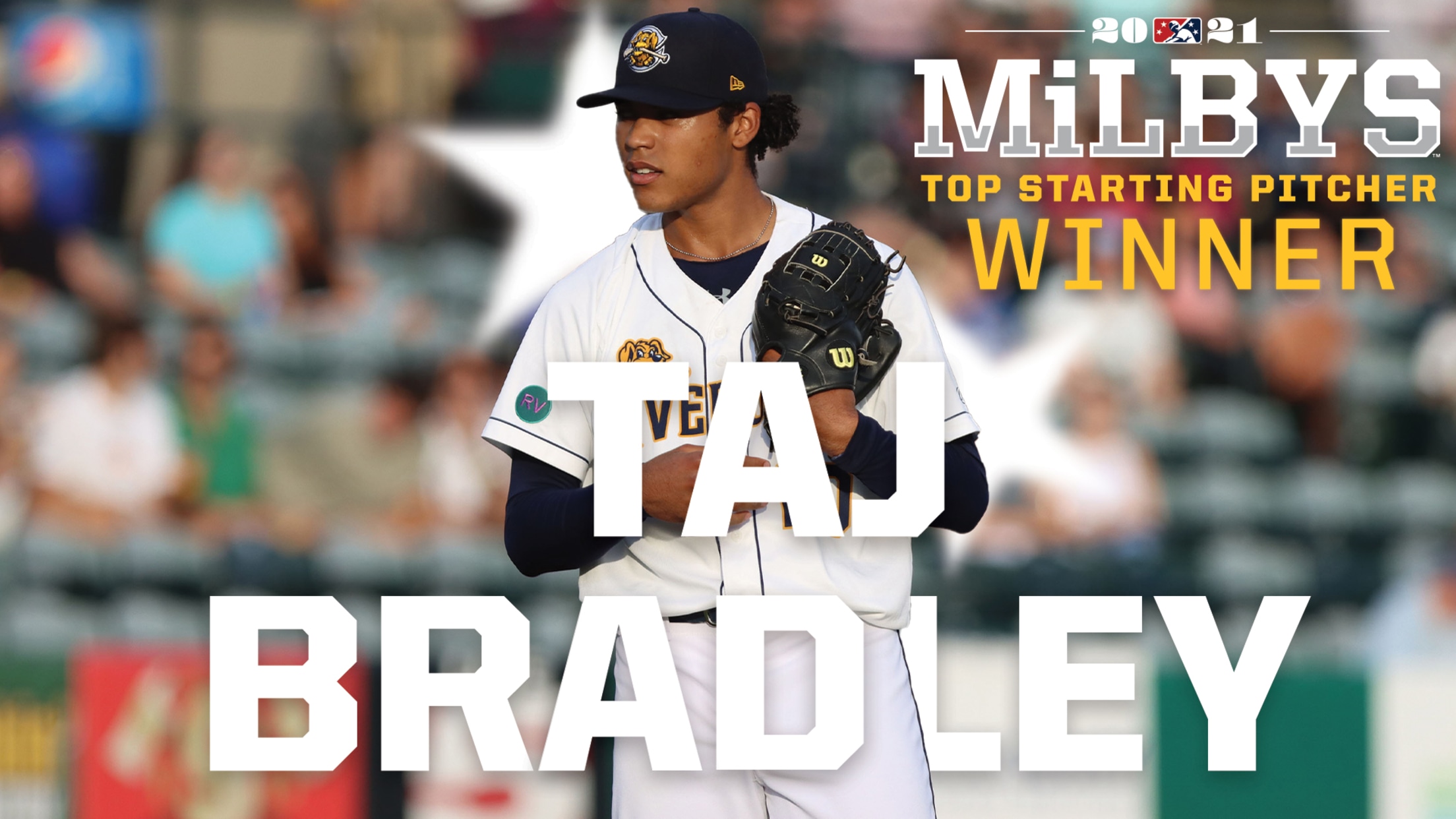 The ace of the only two staffs to reach the 80-win plateau this season, Taj Bradley was absolutely dominant across multiple levels.
A 6-foot-2, 190-pound right-hander, Bradley posted a 1.83 overall ERA with 123 strikeouts in 103 1/3 total innings for Charleston and Bowling Green. His ERA was the lowest among all Minor Leaguers to complete at least 100 innings this season, while his .180 opponent's batting average ranked sixth among all pitchers in that group.
Bradley needed 15 starts at Charleston to prove he was ready for a promotion in his first full season. He held a 1.76 ERA with 81 strikeouts in 66 2/3 innings for the RiverDogs. The 20-year-old made nine scoreless appearances at Low-A and nine in which he allowed two hits or fewer.
The Rays' seventh-ranked prospect set a career high with 10 strikeouts against Fayetteville on May 25 and matched that total in his next start against Augusta.
He was just as stingy after an Aug. 3 promotion to Bowling Green. Bradley posted a 1.96 ERA with 42 strikeouts in 36 2/3 innings. He actually took the loss against Greensboro in Game 2 of the High-A East championship, but he surrendered just two unearned runs on two hits over six innings while striking out nine.
Bradley added velocity to a now-upper-90s fastball and tightened up his breaking pitches this season. His slider is his best secondary pitch, but he added a distinct, 12-6 curveball to his arsenal before the season.
The 2018 fifth-rounder showed improved command of just about every pitch at his disposal and issued just 31 walks throughout the season.
In addition to Baz, Bradley overcame stiff competition from top Nationals prospect Cade Cavalli, the Orioles' Grayson Rodriguez -- who is MLB.com's top pitching prospect -- and Cubs right-hander Caleb Kilian, who was acquired from the Giants at the Trade Deadline as part of the Kris Bryant deal.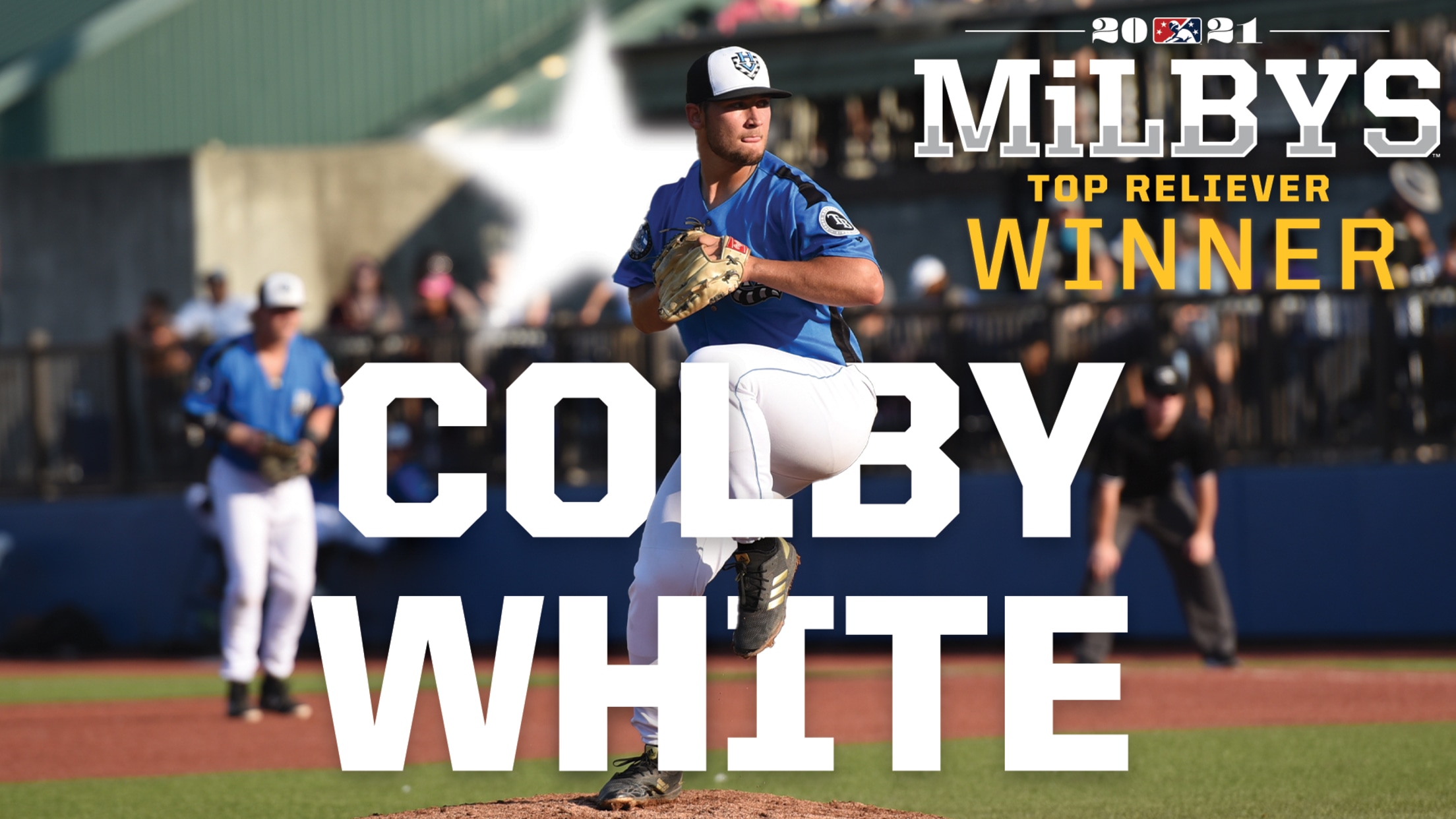 There were many dominant seasons from relievers coming out of the year lost to the pandemic, but Colby White rose above the rest with a microscopic 1.44 ERA across four levels for the Rays this year.
The 23-year-old right-hander appeared in 43 total games and struck out 104 batters over 62 1/3 innings while converting 11 of 13 save opportunities. His .123 opponents batting average was the lowest among all Minor Leaguers with at least 60 innings pitched this season, and he was one of only five pitchers among that group with at least 15 strikeouts per nine innings.
White got his first promotion before allowing his first earned run this season. He yielded just two unearned runs over 11 appearances and 16 1/3 innings for Charleston.
The 2019 sixth-rounder out of Mississippi State posted his highest ERA at any level at Bowling Green. But it was still a terrific 2.31 across 15 outings and 23 1/3 innings. He lasted only eight appearances at Montgomery before his final promotion to Durham in mid-September. Over those last 17 outings at the two highest levels of the Minors, White allowed just four earned runs in 22 2/3 total innings (1.59 ERA) while collecting 33 strikeouts.
White had never pitched in full season ball prior to this year. He was a full-time reliever in his one season at Mississippi State after two years at Pearl River C.C. in Poplarville, Mississippi. He posted a 16.6 K/9 in his lone NCAA season.
White commanded more than 44 percent of the vote in what was the most voted-on competition in this year's MiLBY Awards. He fought off Giants prospect Chris Wright, who earned 35 percent of the vote, the Braves' Indigo Diaz, the Pirates' Enmanuel Mejia and the Reds' Dauri Moreta.