T-Rat Talk: Darrien Miller
Catcher thriving in unlikely spot atop lineup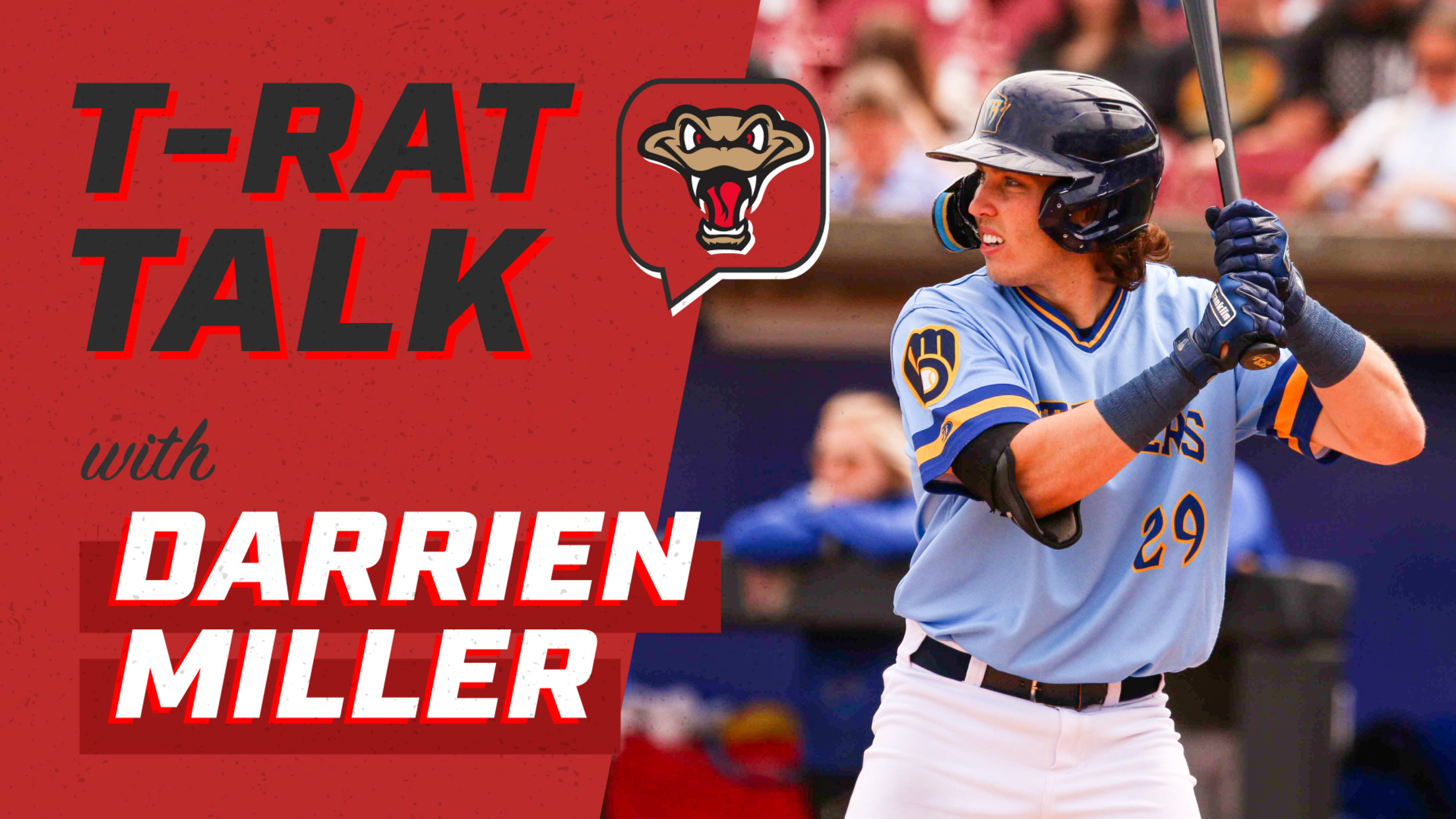 The list of Wisconsin Timber Rattlers batters that have settled into the leadoff spot this season is largely comprised of names most fans will recognize. Former first round pick Sal Frelick started the season there, starting 21 games in that spot before his promotion to Biloxi. He was succeeded in
The list of Wisconsin Timber Rattlers batters that have settled into the leadoff spot this season is largely comprised of names most fans will recognize. Former first round pick Sal Frelick started the season there, starting 21 games in that spot before his promotion to Biloxi. He was succeeded in that role by Tyler Black, whose performance in that spot is a big part of the reason he moved up to #6 on MLB Pipeline's ranking of the Brewers' top prospects. Tristan Peters also started a dozen games at the top of the lineup before being traded and becoming one of the top prospects in the Giants organization.
Those players left behind some big shoes, but so far Timber Rattlers catcher Darrien Miller has been doing his part to fill them.
Miller, the Brewers' ninth round pick in the 2019 draft, has always had a knack for getting on base. He was a leadoff hitter in high school, posted an on-base percentage nearly 150 points better than his batting average in a brief stint in rookie ball ins 2019, and had a .419 on-base percentage with Carolina as a 20-year old in 2021.
This year he's brought that skill set with him to a new level, and he's maintained it across a larger sample size than ever before: The 79 games and 335 plate appearances Miller has accumulated so far in 2022 are more than he played from 2019 through 2021 combined, and he's already set career highs in hits, runs, doubles, home runs, RBI and walks. Through a long season of bumps and bruises he's maintained a .366 on-base percentage, the best mark of any active Timber Rattler with at least 100 plate appearances. As such, when Timber Rattlers manager Joe Ayrault was in need of someone new to put atop the lineup he turned to his catcher.
"I just keep running him out there, and he's doing a great job," Ayrault told the Rattler Radio podcast on August 11, a day where Miller had batted first and reached base three times. "I was looking at on-base percentage, and when you've got Chourio in the two hole you want someone getting on base where he can do some damage in there. He does a great job working the count, he just stays in there with no fear. He's a catcher, he gets beat up, no fear in the box."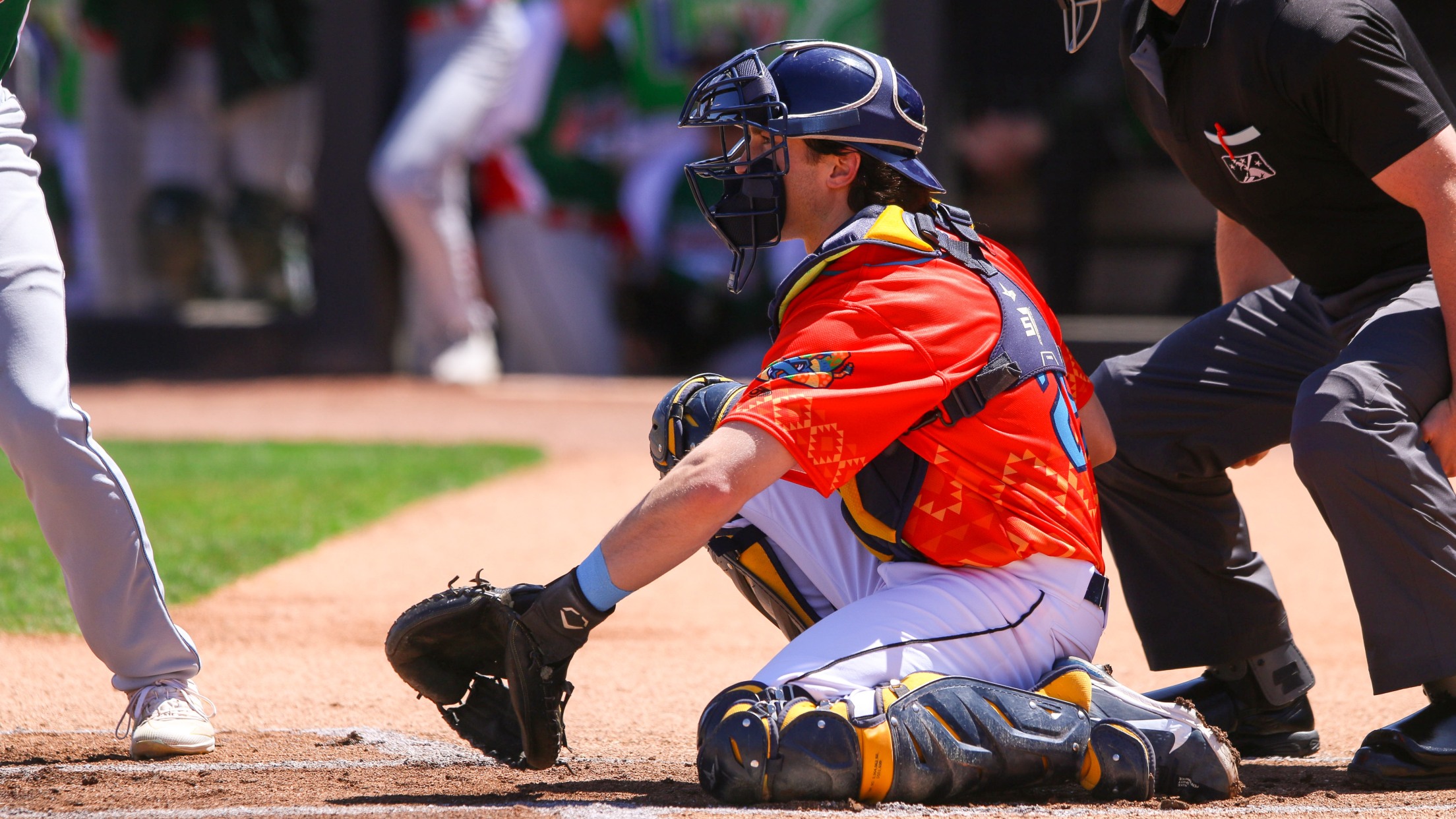 Across the last few weeks Miller has started eleven games in the leadoff spot, his first opportunities there since batting first for Clovis High School in 2019. He's the first Timber Rattlers catcher since the team became a Brewers affiliate to bat atop the lineup that often. He said his approach doesn't change when he's atop the order, but he likes batting there.
"I really enjoy it up there. I've been getting walked a bunch, and it's fun to always get on base," Miller said.
Across his first eleven games in the leadoff spot Miller reached base 18 times for a .375 on-base percentage. He drew ten walks and was hit by two pitches in those games, but he also had a few opportunities to take advantage of a change in the way pitchers approach him: For several of Miller's games atop the lineup he batted in front of Timber Rattlers outfielder and Brewers top prospect Jackson Chourio.
"I definitely get a lot more fastballs (when batting in front of Chourio). They definitely don't want runners on base when he's coming up," Miller said.
What a series for C Darrien Miller!

2 dingers 💣💣
1 double
8 BB
Reached base in 15 of 28 PAs#ThisIsMyCrew pic.twitter.com/X3R2Tjz05f

— Brewers Player Development (@BrewersPD) August 15, 2022
The last few weeks have also provided Miller another new experience: His first opportunities to see extended time as a designated hitter. With top prospect Jeferson Quero recently joining the Timber Rattlers, Ayrault has used the DH role more often to keep Miller's bat in the lineup. Before this season Miller had never been a designated hitter as a professional, but in 2022 he's played there 19 times. Compared to the workload of catching Miller said being the DH is "very easy" and "a really, really fun job," but also acknowledged it can be challenging to be productive offensively in that role.
"It's a little tougher, I'd say, since you just sit and don't do anything, then you've got to stretch out and get ready for the next AB, whereas when you're catching you're moving around in between every inning and every AB," Miller said.
Miller downplayed the pain of the bumps and bruises of a full season as a Midwest League catcher, but getting out from behind the plate from time to time can only help him recover from an unusual number of occasions where he's been hit by baseballs. In addition to the normal workload of foul tips and balls in the dirt that every catcher experiences, Miller is hit by pitches more often than most batters. In a span of four days in the recent series against South Bend he was hit three times and has now been hit 18 times this season. Entering play this week he was tied for the third most in the Midwest League in 2022 and has the third most in a single season in Timber Rattlers history.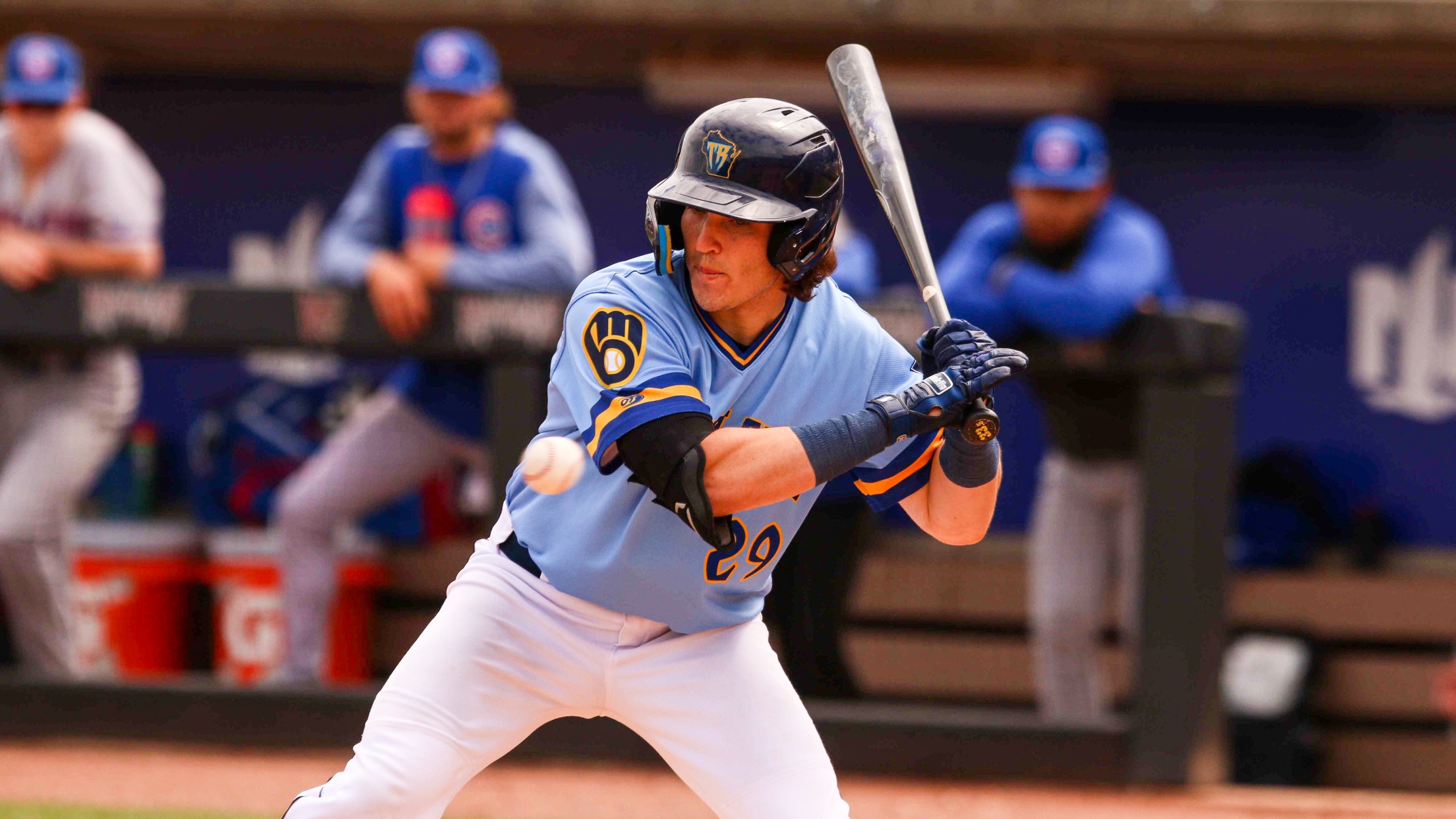 "That'd be great," Miller said of the possibility of becoming the Timber Rattlers' single season leader. "It's definitely an interesting record to hold, and a fun one."
Even when he's not getting hit by pitches, however, Miller stands out as one of the most productive hitters in the Brewers' organization. FanGraphs' advanced metrics have Miller with a 118 wRC+ on the season, where 100 is average. That's the ninth best mark in the Brewers' organization, ahead of many of the top prospects who have overshadowed Miller a bit at times this season. Miller, who turned 21 in March, is the second-youngest player in the top ten on that list, trailing only Jackson Chourio.
While Miller hasn't always received the attention or hype of some of the players he's shared the field with this season, he said he doesn't feel like he's been overlooked.
"I think I'm happy where I'm at," Miller said. "I'm constantly working on getting better, and I think I need to work on being a little more consistent. I've definitely had some highs where I've been going really good, but I've also had some lows where that kind of separates me from some of the other players."
.@darrienmillerr hits a 💣out of the park with a GRAND SLAM to start the game!💪🔥 #TRatNation #GrandSlam pic.twitter.com/0Lm7cA08qm

— Wisconsin Timber Rattlers (@TimberRattlers) July 2, 2022
With less than a month left to make a final statement on his 2022 season, Miller's performance is trending in the right direction. His .873 on-base plus slugging thus far in August is one of his best marks of the year, and he's already homered more times in August than he did in any other month this season. At a time of year when many catchers are starting to feel the wear and tear of a full season behind the plate, Miller isn't showing it.
"I think after a point in time you get a little more used to it and it doesn't hurt as much. As long as it's catching me on some soft spots and not any bones, it's easy to get through it," Miller said.
Regardless of how it ends, Miller said he's enjoyed his summer in Appleton.
"This year's been great. I've really enjoyed playing in Appleton. The fans are amazing, and the weather's been really, really nice. It's the middle of summer and it's 85, where other places where they're playing baseball right now it's 110 and really muggy. So I've definitely enjoyed that, and enjoyed trying to get better at baseball every single day, too," Miller said.