Stripers Walk All Over Norfolk in 8-0 Win
Gwinnett draws season-high 11 walks, earns first shutout of 2022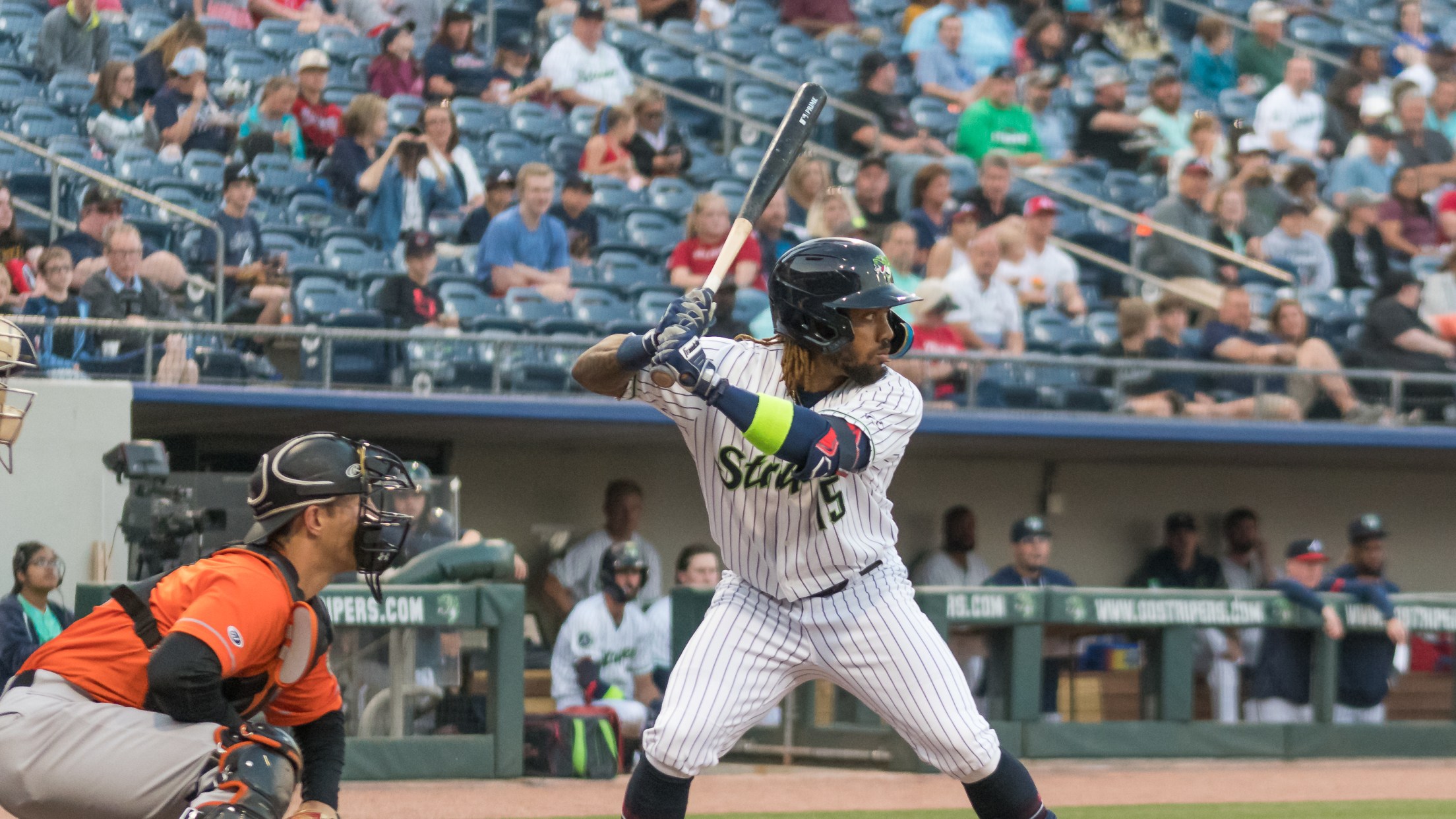 Justin Dean drove in two runs, doubled, and stole a base in a 2-for-4 performance Friday night against Norfolk. (Paul Daniel/Gwinnett Stripers)
LAWRENCEVILLE, Ga. – The Gwinnett Stripers (9-13) walked a season-high 11 times in an 8-0 win over the Norfolk Tides (12-10 on Friday night at Coolray Field. Connor Johnstone, Seth Elledge, Brandon Brennan, and Nick Vincent combined on a four-hit shutout, Gwinnett's first of the season. Decisive Play: Chadwick Tromp
LAWRENCEVILLE, Ga. – The Gwinnett Stripers (9-13) walked a season-high 11 times in an 8-0 win over the Norfolk Tides (12-10 on Friday night at Coolray Field. Connor Johnstone, Seth Elledge, Brandon Brennan, and Nick Vincent combined on a four-hit shutout, Gwinnett's first of the season.
Decisive Play: **Chadwick Tromp* put the Stripers on the board in the bottom of the second inning, singling home recent addition *Hernan Perez. **John Nogowski hit a sacrifice fly in the third to make the score 2-0. The Stripers broke the game open with a four-run fifth, capped off by Justin Dean's RBI single.
Key Contributors: Johnstone continued his strong start to the season with 4.0 scoreless, four-hit innings. Elledge (W, 1-1) struck out four over 2.0 innings for the win. Dean went 2-for-4 with a double, two RBIs, and a stolen base. Greyson Jenista went 1-for-2 with three walks and two runs, and Phil Gosselin went 1-for-4 with a double and an RBI.
Noteworthy: The Stripers walked 11 times, just one less than the Gwinnett single-game record of 12 (July 15, 2021 at Charlotte). This was the Stripers' first shutout since September 19, 2021 when Kyle Wright threw a 9.0-inning complete-game shutout in a 7-0 win over Nashville.
Next Game (Saturday, April 30): Gwinnett vs. Norfolk, 6:05 p.m. at Coolray Field. LHP Kyle Muller (1-1, 3.66 ERA) for the Stripers vs. RHP Cody Sedlock (2-0, 6.92 ERA) for the Tides. Radio Broadcast: 5:50 p.m. on MyCountry993.com. The first 1,000 fans in the ballpark will receive a sleek black cap emblazoned with the Xolos de Gwinnett logo, courtesy of Georgia Power.