Stripers Reel Off Five Runs in Eighth to Beat Nashville 5-3
Delino DeShields Jr. plates game-winning runs in Gwinnett's comeback victory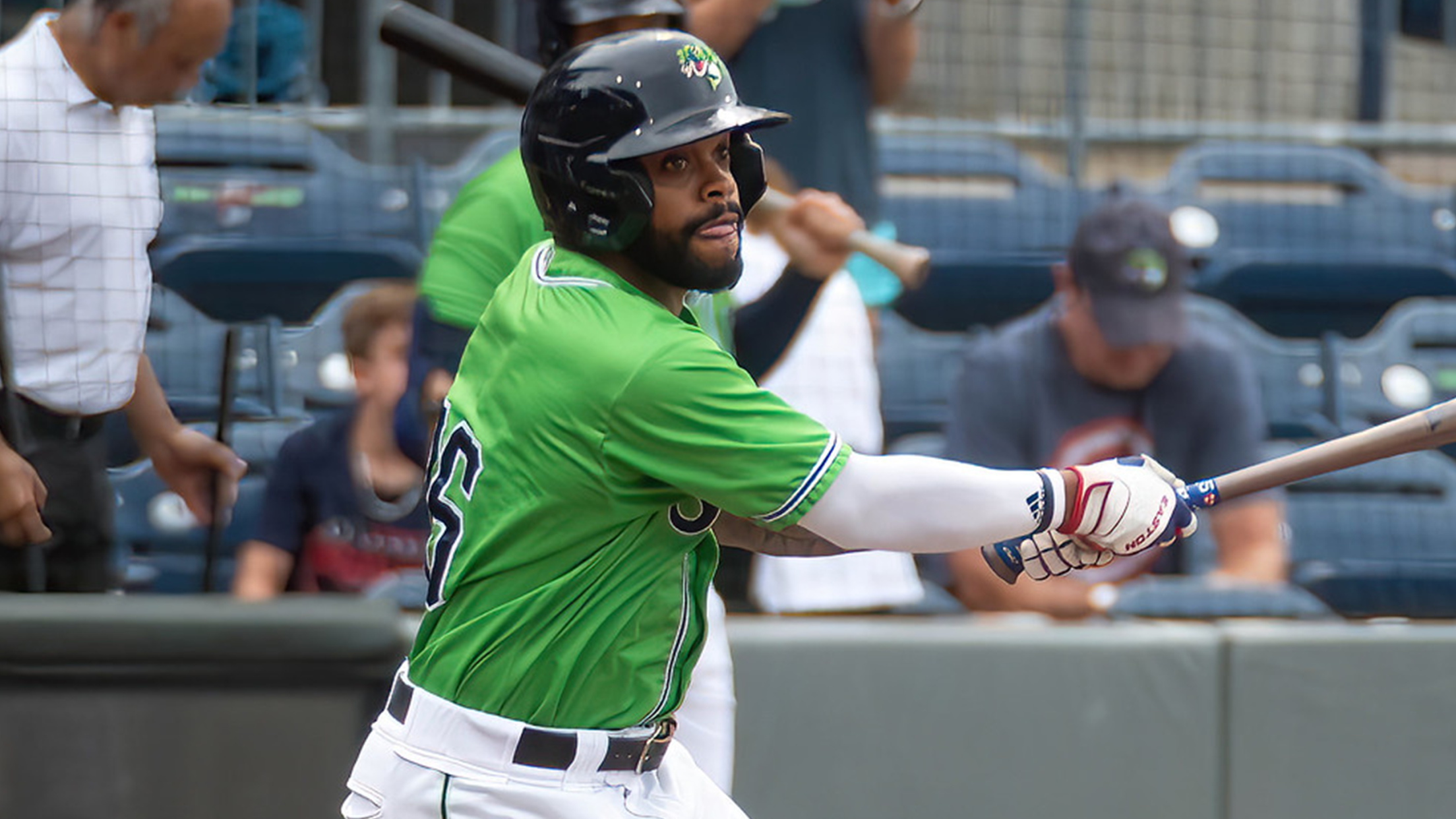 Delino DeShields Jr. tallied the game-winning RBIs with a two-run single in the eighth on Sunday night in Nashville. (Bernie Connelly)
NASHVILLE, Tenn. – Delino DeShields Jr. recorded the last of six-straight two-out singles in the top of the eighth inning on Sunday night, driving in two to send the Gwinnett Stripers (53-58) to a come-from-behind 5-3 victory over the Nashville Sounds (66-44) at First Horizon Park. Gwinnett split the six-game
NASHVILLE, Tenn. – Delino DeShields Jr. recorded the last of six-straight two-out singles in the top of the eighth inning on Sunday night, driving in two to send the Gwinnett Stripers (53-58) to a come-from-behind 5-3 victory over the Nashville Sounds (66-44) at First Horizon Park. Gwinnett split the six-game series 3-3.
Decisive Plays:The Stripers entered the top of the eighth inning trailing 3-0 but reeled off six straight two-out singles against Sounds relievers Justin Topa and Trevor Kelley (L, 1-3). Travis Demeritte, Ryan Casteel,and* Joe Dunand *each tallied RBI singles to tie the game at 3-3. DeShields followed with an infield single to deep second base that scored Greyson Jenista and Dunand for a 5-3 lead.
Key Contributors:DeShields went 1-for-4 with a game-high two RBIs, while Demeritte (1-for-4), Casteel (2-for-4), and Dunand (2-for-2, double) all had one RBI apiece. Braves' No. 10 prospect* Darius Vines* yielded three runs on six hits and struck out four over 6.0 innings for a quality start in his Triple-A debut. Connor Johnstone (W, 2-2) struck out one over 2.0 hitless innings and Jacob Webb (S, 2) pitched a perfect ninth.
Noteworthy: *Vines is the second Stripers pitcher to record a quality start in his Triple-A debut this season, joining *Freddy Tarnok (July 13 vs. Durham). Hernan Perez (2-for-5, run) is batting .349 (15-for-43) with two doubles, one homer, eight runs, three RBIs, and two stolen bases in his last 11 games since July 14. Gwinnett finishes the season series against Nashville with a 7-11 record.
Next Game (Tuesday, August 16): Gwinnett vs. Memphis, 7:05 p.m. at Coolray Field. Radio Broadcast: 6:50 p.m. on MyCountry993.com. It's a Family Value Tuesday at Coolray Field. Enjoy $2 hot dogs and $1 select desserts, courtesy of Coolray Heating & Cooling.