Stripers Blast Bats for Fifth Straight Win
Demeritte and Snider both homer, Rosario adds two RBIs in 10-4 win at Louisville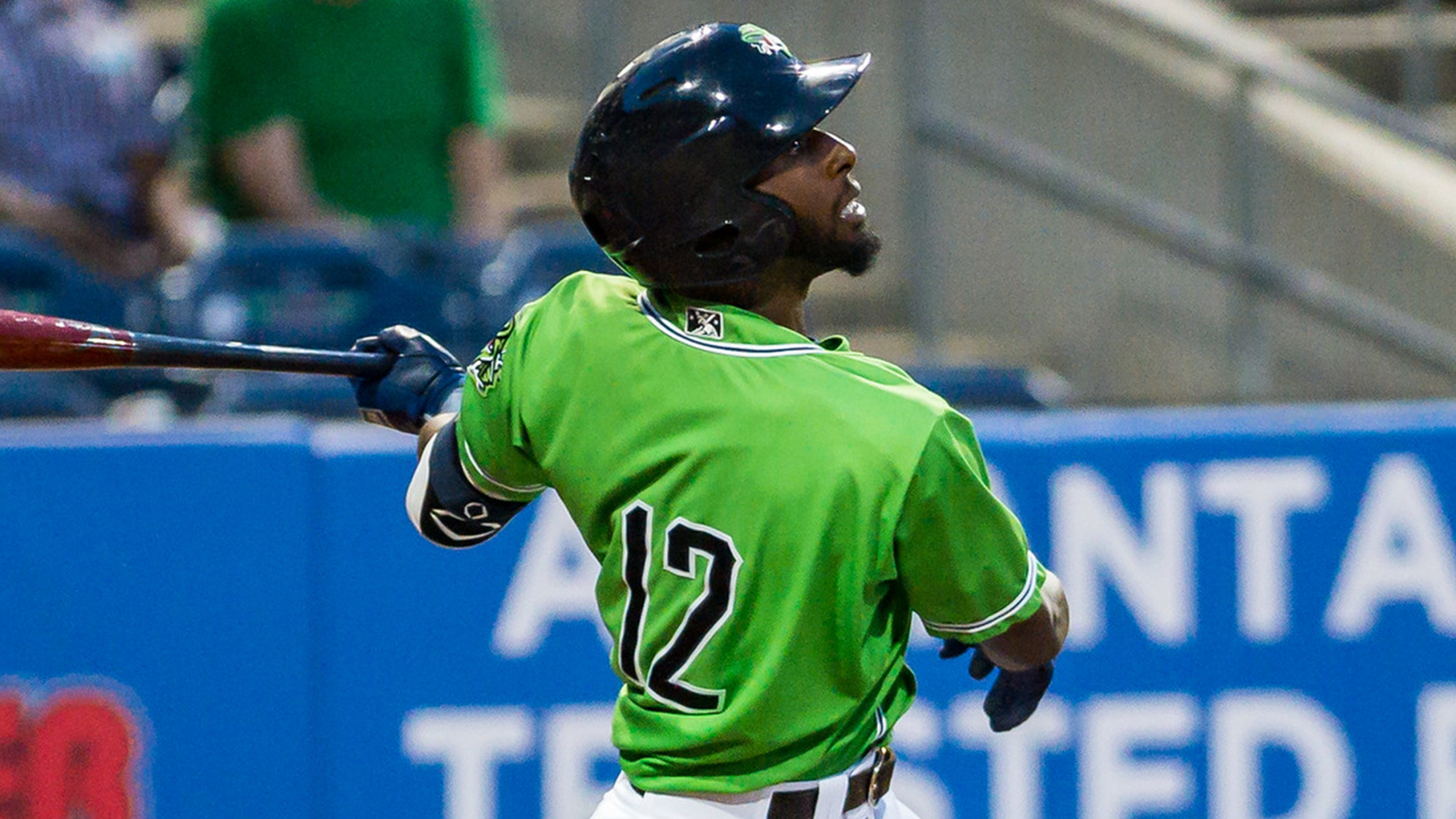 Travis Demeritte went 4-for-4 with his 15th home run of the season and four RBIs on Saturday in Louisville. (Will Fagan)
LOUISVILLE, Ky. – Travis Demeritte and Travis Snider each launched three-run home runs, and Eddie Rosario added two doubles and two RBIs as the Gwinnett Stripers (55-40) routed the Louisville Bats (37-57) 10-4 on Saturday night at Louisville Slugger Field. The Stripers have won eight straight games against Louisville this
LOUISVILLE, Ky. – Travis Demeritte and Travis Snider each launched three-run home runs, and Eddie Rosario added two doubles and two RBIs as the Gwinnett Stripers (55-40) routed the Louisville Bats (37-57) 10-4 on Saturday night at Louisville Slugger Field. The Stripers have won eight straight games against Louisville this year, including the first five games of this series.
Decisive Plays: Demeritte's three-run blast (15) off Bats starter Reiver Sanmartin (L, 4-2) gave the Stripers a 4-1 lead in the fourth. Rosario's two-run double made it 6-1 in the fifth, and Snider's pinch-hit three-run clout (4) raised the advantage to 10-4 in the eighth.
Key Contributors: Demeritte went a perfect 4-for-4 with the homer and a game-high four RBIs. Rosario went 3-for-5 with two doubles and two RBIs, and Sean Kazmar Jr. added three singles in a 3-for-4 effort. Jose Rodriguez (W, 4-3) earned his first road victory with Gwinnett, pitching 6.0 innings with four runs on six hits, two walks, and three strikeouts. For Louisville, Max Schrock went 2-for-4 with a double, homer (6), and four RBIs.
Noteworthy: In addition to their five-game winning streak on the road trip, the Stripers have won eight consecutive road games dating back to July 30 at Memphis. Gwinnett's 32-8 record since July 8 is the best in all of Minor League Baseball. Snider recorded the Stripers' fourth pinch-hit homer of the season, first since July 7 vs. Nashville (Phillip Ervin).
Next Game (Sunday, August 22): Gwinnett at Louisville, 1:00 p.m. at Louisville Slugger Field. RHP Tanner Roark (4-1, 2.52 ERA) for the Stripers vs. LHP Nick Lodolo (0-1, 6.35 ERA) for the Bats. Radio Broadcast: 12:45 p.m. on MyCountry993.com.
Next Home Game (Tuesday, August 31): Gwinnett vs. Memphis, 7:05 p.m. at Coolray Field (Family Value Tuesday, hot dogs for $2 and desserts for $1, presented by Coolray Heating & Cooling).