Stripers Battle Back to Beat Jacksonville in 10 Innings
Gwinnett scores five runs over final two frames to win 10-8, snapping six-game losing streak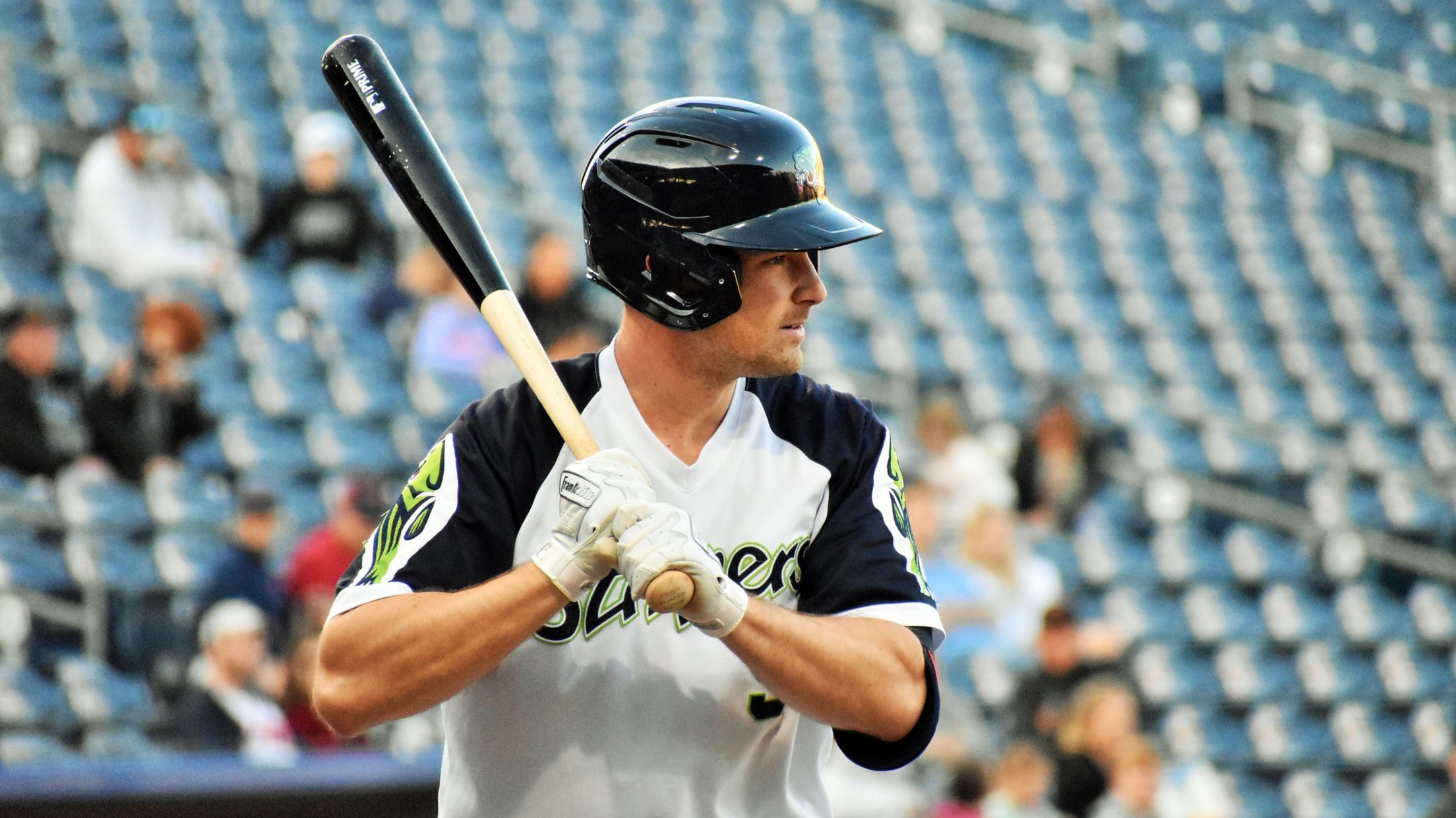 Phil Gosselin went 1-for-4 with a home run and three RBIs for the Stripers on Saturday in Jacksonville. (Josh Conner)
JACKSONVILLE, Fla. – The Gwinnett Stripers (6-11) scored three runs in the ninth inning to tie the game and tacked on two more in the 10th, defeating the Jacksonville Jumbo Shrimp (9-8) 10-8 on Saturday night at 121 Financial Ballpark. Gwinnett snapped a six-game losing streak and ended Jacksonville's seven-game
JACKSONVILLE, Fla. – The Gwinnett Stripers (6-11) scored three runs in the ninth inning to tie the game and tacked on two more in the 10th, defeating the Jacksonville Jumbo Shrimp (9-8) 10-8 on Saturday night at 121 Financial Ballpark. Gwinnett snapped a six-game losing streak and ended Jacksonville's seven-game winning streak.
Decisive Plays: The Stripers erased a three-run deficit in the top of the ninth against Huascar Brazoban as Phil Gosselin crushed a two-run home run (1) and Pat Valaika doubled and scored on a Yariel Gonzalez sacrifice fly. In the 10th, pinch runner Braden Shewmake scored from second on a throwing error by Jacksonville catcher Lorenzo Quintana, and Gosselin added a sacrifice fly scoring Justin Dean for a 10-8 advantage.
Key Contributors: Rehabbing Atlanta Braves outfielder Ronald Acuña Jr. went 2-for-3 with a run, RBI, and three walks. Gosselin went 1-for-3 with the homer and a game-high three RBIs, and Ryan Casteel also homered (3) in a 2-for-5 effort. Brad Brach (W, 2-0) pitched 2.0 scoreless, one-hit innings to finish off the win.
Noteworthy: The Stripers are now 1-1 in extra-inning contests and 2-1 in games decided in the last at-bat. Gosselin's homer was his first with Gwinnett since August 25, 2018 at Charlotte. Manager Matt Tuiasosopo was ejected by home plate umpire Matt Brown in the sixth inning, his first ejection of the year.
Next Game (Sunday, April 24): Gwinnett at Jacksonville, 3:05 p.m. at 121 Financial Ballpark. RHP Huascar Ynoa (NR) for the Stripers vs. RHP Max Meyer (1-0, 1.23 ERA) for the Jumbo Shrimp. Radio Broadcast: 2:50 p.m. on MyCountry993.com.
Next Home Game (Tuesday, April 26): Gwinnett vs. Norfolk, 11:05 a.m. ET at Coolray Field. Radio Broadcast: 10:50 a.m. on MyCountry993.com. Join the Stripers for a special matinee game for Education Day. Area students will take in the game in a fun and educational environment.