State of the System: Houston Astros
Whitley leads developing group of high-potential talent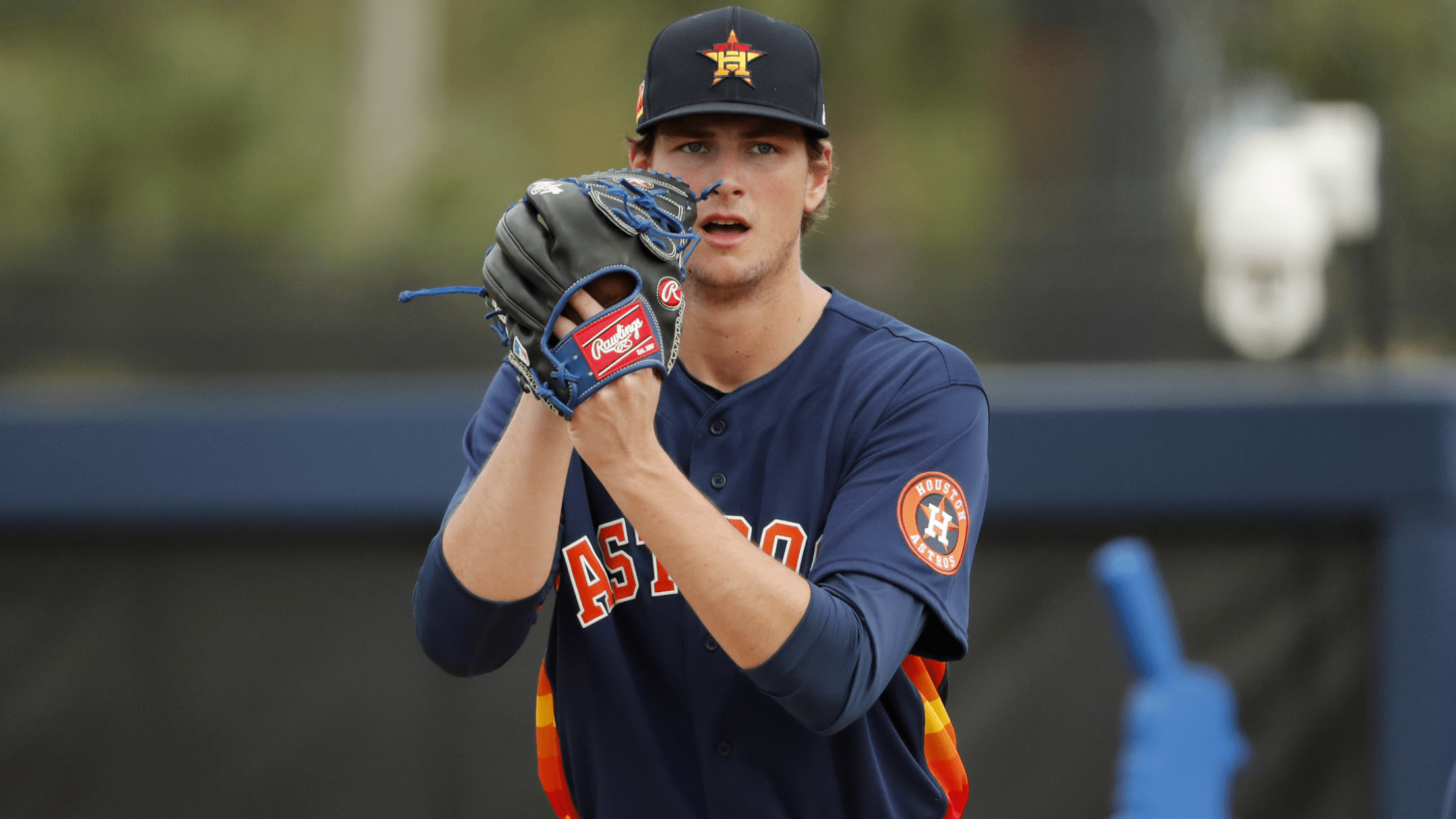 Forrest Whitley has recorded 289 strikeouts over 197 innings in four Minor League seasons. (Jeff Roberson/AP)
Starting in October and running through the end of the year, MiLB.com's State of the System series will evaluate the strengths and weaknesses of each Major League organization, highlights prospects who've made the biggest strides in 2020 and offers a peek at 2021. This year was an unorthodox one, to
Starting in October and running through the end of the year, MiLB.com's State of the System series will evaluate the strengths and weaknesses of each Major League organization, highlights prospects who've made the biggest strides in 2020 and offers a peek at 2021.
This year was an unorthodox one, to say the least, for the Astros. After Major League Baseball handed down its punishment for the infamous sign-stealing scandal in January, the season was suspended for months due to the COVID-19 pandemic. Once play finally resumed, Houston put up an unexpected 29-31 record; that was followed weeks later by an equally surprising run to the American League Championship Series.
Despite all the madness at the big league level, however, things were relatively calm on the Minor League side. Only a handful of prospects graduated to The Show this year, and the team's remaining youngsters continued to progress at the alternate site in Corpus Christi, with many arriving late in the summer.
As the calendar flips to 2021 and things begin to return to normal, the Astros plan to maintain the momentum they developed during the postseason and leave the forgettable regular season in the past. But beyond that, they're hoping the progress made by their Minor League talent continues and a return to regular game action helps compound that growth.
System strengths: This system is built on pitching, right-handed pitching in particular. Five of the Astros' top 10 prospects, as ranked by MLB Pipeline, are righties along with 13 of the top 30.
Leading the way is Forrest Whitley, the team's top prospect and Pipeline's No. 17 overall. He's had a long tumultuous journey to the big leagues since Houston drafted him in the first round in 2016, but finally was expected to crack the rotation this season -- that is, until he was shut down with arm soreness sustained in Corpus Christi late in the summer.
While the season didn't go the way the Astros hoped for Whitley, assistant general manager of player development Pete Putila said the team was still thrilled with what it saw out of its star prospect in the limited time he was on the mound.
"He did get to face -- obviously not official game action -- but he did get to face hitters at the alternate site there. ... He's been so polished in terms of just pure stuff and velocity," Putila said. "I think any player, limited game reps just decreases the ability to make adjustments off of those. But I think he's in a position where he's perhaps a bit less affected by that sort of thing, just given where he was starting from."
Other righties like No. 3 prospect Bryan Abreu and sixth-ranked Hunter Brown made waves at Whataburger Field, but Whitley stole the show through the end. In his final outing of the summer, he struck out all seven who came to the plate against him.
"It was like, electric," Putila said. "It was some of the best stuff we've seen from him. He struck out every single hitter he faced. So he's still showing that -- he was top pitching prospect in baseball, he's still showing that. Hopefully, [he can] put it all together for '20-'21."
Areas for growth: While the Astros have a stockpile of pitching talent, their reserves on the offensive side of the ball could use some work. They lack a true impact bat, as No. 2 prospect Freudis Nova and No. 4 Jeremy Pena project to be solid but not generational hitters.
That's not to say that can't change. One prospect who could develop into a difference maker with the bat is fifth-ranked Korey Lee, who was brought to Corpus Christi at the tail end of the season and also participated in the team's instructional camp in Florida.
The Astros clearly love Lee -- they took him No. 32 overall in the 2019 First-Year Player Draft, although most evaluators graded him as a second- or third-round pick. What's most attractive about the talented catcher is his ability to throw runners out, but he also possesses substantial raw power that makes him an intriguing offensive project. Putila believes Lee can begin to tap into that power with just a few adjustments, some of which he's already working on.
"He's been focusing on kind of overall quieting down the swing," Putila said. "He made some big strides last year reducing a big bat tip. And this year, he's really worked on reducing stride length, basically just getting him into the ground, getting his foot down on time to be able to get a good swing off and elevate the ball and everything. So mostly mechanical at the plate."
What changed in 2020: A handful of Houston's prospects, such as righty Jose Urquidy, infielder Abraham Toro and catcher Garrett Stubbs graduate this year, but there wasn't a mass exodus of top players leaving the Minor League ranks.
Conversely, the biggest change came through a decline in incoming talent. Houston was stripped of its first- and second-round picks in the 2020 Draft in response to the sign-stealing scandal, meaning it missed out on the yearly addition of a pair of top-shelf amateurs to the organization. And in a year in which the Draft already was shortened to five rounds, the growth was stunted even further.
The Astros didn't come away completely empty-handed, however, as they nabbed promising high-school right-hander Alex Santos with their first selection at No. 72 overall. Santos possesses an advanced fastball and curveball, offerings that made him one of the best pitching prospects to come out of New York City in the past decade. And while they surely suffered from losing their first two picks, the Astros believe Santos offers enough potential to help make up for it.
"Our scouts see big upside, especially with the fastball velo," Putila said. "He's a long-levered kid and he's still physically immature. He's got a lot more strength to develop, and [we] just think he's gonna throw pretty hard in the end."
Alternate site standouts: No. 16 prospect Shawn Dubin was the first name Putila came up with when asked who stood out in Corpus Christi. The 25-year-old righty features a plus slider and a strong fastball, the latter of which has increased around 3 mph since he was drafted in 2018 out of Georgetown College in Kentucky.
"He's got some pretty big fastball velo and a couple real good breakers with a good changeup too," Putila said. "He's someone who continues to work on his craft and he's working on shortening up the arm action a bit. But, yeah, he was impressive."
Outfielder Colin Barber, the club's No. 9 prospect, also made a strong impression -- and wasted no time doing so.
"It's kind of funny, you know. He showed up, he's obviously a young kid, and first at-bat hit a home run to right field," Putila said, "which isn't easy to do at that field with the wind, how it blows in. Definitely made an impressive debut there, and he was at the instructional camp as well and he continues to make strides."
We've tracked down footage of Colin Barber's moonshot, courtesy of the Astros' Player Development Dept!

That sound 😌 https://t.co/urX4GwnrZN pic.twitter.com/7zRTLZ4U1S

— Corpus Christi Hooks (@cchooks) September 12, 2020
Putila also was pleased with what he saw out of Pena, a shortstop who elevated his potential as a hitter to match his already established talents with the glove.
"He did well," Putila said. "Continues to improve at the plate and stretched a couple doubles, triples at the alternate site before going down to instructional camp. … He has great makeup, focus and he's gifted physically and works at it. He's a very toolsy player, you know, plays a premium position, so it's exciting to see the strides he continues to make with the bat."
Impact rookies: A number of newcomers made their mark on the mound for Houston in 2020 -- Blake Taylor, Andre Scrubb and Enoli Paredes, to name a few. But nobody made as emphatic of an impact as Cristian Javier.
After a one-inning debut out of the bullpen, the 23-year-old righty made his first Major League start on July 29 and never looked back. Javier finished with a 3.48 ERA, the best clip among rookies with at least 10 starts, and he struck out 54 batters while walking 18 over 54 1/3 innings. That performance landed him a third-place finish in American League Rookie of the Year voting and a consistent role in the rotation moving forward.
Not only did Javier dominate during the regular season, he excelled during Houston's playoff run. In five postseason relief appearances, he logged a 2.89 ERA and fanned 13 over 9 1/3 frames.
"It was exciting," Putila said. "It was really rewarding, obviously for him personally to go out there and see himself perform against top-level competition on such a big stage, and it was rewarding for the staff who's worked with him and seen what he can do to have him go out there and prove himself."
Next big thing: It'd be easy to pencil Whitley in this category, but if you look at the Astros' system through a more macro lens, you realize the next real change will come when the current batch of prospect talent reaches the Majors in a few years.
According to MLB Pipeline, many Houston youngsters are expected to arrive in The Show in 2022 or 2023. The current core of players like José Altuve and Carlos Correa won't exactly be old by then, but the team will benefit by that added stimulus of young talent.
More than anything, though, Putila is excited to see that next generation arrive at Minute Maid Park because he knows the road they've taken hasn't been an easy one.
"I'm very excited," he said. "I think, obviously, it's awesome to have such a core of veteran All-Star and even Hall of Fame talent on the Major League roster. It's been great to be able to watch guys grow up and contribute. The opportunities before this year were a little fewer and further between as compared to this year. ... It's definitely an exciting time for those players and for all of the staff to be able to see guys get that opportunity that they worked so hard for."
Jordan Wolf is a contributor to MiLB.com. Follow him on Twitter: @byjordanwolf.