Soddies Slug Three Home Runs In 5-4 Win
Blake Rogers Slams Door With 8th Save of the Year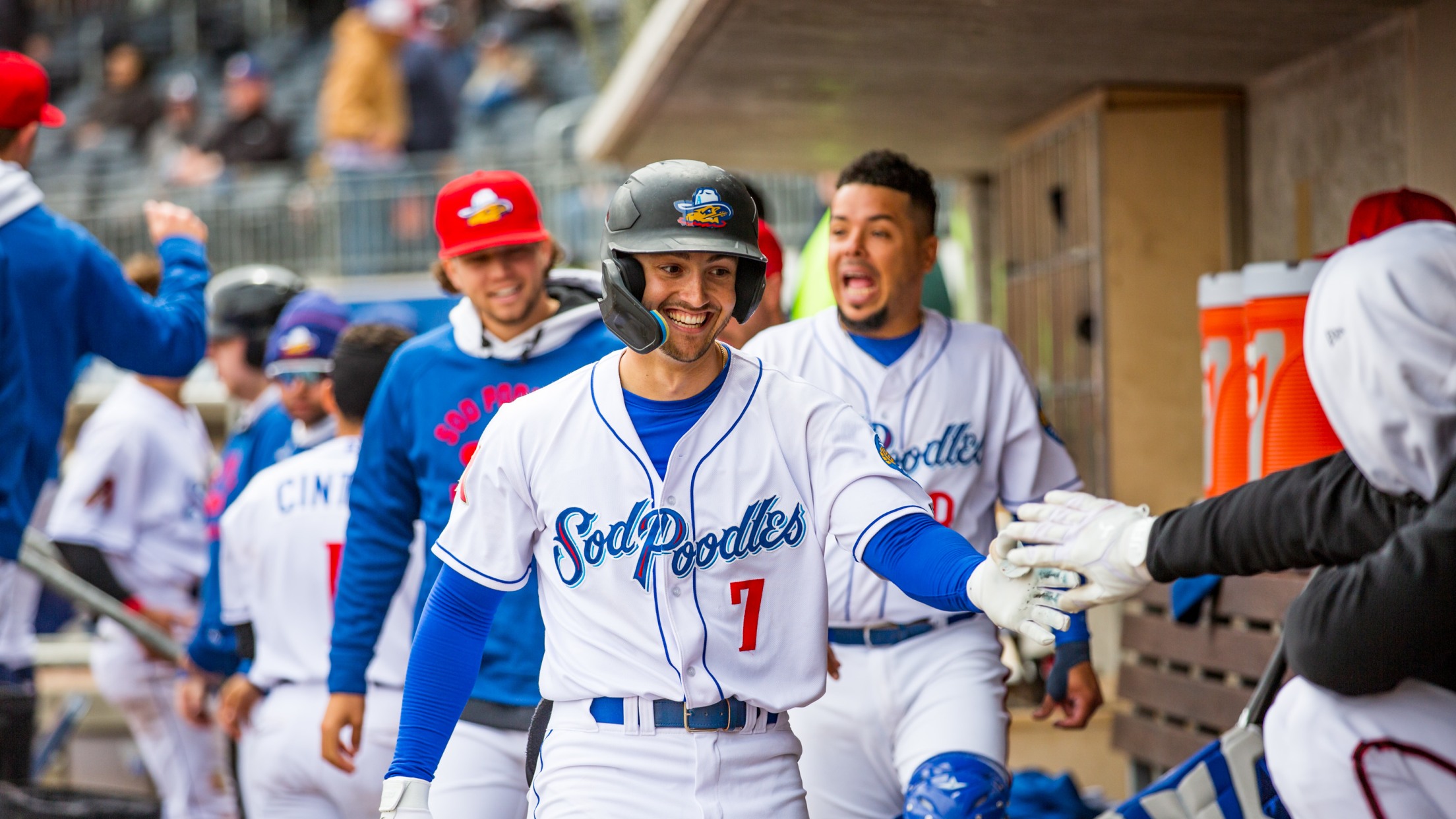 (John Moore)
Amarillo, Texas – The Amarillo Sod Poodles (45-46, 13-9) bested the Corpus Christi Hooks (40-51, 8-14) by one run in a 5-4 game-one victory on Tuesday night. Starting pitcher Deyni Olivero earned the win in a hard-fought effort, the first win of his Double-A career. Both squads traded blows in
Amarillo, Texas – The Amarillo Sod Poodles (45-46, 13-9) bested the Corpus Christi Hooks (40-51, 8-14) by one run in a 5-4 game-one victory on Tuesday night. Starting pitcher Deyni Olivero earned the win in a hard-fought effort, the first win of his Double-A career.
Both squads traded blows in the 1st inning with two runs apiece. The Hooks put together a two-out rally against Olivero, with two doubles and a single plating two runs.
In the bottom of the 1st, Dominic Canzone kicked off the offense with a single in his first game back in Amarillo since April 21. Leandro Cedeño walked to join him on the bases, and Eduardo Diaz scored them both with an RBI double.
Olivero stranded runners in scoring position in the 2nd and 3rd and Drew Stankiewicz put Amarillo on top with a solo home run in the bottom of the 2nd. He smacked his 10th home run of the year 102 MPH over the right-field wall, giving him two dingers in his last three games after his homer on Saturday in Midland.
The Soddies extended their lead to 4-2 with another solo home run in the 3rd, this one off the bat of Canzone. He smoked it 408 feet to right field, giving him back-to-back Double-A games with a home run; he hit a home run in his final game in Amarillo before being called up to Triple-A on April 21 against San Antonio
😤 @dacanzone

Welcome back to the Can-Zone, @cchooks pic.twitter.com/ZmA4ebiF15

— Amarillo Sod Poodles (@sodpoodles) July 27, 2022
Leandro Cedeño joined the power party in the bottom of the 5th with his own solo home run. He crushed a 456-foot homer over the scoreboard in left-center field, his team-leading 20th of the year. After five, Amarillo led 5-2.
Olivero cruised through the middle innings and retired eight Hooks in a row from the 3rd to the 5th. He was relieved after a leadoff single in the 6th, finishing his outing at 5.0 IP with 7 H, 2 R, 2 ER, 0 BB, and 2 K while in line for the win. He was relieved by Austin Pope, who forced a double-play and a strikeout to end the inning.
Pope struck out two more in the 7th but also surrendered two solo home runs to cut Amarillo's lead to one. Mack Lemieux entered the 5-4 game with two outs in the frame and escaped it with a groundout.
Lemieux tossed a perfect 8th inning to hand the one-run lead to Blake Rogers in the 9th inning. The closer answered the call in a big way, setting the Hooks down 1-2-3 with two strikeouts to secure the win and his eighth save of the year. The bullpen assisted Olivero in a big way as he earned the first Double-A win of his career (1-7).
blaKKe end(S, 8) the game 😤 @BlakeRogers23 https://t.co/4yhW16CP9J

— Amarillo Sod Poodles (@sodpoodles) July 27, 2022
Amarillo and Corpus Christi both collected nine hits with three home runs and one error, and both pitching staffs struck out nine. Amarillo is now 3-4 against the Hooks this year after dropping four of six in late June in Corpus Christi.
RHP Bryce Jarvis will be on the mound for Amarillo in tomorrow's game two as the Sod Poodles look to climb back to .500 on the year. With Midland's victory tonight (16-6 in the second half), Amarillo remains three games behind them (13-9) in the second-half standings.
Notes:
That's A Dub!: RHP Deyni Olivero earned the win after allowing two runs in 5.0 IP, his first win of the season and in his Double-A career. He was 0-7 through his first 13 appearances despite allowing three or fewer runs in seven of his starts. He is officially in the win column for the first time since September 2, 2019 (1058 days) when he was a member of the then-short-season Rookie Hillsboro Hops. On the year with Amarillo, Deyni is now 1-7 with a 6.38 ERA and is riding a three-game streak with two or fewer earned runs.
Just Like He Drew It Up: SS Drew Stankiewicz gave the Sod Poodles the lead in the 2nd inning with a solo home run, his 10th homer of the season. The switch-hitter has been flexing his power as of late with four home runs in his last eight games. He went 1-for-3 in tonight's game and is batting .223 on the year with 46 RBI.
Back Like He Never Left: In his first game in a Sod Poodles uniform since April 21, OF Dominic Canzone turned in a 2-for-4 performance with two runs scored and an RBI. He homered in his final game in Amarillo back in April, and his 408-foot shot tonight gave him a home run in back-to-back Double-A games. Canzone played 11 games in Amarillo before being promoted to Triple-A Reno for 47 games and returned to the Sod Poodles today after being reinstated from the IL. He's had no problem against Double-A pitching this year and is batting .381 with 14 RBI through 12 games.
Power Party: OF Leandro Cedeño joined the power parade with a solo home run in the bottom of the 5th. He topped the distance of the first two dingers with a 456-foot shot over the scoreboard. He is up to 20 homers on the season, fourth-most in the Texas League and second-most in the Arizona farm (Stone Garrett, AAA, 25). The two-hit performance raised his batting average to .302 and extended his team-leading totals to 91 hits and 66 RBI.
Save Machine: Closer Blake Rogers tossed a perfect 9th inning to secure his team-leading eighth save of the year. He struck out two in the frame and is sporting a 3.62 ERA on the year in 31 appearances. This is the second-most saves he's recorded in a single season in his career, trailing the 11 he tallied as a Sod Poodle in 2021.
Keep The Lead: The Sod Poodles led for eight of nine innings tonight after the first-inning tie, and they have now led in 34 of their last 36 innings dating back to Friday against Midland. The only inning they trailed against the RockHounds was a 9thinning walk-off on Friday, and they claimed the lead for good after Stankiewicz's 2nd inning home run tonight.