Sod Poodles Drop Series Opener In Slugfest
Dominic Fletcher Extends Hit Streak To 21 Games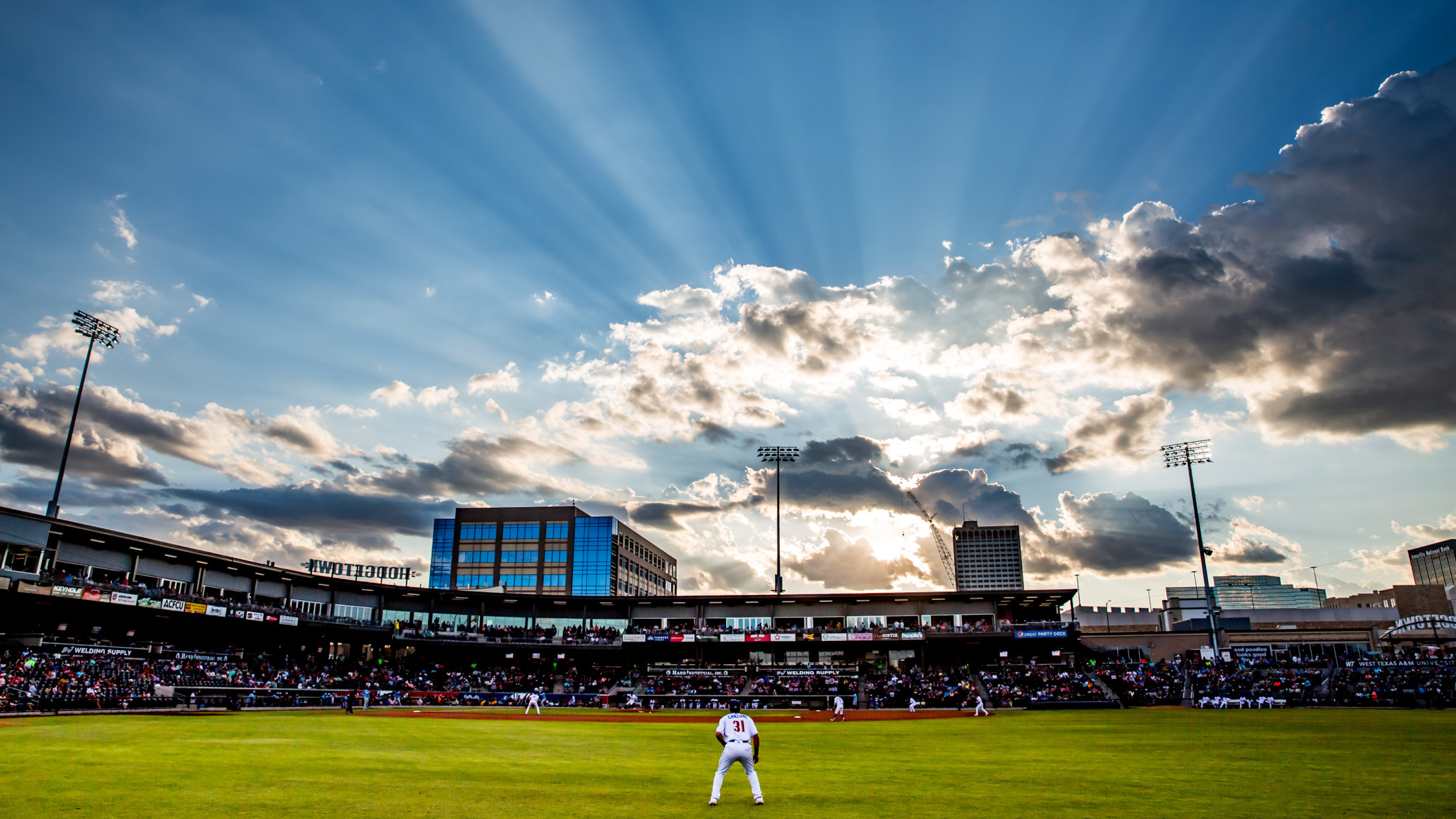 Amarillo, TX – The Sod Poodles fell in the series opener against the Tulsa Drillers in a contest that saw a combined 13 home runs and 32 hits. Leandro Cedeño got the homer parade started with his 10th of the year in the bottom of the first inning as the
Amarillo, TX – The Sod Poodles fell in the series opener against the Tulsa Drillers in a contest that saw a combined 13 home runs and 32 hits.
Leandro Cedeño got the homer parade started with his 10th of the year in the bottom of the first inning as the Sod Poodles tied the game at 2-2 after seeing the Drillers strike first. Amarillo rallied with three runs on a pair of hits and a walk, all with two outs to take a three-run lead after the second inning.
Pardon us,,, getting caught up a bit.

Leandro Cedeno got the party started with a big fly in the 1st inning!

His 10th 🚀 of the season! pic.twitter.com/G9UXRbEa6x

— Amarillo Sod Poodles (@sodpoodles) May 17, 2022
Ti'Quan Forbes added a solo home run in the third inning as Amarillo pushed their lead to four. Tulsa chipped away at the lead with a two-run home run, their first of the day after a Kody Hoese triple. Amarillo responded right away with two runs, including a RBI triple from D-backs' No. 2 rated prospect Corbin Carroll. The Drillers would score the next three runs of the ballgame to pull within a run of the lead with three solo home runs over the fifth and sixth innings.
Sod Poodles outfielder Dominic Fletcher extended his Minor League-leading hit streak to 21 games in a big way. The D-backs' No. 18 rated prospect started the game 0-for-2 with a walk before launching a two-run home run to deep right field to regain a three-run lead for the Soddies after the seventh. That's where things took a turn in favor of the Los Angeles Dodgers' Double-A affiliate.
2⃣1⃣‼️ @DomFletch15 has a hit in 21 straight games with this homer in the 7th.

END 7 | AMA - 10 | TUL - 7 pic.twitter.com/jarX2Ga3Oi

— Amarillo Sod Poodles (@sodpoodles) May 17, 2022
The Drillers plated three runs in the top of the eighth inning on three hits and an error. The final run of the inning came with a two-out solo home run to tie the game at 10 all. As the team had done all game long, the Sod Poodles responded with runs. Eduardo Diaz swatted his fifth home run of the season to put Amarillo back in front by two runs headed to the final inning.
Right-hander Blake Workman took the mound with his team-leading 1.76 ERA and riding a seven-game scoreless appearance streak. Workman induced a fly-out to Carroll patrolling center field for the first out of the inning. Tulsa's Ryan Ward notched his second solo home run of the game to cut the Amarillo lead to one run. Tulsa then hit back-to-back-to-back home runs to take their first lead since scoring the first two runs of the game. A single and two-run homer brought an end to Workman's day as the Drillers used a five-run ninth to steal momentum and the opening game of the series.
The series will continue on Wednesday night with D-backs' No. 9 rated prospect Brandon Pfaadt (1-2, 4.11 ERA) taking the mound for his seventh start of the year. The right-hander will take the hill coming off his first quality start in 2022 where he went six innings and allowed two runs on four hits in Springfield last Thursday night.
Notes:
Homer Happy: The 13 combined home runs between the two teams on Tuesday set a new franchise-high for a game Amarillo has played in. The previous high was 11 home runs which had been done twice since 2019. The most recent time came just 10 days ago right here at HODGETOWN on Mother's Day against the Midland RockHounds. On that day, Amarillo mashed six home runs. The other 11 home run game came against Tulsa back on September 11, 2019 when the Drillers set their franchise-high with nine homers in game two of the Texas League Championship Series. Tulsa tied that franchise-high with another nine home runs on Tuesday - seven of which were solo shots. The 13 combined home runs tied the Major League record for home runs in a single game set by the Arizona Diamondbacks and Philadelphia Phillies on June 10, 2019.
Three Weeks Worth Of Hits: Outfielder Dominic Fletcher went 2-for-4 with a home run and double to extend his current hit streak to 21 games. He currently leads Minor League baseball with his hit streak, seven more than the next closest active streak. His 21 straight games with a hit are the longest such streak in minor league baseball in 2022 and tied for the 8th longest streak in the minors dating back to the 2021 season. Over this stretch, the D-backs' No. 18 rated prospect is hitting .386 (34-for-88) with all seven of his season's home runs, five doubles, two triples, and 23 RBI. Fletcher's 34 total RBI on the year currently ranks T-6th in all MiLB and are T-1st in Double-A. He also ranks T-5th in Double-A with 43 hits.
Bullpen Blues: The Amarillo Sod Poodles bullpen carries a 6.82 ERA (4th highest in MiLB) and have allowed a minor league-leading 46 home runs after surrendering six of the nine Drillers home runs on Tuesday. The bullpen is now 6-for-15 in save opportunities.
Corbin Barrels: OF Corbin Carroll, the Diamondbacks' No. 2 overall prospect, No. 18 in all of baseball, and No. 4 rated outfield prospect had another quality day at the plate. The former 16th overall pick collected another two hits, going 2-for-4 with a double, and triple. For the season, his first full season in professional baseball, the 22-year-old is slashing .322/.460/.695/1.155 with 11 home runs, seven doubles, two triples, and 26 walks. In the series finale in Springfield on Sunday, Carroll became the first player in the Texas League with 10 home runs and 10 stolen bases and the first player 22-years old or younger in all Minor League Baseball with double-digit dingers and stolen bags. On top of all that, Carroll ranks 2nd in all MiLB with 38 runs scored, 4th with a 1.155 OPS, and his .695 SLG ranks 7th in the minors.
Go, Go, Cedeño: Leandro Cedeño continued his career-best start with another two hits, going 2-for-5 with a home run and two RBI. The Venezuela native ranks Top 5 in Double-A with his .358 AVG (4th), .708 SLG (3rd), and 1.113 OPS (4th). His AVG and SLG lead the D-backs' farm system while only trailing Corbin Carroll with his 10 home runs. Through 26 games played, Cedeño is just four home runs away from tying his career-high for a single season which he set in 2018 with the Cardinals' rookie affiliate in Johnson City, Tennessee (59 games).
*Diaz Dinger: *Outfielder Eduardo Diaz tallied his 5th home run in his last nine games played. This comes on the heels of starting the season without a home run in his first 18 games played. His 26 home runs since the start of the 2021 season rank second in the Diamondbacks' farm system, trailing 2021 Sod Poodles MVP and current Reno Ace star Stone Garrett (35) who tallied another home run on Tuesday, his third straight game with a homer. Over his last nine games, Diaz is hitting .405 (17-for-42) with 19 RBI and 13 runs scored.
15 or More: The Sod Poodles allowed 15 or more hits for the 8th time in 2022, falling to 0-8 in such games. On the flip side, Amarillo tallied 15 hits of their own for the sixth time in 34 games played and are now 3-3 in those contests. Tuesday marked the third time that both Amarillo and their opponent have had 15 or more hits in the same game.
*We All Rake: *All nine Soddies in the starting lineup tallied a hit on Tuesday, the fifth time doing so this season and 16th since 2019. Amarillo had seven games in 2021 where everyone in the starting lineup recorded a hit in the same game.