Seven Former Stripers Among Braves' Non-Roster Invites for 2021
Burrows, Creasy, Hoekstra, Johnstone, Morales, Kazmar Jr., and Waters all part of 25-man group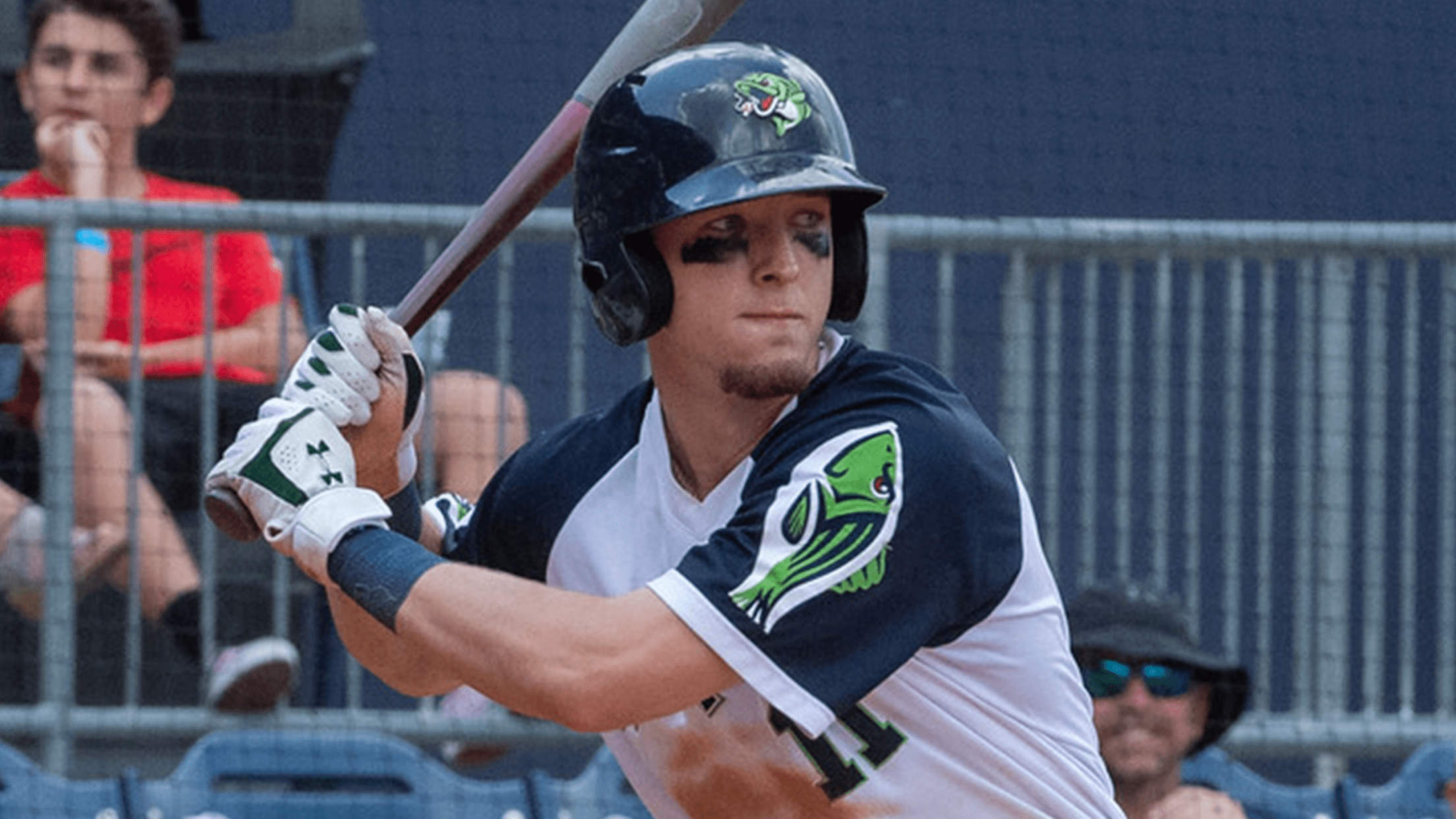 Braves' No. 2 prospect Drew Waters batted .271 with two home runs, 11 RBIs, and three stolen bases in 26 games with Gwinnett in 2019. (Bernie Connelly)
On Monday, the Atlanta Braves announced their list of non-roster invites to Major League Spring Training for 2021. The 25-player group that will train alongside Atlanta's 40-man roster in North Port, Fla. includes seven players who have spent time in a Gwinnett Stripers uniform: pitchers Thomas Burrows, Jason Creasy, Kurt
On Monday, the Atlanta Braves announced their list of non-roster invites to Major League Spring Training for 2021. The 25-player group that will train alongside Atlanta's 40-man roster in North Port, Fla. includes seven players who have spent time in a Gwinnett Stripers uniform: pitchers Thomas Burrows, Jason Creasy, Kurt Hoekstra, and Connor Johnstone, catcher Jonathan Morales, infielder Sean Kazmar Jr., and outfielder Drew Waters.
#Braves Announce 2021 Non-Roster Spring Training Invites: pic.twitter.com/bmP23DDSwG

— Atlanta Braves (@Braves) February 15, 2021
Of the four pitchers, only Johnstone has played for Gwinnett in multiple seasons, going 4-0 with a 4.67 ERA in 12 games, four starts from 2018-19. The 26-year-old right-hander made his Triple-A debut with the club in 2018 (2-0, 4.50 ERA in five games, four starts) and returned to log seven games out of the bullpen in 2019 (2-0, 4.97 ERA).
Burrows, Creasy, and Hoekstra all pitched for Gwinnett for the first time in 2019.
The 26-year-old Burrows went 1-1 with a 4.75 ERA, .230 BAA, and six saves in 27 games during his Triple-A debut with the Stripers, stranding 16 of 17 inherited runners in the process. The left-hander entered the 2020 season ranked the Braves' No. 24 prospect by MLB.com.
Creasy, a 28-year-old right-hander, tallied a Braves organization-leading 11 saves between Gwinnett and Double-A Mississippi in 2019. In his 30 regular-season outings with the Stripers, he was 3-1 with a 5.59 ERA, .259 BAA, and three saves.
Hoekstra, a 27-year-old former infielder, appeared at the top four levels of the Braves system in his first year exclusively on the mound in 2019. He topped out by making his Triple-A debut with Gwinnett, going 0-0 with a 3.24 ERA in three games, one start.
The group of three position players includes two with multiple seasons in Gwinnett and one who made his Triple-A debut with the Stripers in 2019.
Morales, 26, has batted .281 with five doubles, two home runs, 21 runs, and 21 RBIs in 50 games with Gwinnett since 2018. All seven of his extra-base hits with the Stripers came in 2019, when he slashed a solid .289/.341/.380 in 34 games. Behind the plate, Morales threw out 50% of attempting base stealers (8-of-16) and guided the team to a 16-7 record in his 23 starts.
Kazmar Jr., 36, is the longest-tenured player in Gwinnett history, having spent each of his last seven seasons (2013-19) with the club. Entering 2021, he leads the Gwinnett franchise in career games (667), at-bats (2,310), hits (620), total bases (882), doubles (127), runs (279), and RBIs (270), and ranks among the top five in triples (2nd, 12) and home runs (4th, 37). Kazmar is also just 37 hits away from tying Larry Whisenton (657 hits from 1976-81, 1983-85) for the most hits by an Atlanta Braves Triple-A player all-time. In 2019, he hit .270 with 21 doubles, two triples, 12 homers, 55 runs, and 61 RBIs in 108 games.
Waters, 22, is the biggest prospect of the group, having been ranked No. 2 in the Braves organization by MLB.com in 2020. The switch-hitting outfielder combined to bat .309 with 40 doubles, nine triples, seven homers, 80 runs, 52 RBIs, and 16 stolen bases in 134 games between Mississippi and Gwinnett in 2019. After winning the Double-A Southern League MVP award and Batting Title (.319 in 108 games), he made his Triple-A debut with the Stripers, batting .271 with five doubles, two homers, 11 RBIs, and three steals in 26 games.
Of the seven former Stripers invited to camp, only Morales and Waters played at the Braves' Alternate Site in Gwinnett in 2020. Other Alternate Site alums on Atlanta's non-roster invites list includes pitchers Victor Vodnik and William Woods, catchers Logan Brown and Shea Langeliers, infielders Bryce Ball, Pablo Sandoval, and Braden Shewmake, and outfielder Michael Harris II.
Braves' pitchers and catchers report to CoolToday Park in North Port, Fla. on February 18, while the first full-squad workout is set for February 23. Atlanta's first Grapefruit League game of the season is February 28 at the Tampa Bay Rays.