Scouting report: Cubs prospect Ed Howard
Chicago-area native showing flashes of brilliance with Myrtle Beach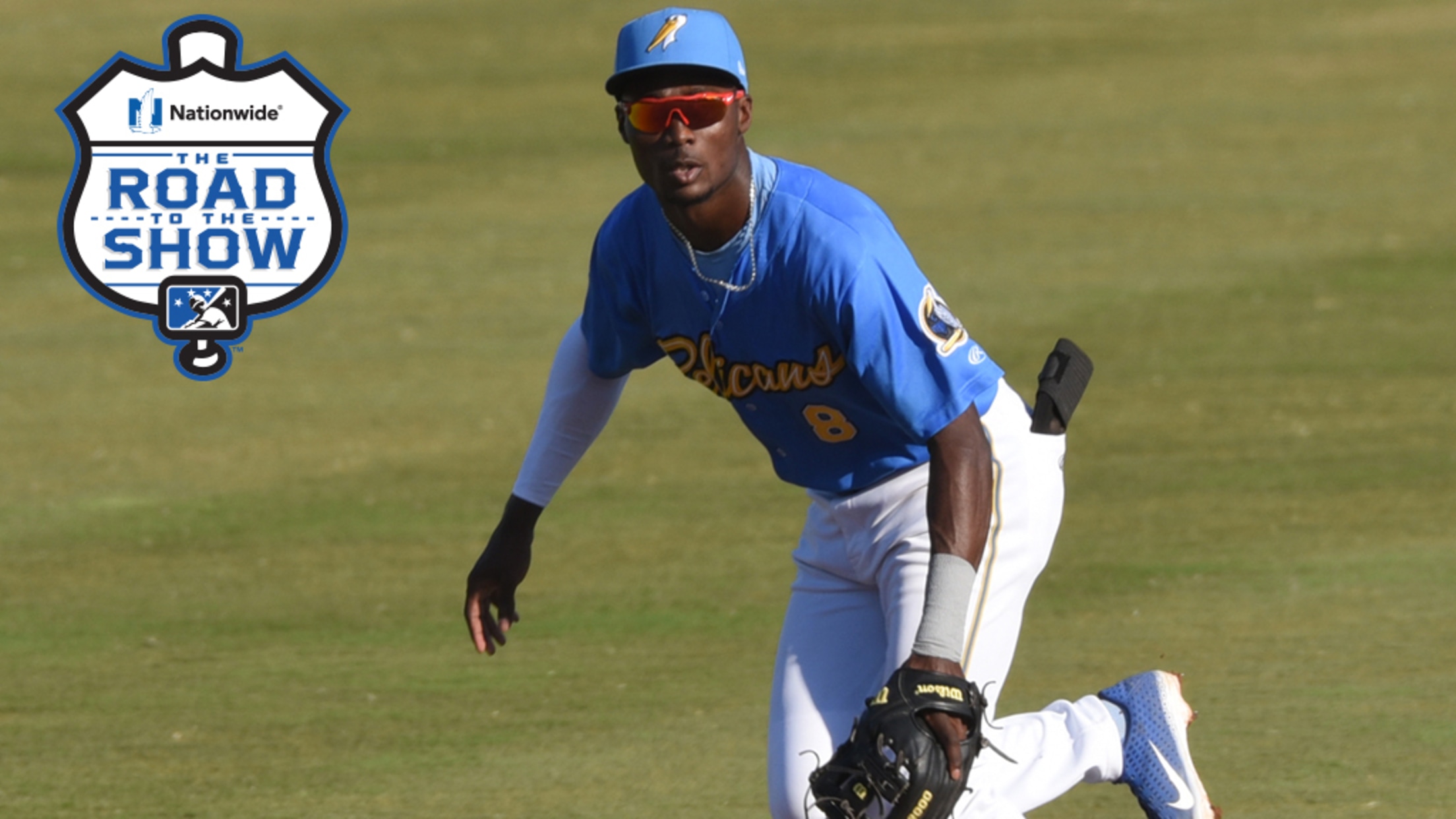 The 16th overall selection in the 2020 Draft, 19-year-old shortstop Ed Howard is ranked as the Cubs' No. 5 prospect. (Nick Musial/MiLB.com)
MiLB.com's Scouting Report series spotlights players who are just starting their professional careers, focusing on what the experts are projecting for these young phenoms. Here's a look at fifth-ranked Cubs prospect Ed Howard. For more player journeys on The Road to The Show, click here. Ed Howard seemed destined to
MiLB.com's Scouting Report series spotlights players who are just starting their professional careers, focusing on what the experts are projecting for these young phenoms. Here's a look at fifth-ranked Cubs prospect Ed Howard. For more player journeys on The Road to The Show, click here.
Ed Howard seemed destined to play professional baseball.
From his Little League World Series highlights with Jackie Robinson West in 2014 to his dominance at Mount Carmel High School in Chicago, Howard built an impressive resume that led to 2019-20 Gatorade Illinois Baseball Player of the Year honors, his ranking as the No. 1 shortstop prospect in the class, and eventually, a first-round selection in the last year's Draft.
Despite not playing his senior year because of the coronavirus pandemic, Howard was selected 16th overall by the Cubs to become the first Illinois high school position player to be drafted in the first round since Jayson Werth in 1997.
"We knew that he had the intangibles that we were looking for. We're ecstatic. Having the opportunity to select Ed Howard with our first pick was literally our best-case scenario, and we couldn't be more thrilled," Dan Kantrovitz, vice president of scouting for the Cubs told MLB.com in June.
The #Cubs tonight selected shortstop Ed Howard out of Mount Carmel High School in Chicago with the 16th overall pick in the 2020 Major League Baseball First-Year Player Draft. pic.twitter.com/PQCDQpTLv6

— Chicago Cubs (@Cubs) June 11, 2020
Less than a year out of high school, Howard participated in the instructional league. After that, Howard went straight into Spring Training before opening the 2021 season with Myrtle Beach.
"I always knew he was a very gifted defender but he wasn't really strong the last time I saw him. I'm really surprised at how physical he is now. He's strong in his shoulders and back and he's really hitting the ball hard in BP, making good swing decisions. I could gush about his tools all day. But I'm also very impressed with his makeup and maturity and high baseball IQ." Matt Dorey, the Cubs' vice president of player development, told MLB.com in October.
"I just get to focus on baseball 24/7. It's pretty much a job now and I get to do what I love everyday. Being true to myself, I always feel like I'm in my position because I deserve it," Howard said on The Show Before the Show podcast in December. "I've been listening a lot, taking everything in, learning to play the game at a high level and how to be a pro. I know how special it is, being a hometown kid, having a great opportunity here with the Cubs. It's special, a lot of people dream of moments like these and I have the opportunity to live it. I really feel like this is the right spot for me,"
Howard's belief in himself and love for the game is what has continued to elevate him to the next level. The people around him know that, and Howard knows there is always more work ahead of him.
"I'm big on being not only a great player on the field, but I'm big on being a great person off the field. My parents are real into that. They push me to be my best self all the time," Howard told NBC Sports Chicago in June.
"He's a humble, hard-working kid. He loves the game. He's going to be great in the clubhouse at the professional level. He's all of that. Besides all of the obvious talent on the field, he has the intangibles, too," Howard's high school coach Brian Hurry told MLB.com in June.
Ed Howard! 😱

The @Cubs' No. 5 prospect lays out to snare a liner for @Pelicanbaseball. pic.twitter.com/C97dcdUInc

— MLB Pipeline (@MLBPipeline) July 17, 2021
When being scouted initially, Howard was said to have great defensive skills at his position, with good range, hands, arm and instincts -- all desirable qualities for a great shortstop.
"He's probably certainly one of the elite defenders in the Draft. It's a guy that we've just known a long time. We've seen him develop as a hitter and have always seen an elite defensive glove at shortstop," Lucas McKnight, Cubs scout told MLB.com in June.
"Fundamentals have to be down. You kind of learn at a young age, and I feel like the older you get, you learn on hitter tendencies and to always be at the right place, at the right time. Those are the best shortstops. I've watched a lot of shortstops, everyone's game a little different and you can learn and take little things from different players, but you got to be yourself," Howard said on the MiLB podcast.
Now the club's No. 5 prospect, Howard seems to have that star potential that the restructuring Cubs will look to build around. After recovering from a hamstring injury suffered on May 21, Howard has shown consistent improvement at the plate in his first professional season. Up to that point, he was batting .208/.288/.245 in 53 at-bats. But in July, he batted .216/.266/.295 while going deep for the first time in his Minor League career.
Here's what the experts at MLB Pipeline have to say about Howard:
Scouting grades (20-80 scale)
HIT: 50
POWER: 50
RUN: 55
ARM: 55
FIELD: 60
OVERALL: 55
"The starting shortstop on the Jackie Robinson West (Chicago) teams that advanced to the 2014 Little League World Series finals, Howard became just the third Windy City-area product selected in the first round by the Cubs. The top true shortstop in the 2020 Draft, he followed in the footsteps of Brian Rosinski (1975) and Don Schulze (1980) when Chicago took him 16th overall last June. Signed for $3,745,500, he impressed the Cubs with his physical and mental maturity during instructional league.
"The best defensive player in the system, Howard is a no-doubt shortstop. He has smooth, athletic actions as well as quick hands and a solid to plus arm capable of making throws from a variety of angles. He has the high baseball IQ to make the most of his tools and the internal clock to slow the game down on both sides of the ball.
"While Howard drew some mixed reviews as a hitter on the high school showcase circuit, he has an efficient right-handed swing and mature approach that should allow him to make consistent contact. He generates promising bat speed and is adding strength to his projectable 6-foot-2 frame, so he could develop at least average power. He's a solid runner who's an asset on the bases."
Michael Huang is a contributor to MiLB.com.