Scouting report: Cubs left-hander Wicks
Chicago's No. 5 prospect enters first full season with new look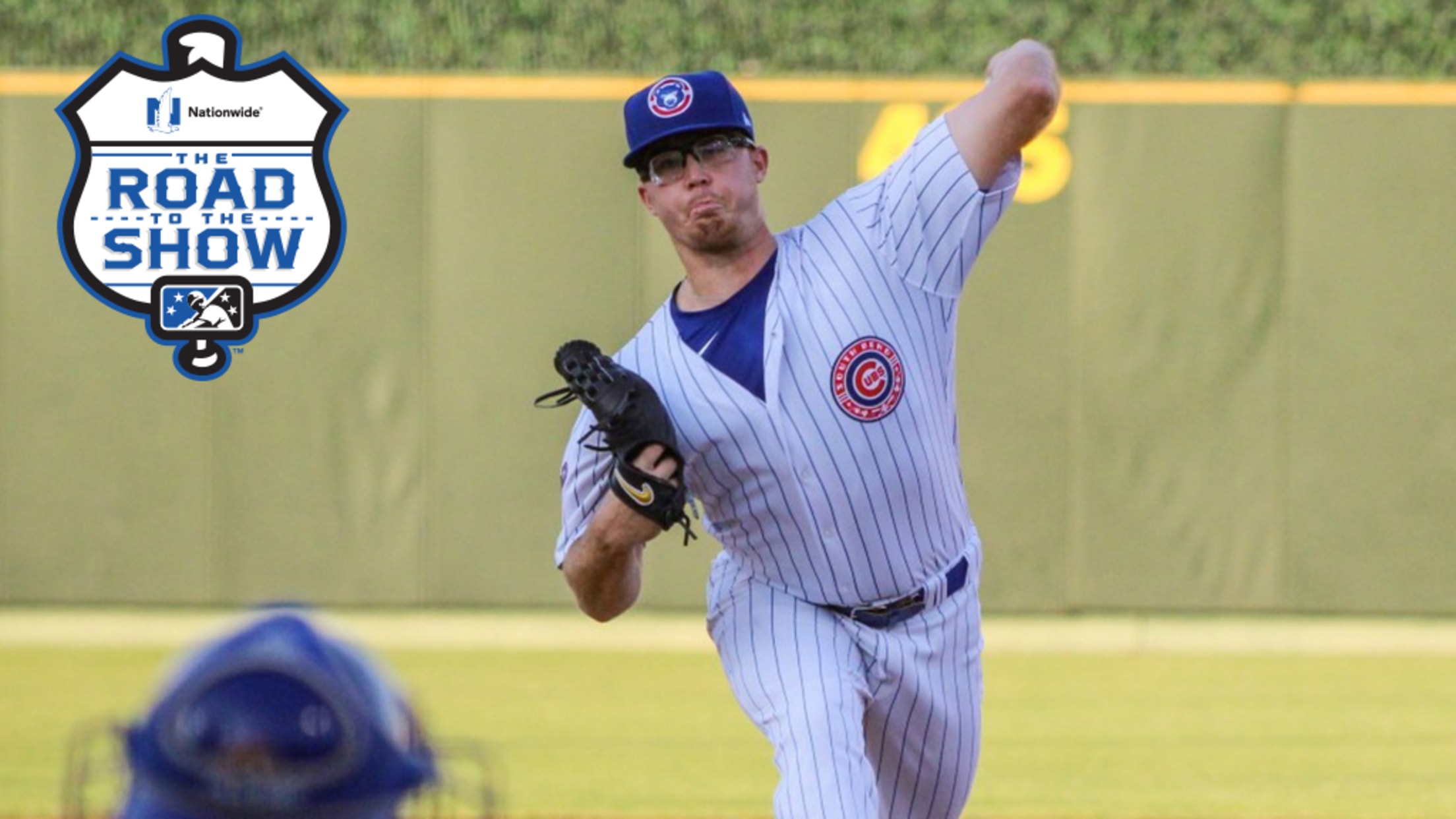 Jordan Wicks was selected No. 21 overall by the Cubs in the 2021 Draft. (South Bend Cubs)
MiLB.com's Scouting Report series spotlights players who are just starting their professional careers, focusing on what the experts are projecting for these young phenoms. Here's a look at fifth-ranked Cubs prospect Jordan Wicks. Since his professional debut, Jordan Wicks has rolled out a transformed pitch mix for his first full
MiLB.com's Scouting Report series spotlights players who are just starting their professional careers, focusing on what the experts are projecting for these young phenoms. Here's a look at fifth-ranked Cubs prospect Jordan Wicks.
Since his professional debut, Jordan Wicks has rolled out a transformed pitch mix for his first full season.
Wicks was selected by Chicago in the first round of last year's Draft. He got a tune-up at the team's facility in Arizona before an assignment to High-A South Bend. The left-hander pitched seven total innings, yielding four runs and striking out five, over four short starts in his first Minor League action.
Prior to the Draft, Wicks had proven to be one of the best college arms and perhaps the best lefty on the board. By the end of his final season at Kansas State, he had an outstanding changeup that played well off his low-90s two-seam fastball, and a pair of breaking pitches that were still a work in progress.
Wicks, the Cubs' fifth-ranked prospect, returned to Arizona for the team's Minor League minicamp in February with some different arrows in his quiver.
"I feel like I'm loaded up, weapon-wise," Wicks told reporters, including MLB.com. "Different than I ever have been. … I'll still be the same type of bulldog pitcher that I've always been. But I'm just excited for these new weapons and to see how I use them."
The 22-year-old's plus-plus changeup remains the same. The Cubs have recently been unafraid to have a pitcher switch their changeup grip, with Caleb Kilian and DJ Herz – two pitchers who had excellent seasons in the Minors last year – as prime examples. But Wicks retained his circle-change grip. He also explained the need to trust the pitch's natural movement and work more in the zone.
"It's got so much action to it, so much late life," Wicks told MLB.com. "If you think about it, hitters want to hit pitches right down the middle. They don't want to hit stuff on an edge. … So if you start a changeup on an edge, it's an auto-take. If you start a changeup down the middle, you get a lot of swings and the action takes care of everything after that."
Wicks' other three offerings certainly have a new look. He moved away from his two-seamer to work primarily on his four-seamer. The Cubs encouraged the 6-foot-3, 220-pound hurler to use the pitch at the top of the zone to put an emphasis on the rising action.
The Conway, Arkansas native also changed the action on his slider – which previously had tighter, cutter-like spin – in favor of a pitch with more horizontal sweeping movement. This change affected his curveball approach as well. His new curveball has more vertical break and downer action, which has been a favorite of Cubs pitching coordinator Casey Jacobson.
Wicks will return to South Bend to open the season and will be joined by a handful of other top Cubs prospects, including No. 9 prospect Herz, outfielder Owen Caissie (No. 8), righty Kohl Franklin (No. 12) and shortstop Ed Howard (No. 14).
Jordan Wicks, Wicked Slider...and Sword. ⚔️ pic.twitter.com/q8tdGRn7FG

— Rob Friedman (@PitchingNinja) March 17, 2022
Wicks made his Cactus League debut on Mar. 17 and allowed a run on a Bryan Ramos homer over two innings. He also struck out three and yielded a walk, but took the loss in the contest.
"Every time you go to a new level, you get excited to compete against new guys, just the newness and the excitement of it," Wicks said after signing a slot-value $3,132,300 deal last July. "And so I'm excited for the new experiences, the learning along the way, and I'm excited to do it with such a world-class organization, an organization with so much history."
Although his arsenal may look different, the Cubs' are likely hoping for the results to look familiar to what he captured in a legendary college career with the Wildcats. After he was selected, Cubs vice president of scouting Dan Kantrovitz called Wicks "the complete package of somebody that we think's got the resiliency to be a big league starter."
Here's what the experts at MLB Pipeline have to say about Wicks:
Scouting grades (20-80 scale)
FASTBALL: 55
CURVEBALL: 45
SLIDER: 55
CHANGEUP: 65
CONTROL: 55
OVERALL: 50
"Lightly recruited as an Arkansas high schooler, Wicks won the Big 12 Conference Freshman of the Year award in 2019 and set Kansas State school records for single-season (118) and career (230) strikeouts last spring. The top left-hander in the 2021 Draft, he unexpectedly fell into the laps of the pitching-needy Cubs with the 21st overall pick. The first Wildcat drafted in the first round, he signed for $3,132,000 and made a seven-inning pro debut in High-A.
Wicks features the best changeup from last year's Draft, a low-80s weapon with tumble that earns plus-plus grades from some scouts. He sells it well with the same arm speed with which he delivers his fastball, which sits at 91-94 mph and touches 97 with good carry up in the strike zone. He improved his low-80s slider during his last season of college, turning it into a solid third offering that he can also modify into a harder cutter, and he also owns an upper-70s curveball.
There's little effort in Wicks' delivery and he repeats it well, allowing him to pound the strike zone and work on either side of the plate. In addition to his advanced stuff and command, he also stands out with his creativity and competitiveness on the mound. He comes with a high floor as a near-certain starter and may not require much more than a year in the Minors before he's ready for Wrigley Field."