Express help unlock Austin Black Senators' history
Event that began last year will continue to bring stars to forefront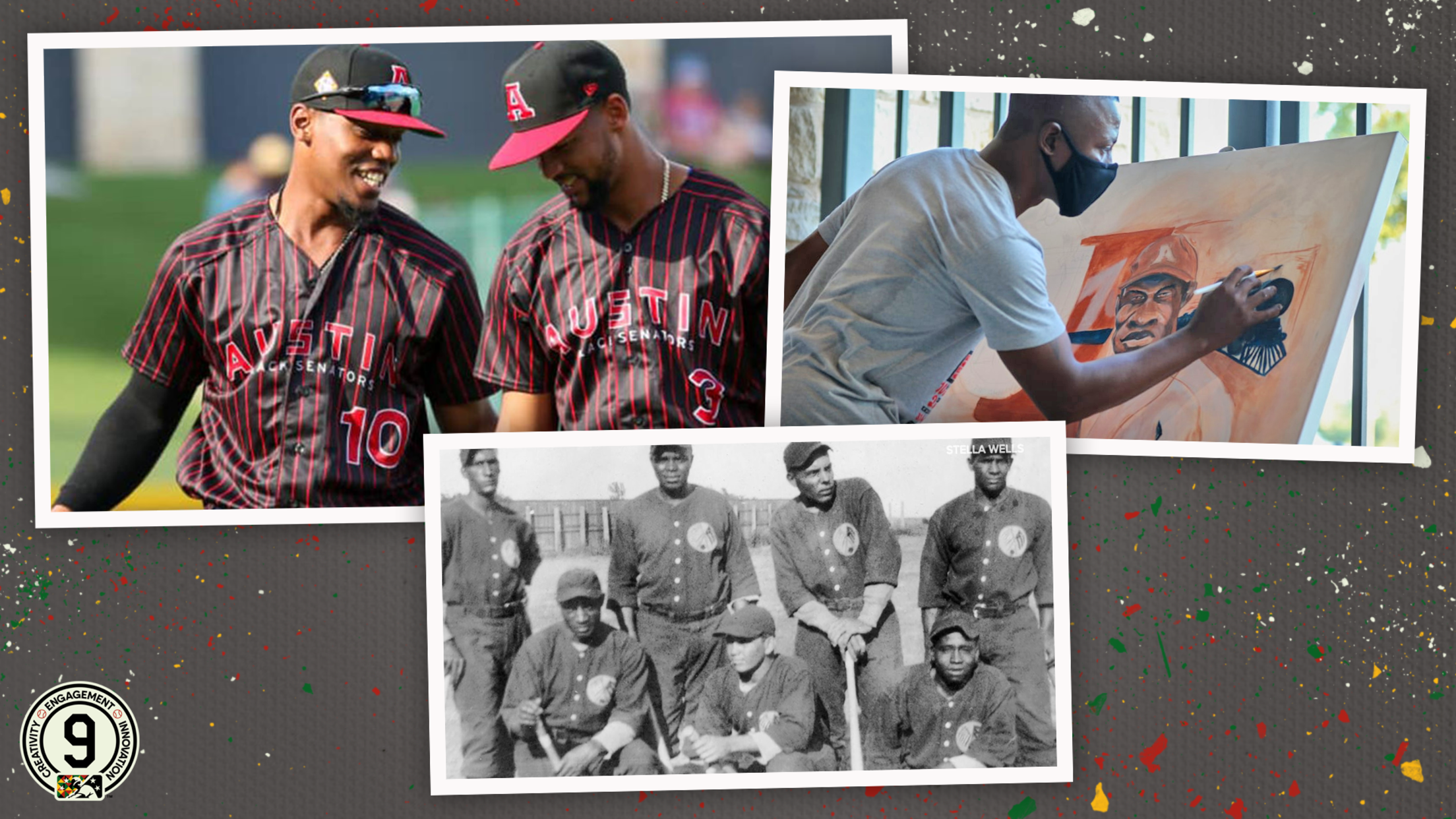 The Triple-A Round Rock Express transformed into the Austin Black Senators last July and auctioned off a painting of Willie Wells. (Round Rock Express)
Downs-Mabson Field in Austin, Texas, currently serves as home to the Huston-Tillotson University Rams baseball team, but in the early 1900's, it was the stomping grounds of the Austin Black Senators. Named after Dr. Reverend Karl Downs, president of Huston College from 1943 to 1948, and George Mabson, manager of
Downs-Mabson Field in Austin, Texas, currently serves as home to the Huston-Tillotson University Rams baseball team, but in the early 1900's, it was the stomping grounds of the Austin Black Senators.
Named after Dr. Reverend Karl Downs, president of Huston College from 1943 to 1948, and George Mabson, manager of the Black Senators, who played at that site in its previous incarnation, it serves as a monument to the history of Black baseball in central Texas.
The Austin Black Senators were one of the earliest Black baseball teams to play in the region and featured Hall of Fame talent over its nearly 50 years of existence. The earliest reference to the club came in the Austin Statesman newspaper in 1908. The Black Senators played independently for over a decade before joining the Texas Colored League in 1923, one of several minor Negro leagues. After the circuit folded for the first time in 1926, the team kept playing into the 1950s through independent leagues and barnstorming matchups, mainly in Texas, southern America and Mexico.
There isn't much record of the Texas Negro Leagues of the early 1900s and the Black Senators, since they mainly played independently and on circuits that fed the Negro National League. Newspapers in the region published the starting pitching matchups, but often did not record lineups, box scores or anything else from the contests.
"The White press did not give a lot of recognition and space to these games. Only to promote them, to get people to the stands, but after, the results really aren't that well-published," said Bill Staples Jr., an independent baseball historian who has done thorough research on the Texas Negro Leagues. "Unlike what occurred in the Midwest and the East; those games are well-documented. I think it's a reflection of racial attitudes and relations at that time and place."
To bring more of central Texas' history in Black baseball to light, the Round Rock Express, the Triple-A affiliate of the Texas Rangers, paid homage to the Austin Black Senators on July 31, 2021 with a day of celebrations during a matchup against the Oklahoma City Dodgers. Round Rock wore the Black Senators uniforms and auctioned them off during the game, donating $5,000 to the Willie Wells Memorial Scholarship at Huston-Tillotson University, the historically Black college located in Austin.
Wells was born in Shawnee, Oklahoma, but grew up in Austin and played for the Black Senators in the early 1920s. Considered one of the best players of his era despite never getting the chance to compete in the Major Leagues, he became a focus of the Express' celebrations. Round Rock commissioned a mural featuring Wells and the Black Senators and auctioned off a portrait of Wells painted during the game by Tyson Davis of the Austin-based non-profit group Capitol View Arts. In partnership with Austin musician Kydd Jones, who performed a postgame concert, the Express designed and sold Wells and Black Senators merchandise at their team store and online. The club donated $1,500 of the proceeds to the Round Rock Black History Organization.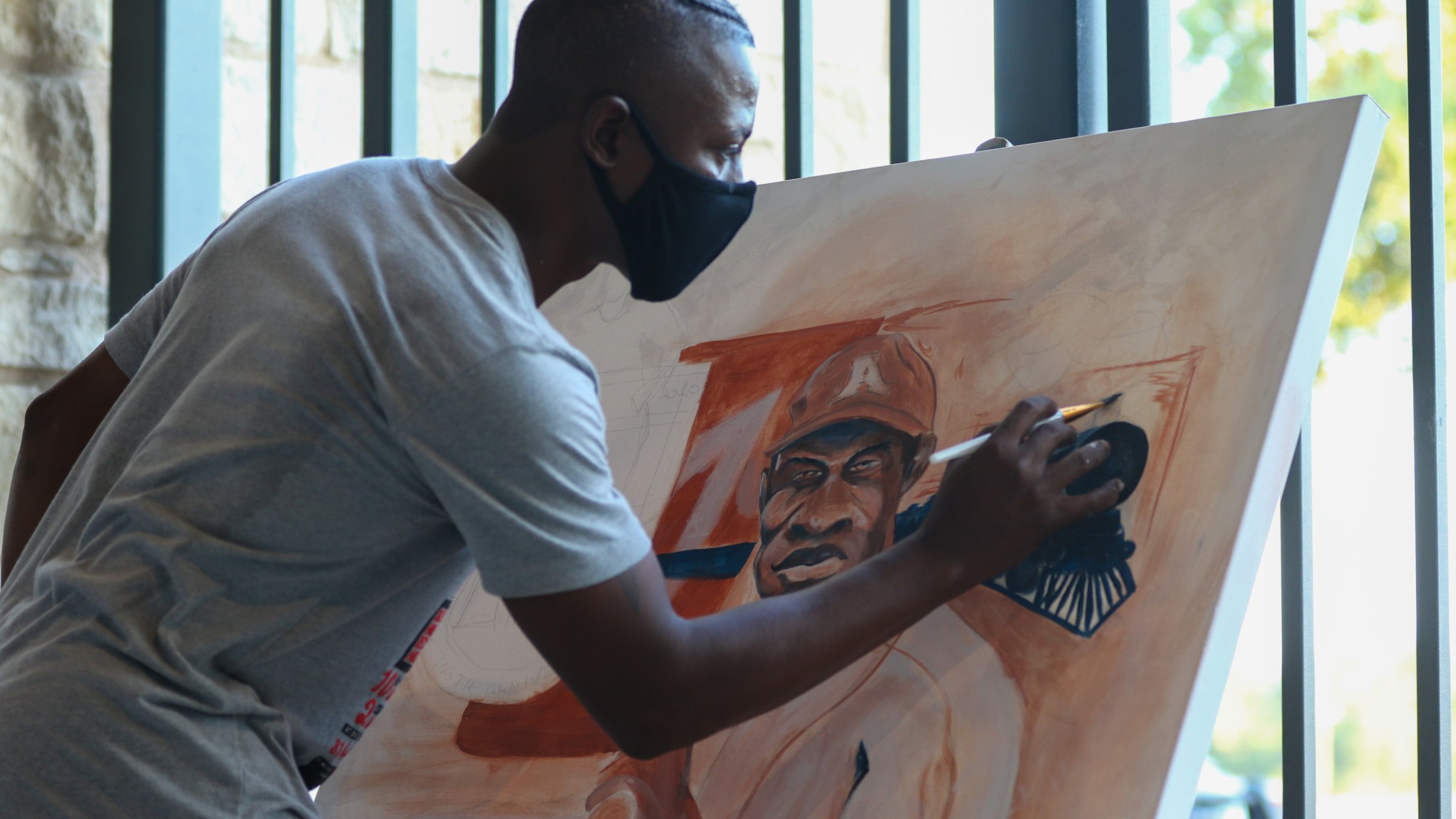 "We wanted to truly make a difference, give back and honor Willie and his daughter, Stella, who had kept his memory alive so well until she passed a few years ago," said Laura Fragoso, Round Rock's senior vice president of marketing.
Wells was a true five-tool player before the term had even been coined and was called "the greatest shortstop in the world" by legendary outfielder Cool Papa Bell. Wells manned shortstop for many great Negro League teams, including the St. Louis Stars, Homestead Grays, Kansas City Monarchs, Chicago American Giants and the Newark Eagles, where he teamed up with Hall of Famers Mule Suttles and Ray Dandridge to form the famous "Million Dollar Infield" in the late 1930s.
Nicknamed "El Diablo" during his time playing in Mexico because of his acrobatic style of play on defense, Wells is credited with teaching Jackie Robinson how to turn a double play and the introduction of the batting helmet to the Negro Leagues. He used a modified hard hat for protection after being hit by a pitch on his temple in 1942.
Wells racked up 51.1 WAR, 1,297 hits, 140 home runs, 160 stolen bases and a career .331/.409/.537 slash line in 1,038 games, according to Negro League stats compiled by Baseball Reference. He was a 10-time All-Star even though the East-West All-Star Game wasn't created until 1933, 10 years into his career, and was inducted to the Hall of Fame posthumously in 1997. He subsequently was enshrined in the Cuban and Mexican Baseball Halls of Fame.
Perhaps his finest season came in 1930 for the St. Louis Stars, when he posted a .411/.492/.682 slash line with a 1.174 OPS in 395 plate appearances, leading the Negro National League in runs (112), hits (138), doubles (34), home runs (17), RBIs (114), stolen bases (18), walks (52), total bases (229) and batting average.
"Willie's story really became the catalyst for [the celebration]," said Fragoso. "What he did for the game of baseball, what he did for Black athletes at the time and all that he accomplished in his career, we just really want to tell that story and make it so people know who Willie Wells is."
Stella Wells founded the memorial scholarship in her father's name after his passing in 1989, but it had gone unfunded for many years before the Nolan Ryan Foundation and the Round Rock Express re-established it for the 2022 academic year. Huston-Tillotson plans to announce the winner this spring, and Round Rock plans to further its relationship with the university with its 2022 celebration of the Black Senators, currently planned for April.
"It was important for us to have it during the school year as our partnership with Huston-Tillotson University grows, so that their student body can become more involved," said Fragoso. She added that the Express will lend Huston-Tillotson's baseball team its uniforms in the weeks leading up to the event and plan to host the squad at the game in April.
The partnership between Round Rock and Austin's HBCU is a natural one, as the school has had ties to Black baseball legends for over 80 years. Downs Field, formerly known under many names, was used by Wells, Robinson and the Black Senators. Because of his connection to university president Downs, Robinson even served as the athletic director and basketball coach for the school in 1944 and 1945, when it was known as Samuel Huston College.
"It's not self-serving to us, it's just the right thing," said Round Rock president Chris Almendarez of the growing relationship between the team and the school. "It's part of what our mission is in growing the game of baseball. If it's growing it in the African-American population, the Hispanic population, whoever it is, that's who we want coming into Dell Diamond."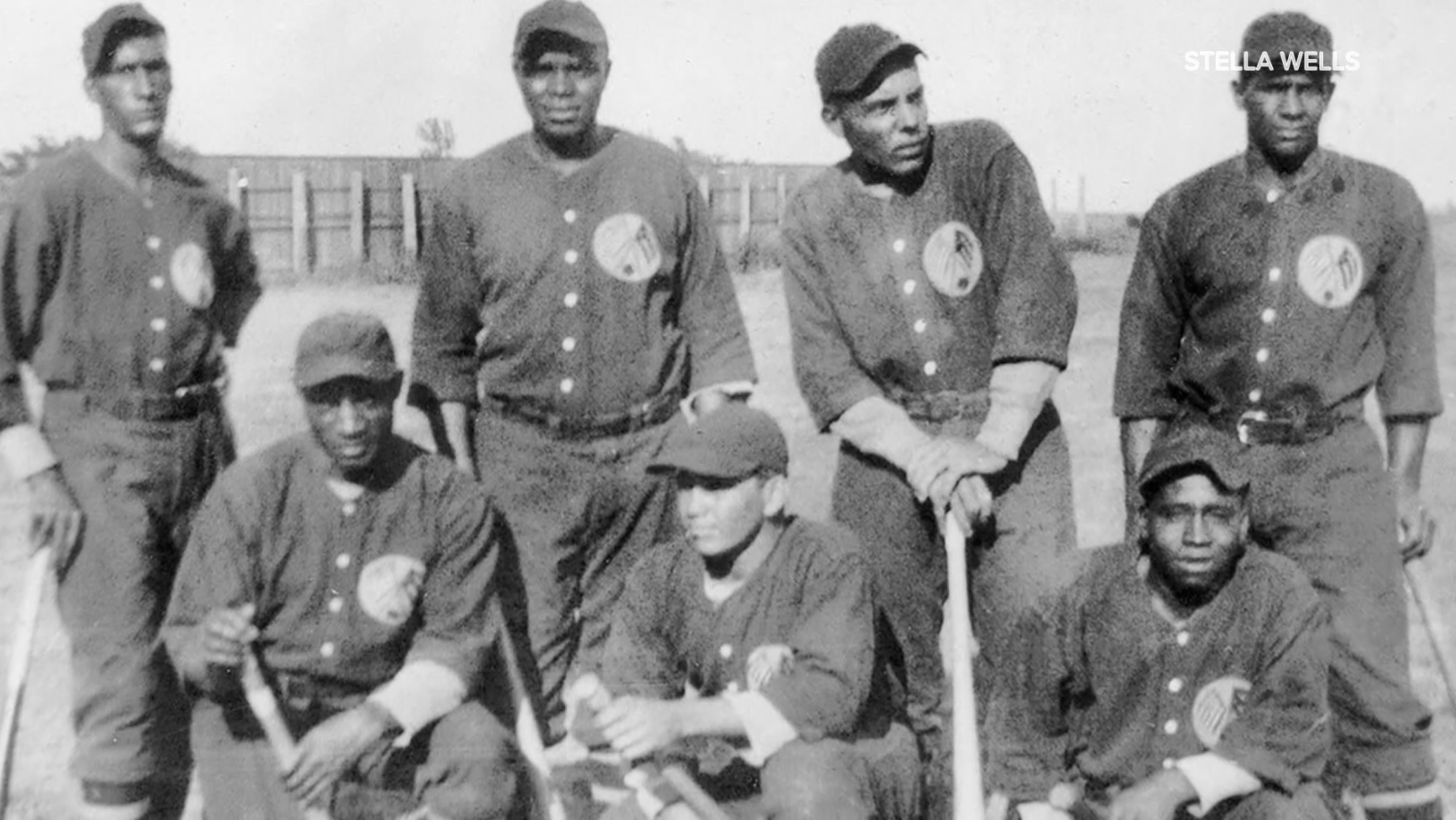 While Wells' connection to Central Texas as an Austin native and his status as a baseball legend made him a natural choice to be the face of Round Rock's celebrations, he was not the only legendary Hall of Famer to don a black and red pinstriped Black Senators uniform.
Hilton Smith, who was born an hour east of Austin in Giddings, Texas, pitched for the Black Senators in 1931 and 1932. After defeating the Monroe Monarchs in the 1932 Dixie League championship, he was signed by Monroe and played there until 1935, returning to Austin for a brief barnstorming tour in Mexico in 1933. In 1935, Monroe played against the Bismarck Churchills, an iconic integrated semipro team that featured Hall of Famers Satchel Paige and Ted "Double Duty" Radcliffe, and they signed Smith away from Monroe after their matchup.
"Hilton Smith is a really good example of how opposing teams would recruit and sign other players," said Staples Jr. of the nomadic player movement often seen between the Negro Leagues and semipro leagues of the time.
After being scouted while on barnstorming tours and during the annual Wichita semipro tournament with Bismarck, Smith signed with the Kansas City Monarchs in 1936. He won three championships in his 13-year run with the club and wound up as part of one of the most formidable pitching tandems in history when Paige was signed in 1940. Because Paige was such a huge draw for attendance, Smith often relieved him. He was also a capable hitter and made starts in the outfield throughout his career.
Like Wells, Smith's fantastic curveball was also nicknamed "El Diablo" by fans in Mexico. According to Baseball Reference's Negro League stats, Smith sported a 2.86 ERA over 148 games (89 starts) spanning 851 2/3 innings with 552 strikeouts and a 66-35 win-loss record in his 13-year career. His stats aren't complete though, mainly consisting of his numbers from his Kansas City career.
He made seven East-West All-Star Game appearances and led the Negro National League in strikeouts and innings pitched four times, WHIP three times, wins twice and ERA once. In 1941, Smith posted a perfect 10-0 record for the Monarchs with a 1.53 ERA and a league-leading 53 strikeouts in 76 2/3 innings. He was posthumously inducted into the Hall of Fame in 2001 through the Veterans Committee.
Wells and Smith faced off several times in their careers, most famously in the East-West All-Star Games of 1937, 1938 and 1939. In 1939, the Pittsburgh Courier reported that the two former Austin stars were among the top overall vote getters for their respective teams, with Wells receiving 204,578 votes for the East and Smith getting 193,389 for the West. Their final battle came in 1948, when Smith's Monarchs took on Wells' Memphis Red Sox in the Negro American League.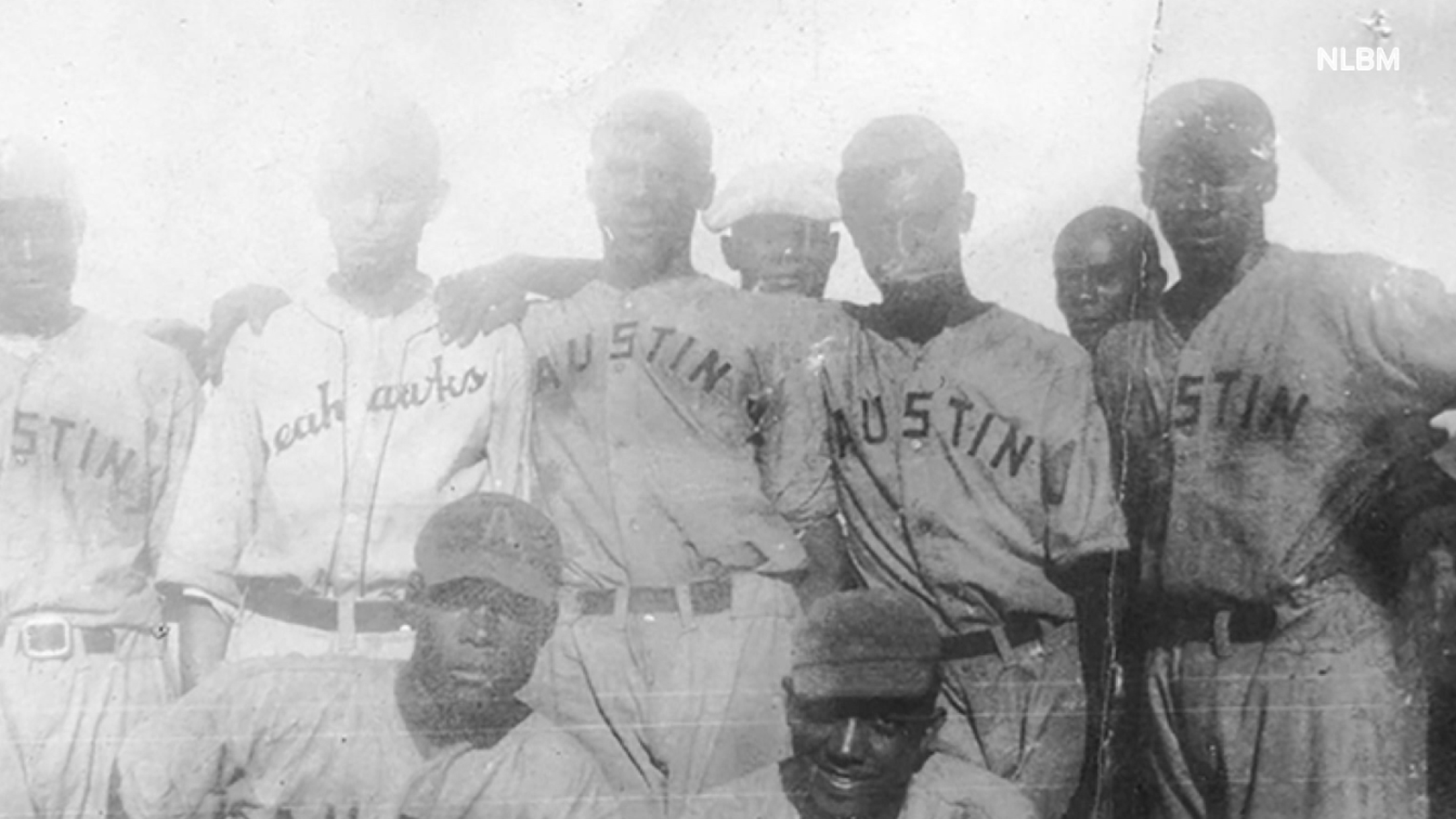 Other influential Black players with ties to the area in the era included Roy "Red" Parnell, an outfielder and manager born in Louisiana in 1905. He played for the Black Senators at various points in the 1920's and 1930's and attended school at Samuel Huston College. He is best known for his eight-year stint with the Philadelphia Stars at the latter half of his career, but turned in two of the most impressive individual seasons in Negro League history prior to joining the Stars. At age 23 in 1927, his first season for the Birmingham Black Barons, Parnell won the Negro National League batting title after posting a slash line of .422/.464/.653 with a 1.117 OPS, 10 home runs, 11 triples, 24 doubles and a league-leading 141 hits.
In 1932, he put together an impressive two-way season for the Monroe Monarchs. Parnell led the circuit in triples (11), doubles (12), RBIs (50) and slugging percentage with a .350/.387/.556 slash line in 194 plate appearances. He also won the league's ERA title with an 0.83 mark and a 5-1 record over 54 innings in seven games.
Infielder Newt Allen was born in Austin in 1901 and is best known as the second baseman for the Kansas City Monarchs in the 1920s and 1930s, spending 16 years with the team. He was given the nickname "Ashes" by teammate and Hall of Famer Buck O'Neill because of his hot temper. He collected 1,029 hits in 922 games, according to Baseball Reference, making five All-Star Game appearances and winning two championships. Allen has been on the Era Committees ballot for entry into the Hall of Fame in recent years.
Joe Williams, better known by his nicknames "Smokey Joe" and "Cyclone Joe," was considered one of the greatest and most feared pitchers to step foot on a mound. Born 50 miles south of Austin in Seguin, Texas, in 1886, Williams pitched for the Austin Reds and tossed a no-hitter against the New York Giants in 1919 as a member of the New York Lincoln Giants. He was triumphant in matchups against some of the greatest White pitchers of his era, including Walter Johnson, Grover Alexander, Eddie Rommel and Rube Walberg.
Lon Goodwin, also known as Lonnie Graves during his playing days, was a shortstop, pitcher and manager born in Austin in 1878. He played for the Austin Reds during his career, but according to Staples Jr., he had an international impact on the game, taking teams on tours of Japan, Korea, China and the Philippines in the 1920s and 1930s.
"He really helped spread the game internationally, not just for Negro Leaguers, but for baseball in general," said Staples Jr. "He really served as a great baseball ambassador in a time period where Major League Baseball wasn't going overseas. In 1922 to 1931, no Major League team toured Asia, and the Negro Leaguers filled that gap along with the Japanese-Americans."
Round Rock's connection to the wealth of Negro League history in the Austin area is just starting to come to the forefront. With plans to expand the celebration of the Black Senators in 2022, the history of the game's legends will continue to be conveyed in the central Texas baseball community.
Nick Trujillo is a contributor to MiLB.com.