Toronto's Nunez breaks out in Minors, DWL
Jays infield prospect earns FSL batting title, LIDOM ROY honors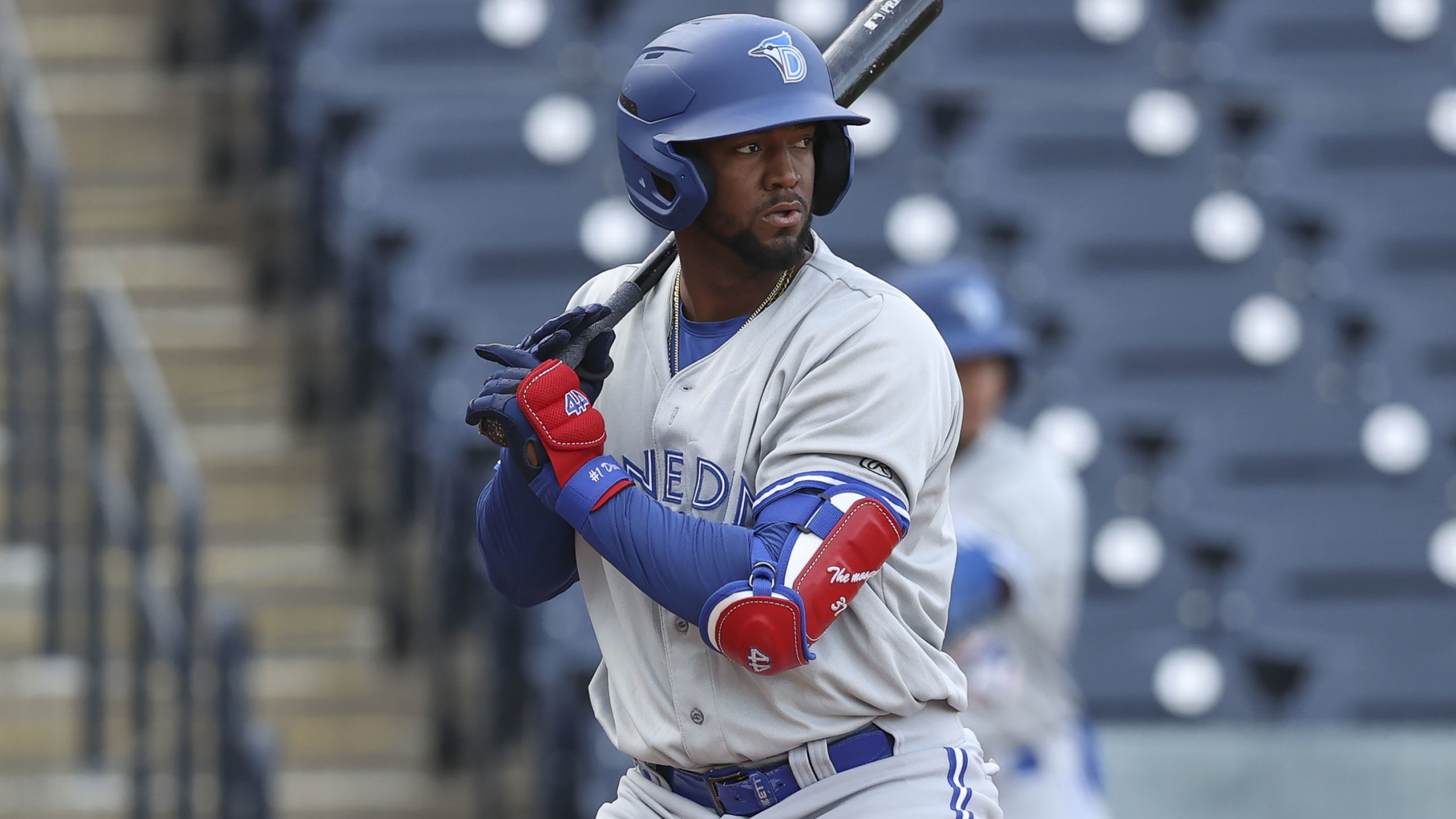 Rainer Nunez won the Florida State League batting title with a .299 average over 93 games with Single-A Dunedin. (Mark LoMoglio/MiLB.com)
You won't find Rainer Nunez on any top prospect lists. But if 2022 is an indication of things to come, that will change -- quickly.
You won't find Rainer Nunez on any top prospect lists. But if 2022 is an indication of things to come, that will change -- quickly.
The 22-year-old signed out of the Dominican Republic in 2017 by the Blue Jays was a .231 hitter with 11 home runs over his first three professional seasons. At the conclusion of 2021 -- his third pro year -- Nunez made a six-game cameo with Single-A Dunedin and something seemed off. At 6-foot-3 and 180 pounds, 53.3 percent of the balls he put in play were on the ground.
The club's hitting coach Matt Young and the organization identified a mechanical flaw in the righty's swing: Nunez lacked balance and was hitting off his front foot too much. With his frame, the Blue Jays knew there was more raw power to be tapped into, so they challenged him during that offseason.
Nunez rose to the occasion, and the results were evident across three countries last year -- earning him accolades in two of them.
"We sent him home with some swing changes and to adjust the mindset to trying to get the ball in the air more because everything was going on the ground," Young said, "So he went home and he did all the work. He came into Spring Training and you could see the swing had changed right way. Now all that hard contact was going into the air and it showed up in home run production, RBIs ... really all across the board."
⏮ BOT 3 // Rainer Nunez doubles to cash in Turconi & Palmegiani!

EUG 6 - 2 VAN

Tune into @CanadianTire Canadians Baseball on @Sportsnet650 with @tyler_zickel.

Listen: https://t.co/P3ViaHtACS

Or WATCH on https://t.co/UkSZZvjV9b #AtTheNat 🔜 #NextLevel pic.twitter.com/zoxlPjlWYE

— Vancouver Canadians (@vancanadians) September 11, 2022
Over 93 games with Dunedin last season, Nunez's ground-ball rate dropped to 40.3 percent as he mashed 15 dingers and drove in 63 runs. The first base prospect, who had collected 85 RBIs over his first three pro seasons (145 games), won the Florida State League batting title with a .299 average while pacing the circuit in slugging at .482. He also finished in the top five in the league with an .810 OPS (second), 108 hits (second), 174 total bases (third) and his homers and RBIs ranked fourth. All of this despite spending the final five weeks of the regular season with High-A Vancouver.
"The organization challenged him and he ran with it," Dunedin skipper Donnie Murphy said. "He was able to drive a lot more pitches that he was missing before, and all of his contact was with authority. He came in looking like a completely different hitter."
Nunez was the only Blue Jays prospect who played for Dunedin in 2022 notching an exit velocity greater than 110 mph, a feat he accomplished several times. His hardest hit ball was recorded at 114.3 mph.
"As a manager at this level, you're always looking for your 3-4-5 guys in the lineup, but he solidified that No. 4 spot early on," Murphy said. "He made life easier for the guys in front of him too because no one wanted to pitch to him with men on base, so they saw a lot more pitches to hit. He helped the whole team out while he was here."
Nunez capped the year with 27 games for the Canadians and his numbers continued to improve, posting a .321/.379/.491 slash line while sporting a 21.1 percent home run to flyball ratio.
Una muestra del porqué Rainer Núñez es nuestro NOVATO DEL AÑO 2022 🐘🏆#LIDOM ⚾ pic.twitter.com/JYys11EWoQ

— LIDOM (@LIDOMRD) December 27, 2022
After the Minor League season ended, the Dominican native returned home and suited up for the Estrellas Orientales in the Dominican Winter League. In his first season in his native land, Nunez paced the circuit in homers (seven) and RBIs (20) over 37 games. He became the first rookie since Marcell Ozuna (2012) to lead the league in long balls and his performance earned him the LIDOM Rookie of the Year honors (Novato del Año).
"I sent him a message to congratulate him on that after I had heard, and actually, I think the entire staff at Dunedin reached out to him too about it," Young said. "We're all so proud of him and he just did so much work all year. Winning the batting title in the FSL was something he was really proud of and we all thought he was going to be MVP of the league, but he was still voted the best first baseman. Then to go back home and win Rookie of the Year is just awesome."
While it's likely Nunez will open the 2023 campaign back in Vancouver, the 22-year-old has put himself in a position to be a fast riser through the Blue Jays' system.
"Nuney does a really good job of riding highs really high, so I think this is going to be a springboard for him next year," Young said. "If he can continue to make the adjustments along the way, wherever he starts and beyond, he's got a chance to do some really special things."
Rob Terranova is a contributor to MiLB.com. Follow him on Twitter @RobTnova24.