Prospects in the Astros' 2020 player pool
Houston bringing plenty of experienced prospects to 60-man roster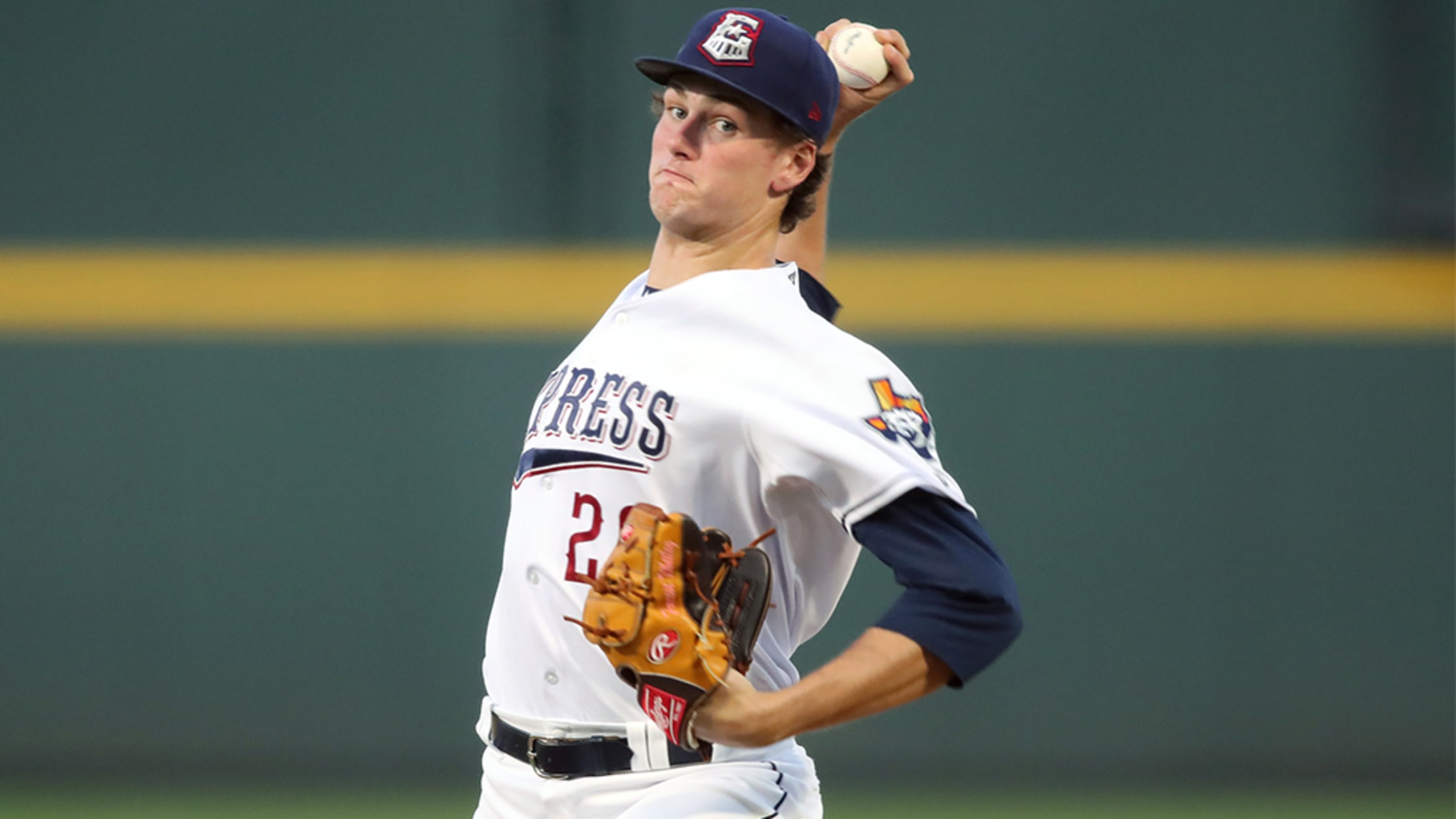 Top Astros prospect Forrest Whitley boasts a 13.2 K/9 ratio in his Minor League career. (Jim Redman/MiLB.com)
As part of the new rules for the 2020 Major League season, each of the 30 organizations will maintain a 60-man player pool for the duration of the campaign. Some members of the player pool will feature on the active Major League roster while others will work out at an
As part of the new rules for the 2020 Major League season, each of the 30 organizations will maintain a 60-man player pool for the duration of the campaign. Some members of the player pool will feature on the active Major League roster while others will work out at an alternate training site in the hopes of staying fresh for a potential callup or getting in much-needed development time.
The MiLB.com staff is rounding up the notable prospects in each organization's 60-man player pool and analyzing what the new system will mean for their 2020 seasons.
Despite their indiscretions, the Astros have been one of the league's most successful teams in recent years. That success was built on a foundation of homegrown top prospects, but the price of going for it in the past few seasons has thinned out their farm system.
Houston added 16 of their top 30 prospects, including five of their top six, to its initial 58-man player pool. The higher-ranked Astros' prospects have more upper Minors and MLB experience than the usual top prospect list. Among the pool, there are nine ranked prospects that were already on the 40-man roster, including three on the active roster.
While the current state of the farm system could potentially put the Astros in a precarious position a couple years down the line, they're set up well for a unique season in which they're expected to contend yet again. Houston plans to keep its non-Major Leaguers at the University of Houston until the regular season begins ahead of a shift to Whataburger Field in Corpus Christi.
Forrest Whitley, RHP: Had injuries not stalled his career for the past three seasons, Whitley could very well have been the Astros rookie starting World Series games last year. The 6-foot-7, 238-pounder has ranked among the top pitchers in the Minors since he was drafted No. 17 overall in 2016. He reached Double-A Corpus Christi in his first full season the following year, but has been limited by a drug suspension as well as oblique and lat and shoulder injuries since then. The No. 19 overall prospect pitched 86 total innings over the past two seasons. He understandably dealt with some command issues upon his return, but when he's on, it's obvious why he's considered one of the best. Whitley sports a 13.2 K/9 ratio in his Minors career. He got knocked around a bit after his first promotion to Triple-A Round Rock last season, but his nasty five-pitch mix should put him next to Justin Verlander and Zack Greinke in the front of Houston's rotation next year. If the Astros find themselves in a situation like last year, Whitley could be called upon this summer.
Jose Urquidy, RHP: With Lance McCullers already down and Houston in need of starting pitching last postseason, Urquidy answered the call. The 25-year-old yielded a run over 10 innings in a four-start span, earning the win in the Astros' Game 4 victory in the World Series. Urquidy, who gets by on an effective fastball-changeup combination, stood out for his impeccable control, posting a 1.78 BB/9 in 323 1/3 innings in the Minors. He's currently on the active roster and should be the No. 4 or 5 starter for the Major League team this season.
Abraham Toro, 3B/2B: After Verlander finished off his no-hitter in Toronto last season, there was one teammate to whom he felt he owed a debt of gratitude. Toro entered the game in his native Canada as an injury replacement and provided for the game's only offense with a two-run homer off Ken Giles in the ninth inning. Toro also recorded the final out of the no-no on a grounder by Bo Bichette to third. Before his legendary day with a future Hall of Famer, the switch-hitting Toro batted .324/.411/.527 with 17 homers and 80 RBIs across two levels of the Minors in 2019. The 23-year-old has experience at three different infield positions and 15 games behind the plate. He's currently on the active roster and should come off the bench for the Major League club in 2020.
Bryan Abreu, RHP: The fifth-ranked Astros prospect had a strong start to his Major League career last season, yielding a run over 8 2/3 innings in seven relief appearances. The 23-year-old bypassed Triple-A and even made a postseason appearance in his first full season after being signed out of the Dominican Republic in 2013. Abreu's best pitch is his hammer curveball, and he also throws an effective wipeout slider and gets a lot of spin on his mid-90s fastball. Abreu's biggest hurdle has long been his control, with a 5.45 BB/9 in his Minors career. He's on the active roster and will likely remain a relief option for Houston this season.
Cristian Javier, RHP: It's been a slow climb, but if there's anybody in this system who deserves a shot at the big leagues, it's Javier. The 23-year-old sports a 2.22 ERA over five Minor League seasons. He climbed from Class A Advanced Fayetteville to Triple-A Round Rock last year, accumulating a 1.74 ERA with 13.46 K/9 and .130 batting average-against – all of which were the best in the Minors -- in 26 appearances, including 18 starts. Javier throws a deceptive fastball in the high-80s to mid-90s range and backs it up with a pair of breaking balls and an effective changeup. Javier's walk rate was a bit high (4.67 BB/9), but he should get a shot at least as a bullpen option in the Majors this season.
Enoli Paredes, RHP: Like Javier, Paredes is another 2015 signee from the Dominican Republic on the 40-man who has been terrific in the Minors. The 24-year-old is a little more explosive than Javier, running his fastball up to the high-90s while leaning on a plus-slider. Paredes sports a 2.41 ERA with 11.37 K/9 in four Minor League seasons. He also has some control issues (3.94 BB/9), but he held opposing batters to a .155 average across two levels in 2019.
Garrett Stubbs, C: It took five professional seasons, but Stubbs finally cracked the big league roster with three separate stints in Houston last year. Stubbs brings plenty of athleticism to the group of catchers on the Astros' 40-man. The defensively gifted Martin Maldonado tops the club's depth chart at the position, but Stubbs could earn some more time in the Majors if he can hit enough. Stubbs didn't fare so well at the plate last year but batted .310/.382/.455 in his first full season in Triple-A two years ago. The 27-year-old is speedy for a catcher and was successful on 47 of 52 stolen-base attempts in his Minors career.
Taylor Jones, 1B/OF/3B: The 6-foot-7 Jones came into his own in his first full Triple-A season last year. He batted .291/.388/.501 with a career-best 22 homers and 84 RBIs last year. Jones was a pitcher in college but settled in primarily as a first baseman before seeing time at third and in the corner outfield spots. His defensive versatility and power potential make him an intriguing option should the big league club need added depth off the bench.
Blake Taylor, LHP: Of the 16 ranked prospects on the roster, 12 are right-handed pitchers. Taylor is one of four lefties on the squad, which includes 30 pitchers. Framber Valdez is the only southpaw on the active roster. Clearly, there is an opportunity for Taylor to break camp with the club as a secondary lefty in the bullpen. The 26-year-old landed in the Astros organization in the December deal that sent Jake Marisnick to the Mets. Taylor amassed a 2.16 ERA over 40 appearances across three levels in the New York system in his first year as a reliever last year. He keeps things simple with a fastball-slider combination and had a career-best 9.99 K/9 in 2019.
Chas McCormick, OF: Last year, Houston graduated two top-tier outfield prospects in American League Rookie of the Year Yordan Alvarez and Kyle Tucker. McCormick is the only one of the three primary outfielders among the club's top 30 prospects to play in a full-season league as a professional. The 25-year-old split time between Double-A Corpus Christi and Round Rock last season, batting .269/.386/.432 with a career-best 14 homers and 22 RBIs. McCormick does have a good glove and earned viral fame last May after going over the right-field wall in Tulsa to make a catch.
Other notables: The Astros will get a lot of their right-handed pitching depth from the ranked prospects on their expanded roster. No. 29 Nivaldo Rodriguez was named to the 40-man after posting a 2.41 ERA across two levels of the Minors last year. … Brandon Bielak (No. 12) has a 2.94 career ERA and uses a plus circle change to be incredibly tough on lefties. … Luis Garcia (No. 17) has also been rock steady throughout his professional career, compiling a 2.50 ERA with 12.47 K/9 in three professional seasons. … Jojanse Torres (No. 19) was terrific in his first full season with Fayetteville last year, posting a 1.71 ERA while holding opposing batters to a .175 average. … Shawn Dubin (No. 20) is an NAIA product who puts up impressive spin rate numbers the organization has come to value, working off a mid-90s fastball and slider. … Brett Conine (No. 26), like most of the other notables here, has had nothing but success in the Minors. He sports a 2.16 ERA in 36 career appearances and reached Double-A in his first full season last year.
Gerard Gilberto is a contributor to MiLB.com. Follow him on Twitter @GerardGilberto._