Prospect Q&A: Yankees left-hander Waldichuk
No. 90 overall prospect on the tweaks that led to his success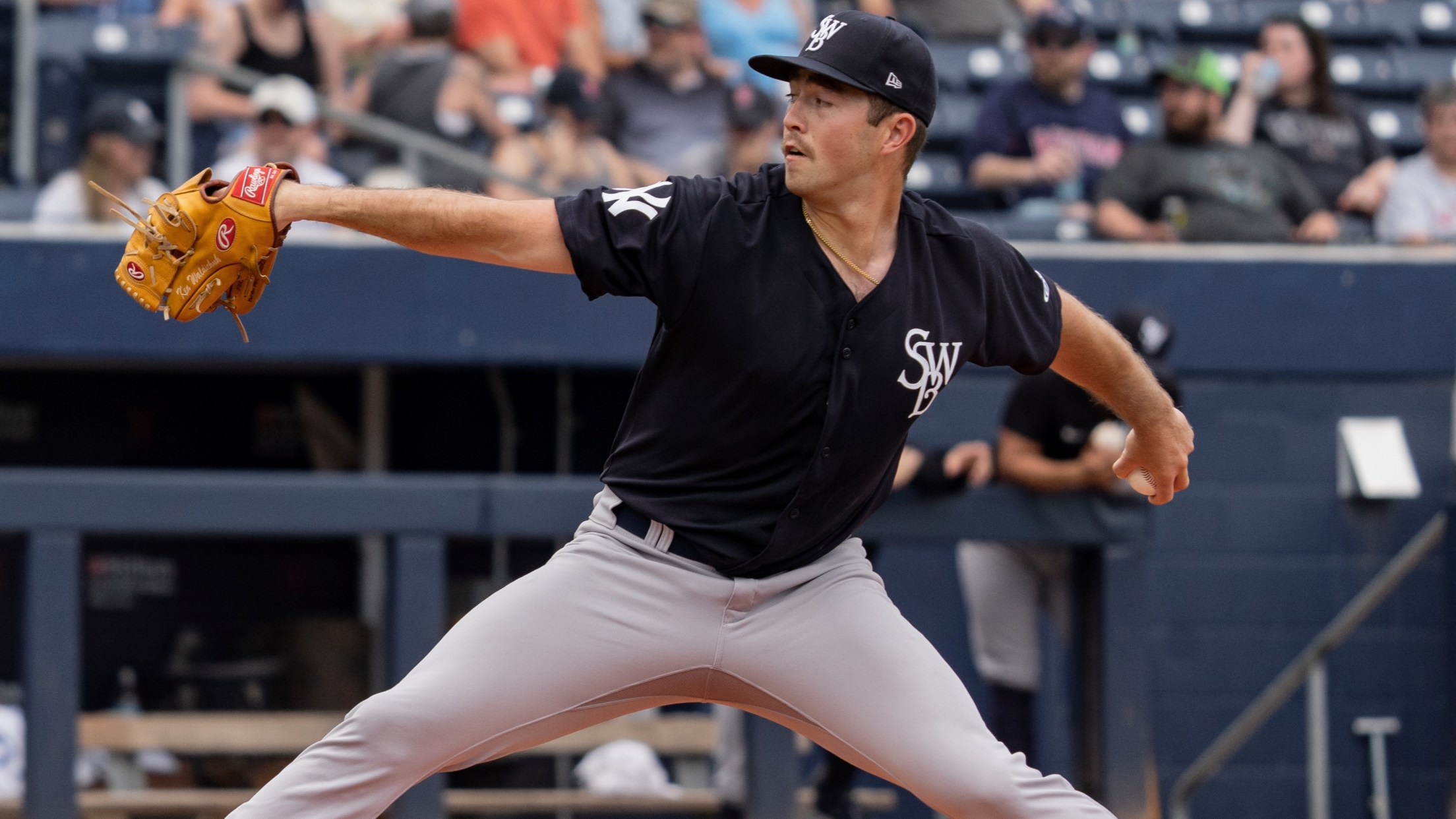 Ken Waldichuk struck out 16 batters over 10 1/3 innings in his first two starts with Triple-A Scranton/Wilkes-Barre. (Bryan Simmons-Hayes/Scranton/Wilkes-Barre RailRiders)
Though he had one of the best seasons among any pitcher in the Minors last season, Ken Waldichuk knew he had a lot of work to get better. Pitching in his first full season in 2021, the fifth-ranked Yankees prospect was fourth in the Minors with 163 strikeouts and ranked
Though he had one of the best seasons among any pitcher in the Minors last season, Ken Waldichuk knew he had a lot of work to get better.
Pitching in his first full season in 2021, the fifth-ranked Yankees prospect was fourth in the Minors with 163 strikeouts and ranked eighth among qualified hurlers with a 13.34 K/9. He also held a 3.03 ERA and opposing batters to a .193 average across 23 outings between High-A Hudson Valley and Double-A Somerset.
Waldichuk, a fifth-round selection out of St. Mary's College in 2019, is striking out batters at a higher clip (14.31) and has managed a miniscule 1.38 ERA over his first eight starts this year. His early success in Somerset resulted in a promotion to Triple-A Scranton/Wilkes-Barre in mid-May, where he rejoined seventh-ranked Yankees prospect Hayden Wesneski in the RailRiders' rotation.
In the latest Prospect Q&A, the San Diego native discusses his early season success and the work that went into improving his command and his arsenal this offseason. He also talks about the culture at St. Mary's that's been an excellent producer of Major League talent and his experiences in quickly moving up the organizational ladder.
MiLB.com: You've had a great start to the season, including a promotion. What's been the key to your success so far?
Ken Waldichuk: I put in a lot of work in the offseason to try to get my command better and try to get my stuff a little better and more consistent. But I think, as far as in-game performance, I've been focusing on just competing and trying to win every start. I mean, whenever we try to win I feel like my stuff has been playing a lot better and I've been a lot better in certain situations than I would have been since the beginning of last year.
MiLB.com: In terms of your command drills, what type of work did you do?
Waldichuk: It was a combination of some mechanical tweaks and some weighted ball stuff. A little glove-side adjustment I made was that I start turning my glove toward the hitter instead of myself. And that just made me more linear to home. And then, as far as drills, I would use a six-, a five- and a four-ounce ball. Just rotate through them, and I just [put a ball on a spot, and I just try and hit the ball]. And then, just input pretty much where I want to hit and where it hits, and I just kind of work on getting those misses smaller and smaller.
MiLB.com: Where were you doing this, and who were you working with?
Waldichuk: That was our director Sam Briend that kind of brought all these mechanical changes and drills to me. And then I was doing these back at home with my pitching coach Brandon James. So, basically, I did that and the stuff for [the Yankees] and they would say like, we want you to do this, and then I'd go back there and they would kind of help me get to where the Yankees want me to be.
MiLB.com: The other part of your offseason you said was to improve your stuff. What went into that?
Waldichuk: I have a pretty traditional four-pitch mix -- just fastball, slider, curve and changeup. Pretty much, when it comes to my fastball, I didn't really tweak that too much. That and the changeup are the two pitches that kind of stayed constant throughout the past year. But with the slider, the shape was kind of inconsistent, so I just worked like three or four times a week, trying to get that more consistent, and once I felt more comfortable with it, that's when I started to see the break go up. And then my curve, it was just a simple grip change from what I was doing. And that kind of got some more movement out of it as well.
MiLB.com: You were quickly promoted this month, and the same thing happened last year. How do the two promotions compare?
Waldichuk: It's awesome. I mean, obviously, right when you get promoted it's kind of a little shock. You're learning a lot of different faces and all that and it might take you a little while to get settled in. But overall, it's been awesome. Everyone here has been pretty cool, same with last year. Everyone was super welcoming. It's been just a couple of great teams to play with.
MiLB.com: You're rejoining a rotation with Hayden Wesneski. What's it like having the two of you back together again?
Waldichuk: I think for him, his stuff obviously plays -- that's a lot of good pitches. But I think he's got that competitiveness and he's just constantly making adjustments and trying to attack what he's not doing well. I think it's a combination of those two things. He's always looking to get better.
"Are you kidding me?!"
"Nope" - Ken Waldichuk on the @Don_Franciscos Play of the Game

Sure looks like @SMC_Baseball is having fun at the #WCCchamps! pic.twitter.com/nzod5NrVyW

— WCC Network (@TheWCCNetwork) May 24, 2019
MiLB.com: Your strikeout numbers are up, even compared to last season. What's the key to missing bats for you?
Waldichuk: Honestly, for me, I just try to throw strikes and fill up the zone. Going back to last year, I had so many walks that my key is just to get ahead, and then once I'm ahead, just throw them something they haven't seen yet. And hopefully that works.
MiLB.com: You're another in a good string of talent to come out of St. Mary's College.
Waldichuk: For my years there, there was some good players. But in the years before they had guys like Corbin Burnes and Tony Gonsolin. I want to say we had three or four guys drafted every year. So, despite it being a kind of small school, I feel like Eric Valenzuela, who's now at Long Beach State, he kind of instilled a culture in everyone, a really good work ethic in guys. I think it's why you see a lot of those guys excel in pro ball.
MiLB.com: You've spoken about being a surfer before. Are you still able to get into the water?
Waldichuk: Oh yeah, I'm not too good at it, but it's just like a fun little hobby. Just to get away from everything. I still do it. Nothing crazy, no big waves. Just hanging out there with some friends.
MiLB.com: What does a successful season look like for you in 2022?
Waldichuk: I think as long as I just feel like I'm competing, as long as I feel like I'm always there and I can always stick at the level that I'm at -- I can be happy with that. Barring that I stay healthy, and all my stuff stays the same or better, I think that's what I'm looking to do this year. It's just to compete and to try to win as many games as possible.