Prospect Q&A: Cubs outfielder Crow-Armstrong
Chicago's No. 6 prospect discusses rehab, adding power to profile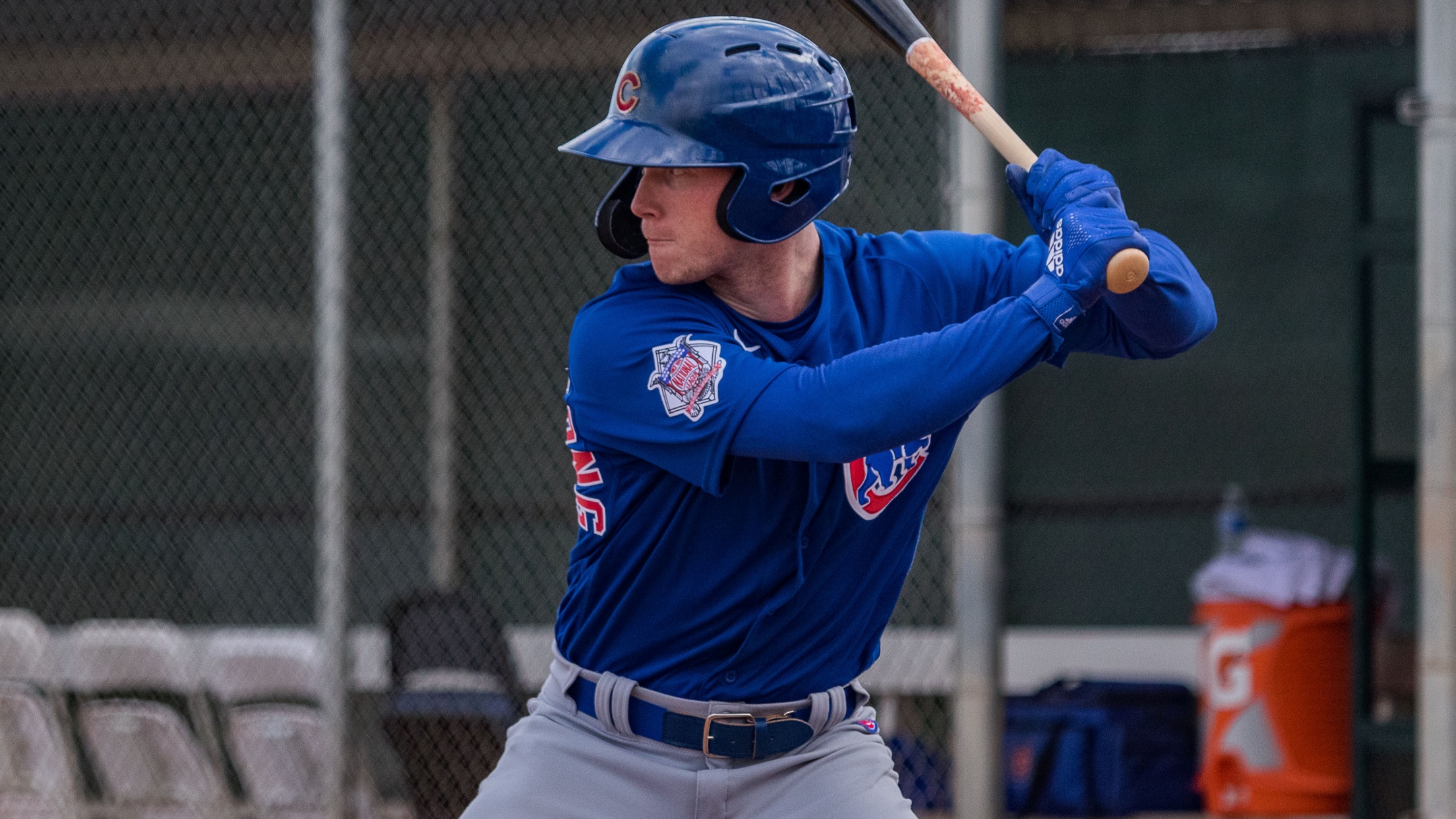 Pete Crow-Armstrong was selected by the Mets with the No. 19 pick in the 2020 Draft. (Freek Bouw/MiLB.com)
So much has happened to Pete Crow-Armstrong since he was drafted that it's hard to imagine he's played in just 20 professional games so far. Crow-Armstrong was selected at No. 19 overall by the Mets in the pandemic-shortened Draft in 2020. He had to wait out the suspended season to
So much has happened to Pete Crow-Armstrong since he was drafted that it's hard to imagine he's played in just 20 professional games so far.
Crow-Armstrong was selected at No. 19 overall by the Mets in the pandemic-shortened Draft in 2020. He had to wait out the suspended season to make his Minor League debut but suffered a season-ending injury after just six games with Single-A St. Lucie last year.
While he was on the mend, Crow-Armstrong was dealt to the Cubs and reunited with farm director Jared Banner at last year's deadline for franchise icon Javier Baez and veteran right-hander Trevor Williams.
It's been less than a year since the 20-year-old underwent surgery to repair a torn labrum and some articular cartilage damage in his non-throwing shoulder. But Crow-Armstrong doesn't seem to have skipped a beat in his first two weeks with Single-A Myrtle Beach.
The Cubs' sixth-ranked prospect built a reputation at California powerhouse Harvard-Westlake High School as a prototypical leadoff man and center fielder who can consistently spray line drives all over the field, steal bases and take command of an outfield.
So far this season, he's shown a strong command of the strike zone, collecting more walks than strikeouts and 20 hits in 14 games played. He also seems to be driving the ball with more authority and hitting gaps in the early going. His first professional homer was an inside-the-parker on April 19, but he put one out the next night as well.
While the story has already been told about his family connection to the movie 'Little Big League,' Crow-Armstrong discusses his work in rehab as well as his desire to add some more power to his profile in our latest Prospect Q&A. The six-foot, 184-pound Sherman Oaks, California, native also talks about his experience being traded and playing in a Harvard-Westlake baseball program that produced Major League pitchers Jack Flaherty, Lucas Giolito and Max Fried.
MiLB.com: You're having a nice start to the season, and it seems like you're back at full strength. How are you feeling?
Pete Crow-Armstrong: I feel great. That's something that was is kind of going to constantly -- I wouldn't say be on my mind -- be aware of. I want to stay in tune with how my body is feeling all year. The goal is to have a healthy, full season. Thankfully, at the moment, I'm feeling great. Starting back in Arizona before we broke camp, trainers with the Cubs got me right and kept me right, and now I'm with the Pels obviously and Nick Richards, our trainer out here, is continuing to do so. I feel like I'm in a really good spot right now, and it's been a good start to the year.
MiLB.com: How has the injury impacted your daily routine?
Crow-Armstrong: I don't think it's affected it all that much. ... For a while there, I was rehabbing for a solid amount of time, and I think I'm just used to it at this point. I think it's kind of just been engrained. I call it maintenance stuff, just keeping it right. I think it just adds a little bit to my routine -- nothing crazy. Again, just being aware of how I'm feeling that day. I think that's the most important thing. Especially early in the year. We got a lot of games left and you want to make sure you're good for a majority of the year.
MiLB.com: What was rehab like and when did you start to feel like yourself again?
Crow-Armstrong: Baseball-specific stuff didn't really come until I'd say more October-November of last year. I think the hardest thing about having the surgery and being taken out was just the fact that I wasn't going to play anymore. I was really excited to get my first season under way with a good group of Mets guys. I had a lot of good buddies in that organization and on that Low-A team and it definitely would have been a fun year. I think the people that have taken care of me and my shoulder, everyone of them, have made my life a little bit easier at some point. Getting injured is a bummer, but it happens. It's part of the game and I think the hardest part was just knowing that I wasn't going to be able to play for a while.
MiLB.com: Besides the rehab, was there a part of your game that you wanted to emphasize in your offseason work?
Crow-Armstrong: I think a lot of facets of my game -- along with everybody else in this organization, too, the Cubs having us in that offseason camp, 30 or so of us in that offseason camp, it gave everybody a lot of one-on-one time with certain trainers and doing certain drills that you wouldn't be able to do without this certain technology or machinery. There was a lot of speed work, a lot of strength work. And then hitting-wise, it was definitely a good time to kind of break my swing down, pick out the points that could use a little work and work on them. Luckily, I had the time to do that. Shoot, the offseason was good for that. To be honest, it's a funny thing to say, I guess I got hurt at the right time because I didn't have to worry about rehabbing after another year. Once I was out, I was out and my focus became doing everything I could to get back. The offseason was really nice. Once I got out to Arizona, it was all about work. Yeah, I think I definitely got faster and I definitely got stronger and I think I cleaned up my swing a little bit. And keeping those all together at some point in the year will definitely feel real good.
.@Mets pick Pete Crow-Armstrong adds to the Harvard-Westlake legacy. pic.twitter.com/6JuRHBCaua

— MLB (@MLB) June 11, 2020
MiLB.com: What was it like playing at Harvard-Westlake?
Crow-Armstrong: I have full belief that a lot of those coaches can go and coach at a higher level. I think they treat baseball the right way, but they also realize that the game is fun and youthful. With the work we did, I think it was a little past our years ... there wasn't much we did as a senior that we didn't do as a freshman. Jared Halpert runs that program really well, and he learned from another good coach in Matt LaCour, too. Harvard-Westlake has been doing it for a while now, and yeah, they've produce three really good big-league pitchers and I also think that over the next couple years -- you saw me in 2020, but you're going to see Drew Bowser in 2023 and you're going to see [Vanderbilt pitcher] Sam Hliboki at some point here, you saw Jesse Bergen get drafted last year.
MiLB.com: What was your trade experience like?
Crow-Armstrong: I had some good friends in that organization that I still keep in touch with. Getting traded was interesting and it was different from any situation than any that I've encountered this far. It was a blessing for sure. I'm a believer in "things happen for a reason" and all that good stuff. I think without getting hurt, I don't know if I get traded. You feel a little helpless when you're injured because you can't really do much. I think getting traded at that point -- it was just surprising. I'll always be thankful to the Mets for starting my professional career. Without them, I don't know where I'm playing. So I'm glad I got to go from one organization like that to another good one. I felt like I was welcomed very quickly.
MiLB.com: Scouts describe you as a line-drive hitter with an ability to spray to all fields. How do you feel about that assessment?
Crow-Armstrong: I think they're right -- I think I use every part of the field real well. I worked on strength a lot this offseason, and I think that's going to come into play pretty soon here once I just get some more games under my belt. I think you're going to start seeing some more home runs as the years go by as I get some more strength. But, shoot, I think just like anybody, when they're seeing the ball like a beach ball, that's when you're going real well. And when you're not, it's a lot harder, but I think I'm good at finding a way when things are hard in the game. When I don't feel great, I think I'm getting better at finding different ways to make an impact on the game. It's all about finding a way when you're not feeling your best. That's the advice I've been getting. It's a long year, and how are you going to play when you're hurting and when you're not seeing all that well.
"You might, you *will* see a dynasty in this place again. This is a good group to do it with. There's a lot of names you don't know about, either. I think it'll only be more exciting as we start to play a season." --Outfield prospect Pete Crow-Armstrong on the Cubs' farm system pic.twitter.com/2Lvu0g48fW

— Jordan Bastian (@MLBastian) March 3, 2022
MiLB.com: What works for you when you do get to that point where you're not feeling great but still have to find a way?
Crow-Armstrong: I think it's always about going back to what's simple. If I'm not feeling good in the box in the game, it's all about going back to the drills and the cage work. Whatever is most simple at that time I think usually helps me stay grounded and not get too crazy when things aren't going my way. Another thing is being a leadoff hitter. Being a leadoff hitter gives you more job opportunities. You have certain obligations that other people in the lineup don't have. Whether that's realizing when a situation needs you to see some pitches and see everything a pitcher's got in the start of the game or when a new guy comes in -- just certain things that are part of the game that if you can stay locked in and clear-headed and not let the bad stuff bog you down, then there's stuff in the game that you can really use to your advantage. Again, I'm still young, I'm still learning to get better. But there's little things that you pick up on.
MiLB.com: What does a successful 2022 season look like for you?
Crow-Armstrong: I think wherever I end up at the end of the year, I'd love a ring. I think that's something that the Cubs prioritize, and that's winning -- whatever affiliate I'm with. And I'd love to see some more power from myself. I think that's on the horizon and I can feel it coming. Definitely making good decisions on the bases as well, balancing that out with how aggressive I want to be. I want to get some bags this year. I don't think that's a secret -- if you can run, you want to steal. I want to look back and see myself impacting games and team wins in a lot of different ways.