Prospect Q&A: Red Sox infielder Jordan
Club's No. 7 prospect recalls days as teenage long ball star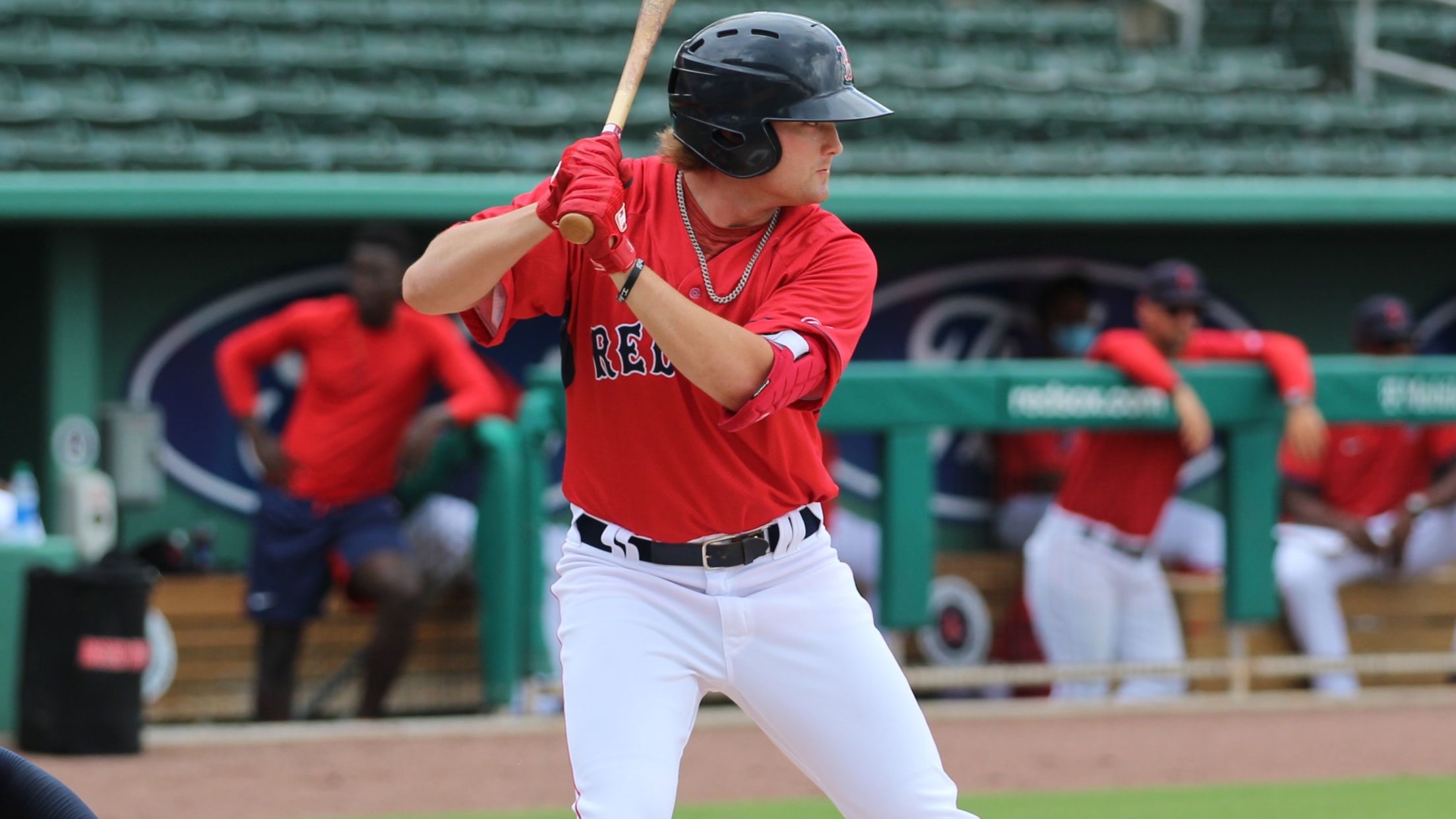 Red Sox No. 7 prospect Blaze Jordan hit six homers and drove in 26 runs in his first 28 games in the Minors. (Bryan Green/MiLB.com)
Long before he was a Draft prospect, Blaze Jordan was a home run derby prodigy. When he was as young as 11 years old, the native of Southaven, Mississippi, was an internet sensation for his viral clips from power showcases. Some home runs traveled upward of 500 feet while others
Long before he was a Draft prospect, Blaze Jordan was a home run derby prodigy.
When he was as young as 11 years old, the native of Southaven, Mississippi, was an internet sensation for his viral clips from power showcases. Some home runs traveled upward of 500 feet while others showed Jordan putting balls out of Major League stadiums when he was still in middle school.
He went mainstream in 2019 when he won the High School Home Run Derby at Progressive Field in Cleveland. His amateur days were fast-tracked as he went from playing varsity games as an eighth-grader to graduating early to reclassify for the 2020 Draft class.
Jordan is now 19 years old, 6-foot-2, 220 pounds and the seventh-ranked Red Sox prospect. He was selected in the third round of the pandemic-shortened Draft in 2020 -- during which Boston only had four picks -- and signed an above-slot deal for a reported $1.75 million to forgo his commitment to Mississippi State.
The Red Sox delayed his first Minor League season, opting to keep the slugger in extended spring training. He tore up the Florida Complex League when he finally debuted in June, batting .362/.408/.667 with four long balls, seven doubles, one triple and 19 RBIs in 19 games of Rookie ball.
Jordan earned a promotion to Low-A Salem in August, but spent most of the end of the season on the injured list. He got into nine games with Salem, collecting two more homers while batting .250 with a .733 OPS and seven RBIs.
The DeSoto Central High School product mostly played third base in his first turn through the Minors. But he also saw some game action at first, and many scouts believe that will be his future position.
In his interview with MiLB.com, Jordan looked back on his early days as a tween power threat and his eventual Draft night. He also discussed his first full camp experience and his offseason work with the Red Sox.
MiLB.com: How has the start of camp been? This is a first for you with no COVID restrictions.
Blaze Jordan: It's been great ... being around all the big league guys and seeing them work. ... It feels good. I feel like we're all gelling together really well. And I feel like I'm in a great position. My body feels great, swing is feeling really good. So I'm definitely excited to get started for the season.
MiLB.com: Did you have any time with some Major League coaches before the 40-man guys got to camp?
Jordan: I was there on Jan. 20. I got down here pretty early. ... It was a few of us -- me, Nick Yorke, Nick Northcut and a few other guys. We were down here with Josh Prince, who has been the main hitting guy that we're working with down here and out in the field. ... We're just down here getting work done on defense and all that. And, of course, we we're doing the lifts and all that every day. So, it was just nice to get down here early. Get settled in and all that.
#RedSox draftee Blaze Jordan has a history of hitting for massive power.

From a nearly 400-foot drive at age 11 to taking part in the HS Home Run Derby in Cleveland last year, @IanMBrowne asked the young slugger all about his journey to #MLBDraft day: https://t.co/pI9fNwurKX pic.twitter.com/7qe5NH7WpG

— MLB Pipeline (@MLBPipeline) June 18, 2020
MiLB.com: Has there been anything specific you've been working on through camp?
Jordan: The main thing for me has just been -- especially since the scrimmages and everything have started -- has been just pitch selection and just getting better pitches to hit and just being more patient and everything. And getting more pitches that I can drive. So that's been one of the main focuses that I've been working on. And, of course, I'm working on defense really hard. I feel like I'm in a really good position.
MiLB.com: Defensively, you played some first base and some third last year. How are you feeling at both spots, and has there been talk of maybe expanding into the corner outfield?
Jordan: I'm super comfortable at both spots. So whichever one they need me to play, I'm ready to play. I can switch in the middle of the game whenever. I feel really comfortable really wherever they put me, either first or third. Not yet with the outfield. They haven't really said anything about that.
MiLB.com: You developed a pretty big internet following from viral videos of really long homers when you were just a kid. When did you realize that you had that kind of power and that the videos could get popular?
Jordan: I really knew I had a really good possibility when I was around 14. Like, when I was playing up with older aged kids and all that and I was feeling really comfortable. Just ever since then, it just gave me confidence that I can do it if I just put my mind to it, and I've been really blessed that God put me in this position. I've been really enjoying it.
MiLB.com: Did you ever feel that your skills as a complete ballplayer were overlooked because of the notoriety you gained from the home run videos?
Jordan: I'm sure some people were having doubts and all that. But for me, my biggest thing was that I knew the things in my mind that I needed to work on and what I needed to be better at. And I put my mind to it and just went and got after it. I feel like I've really gotten better, especially these past two years ever since I've been in the organization with the great coaching staff. ... I feel like I still got some lengths to go and we're working hard to get that.
MiLB.com: Has there ever been a need for a swing adjustment after doing a home run derby? Also, is there anything you learned about your swing doing home run derbies that you've incorporated into game situations?
Jordan: For me, I feel like it's not too much of a difference because I like to -- when I'm doing the home run derbies -- kind of have like easy power and just kind of just have a smooth swing and just make sure I find barrels. And I do the same thing when I'm taking BP. My whole goal is just to get to barrels and just to drive the ball to all fields. I feel like, in a home run derby, I'll do that and it worked out for me when I did do that. So I feel like it was pretty similar, and I didn't have to do much to change anything. ... I maybe turned it up a notch a little bit to like amp it up a little bit, but that's really all.
MiLB.com: Going back to the Draft, what were you thinking when you were still on the board in the third round?
Jordan: I knew that something was probably going to happen [in the third round]. ... I have confidence in myself, and I knew that I would, like, let myself down and all that if I just kept my hopes up. I just prayed a lot about it, and luckily, I got picked by the Red Sox, which is a great organization and a great fit. ... I feel like it worked out for the best and I feel like it's been a great opportunity.
MiLB.com: What was the feeling like after you were picked?
Jordan: I do remember a call, but, honestly, I was so excited that I don't remember what was said. ... I got so many phone calls that night, so it kind of like all just runs together. But I do remember the phone call. I was so excited, my family was so excited. I had a few of my friends and buddies there. It was a pretty cool experience.
Spotted: Blaze Jordan putting in the work at 1B. pic.twitter.com/Kzj7S35ojH

— Red Sox Player Development (@RedSoxPlayerDev) March 7, 2022
MiLB.com: Getting into your first Minor League season, what was the preparation like before you got to play games in the complex and how was that first experience?
Jordan: There was definitely some adjustments that I had to make in the last Spring Training and extended spring training. And I was able to work on it because -- it was a lot of one-on-one stuff. ... So I had a lot of time to put into my swing, and I kind of figured myself out and figured out my approach and all that. I just took it into the season. I got off to kind of a slow start, but then I started to pick it up and I ended up having a pretty good run down there. ... The biggest thing for me was just going there with confidence and just going there to have fun and play my game because, after all, it is just a game and we just got to have fun.
MiLB.com: What were the adjustments that you mentioned in extended?
Jordan: It was just using my legs more, just using the ground and which helps me just get more power and stuff. ... I also worked on the approach. I worked hard with the coaches about that and just learning about everything and being more selective. I still need to work on it and I still have stuff to do, but it improved a lot last year, and that's kind of what I just took into the season.
MiLB.com: What was the experience like to get promoted and adjusting to the pitching in full-season ball?
Jordan: It was super cool. ... We ended up just winning a game down here, and I got told right after that we were heading up. ... Overall, the pitching wasn't really much different. Not too many adjustments had to be made because it was just basically just the same game. ... And it was a lot of fun, for sure, to be able to play with those guys and play in front of fans and all that. I really enjoyed my time up there.
MiLB.com: What does a successful season look like for you in 2022?
Jordan: The biggest thing for me is just to stay healthy and stay on the field and just hopefully just keep moving up. Just be the best player I can be and just improving my game in all aspects and keep learning from all the guys and all the coaching staffs and to just go out there and keep having fun. ... Whether it's base running, defense, hitting and just learning day by day so I can take this to the next season and all that. ... I feel like that's what a successful season is going to be for me is that, like, I'm just better day by day and I'm just learning day by day. And just take it into the next AB or game or whatever it is.