Red-hot Bailey coming back strong from injury
No. 8 Giants prospect delivers homer, two doubles for San Jose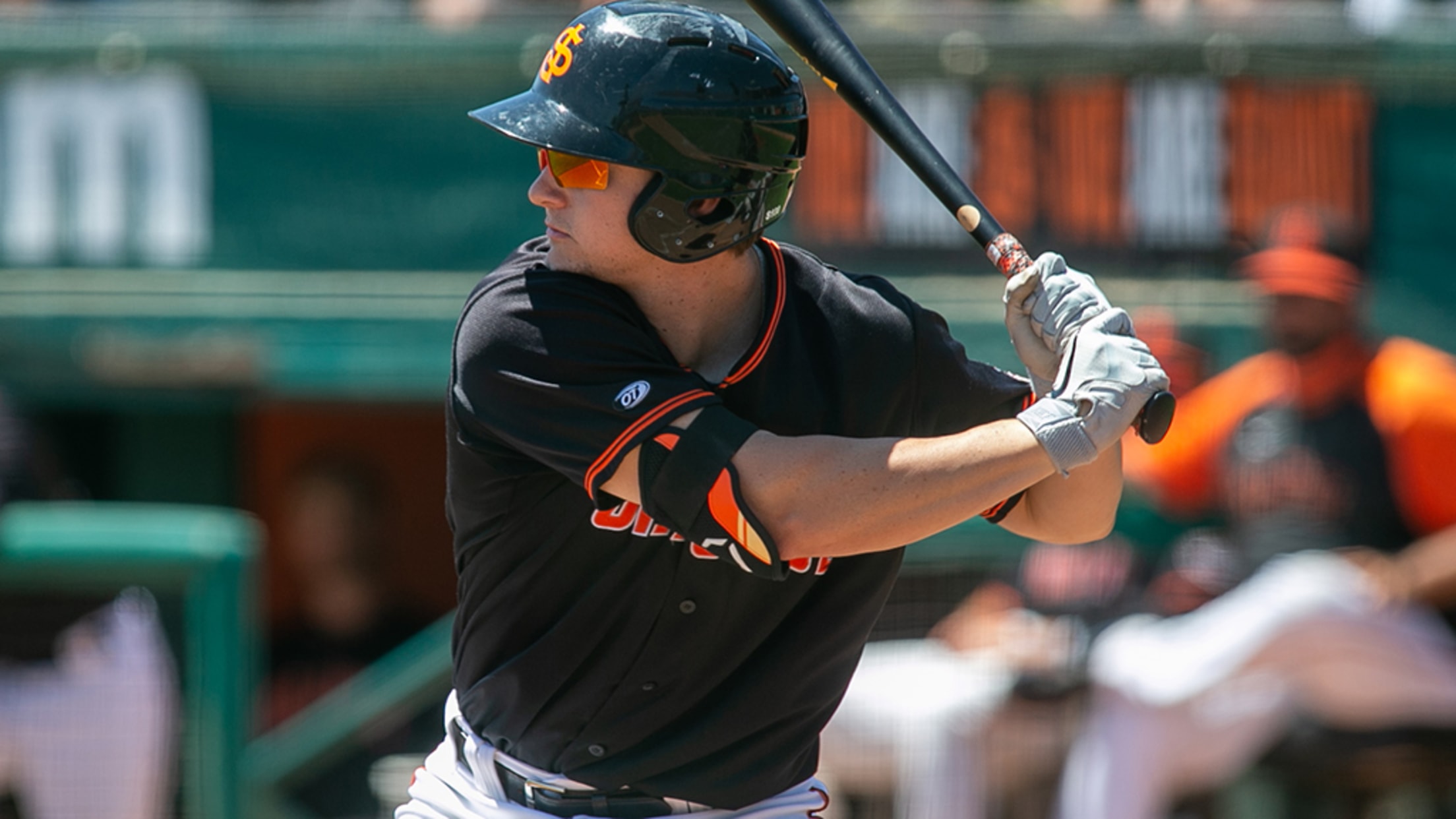 Patrick Bailey raised his batting average 42 points to .273 over his last five games since returning from the IL. (Shelly Valenzuela/San Jose Giants)
Welcome back, Patrick Bailey.
Welcome back, Patrick Bailey.
Of course, the eighth-ranked Giants prospect has been back for five days. But Bailey continued his torrid output at the plate since returning from a seven-day stint on the IL. Wednesday's output included his second straight three-hit night -- a home run and two doubles -- to pace Low-A San Jose's 7-0 blanking of Lake Elsinore at The Diamond.
Bailey exited the Aug. 12 game against Modesto after taking a foul tip off of his mask. The 22-year-old backstop was placed into concussion protocol immediately and returned to action after sitting out the full week. Since returning to the field Friday, Bailey has gone 9-for-21 with three long balls, four doubles, seven runs scored and six RBIs.
"I got rung up pretty good, but everything went back to normal real soon, so that was good," he said. "I think the time away really helped me. It was just a nice mental and physical break for me. I think that time off from the game allowed a lot of the work from the cages and everything early on to settle in and not have to think about it too much. It's just slowed down the game, I'm getting in the box now and sticking to my approach and committing to that."
Bailey notched his first multihomer effort in his first game back and recorded the three extra-base hits Wednesday. The No. 13 overall selection in last year's Draft raised his batting average 42 points to .273 over his last five games since returning from the IL.
"I think a lot of it is direction," he said. "Keep the direction through the middle and keep the ball in the air and off the ground. That's really been the biggest difference for me."
Against Lake Elsinore, Bailey had some fortune go his way early on. After falling behind 0-2 in the count against righty Nick Thwaits with a runner on in the second inning, the switch-hitter managed to connect on a ball off the plate and punch it the other way into left for a double. The knock set up the Giants with a pair of runners in scoring position and nobody out, leading to a three-run frame.
"There really wasn't much there, just able to find a nice little hole out there," he said. "Hit it where they weren't."
In the following inning, Bailey connected on a first-pitch fastball and sent it into left again -- this time driving in Ghordy Santos. Two batters later, the North Carolina State product scampered home on a double by Harrison Freed in the second straight three-run inning for San Jose.
In the fifth, Bailey faced Luarbert Arias for the first time in the game. Having some familiarity with the right-hander, the 6-foot-1, 210-pounder went into the at-bat with a plan to attack anything up in the zone. After looking at a couple of pitches low in the zone, he turned on a fastball middle-in and launched it over the fence in right for his sixth dinger of the year.
"I was just trying to be on time with the fastball," Bailey said. "I knew he had a good breaking ball, so I was just hoping that I could see something up a little bit and put a good swing on it."
Bailey opened his professional career with High-A Eugene, batting .185/.290/.296 with a pair of taters and nine doubles over 33 games. After being sent to the Rookie-level Arizona Complex League for two games, Bailey joined San Jose on July 13. In 27 games with the Giants, he sports a .273/.381/.485 slash line with four long balls, nine doubles, 23 runs scored and 12 RBIs. Wednesday marked his sixth game of the year with at least three hits.
Rob Terranova is a contributor to MiLB.com. Follow him on Twitter @RobTnova24.