Navarro travels unique path to OKC Dodgers
Chicago native started Minor League career after serving in Navy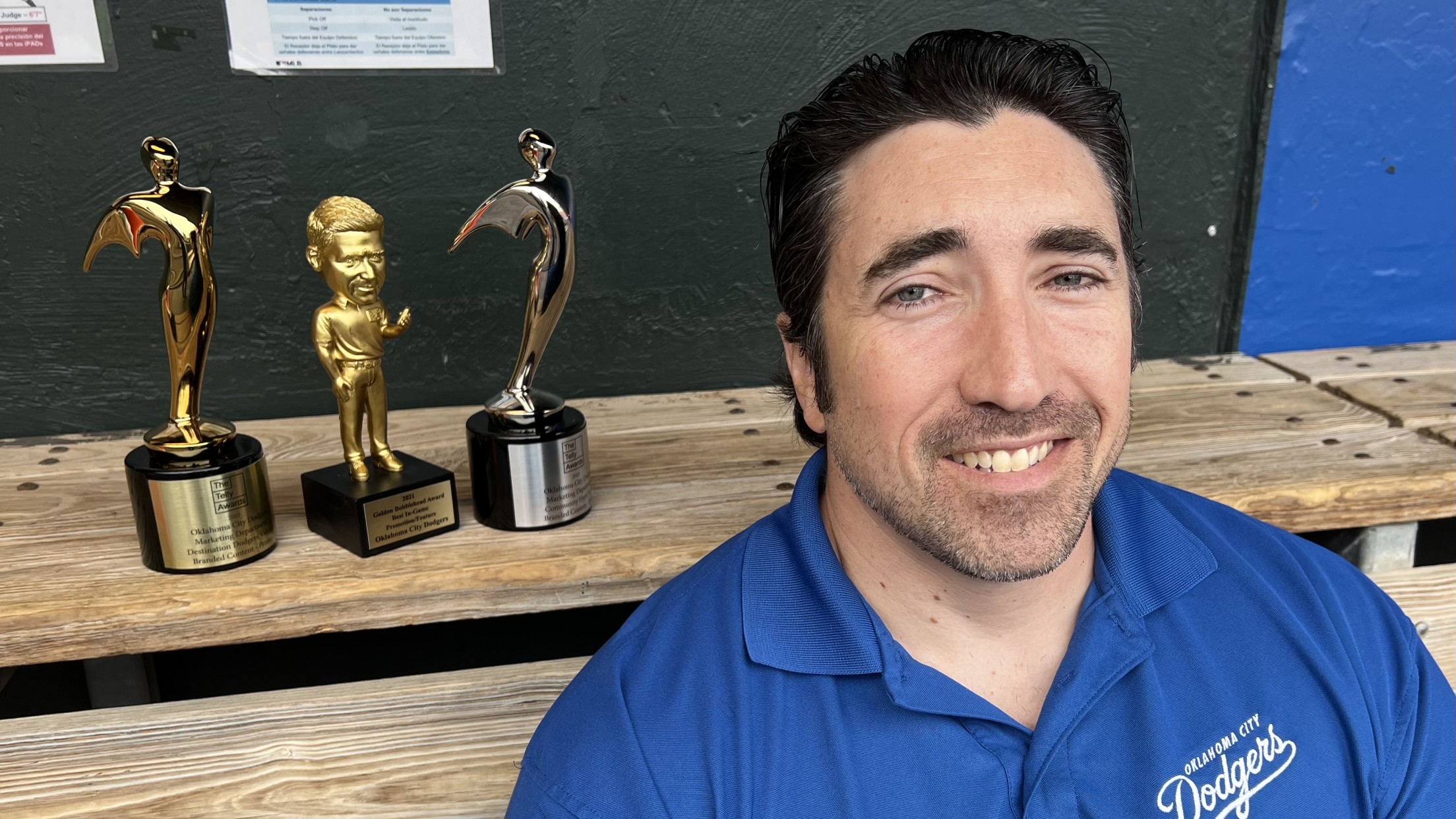 Anthony Navarro,  Oklahoma City's director of video and game presentation, worked at restaurants and served in the Navy prior to a career in sports. (Oklahoma City Dodgers)
OKLAHOMA CITY -- On November 8, 2009, the Arizona Cardinals rolled to a 41-21 victory over the Bears at Chicago's Soldier Field. For the majority of the 62,000 fans in attendance, it was a game to forget. Not so for A.J. Navarro. The Bears may have been underwhelming on the
OKLAHOMA CITY -- On November 8, 2009, the Arizona Cardinals rolled to a 41-21 victory over the Bears at Chicago's Soldier Field. For the majority of the 62,000 fans in attendance, it was a game to forget.
Not so for A.J. Navarro. The Bears may have been underwhelming on the gridiron, but what he saw on the videoboard that long-ago Sunday afternoon made a huge impression.
"[The Bears] did a mash-up, with player intros and the movie '300.' I didn't know what I was watching, but I fell in love," said Navarro. "I didn't know what it was called. I didn't know who created it. But when I saw that I think it changed my way of thinking about what the possibilities might be."
Navarro's Soldier Field epiphany was part of a chain of events that led to the Sooner State, as he now serves as director of video and game presentation for Triple-A Oklahoma City. It's the latest, and most fulfilling, stop in a career path filled with twists and turns.
"There's always the prestige of being associated with a big club, but I feel like I might be at home in Minor League Baseball because you can push those boundaries a little bit and do things you wouldn't be able to get away with," said the Chicago native. "Everything's a bit more accessible to you here."
Navarro always had a passion for sports and film, but he initially did not pursue work in these industries. The Navarro family was in the restaurant business, and his first job was working at one of the establishments his family owned: Shoeless Joe's, a sports bar that he characterized as "Basically the Italian version of Hooters."
"I sort of had the red carpet laid out for me to step into my dad's role," he said. "I worked just about every job you can imagine, from dishwasher to busboy, bouncer, manager, all of it. But I just knew this isn't really for me. This isn't what I want."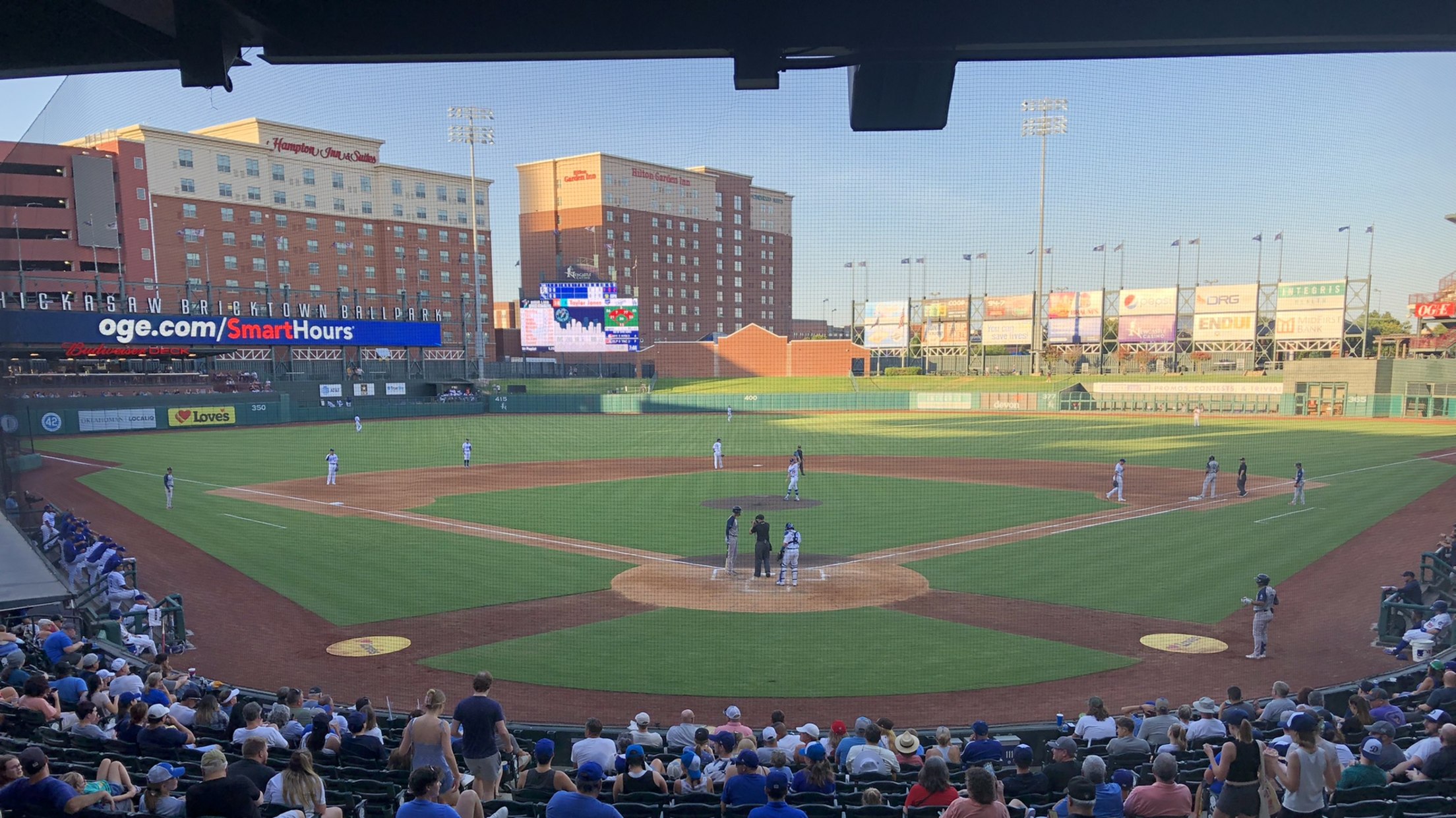 Upon graduating from Augustana College in Rock Island, Illinois, Navarro left the restaurant business behind and joined the Navy for what turned out to be the better part of a decade.
"I went into the military with star-spangled eyes, if you will," said Navarro, an Aviation Survival Equipmentman who served from 2004-13. "Went the enlisted route even though I had a college degree. Quickly learned that was a mistake, but wanted to learn from the bottom up. Not that I regret my time in the military. I made some of the best friends I ever had. There really is a brotherhood there that is unlike anything I ever experienced."
That brotherhood benefited Navarro, even after he left the Navy.
"There was an internship opportunity I saw online. ESPN Wide World of Sports, Disney World," he said. "Turns out, the guy who ended up hiring me for the internship had my same job in the military, because he pulled me aside. 'Look, I'm going to level with you, you may as well have written your resume on the back of a barroom napkin.' But he saw I was a vet, wanted to give me a shot. Brought me in, ended up really liking me and they hired me on."
While working for ESPN, Navarro obtained master's degrees in film production and sports leadership. There was even a little money left over from "Uncle Sam," allowing him to attend film school for a year. These experiences, combined with a year spent working as a video director at the Detroit Tigers' Spring Training home of Joker Marchant Stadium, made him well-equipped for his current role. He joined the Oklahoma City organization in 2018, following what he described as an exhaustive, multi-stage interview process.
"I get to create video. I get to create content. I get to do graphics," said Navarro. "There's the live theatrical elements I get to work with. It's all sports. It's as close to a dream job as I could have imagined coming out of high school, that I could have possibly done."
At the Dodgers' home of Chickasaw Bricktown Ballpark, Navarro is now creating his own versions of the "300"-themed videoboard introductions that had made such an impression on him in 2009. He's come a long way, while still wondering what's next.
"The more noise, the more cheers, the more laughs I hear, that's what drives me to continue down this path," he said. "Where that leads me, I'm not 100 percent sure. Just gotta keep going."