Mets' Courtney channels 'The Ryan Express' 
Brooklyn reliever helps filmmakers re-create Hall of Fame career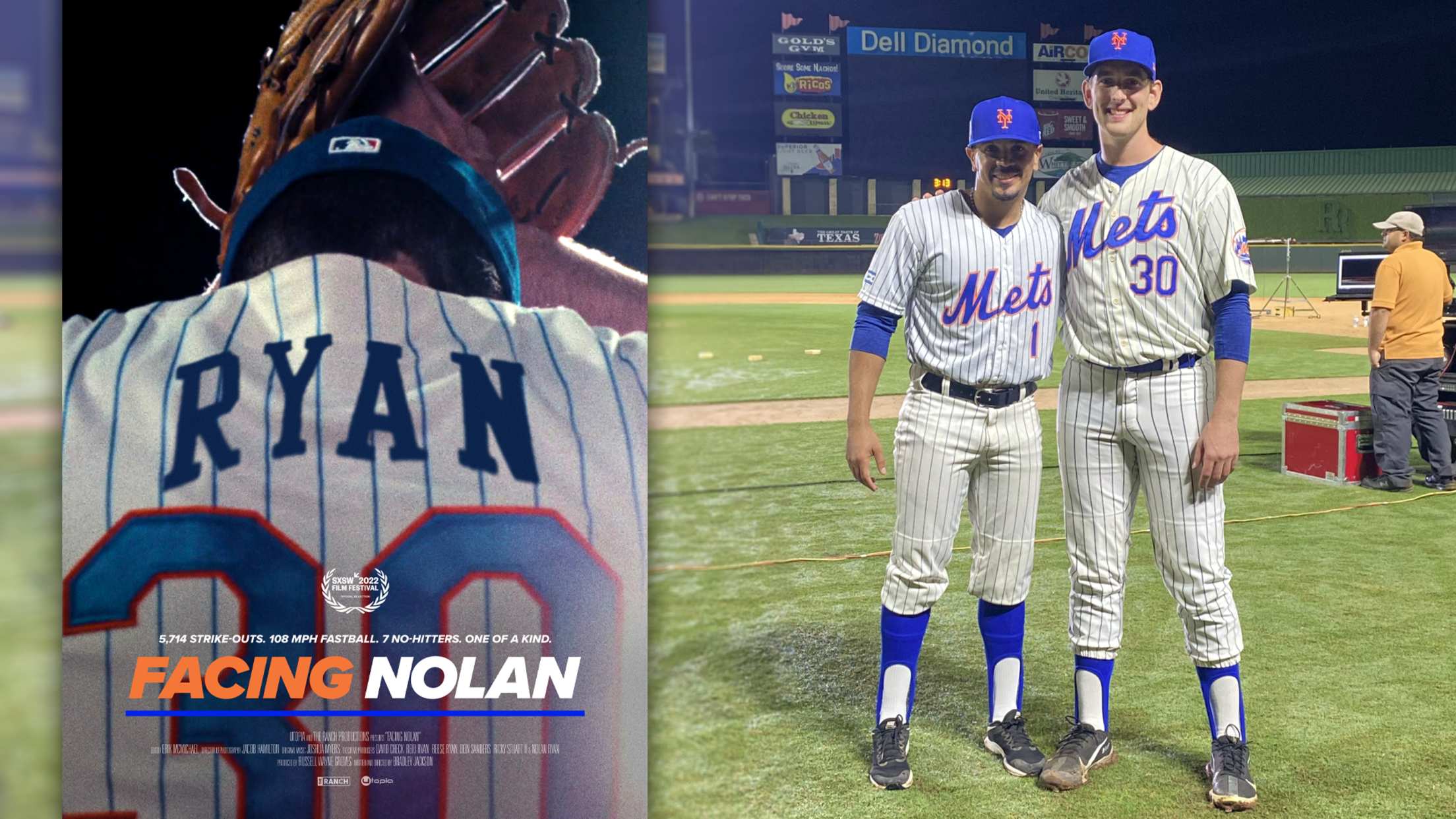 Justin Courtney, far right, portrayed a young Nolan Ryan in the early part of his career with the Mets and Angels. (Brooklyn Cyclones and Round Rock Express)
For a Hall of Fame career that had to be seen to be appreciated, it took an appearance from a Minor League reliever to help bring some of those stories to life. Over 27 years in the Majors, Nolan Ryan set all-time records for total strikeouts (5,714), no-hitters (seven) and
For a Hall of Fame career that had to be seen to be appreciated, it took an appearance from a Minor League reliever to help bring some of those stories to life.
Over 27 years in the Majors, Nolan Ryan set all-time records for total strikeouts (5,714), no-hitters (seven) and even walks (2,795). A boom of sports documentaries from the past decade have touched on Ryan's legendary career and abilities, and a standalone movie with Ryan as the central figure has long piqued the interest of documentarians.
But an actual documentary about "The Express" didn't begin to materialize until his sons, Reid and Reese, decided to get involved in the production.
"My brother Reese suggested [it]," said Reid Ryan, the CEO of Ryan-Sanders Baseball, which owns the Rangers Triple-A affiliate in Round Rock. "Dad's 75 now, some of his peers have passed. He's sharp as a tack, great health and if we're ever going to do this, this is when the memories are strong and the recollections are there and there's an appetite for this type of film."
The Ryan brothers linked up as executive producers on the project and hired Russell Groves as the producer and Bradley Jackson as the director, but it wasn't Reid's first foray into film production. The former Houston Astros president was involved in an MLB Network special about Jose Altuve's upbringing in Venezuela. Eventually, "Facing Nolan" would be Ryan's first project as an executive producer.
True to their Texas roots, the finished product premiered at the South by Southwest film festival in Austin in March and had its stadium debut at Globe Life Field in Arlington after the Rangers game on May 1. The documentary has been well-received critically and will get a wide theater release later this month and be available digitally later this summer.
"There will never be a pitcher like #NolanRyan and if you had to sum up his singularity in one sentence, it would be this: He made every single pitch count." - @MLB

The ultimate look at a Texas and MLB icon ⚾ #FacingNolan In Theaters nationwide 5/24 🎟️ https://t.co/O1zLsFWzO2 pic.twitter.com/s12ipVOdNx

— Facing Nolan (@FacingNolan) April 20, 2022
Like his actual time in the Minors -- which was all of 49 appearances before staying in the big leagues for good as a 20-year-old in 1967 -- the documentary only briefly mentions Ryan's farm league exploits. But before the film was ready for audiences, the Ryan brothers turned to the Minor Leagues to fill in some visual gaps.
For starters, some of the interviews featured in the film were performed at different Minor League stadiums, including Las Vegas Ballpark and Jackie Robinson Ballpark in Daytona. Most importantly, of course, was the interview with Nolan Ryan himself, which was filmed at the Ryans' current baseball home, Dell Diamond in Round Rock.
Nolan Ryan gave the production crew a lot of original material to work with over 27 years in the Majors. But things were very different for careers that began in the 1960s, and there were many important moments that weren't filmed or broadcast. Ryan's debut with the Mets in 1966, for example, and his third and fourth no-hitters with the Angels in 1973-74 are among the moments that were too important to omit from the film.
"[Groves and Jackson] came up with the idea of like, 'Hey, let's get actors,'" said Reid Ryan, who knew he wanted an actual ballplayer to be the one to embody one of the game's greatest pitchers. Enter Justin Courtney and Matt Kata.
Courtney did not have any acting experience -- not even a school play. What he did have was a 6-foot-5 inch frame, a more-than-passing resemblance to Ryan during his introductory years in the big leagues and an offseason coach with some famous friends.
"At first, I was just approached for the pitching stuff -- they weren't looking for the faces. But once they found out it was me, they started to realize that me and Nolan actually do resemble each other early on in his career," Courtney said. "I've gotten to see the documentary and you can tell it's me, clear as day, for the young Nolan parts."
The production needed actors to play two versions of Ryan -- one when he first came up with the Mets and Angels and another to re-enact some of the twilight of his career with the Astros and Rangers. So, it was only kismet that Courtney, who is currently pitching in the Mets organization with High-A Brooklyn, first got involved with the project after he was released by the Angels last year. And Kata, who was an infielder during his playing days, can count the Astros and Rangers among the six organizations with which he played in 13 Minor League seasons from 1999-2012.
Courtney was introduced to the project through Tom House, with whom the 25-year-old right-hander trains with in Del Mar, California during the offseason. House is featured in the documentary and has a number of connections to the Ryan family, including his time as Nolan Ryan's pitching coach with the Rangers.
After he was offered the role, Courtney had to sweat out the Mets' potential instructional league schedule. The timing eventually worked out and he said he needed about a week to work on mimicking Ryan's famous high-leg kick and delivery before heading to Dell Diamond to attempt to recover the missing pieces from Ryan's career.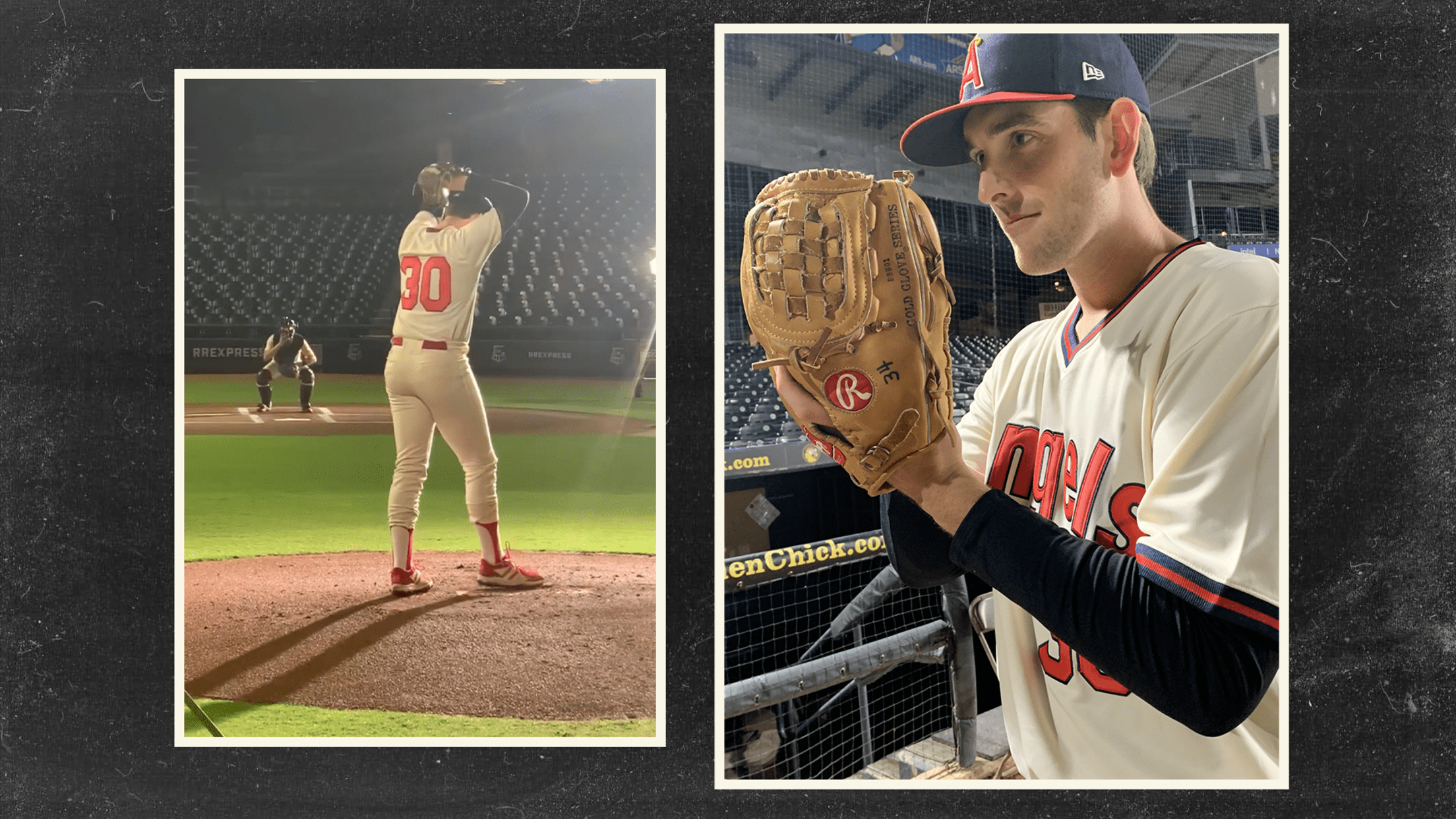 Courtney and Kata were costumed in era-appropriate jerseys and equipment for their different scenes, but everything was shot in the same place. There was no attempt to make the Round Rock ballpark look like Shea Stadium or the Astrodome. The crew instead used tighter shots and slow motion footage of the actors performing the iconic delivery and pitches coming out of the hand to home plate.
Courtney recalls a clip where he portrays Ryan as a reliever with the Mets, dejected and walking off the mound after a difficult outing, which was a common occurrence as he struggled to catch on in the big leagues right away as a teenager.
"[The clip] all kind of ties into where Nolan was thinking about quitting baseball early in his career," Courtney said. "Like when he was 19-20 and he was with the Mets. He was so young when he got called up, and his wife ended up telling him to stick it out because he's got the talent.
"But the whole sequence of him giving up a home run and walking off the field being all mad. … I don't have any lines or anything. It's all just me acting out what that would be like."
The film itself has drawn rave reviews and the release schedule should keep "Facing Nolan" in the news through the end of the postseason. But there are details from the production that have appeared in this Minor League season.
"I wish I could tell you I'm throwing 105 [mph] now," Courtney joked. "In my own delivery now, I have a higher leg kick and I can credit that to being in the film and trying to replicate Nolan's mechanics … and moving a lot faster on the mound, like 'The Express.' … He would just come at you so quickly and the ball would just explode out of his hand. So, the higher leg kick and moving faster on the mound were the two things that kind of translated into my own delivery."