Multi-RBI Nights from Malloy, Goins Lead Stripers in Memphis
Justyn-Henry Malloy homers in first Triple-A at-bat as Gwinnett wins 6-3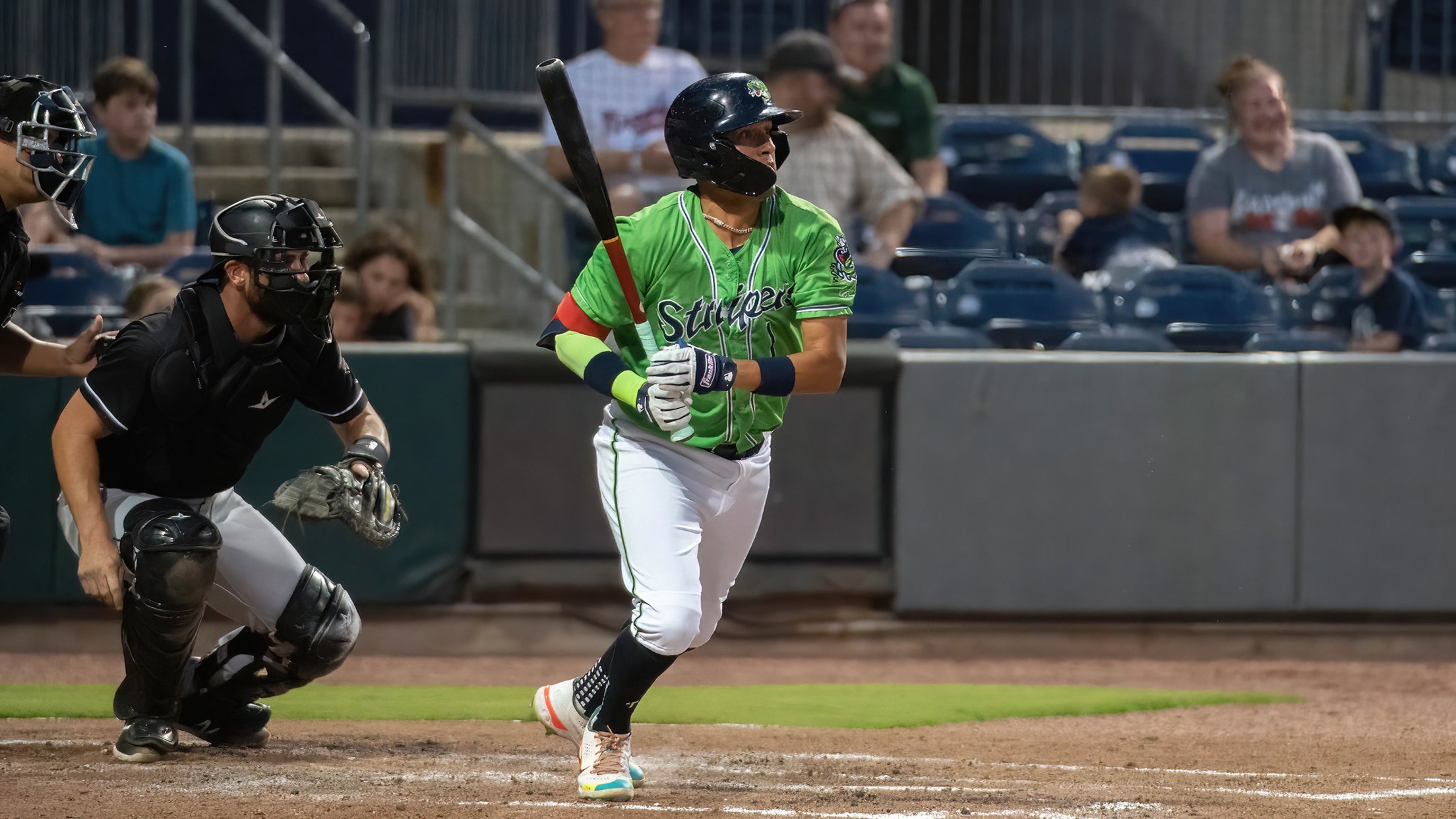 Ryan Goins went 3-for-5 with two RBIs on Tuesday night at Memphis. (Bernie Connelly)
MEMPHIS, Tenn. – Justyn-Henry Malloy homered in his first Triple-A at-bat and drove in two, and Ryan Goins collected three hits and two RBIs as the Gwinnett Stripers (66-74) opened their final road trip of 2022 with a 6-3 win over the Memphis Redbirds (69-73) on Tuesday night at AutoZone
MEMPHIS, Tenn. – Justyn-Henry Malloy homered in his first Triple-A at-bat and drove in two, and Ryan Goins collected three hits and two RBIs as the Gwinnett Stripers (66-74) opened their final road trip of 2022 with a 6-3 win over the Memphis Redbirds (69-73) on Tuesday night at AutoZone Park.
Decisive Plays: Malloy, the Atlanta Braves' No. 13 prospect according to MLB.com, blasted a solo home run (1) to left-center off left-hander Connor Thomas (L, 6-11) to give Gwinnett a 1-0 lead in the second inning. Moises Gomez tied it at 1-1 with a solo shot (14) off Freddy Tarnok, but the Stripers snapped the tie with a three-run fourth highlighted by Goins' go-ahead two-run single. Pat Valaika and Taylor Motter added RBI singles, and Malloy lifted a sacrifice fly in the ninth.\
Key Contributors: Malloy (1-for-3, homer, 2 runs, 2 RBIs) and Goins (3-for-5, 2 RBIs) each had multi-RBI games for Gwinnett. Motter (2-for-4, RBI) and Valaika (2-for-3, RBI) added multi-hit games. Tarnok (W, 2-1) held Memphis to one run on two hits over 5.0 innings and struck out six. Michael Tonkin (S, 14) struck out the side in the ninth.
Noteworthy: Malloy is the 70th player to appear for the Stripers this season, and the 14th to make his Triple-A debut. The solo homer was his 17th overall across three levels of the Braves organization. Gwinnett is 15-7 against Memphis this year, including 6-4 on the road.
Next Game (Wednesday, September 21): Gwinnett at Memphis, 1:05 p.m. ET at AutoZone Park. LHP Kyle Muller (6-8, 3.22 ERA) for the Stripers vs. LHP Garrett Williams (0-7, 7.65 ERA) for the RedBirds. Radio Broadcast: 12:50 p.m. ET on MyCountry993.com.
Next Home Game (Monday, September 26): Gwinnett vs. Louisville, 7:05 p.m. at Coolray Field. Radio Broadcast: 6:50 p.m. on MyCountry993.com. In honor of Braves legend and Baseball Hall of Famer Hank Aaron, the first 755 ticketed fans through the gates will receive a 2021 Braves replica championship ring, courtesy of Coolray Heating & Cooling. Please note, this giveaway is ONE PER PERSON, and fans with extra tickets will not be permitted to exit the ballpark and re-enter to claim additional rings.